If you thought finding the perfect location and the best photographer for family photos is hard, wait till you get to the part where you have to choose the outfits.
If you go wrong with your picks, rest assured, you will have at least a few members of your fold squirming in discomfort every time the pictures are brought up or displayed.
Of course, that isn't the effect you are going for! But, there are just so many colors to choose from. Plus, everybody in matching threads is so passé; not to mention that it looks too staged; again not the way you want the pictures to look now and even years later.
So if you are done sifting through all the closets in the household and haven't come back with anything impressive, continue reading to know everything there is to picking colors that make for exceptional clicks. Let's start with the basics…
Is there such a thing as the best colors to wear for family photos outdoors?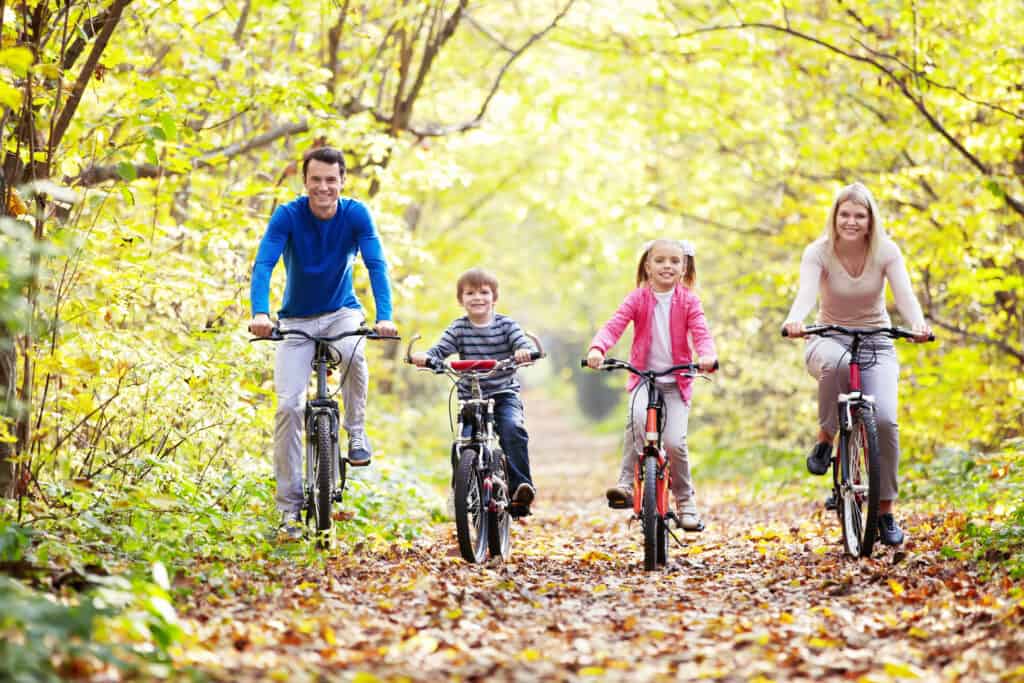 If you ask me, I'd say all colors are beautiful but that's only till they are in nature and not on you. Also, there is another side to that coin – what is beautiful and what is unacceptable depends on the family's personality.
Because these are photographs, the hues of the season and the surroundings also make a big difference to the final outcome. So, while there are innumerable options, there are those which work almost every time and then there are those that never work.
Let's start by talking about the classics that never fail to deliver.
Solids make for a solid choice:
Bet you already know where this is going. Yes, solids trump over prints any day no matter the age of the subject.
Of course, this does not mean that everybody should be dressed in one color from head to toe. How boring and ridiculous would that be?
But, before you reach for the prints, try out color blocking to combine complimentary and even contrasting hues to create an eye catching palette.
Even her majesty steers clear of pale pastels:
Now, that is a woman who spent nearly a century getting photographed. So, she sure knows a thing or two about getting the colors right, and even she shuns the whitewashed pastels.
Don't get me wrong here, pastels have a fluid and breezy quality about them, so it's hard to go wrong with them. But, that's only if too much white hasn't been added to them.
If you go with the lightest tint available (most white added to any particular color), you risk looking pale and even sickly.
Bright is not always the right choice:  Don't confuse bright with dark. A bubble gum pink is bright, as is canary yellow, but burgundy or even teal are dark. While bright looks childish, darker shades have an earthy appeal.
That said, because the pale pastels are out, people tend to veer too much into the other direction and end up choosing a garishly bright color.
The idea should be to inch towards the center of the monochromatic. Think from the lightest to the darkest of any color, with the pure color in the center of the scale. Now, pick something in between these three points.
The classic black and white does not work for photographs:
The thing with a pure white is that it reflects too much light, so the details are all but lost. Ditto for black, which hogs up all the light and once again the detail is lost.
In a photograph, this would look like a head placed on a white/black blob of color, and that is not the effect you want.
Of the perfect and the not so perfect:
While some colors take a lot of planning, you will find a few that fit into any theme. Specifically, the blue-green palette is quite easy to work with. So, you will frequently find this one used in professionally clicked outdoor pictures.
And then, there are the notorious neons. They don't work, no two ways about it; not even on the kiddies. Ditto for loud prints. In fact, I'd go so far as to ask you to stay away from prints as much as possible.
If you must use prints, pick one piece if it's a family of four and 2 if you have more than six. Also, choose smaller prints, because if you use anything too conspicuous and you risk turning it into the focal point of the image.
Picking the palette for photos: what are the most popular choices?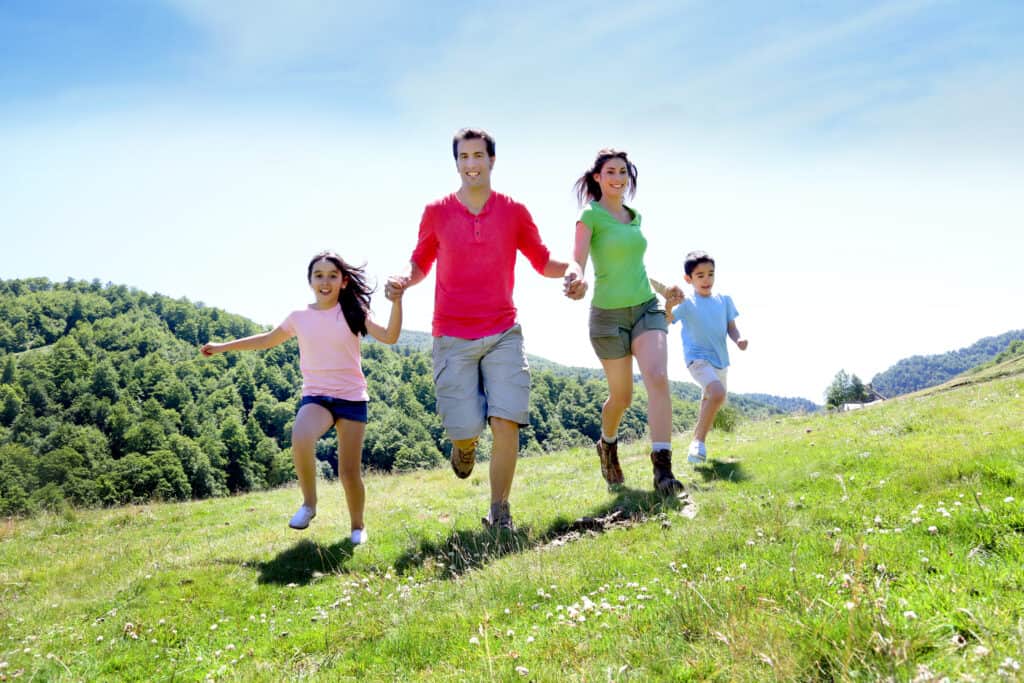 Instead of thinking in terms of a single color, pick complimentary palettes. For instance, you could go for beige and brown.
Don't pick the same shade/tint for everybody. Your aim should be to retain the same 2-4 hues all around but create variations with different tones of the same color.
Typically, a palette of 2-3 colors offers just enough variation for a family of 4-5 but I'd suggest you opt for 3-4 colors in your palette for a bigger family. Another way is to go with 2-3 hues but add one striking piece.
That said, let me help you out with a few classic combinations:
Brown, beige, maroon
Blue (Indigo, denim, peacock) and tan
Cream, yellow, brown
Shade of blue with yellow and white
Yellow, green and blue
Grey and red
Teal with pink tints (blush)
Tan, cream and shade of blue
Denim with tan and shades of red
White with shades of blush
Shades of red, tints of yellow and denim
Tan with blue tints
Teal with orange tints
Cream, tan and shades of blue
Pink and grey
Blue shades with aqua tints
Corals tints with blue shades
Aqua and yellow tints with gray shades
Tan, white and turquoise
Blue shades with cream and burnt orange
Gray with burgundy and wine
Plum and maroon with tints of olive green
Shades of blue with peach tints
Mustard and gray
Although these combinations have been tried and tested with much success, when it comes to outdoor photography, the colors of the season also have to be considered.
I mean think about how the photographs would come out if you were to wear too much white in snowy winter or a lot of green in spring. If you don't want to blend into the background…
Allow the seasons to dictate your color scheme!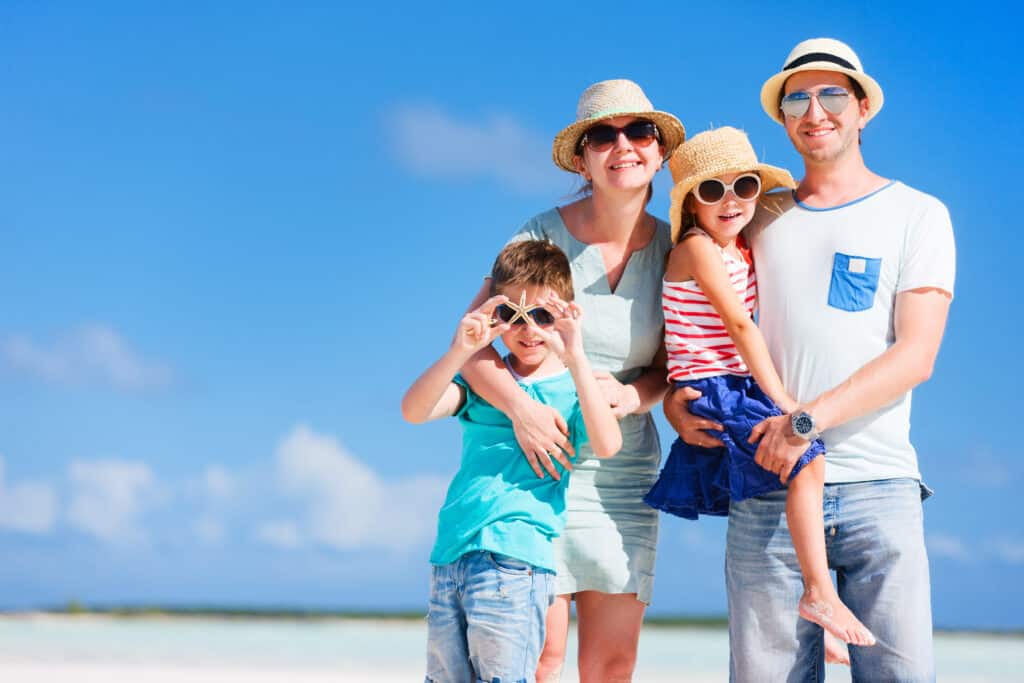 Complementary and neutral hues work well when the season-specific background colors play a role in your choice. While you certainly don't want the family to look one with the background, you also don't want to the colors to stick out like a sore thumb.
Your aim should be to work with what Mother Nature has to offer; not to compete with her in terms of color brightness. Let me explain this by giving you a few examples.
Spring:
Here is a season that is all about fresh blooms and vibrant colors. The grass starts to regain its verdancy while the skies clear out to reveal their tranquil blue tints.
So, don't try to outdo nature while she tries to regale us with her brightest and finest colors. Instead, go for lighter tints of those vibrant hues. So, the colors to choose would be:
Tints of yellow
Tints of peach
Tints of pink
Tints and shades of blue
Mint green
Lavender
Tints of mauve
Lilac
Summer:
The weather is getting warm and you want your clothes to reflect either the cool breeziness or the exhilarating warmth. Colors that can be used to create these effects include:
Rose
Salmon
Peach
Crimson and shades of red
Orange and its shades
Turquoise
Aqua blue
Cobalt blue
Military or sage green
Purple tints
Toned down mustard
Stone and pale gray
Autumn: Of all the seasons, fall has the most spectacular colors. They are rich without being in your face like the bright pinks and reds of spring.
Because Mother Nature has already taken the effort to create a flawless palette for this time of the year, you should simply emulate her work. Hence your best autumn shades would be:
Rust red and other shades of red
Yellow ochre
Burnt sienna and raw sienna
Burnt umber
Shades of brown
Shades of orange
Tan
Russet
Dark olive
Moss
Aubergine
Mocha
Terracotta
Winter:
The festivities are right around the corner and the temperature is plunging, leaving behind a veil of white in its wake. I know it's tempting to go with spring bright colors against all that white. But, that would be too much.
So, stay away from absolute whites as well as from the vibrant pinks, reds, greens and yellows. Colors that complement this season include:
Ivory
Cream
Ruby red
Emerald green
Sapphire blue
Brown and carmine
Violet
Tints and shades of purple
Gray (tones and shades)
Candy tones
What else should you consider when picking the best color clothes for family photos?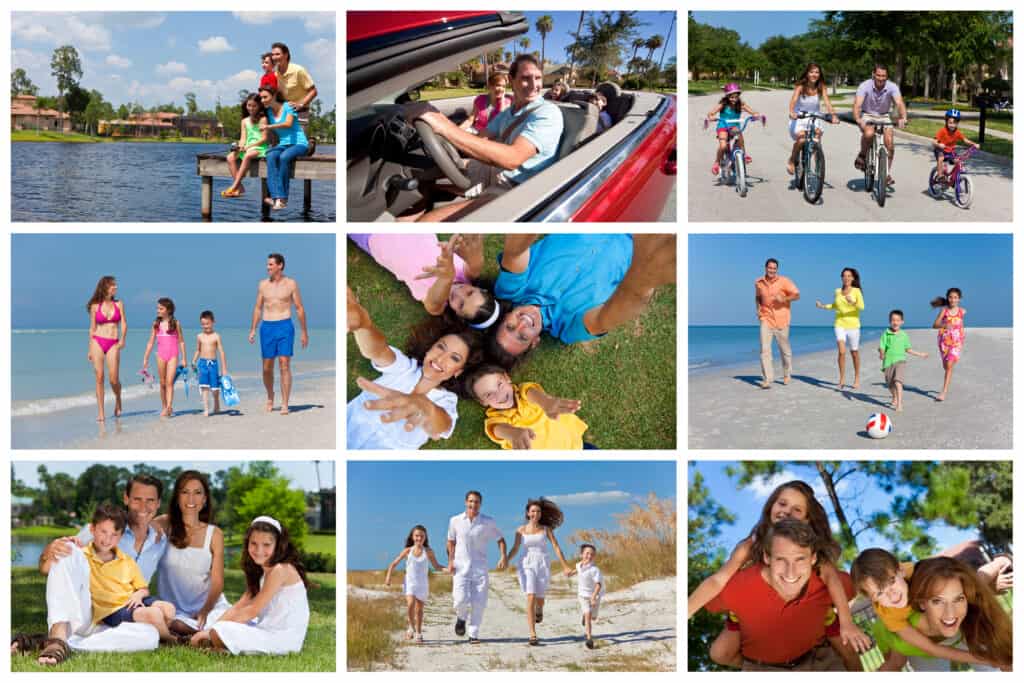 The location:
Once you have taken your pick of the best colors for the season, narrow down your choice to 2-3 hues based on the location of the shoot.
For instance, vibrant colors go well with urban themes but will look out of place in a field or when surrounded by greenery.
Similarly, if you intend to pose against a light background (could be the wall of a building/structure), you want to keep away from pale pastels. Ditto for dark backgrounds.
The colors of your home:
Look at the colors around the area where you intend to display the photographs. If you only see muted and soft tones, there is no reason to go bright with your sartorial choices. Of course, the opposite also holds true.
The skin tone:
Warm colors like brown, yellow, orange, amber, red, olive green, reddish-purples, chocolate and cream look best on those with a warm skin tone.
Avoid wearing jewel tones and icy shades. Those with a cool skin tone (bluish undertones) look best in ruby, bright pink, bright rose, gray, bright blue, deep purples, sapphire, and amethyst. Avoid wearing orange and red to close to the skin. 
Top tips to get the colors and all else right for family pictures!
If a certain color does not sit well against the skin tone of one family member but you want to stay in your chosen palette, simply pick a complementary top for this family member and combine it with a bottom from your chosen palette.
For inspiration look at store displays. The windows usually have the trendiest line up of the season and the best colors from that collection.
If you feel that your choice of neutrals looks too unexciting, add a pop of color by letting one family member wear the brightest shade from the palette or even a contrasting one. The trick
here is to not go overboard with your desire for color infusion.Use accessories and textures in the form of belts and scarves to add to the overall look.
Don't match instead complement! This not only goes for colors but also styles. So, if most of you have chosen jeans, add a dress or two to the mix to balance things out.
When dressing up the kids, you should not just pick the right colors but also opt for the most comfortable clothing. This way you won't have to deal with fidgety and irritable little ones who are just itching to take off their clothes. 
And last but not the least…
These photographs will probably be preserved for years and even decades, so surely they warrant some amount of preparation. Give yourself some time to get it all ready. You don't have to spend a fortune to get the right clothes in the right colors.
In fact, you could combine what you already have with a few new pieces. But, it will take some time to get it all together. Also, once you think you have all the right pieces, lay them all on the floor/bed and see what the combination looks like.
After finalizing the ensembles have everybody wear them just to be sure that everything is as it should be. Finally, if you are not splurging on new clothes, take a day or two more to ensure that the clothes are washed, ironed and mended (if need be).
With a bit of forward planning, I promise, you will have yourself family pictures that you can look back on with absolute delight.