Mindfulness is one of the most popular terms you are likely to come across when looking for strategies and methods to improve mental resilience and alleviate stress.
Despite its popularity, people harbor several misconceptions about this refreshingly simple yet astonishingly effective method of introspection and inner engineering.
The first faulty assumption is that mindfulness is the same as meditation hence mindfulness exercises are best done in solitude. Let me debunk the first part of this myth – Yes, meditation helps to cultivate mindfulness but it's not all that mindfulness is about.
Also, being mindful is about helping your brain and your mind to continue to be stable while being surrounded by the chaos of the world.
So, practicing this method in solitude is not a perquisite for it to work. In fact, creative mindfulness exercises for groups work just as well in calming and healing the heart and the brain.
Plus, if you have stumbled upon the elixir of happiness, why not share it with others? Actually, mindfulness ideas for groups can easily be practiced in family settings as well. In fact, these are remarkably effective in creating and fostering a culture of "All for one and one for all".
Similarly, you can just as easily shift these mindfulness exercises to your workplace to enhance team dynamics and performance.
So, without further ado, I am going to dive right into effective activities for groups of all ages and for groups in all settings.
Simple mindfulness exercise for groups – These work for just about anybody and everybody out there!
Don't let the simplicity of these ideas compel you to underestimate their efficacy. In fact, their simplicity is what makes them perfect for just about any group, no matter the age, the number or the relationship of the people in the group 
1. All that is good in the world or in life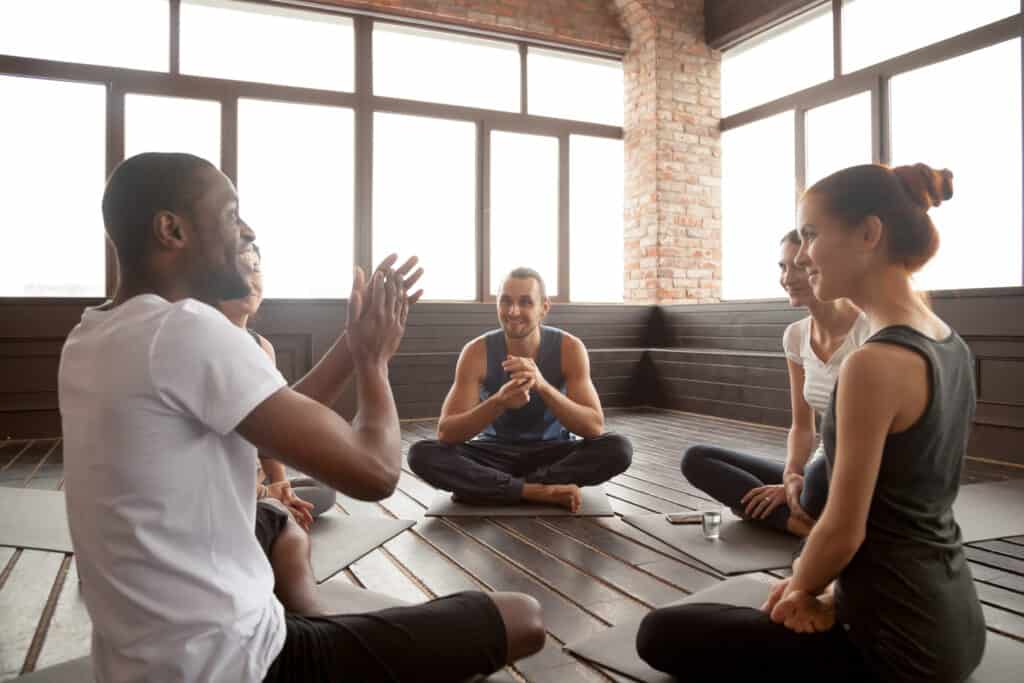 This is a deceptively simple exercise. But the fact that some version of it is practiced in group therapy sessions all over should tell you about its effectiveness. On the face of it this activity is basic as the participants have to simply name a thing or an aspect that is good or describe an event that is good.
But, make no mistake, for most people this involves digging through the overflowing ditch of negativity and pulling out the positive aspects of life. In doing so, they inevitably end up sidelining all that is bad and turn their attention to all that is good.
And that can do wonders for the mental and emotional wellbeing of a person. This game can be practiced in all group settings; as long as the participants are old enough to understand the concept of "good", you can use this exercise. This is how you can get this activity going:
Step 1:  Ask everybody to sit in a circle.
Step 2: Then, ask one person to name something or describe an event that he/she thinks is good.
Step 3: Explain to the group that every person's good is something in the present moment or as close to the present as possible.
For instance, it could be something as simple as a good meal that someone had over the weekend or it could be a landmark event like the birth of a child.
Step 4: Because you don't define "good" beforehand, watch out for the inevitable comparison as one or more group members may feel that their good is not as substantial or as big as the "good" of someone else.
Clarify that this is not a quantitative exercise, it is a qualitative activity, and quality is subjective. So, as long as each participant talks about something or some event that is good according to him/her, things are going as planned.
Step 5: Ask the participants to think back deeply about their good event or thing. For example, if one member talks about finding a favorite ice cream flavor, ask this person to remember how he/she felt when he had his first taste of his ice cream, the actual physical feeling of the taste hitting his/her tongue. The idea is to transport yourself mentally back to when you were actually experiencing your "good" moment/thing.
This activity can be done in three versions, you can do it as the first and the last exercise with just one round, meaning every participant gets one chance to talk about his/her positive thing. The second way is to use this to infuse an overall sense of positivity in the group. In this case, go around the circle twice.
The third way is to start with a good thing/event, then talk about a bad thing/event and finish with one more round of good thing/event. The idea in the third approach is to instill the sense that life may have its "downs" but there is no reason to lose yourself in them because life also has its "ups". If you are using the third method, remember to NOT ask people to live out the "bad" in their head.
2. Because we hear so much, yet we listen so less
You may have already guessed that this activity is all about working on your listening skills. As a bonus, you also end up improving your focus with this exercise and increase your awareness of what you are thinking and feeling at that moment. So, let's talk about how to include this exercise in group sessions.
Step 1: Put the participants in pairs because larger groups are prone to distractions. Plus, you want to create a sense of responsibility in the listener.
Step 2: Choose a topic for the twosome to talk about or allow them to pick a topic on their own. The idea is to steer clear of subjects that can cause conflicts such as politics, religion, current news etc. Instead, use something universal like:
What makes you happy?
What is the one thing that you like about yourself?
What is the one thing that you dislike about yourself?
What are some of your fears?
Step 3: Make sure that both partners get the chance to talk and listen.
Step 4: Assign 4-5 minutes for the interaction and then sit them all down
Step 5: Most participants will expect you to ask them about how much they remember of what was said to them, but this exercise is not a memory competition. Instead, ask them this:
How many of them had their minds wandering while the other person was speaking? (Remember most people will try to wiggle out of this one for the sake of politeness). So, make it a point to tell them that they have to be honest about their mental movement for the exercise to work.
Ask them what thoughts interrupted their ability to listen?
What was the impact, in terms of the quality of what they heard and the amount of time spent, when they lost focus?
Could they bring their mind back to listening?
Did the participants majorly focus on the words or also on the nonverbal signs (emotions) accompanying the words?
If they could re-do the exercise what would they change to improve their listening?
3. Because music nourishes the soul!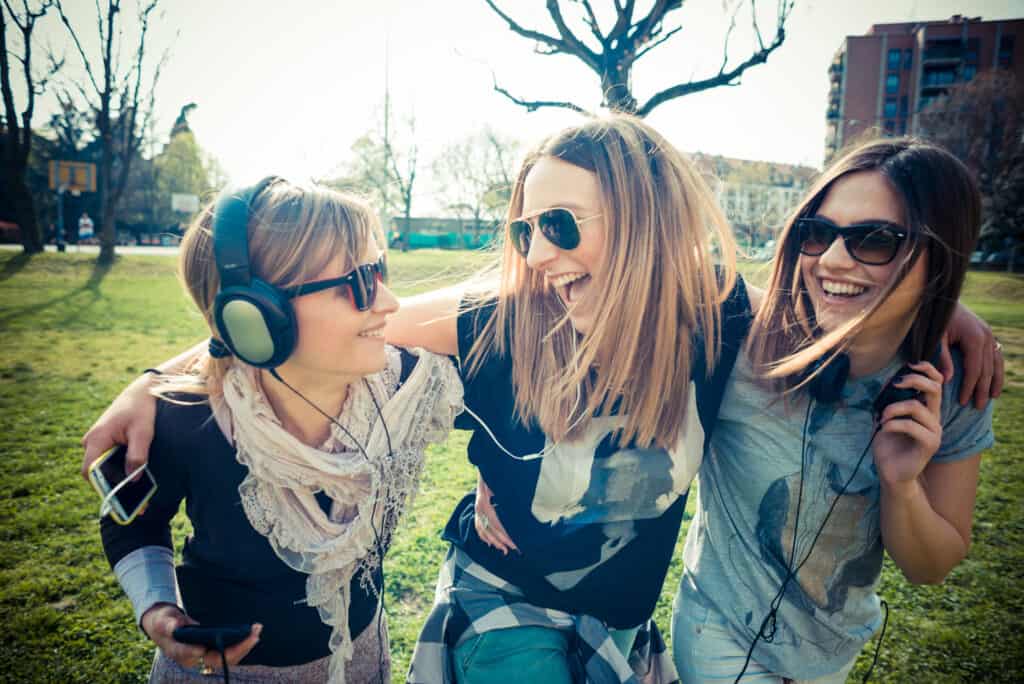 This is a fun exercise that not only gets people to focus on the "here and now", but also encourages everybody to share something that they like/enjoy with others. Because musical choices are personal, this is also a subtle yet effective way to get people to open up and to create a sense of camaraderie. Here is how you get the group involved in this activity:
Step 1: Go to a music listening app and ask each participant to play his/her favorite song. It does not have to be their most favorite ever number it could simply be the current favorite.
Step 2: Don't play the complete song; instead opt for short clips of each pick.
Step 3: As the song is played, people will focus their attention on the lyrics but that is precisely what they are not supposed to do. Explain that the activity is about focusing on the music and the feelings it invokes, and not on the words.
Step 4: After each clip, pause and ask one or more of these questions:
How did the song make you feel?
What was the tempo like (fast or slow)?
What instruments do you think were used?
Did your mind wander while listening to the song?
If yes, did you manage to redirect your focus on the song?
Why do you think your mind wandered away from the music?
Did the song bring up specific memories, emotions or thoughts?
Make sure that the conversation is kept polite by ensuring the answers are limited to each participant's own action, thoughts, etc. There should be no comments on the song, type of music or the person who chose the song.
4. Jog the body and the mind
A few stretches can do wonders for both the mind and the body. And, when you combine physical activity with boat loads of laughter, you get an exercise that helps to improve awareness in the most fun way possible. Here is how to use this mindfulness idea with your group:
Step 1:  Ask all the participants to stand up. Move the chairs away, preferably to the sides or the corners of the room.
Step 2: Next, ask every person to stand such that he/she should have 6 feet of free space around him/her (free space in all directions).
Step 3: Each participant should be facing at least one other participant. So, why the distance? We want to make sure that if one person loses his balance when doing this yoga pose, the others around are not affected.
Step 4: Having said that, once everybody is in position, ask them to get into the "tree" pose. This is an easy pose but it does involve balancing yourself on one leg.
Step 5: So, everybody starts with the same leg first; i.e. either the right or the left. Plus, they have to continue to make eye contact with the person they are facing as they get into the pose.
Step 6: As they stand with their feet slightly apart, ask the participants to shift their weight to their left leg. Once they are comfortable, ask them to lift the right leg and fold it at the knee such that the knee points to the right and not the front of the body.
Step 7: Unless they have done this pose before, it can seem a bit daunting to balance the body on just one leg. So, give them a few seconds and then ask them to grab the right foot (foot of the folded knee) and gently move it upwards to place it against the calf or the inner thigh of the standing leg (whichever is possible).
Step 8: The hands can be kept on the side but ask the participants to raise their hands above their head if possible.
Step 9: While they are holding this pose for about a minute and when they repeat it on the other side, they only have to focus on its effect on their body, the muscles, the standing leg and the folded leg.
This is a wonderful exercise to get people to hone their ability to focus. Also, it gets people to move their focus inward and helps them to start listening to their body; not to mention that all the effort required to maintain balance helps to ground a person in the moment.
5. Because there is joy to be found everywhere and in all things
This is another simple activity that helps people to improve focus while they are having fun. Plus, it also helps them to build the all-important virtue of patience.
This exercise can be turned into an indoor + outdoor event or the facilitator can do his/her homework and keep the activity exclusively indoors. Take a look at how to get this exercise under way.
Step 1: If you are heading out with the group, ask each member to pick up a smooth rock that appeals to them the most. If you are doing the exercise indoors, collect enough smooth rocks to go around the group twice over.
Step 2: If the rocks have been collected by the participants, once they are back, ask them to explain what attracted them to the rock or why they picked that specific rock and no other.
When conducting the exercise indoors place all the rocks on the ground and ask each participant to pick his favorite rock. Then, ask why that particular rock appealed to him/her
Step 3: Divide the group into two teams (each should have at least 8 members). If you don't have as many participants, get the whole group together for this next step.
Step 4: Ask the participants to pile the rocks one of top of the other such that they stay in place. To make the task challenging, give them small paper cutouts (cut into circles of 6-8 inches).
The trick is to build the rock tower inside the circle. Another way is to balance a small plush toy on the rock tower once it is completed or you could include toy figurines in the setup. The idea is to make the tower building exercise as challenging as possible.
It goes without saying that the tower will crumble several times before the participants manage to put all the pieces in their place. After the first two rounds of crumbling, you tell the team that every time their tower collapses, they have to pause for 10 seconds and give themselves a positive affirmation to get through the frustration and to hold on to their patience.
At the end of the activity discuss the difference in the team's performance on the task and the personal thoughts and emotions of each participant, before and after the positive affirmations.
Fun Mindfulness Exercises For Groups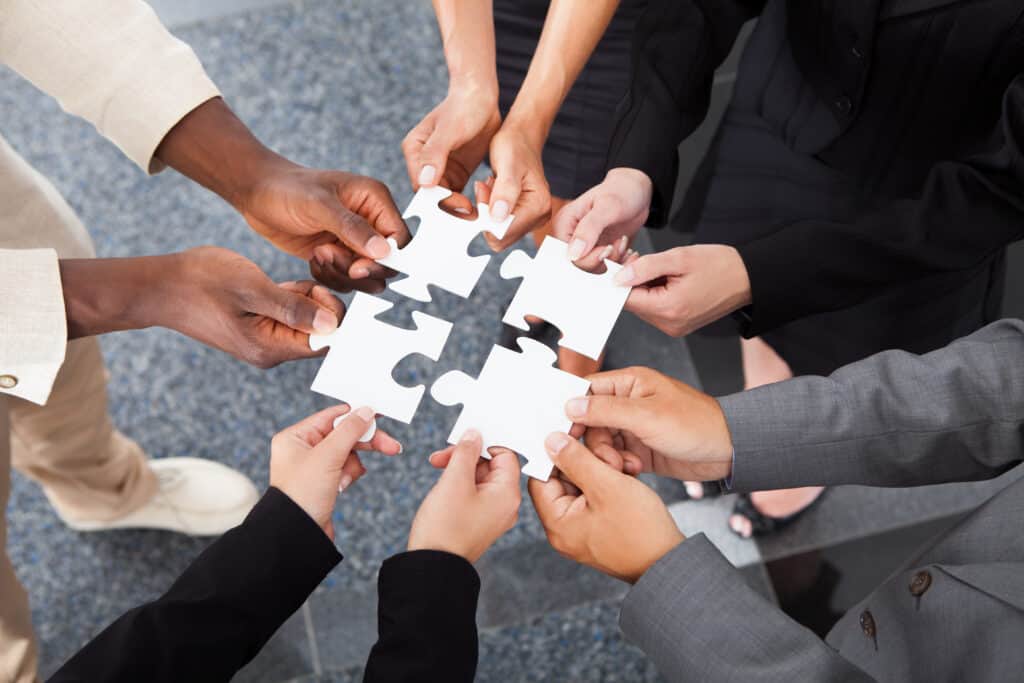 6. Don't lose your marbles
You will need 3-4 marbles and as many empty paper towel/toilet paper rolls as the number of participants. Ask the group to stand in a circle and give a marble to one of the participants.
The marble has to be passed around but the trick is to only use the empty roll to pass it around and never touch the marble with your hands. If you think that a single marble is no match for the deft empty roll handling of the group, add another marble to pass around.
7. So, what's your story
This is a very popular exercise that gets everybody to focus on "now" and to listen closely. Plus, it involves a healthy dose of creativity. To enjoy this activity, you have to pick a story. Fairy tales are all too common, so go for the story of a movie or an event that is in the news.
You start the story and then snap your finger in front of a participant randomly. He/she picks up the story from where you left off and continues narrating till you snap your finger in front of another participant, who is also chosen randomly. 
8. No feelings, only facts please
Collect a bunch of random objects and place them inside a paper bag. Remove the objects and put them on a table or in a tray for the group to see. Ask each participant to describe 1-2 of the objects.
The catch here is that they can only state the facts and not their assumptions or judgments. For instance, if one of the objects is a fruit, they cannot use a statement such as, "it looks ripe or I think it must be sweet". Ask the other participants to listen closely and catch statements of assumptions and judgments and question the speaker about these once he is done describing his objects.
9. Feel the walk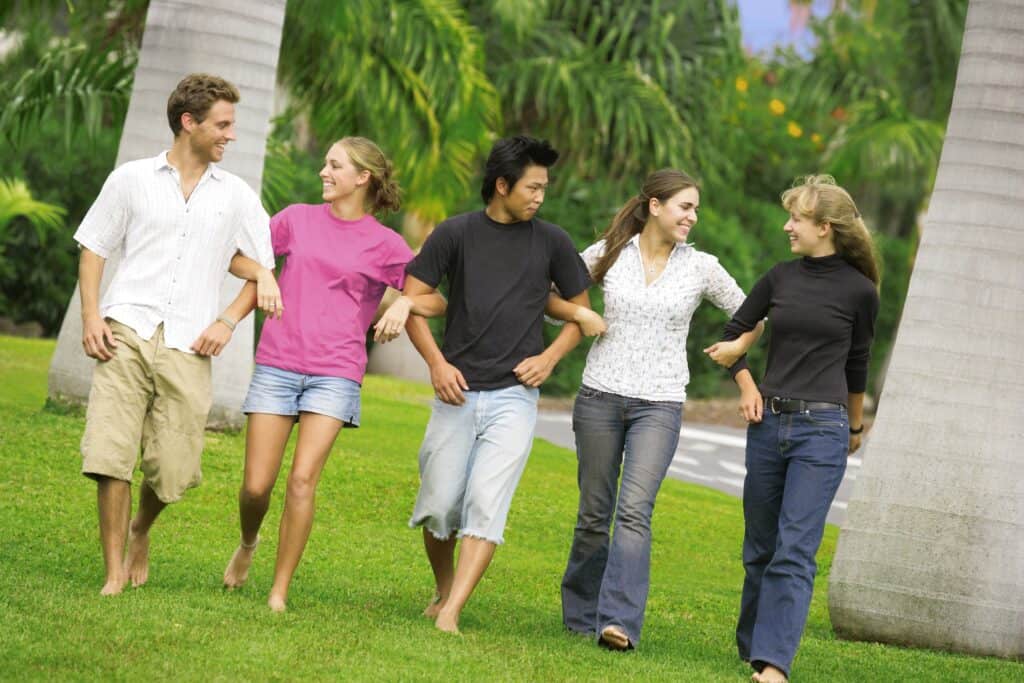 Get everybody to take off their shoes and socks. This is a simple exercise but one that gets people to focus keenly on their own bodies or rather a specific part of it. The entire group walks around in a line all across the room.
And while they are using those pins all they have to do is notice the sensations they feel at the bottom of their feet and the thoughts these bring up. Clarify to the group beforehand that the mind will wander as they walk. But, it is their job to acknowledge the thought and pry their mind away from it and bring their focus back to what their feet are feeling.
10. Too many balls and too much fun
Because the participants start by tossing a ball among themselves, this exercise may seem puerile at first. But, when you add another ball to the game and then another, things can quickly get out of hands for all those who thought that they had a grip on the game and the ball. You would be surprised at how much focus it takes to stop the balls from falling to the ground as they get tossed from one person to another. 
11. Listen with all your attention
This is a highly interactive exercise and one that is bound to induce serious laughter. You tell the group that they only have two words to communicate, "PING" and "PONG". When one person says, "Ping" and points at another person, the second person (one who is being pointed at) has to say "Pong".
This second person then points to a third who has to say "Ping" and he in turn points to a fourth person, and so on. Tell the participants that they can point at any other group member randomly. Start the game slow but speed it up within minutes and you will see how hard people have to concentrate to simply keep themselves in the moment.
12. Whose line is it anyway
This one is based on the popular TV Show but unlike the 2 or 4 performers who play out a skit in the show, for this game, you make a list of different skills. Write these on small paper chits (one skill per chit).
Put these chits into a bowl and from thereon go about the game as you would with Pictionary. The participant who picks the chit can use pictures and gestures to describe the skill but not words, and his team members have to guess what he is trying to convey to them.
And that brings us to the end….
There you have it folks, a list of 12 simple mindfulness exercises that can be used with groups of all sizes and in all settings. In fact, you could just as well use these activities when enjoying the weekend with your family as you could with your coworkers or students.
Although these exercises do not require a lot of planning or preparation, they guarantee a lot of fun and above all they create a culture and habit of mindfulness, albeit in a very subtle manner. So, enjoy yourself and learn while you are laughing away the worries, the stress and the negativity.