Taking care of your mountain bike ensures a safe ride every time you head out. Whether it's adjusting the suspension or changing your tires, maintenance is essential to having an enjoyable experience. But how do you know when to replace mountain bike tires?
Signs That It's Time to Replace Your Bike Tires
Mountain bike tires don't show wear and tear for a long time, so it's sometimes difficult to notice changes in your tires that could indicate they need changing. Still, there are a few signs to look out for that'll tell you when to replace mountain bike tires.
Reduced Tire Traction
The most obvious sign you need new mountain bike tires is reduced traction while you're out on the trails. The bike won't handle as easily as it used to, and you'll be slipping down the slopes rather than expertly maneuvering around obstacles.
Rounded, Short Knobs
New mountain bike tires have tall, sharp knobs that help with traction. When the knobs become rounded and very short, it's time to switch out the tires.
Visible Threads
If fabric or thread is showing through the tire, what are you waiting for? Those tires are old and worn, and it's dangerous to use them on the trail.
Bulging Areas
If your tires have bulging spots, it can either mean they're old or damaged. Either way, they need replacing. Bulges come from skidding or hitting big holes, and you might see scrape marks near the bulges. If you continue to use your mountain bike with these tires, you might notice a bumpier ride than usual.
Loss of Pressure
Tires that don't hold pressure each time you fill them are not safe to use. While it's more common with road bike tires, old mountain bike tires also lose a lot of pressure and could make for a dangerous situation when you're racing up and down backcountry trails.
Cracking and Separation
Cracked tires are one of the most evident signs it's time for a replacement. The cracked rubber can separate in some spots, and the tire will slowly fall apart if you don't change them out.
How Long Do Mountain Bike Tires Typically Last?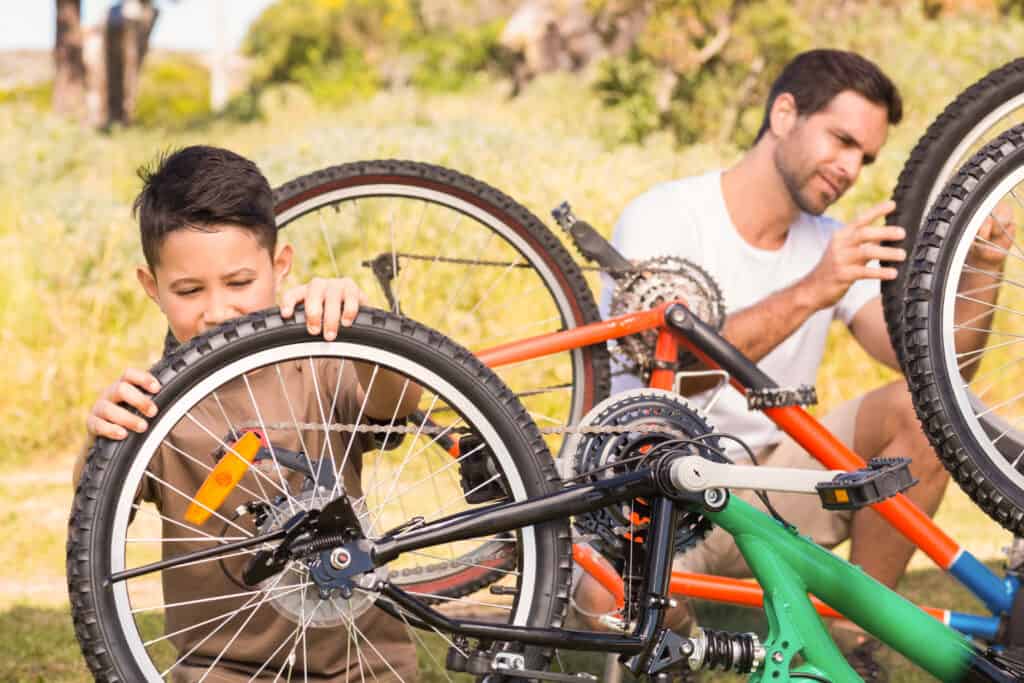 The life of your mountain bike tires primarily depends on the type of tire and terrain you ride on the most. Smoother trails will preserve tires, while rougher rides will wear them down faster.
On average, mountain bike tires should last between 3,000 and 8,000 miles, equating to several years if you ride regularly. If you ride over sharp rocks and other obstacles often, the tire life expectancy can drop to 1,000 miles. Smoother trails will keep your tires lasting thousands of miles.
How to Extend the Life of Your Tires
It would be a perfect world if you never had to change your mountain bike tires, but unfortunately, that's not the reality. However, there are several ways you can extend the life of your tires, spending less time at the shop and more time on the trails.
Keep Tires at the Right Pressure
Perform regular maintenance on your mountain bike, including checking the tire pressure and keeping it at the correct number. Finding the proper tire pressure primarily depends on your weight and your riding preferences.
As a general rule of thumb, the front tires should have a slightly lower psi than the rear tires.
Never Leave Your Bike in the Sun
When you're not out riding, store your bike in a cool, shaded area, preferably a garage or inside. Never leave your bike out in the sun. The sun's UV rays will dry out the tire rubber, which can cause cracks and other damage.
Don't Skid on Hard Surfaces
Avoid skidding on hard surfaces as much as possible. If you skid a lot, the tires will take on a lot of damage, including cracks and scuff marks.
Track Your Miles
Keep track of your miles and the type of terrain you ride. Knowing how long you've been using your tires will let you know when the tires may need replacing and when to look out for damage or signs they need to switch out.
Ride Smoother Trails
You can't beat the adrenaline that comes with riding steep, rocky, and rough trails. Still, sometimes your bike needs a break. Ride on smooth cross-country roads if possible to keep your tires lasting a long time.
How to Change Your Mountain Bike Tires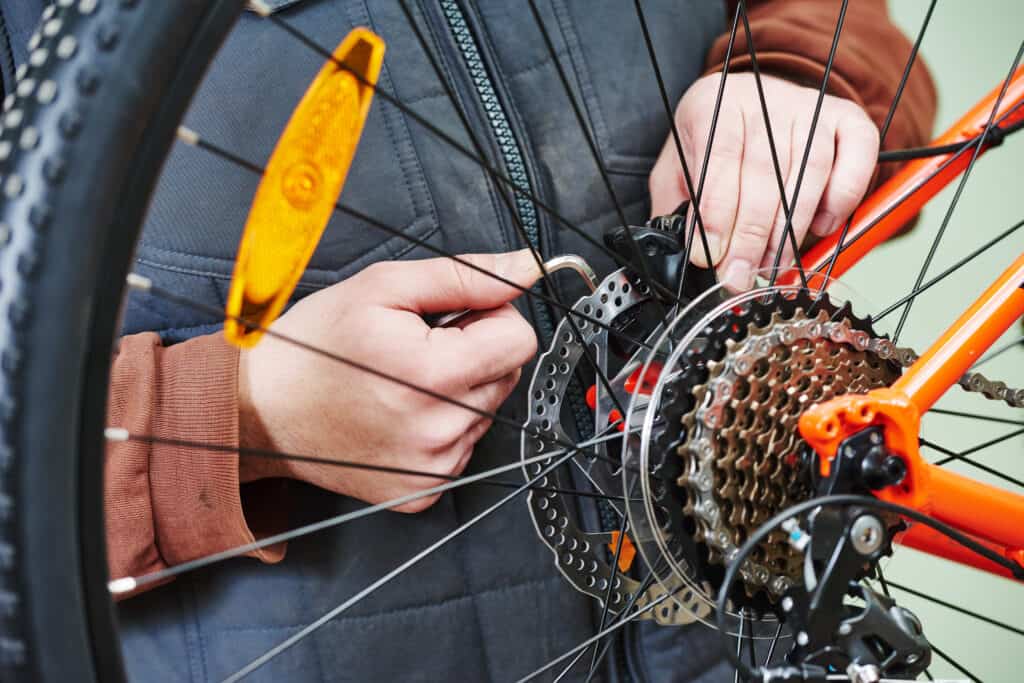 You can go to a bike shop to change your tires, but knowing how to do it yourself will save you money and time. It also helps you when you're on the trail and need to patch a tube in a pinch.
The front tire is easier to change than the rear, as the back tire connects to the bike's chain. Still, it's a simple process that's easy to learn. Here's how to change your mountain bike tires yourself:
Loosen the tire's bolts and remove it from the bike.
Press on the air valve to remove as much tire pressure as you can.
Use a screwdriver or small lever to work the tire and tube away from the rim.
Inspect your rim to make sure it's flat. Sharp edges could scratch or tear a new tire.
Inflate the new tube and insert it into the tire.
Use your hands to work the tire onto the rim. Only use a screwdriver or lever if necessary. Start with one side and then flip over the wheel and work on the other side.
Check the tire to ensure there are no pinches between it and the rim.
Inflate to about 20 psi and ensure everything looks good before inflating it to your fully desired psi.
Final Words
It can be challenging to know when to replace mountain bike tires, but knowing the signs will help you stay on top of maintenance. Track your miles and start looking for signs of wear and tear after 1,000 or 2,000 miles, especially if you ride on many rocky trails.
Changing your tires at the recommended time will ensure you have a safe and enjoyable time on your bike.