Our daily to-do list is a mile long and despite meticulous planning, there are always a few loose ends that have to be tackled as soon as the day starts and also when it finally comes to an end.
I am sure many of you will identify with that statement because that's what life is like for most parents. Between managing home, work and school for the kids, your plates are piled to such an extent that there barely seems any time left for one very important and non-negotiable task…
Creating And Maintaining A Bond With Your Kids!
I know, at least some of you must have responded to that with a protest- "But we are giving it all we've got. After all, everything we do is for the sake of our family and above all our kids".
I agree with you 100%, but how do you explain that to a 5 year old who wants your attention more than anything else?
To this little human, who yearns for your company and relies on you to be a source of positivity, your zooming about in circles around her without actually taking the time to sit down with her, only disappoints her.
But, that's not even the worst of it. In time, this disappointment builds into a very negative understanding of the relationship between her and you- That you simply don't care!
Now, the most important thing to know here is that the seeds of this flawed thinking are sowed years before it actually grows to the point, where your child barely has anything to say to you and won't even come to you with her problems.
Of course, you are not deliberately neglecting your children!
As a mother, I know there isn't a mom/dad out there who does not want to spend more time with his/her child/children.
But, the truth of the matter is this- At the end of the day, despite all the super-human hard work we put it, we are humans too; make that physically tired and emotionally overwrought humans.
And to add to our woes, when those little ones don't get the attention they are vying for, they tend to act up, each one in his/her own way.
Amidst all that drama, when the very really possibility of a power struggle threatens, we react as any human being would:
With flight or fight! (Flight= ignore for as long as possible and fight= scold/punish)
Been there, done that and then the realization hit me that neither of these approaches work. If anything, they just make matters worse.
On the other hand, forging a connection with your kids and working on keeping that bond intact will make a huge difference, not just for now but also as they grow older.
And one of the best ways to forge or reforge a connection is to make time for a special bonding session or what we all know as a mother-daughter date. But, this brings most moms to a very important question.
Is It Possible To Have One-On-One Time In A Household With More Than One Kid?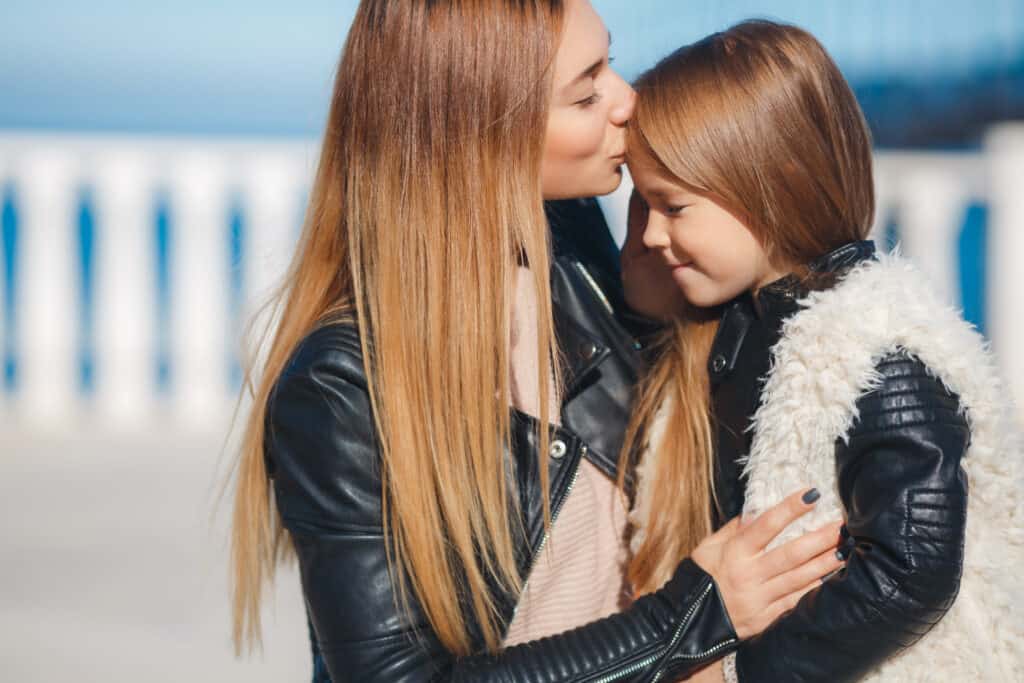 Even if you get past the "I have so much to do already" hurdle, with more than one child, you are essentially dealing with different personalities all together.
So, it can get hard to know when to time the date with each one of your girls.
And if that's not a big enough conundrum, there is always the problem with the other kids wanting in on the fun. So, how do you deal with both these problems at once?
There are three ways in which you can sort out this problem:
Get your spouse involved: In a household with two or more kids, set your date for a day when your spouse has some time on his hands and can take care of the other munchkins for about an hour or so, which will give you enough one-on-one time with one child.
If you have more than two kids things can get easy: Depending on the age of your children, you could get the oldest to watch the youngest and take the middle one out for a date.
Treat it like any other date: Of course, you'd get a sitter if you were heading out for a date-night with your partner. So, see if you can get a sitter or leave the kids with a friend or family member, so as to free up enough time for a date with your daughter.
Now, about getting the timing right or getting enough of those mom-daughter dates to make an impact, there are two ways to handle that as well:
1. On a need to be done basis:
This is a hard one because you will have to watch your kids closely to understand when they are in need of some alone time with mommy. As is the case in all household, despite coming from the same gene pool, kids can have remarkably different personalities.
For instance, when my oldest is facing a problem or is simply in need of attention, she tends to get really chatty and has an overall distracted air about her. In contrast, my younger one tends to retract into a shell, spending more time with her books.
When I see them behaving as such, I know that's my cue to reach out to them (no matter how stressed/tired I am). 
2. On a schedule:
The thing about including your date with your daughter in your schedule is that over time, it turns into a tradition. Plus, this way, you never have to worry about going too long without a heart to heart with your little gal pal.
Finally, for the problem of the other kids asking to join you on the date, this one is easily remedied by a rule or with a promise. Explain to all the children that each one of them will get their special time with mommy.
Plus, you can make the rule easier to accept by promising a mommy and kids date when all of you go out together for some fun.
When Is The Right Time To Start The Tradition Of Mother-Daughter Dates?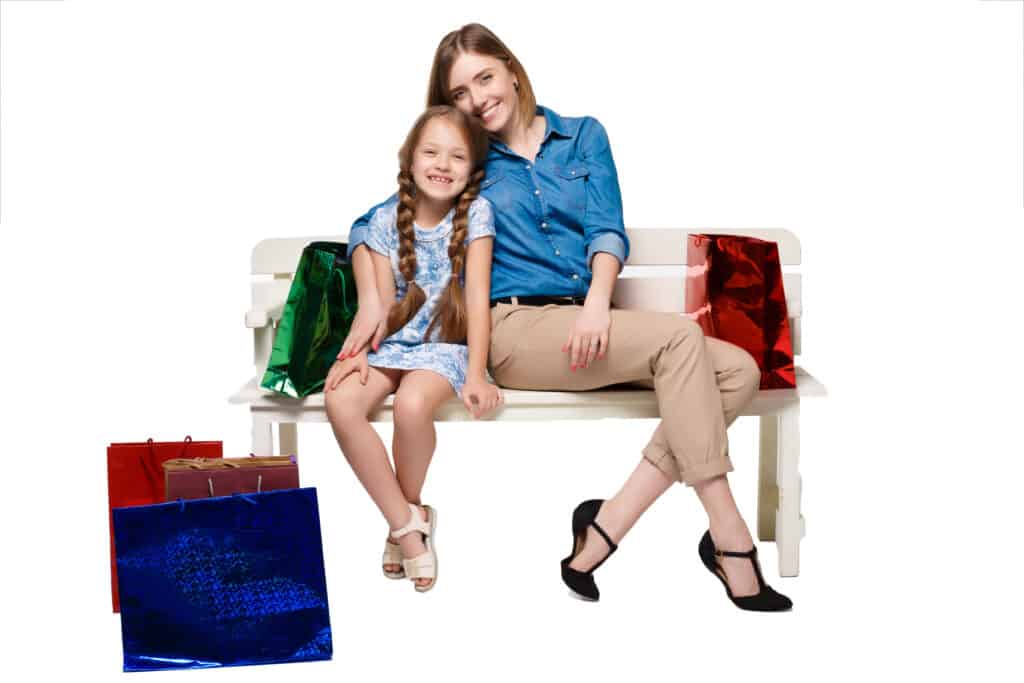 How about yesterday?
Believe me when I say this, the sooner you start with your mom-daughter dates, the easier it will be to turn it into a part of your regular lives.
The last thing you want to do is wait till your child is a pre-teen or about to celebrate her thirteenth.
By then the idea that you are busy in your own life and that your kid should lead her own life gets firmly rooted. If you allow that to happen, the awkwardness of a sudden attempt at some mother-daughter time may be too much for both of you to handle.
Another thing to consider is that you may have already done several mother-daughter dates already.
You remember:
Every time you read her that one story she just could not get enough of.
The regular drawing and painting sessions when it was just her and you having loads of fun coloring away
The dress up like a princess or dress up like mommy sessions.
What do you think all those were if not mother-daughter dates?
I am sorry, but did you think that a date with your daughter can only be done outside your home? Not at all! The fundamental goal here is to spend some time together, just the two of you. It does not matter if this time is spent outdoors or indoors.
As long as both of you are having fun and bonding over a few good laughs, a lot of chitchat and possibly something that you both enjoy eating, what you have is a date. Yes, there are a few rules to make your date a success and that's coming up in the next section.
Doing A Mother-Daughter Date Right!
1. She should get your undivided attention:
No point in taking your daughter out if you are going to let your phone occupy your attention and your worries occupy your mind.
In fact, I highly recommend that you have a "phone on silent mode" rule for the date. And the rule should apply to you as well as to your daughter if she is old enough to have her own cell phone.
2. It need not be an expensive idea:
Sure a mother-daughter spa date or even a lunch at an upscale restaurant or some retail therapy are all fantastic options. But, there are so many other ideas out there which don't require as much money.
Personally, I believe that the more you spend, the less motivation you have for the next date. Instead, keep things simple and focus on having fun while keeping your spending at the bare minimum required.
Also, you want to send out the message to your child that fun and bonding is not all about money and buying stuff.
3. Pick something that appeals to her:
The most important thing when planning a date with your daughter is to pick something that she enjoys.
The way I did it was to let her choose the first few times and then slowly I started wiggling in my ideas, waiting for her to approve.
This way, I could expose her to new things and experiences, without making her feel like I was the one controlling it all.
4. Mix up indoor and outdoor ideas:
In the list below you will find quite a few date ideas for spending time both outdoors and indoors with your mini-me.
I'd suggest you mix and match, balancing time spent indoors with every alternate date involving the outdoors. This is one of the best ways to keep things exciting and adventurous.
5. Don't turn it into a psych-analysis session:
As a mom, I believe you run the risk of doing this from the very first date, no matter what your child's age.
The worst part is that your worry and your need to understand what your child is thinking, feeling, facing will only increase with every passing year.
And by the time your daughter is a teenager, your dates together will turn into a specious therapy session with just the couch missing. So, stop this habit before it turns into an issue for your kid and you.
Sure, the date is all about spending time together but more than anything, it is about bonding through fun. So, keep it as positive as possible and steer clear of questions that are only meant to dig out the troubles in her life. 
6. It's all about having fun, but:
After the above point, I also want to mention that if your child does want to talk about something that is bothering her, of course you should encourage her to do so and listen actively.
The one thing that you need to remember at this point is that you will destroy the rapport you have built with her if your advice and consolation come across and judgemental. So, try to view things/situations from her perspective before offering those nuggets of wisdom.
As women, the one thing that we understand better than men is that sometimes problems just need airing out and not necessarily a solution.
30 Mom And Daughter Date Ideas For Toddlers To Teens!
So, here is my big list of date ideas for all you mothers and daughters out there. I have adjusted them for both the age of the child as well as the amount of time and money you will spend on the date.
Fun Mother Daughter Date Ideas For Kiddies (4-10 years)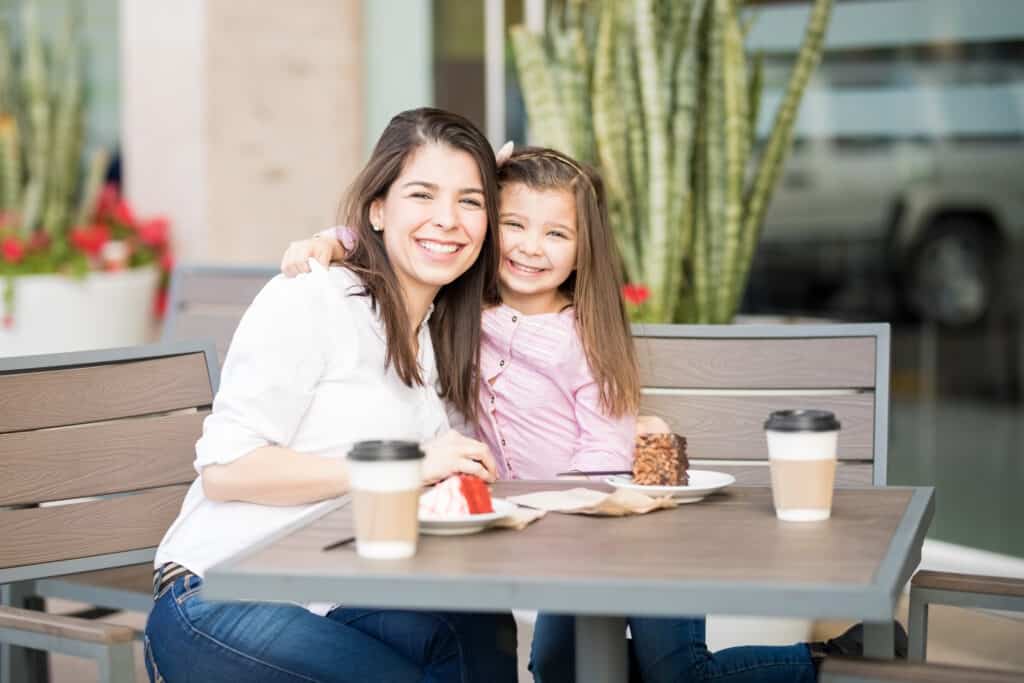 The ever popular tea party; works better if you have her favourite cookies to go with the delicious tea she brews for you.
Baking together; pick simple recipes for her favourite dessert and you can have a blast with her as your cooking assistant.
Create your very own flower garden; Get your kid to help you out in the garden by first picking flowering plants together and then letting her join in on the excitement of planting/potting them.
A dance party at home and that too in the afternoon, what could be more fun than that?
What is a date without a sundae to wash down all that's bothering you? I promise your little one will agree with you on this wholeheartedly.
A trip to the park with just the two of you and perhaps a ball and a picnic hamper can turn into a bona fide date.
Nothing beats the excitement and the sense of fulfilment of creating something together. Take your pick from coloring, paper craft, jewellery making and even play doh making.
If she likes books (even if she cannot already read), a trip to the local bookstore can be loads of fun.
Mom And Daughter Date Ideas For Preteens
Explore the tourist wonders of your own town and while you are at it, don't forget to grab something from a famous local eatery.
Wonder away at everything that transpired in the world before you came along by taking a trip to the local museum. If it is not too expensive, go for a guided tour of at least one exhibit.
Look for treasures with a scavenger hunt that you plan in advance.
Plan a photo session together. It does not have to involve a professional photographer; it could just be you and her clicking away with your cell phones.
Camp out in the backyard and complete the experience with a bonfire and a star gazing session.
Enjoy everything that nature has to offer with a hiking session.
Bring out all the glitter and the gloss to have a makeover party.
If it can be done, take her to work with you (for a few hours if not for the whole day).
Find memories together by going to the local flea market. In fact, I'd say pick something that you can restore together, even if it takes a few days to complete the project.
Visit the local amusement park and enjoy the rides together.
Mother Teenage Daughter Date Ideas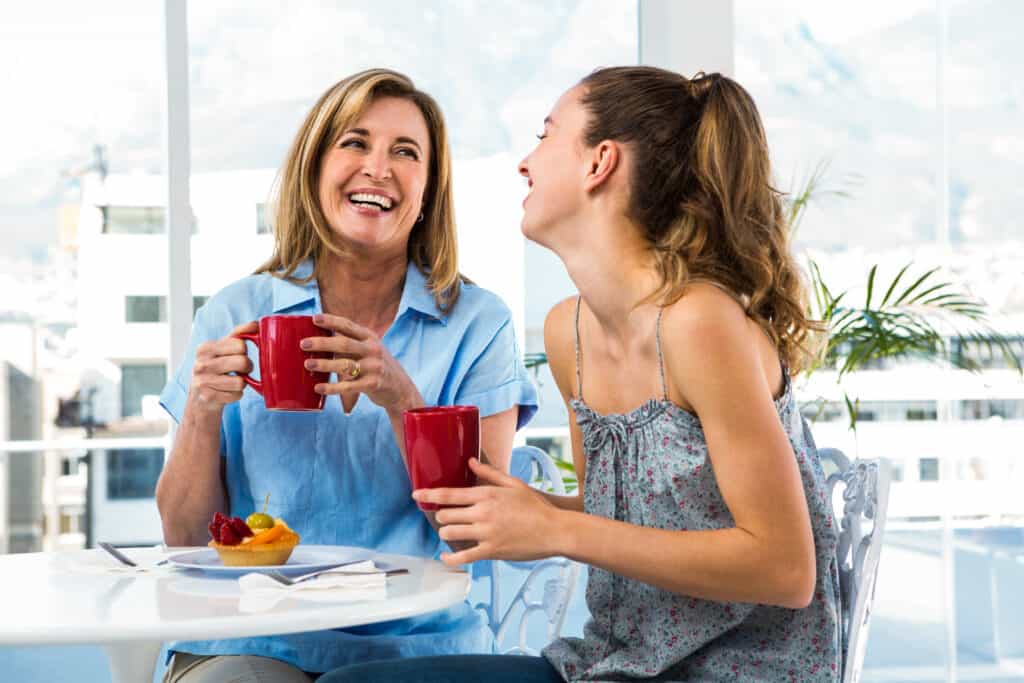 Spend half the day at your daughter's favourite nature spot (beach, mountain, forest).
Volunteer at a local charity together.
Get a mom and daughter mani-pedi sessions or better yet, give each other a mani and a pedi.
Catch a girly movie at the local cinema.
Go bowling or mini-golfing.
Head to the local farmers market and cook up a meal together with the ingredients you brought back.
Spend a day at the spa and try out the most outrageous sounding facials
Dress up and head out to a show or event that calls for fancy clothes. If you book in advance you can get discounts on ballet, opera and theatre tickets.
Enjoy a one night staycation at the neighbouring town.
Take her out for window shopping.
In Conclusion…
As your daughter grows older, the tables will turn and she will find it hard to make time for mom-daughter activities.
When that happens, I urge you to be patient and understanding. After all, like all other young ladies she will go through the frivolities of life.
But, when all the banal has hit and passed, she should have the firm realization that you are always there for her, no matter what.
If you can get her to feel that she can always pop over for a coffee date and talk or even cry her heart out. That, you would understand it all and above all be there for her, then you have done it all right!