Natural products are among the most popular forms of treatment for acne scarring, and with good reason.
Not only are they effective but also they are affordable and easily available, but there are innumerable variations of such products which has added to their popularity.
Creams, oils, masks, cleansers, toners and more are all part of this product category. In fact, given the sheer array of choices available, you are bound to find a preparation that will suit your skin type and your specific dermatological condition.
Why Should You Consider Using Natural Products To Treat Acne Scars?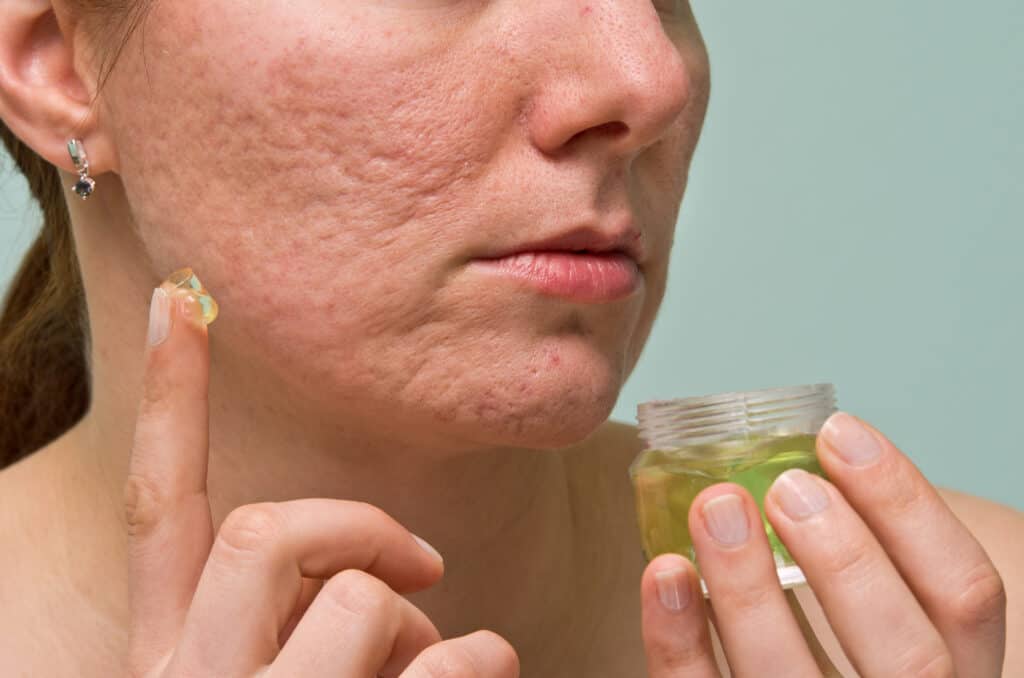 Although my scarring was quite serious, natural products were among the first I considered because they not only help against acne scars but also deal with a range of other skin issues.
The ingredients mix usually includes one or two natural moisturizers which tackle the flakiness and redness that result from using topical anti-acne products as well as procedures such as microdermabrasion.
I liked the fact that my skin felt younger and while erasing the scars, these products were also working on the fine lines and other age related problems, including hyper pigmentation due to sun exposure.
To add to this, I could easily combine them with just about every other remedial measure I was using to battle the scarring. The products were effective on their own and could be used as the base treatment on which I could build.
What Are The Most Popular Natural Ingredients Used In Products To Eliminate Acne Scars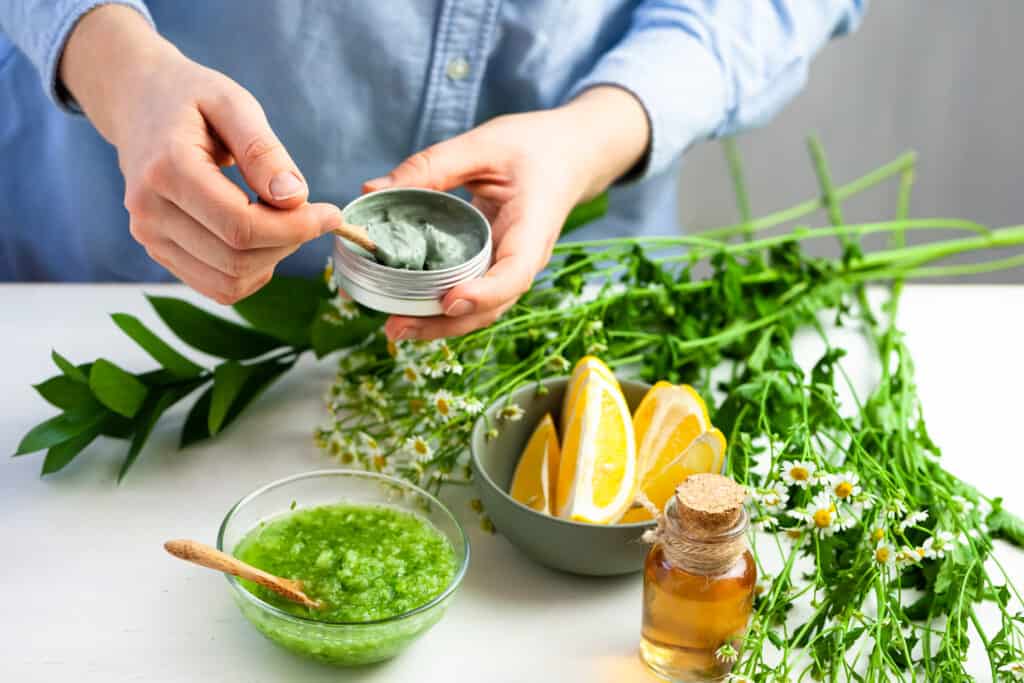 Aloe Vera
The gel not only soothes the skin but is also remarkably effective on acne when combined with conventional ingredient and on its own. It helps to retain moisture in the skin and promotes healing.
Rosehip Oil
A rich source of linoleic acid, rosehip oil contains a significant amount of vitamin A and C, together these nutrients help to balance the sebum production and thickness of the natural skin secretions, helping to prevent it from clogging the pores. Because linoleic acid is an omega 6 fatty acid, it helps in faster healing of the wounds and minimizes the scarring.
Dead Sea Mud
Packed with several trace minerals such as magnesium, bromides, phosphates and sodium, Dead Sea Mud baths have long been recommended for psoriasis and other inflammatory skin conditions. When used for acne, Dead Sea Mud helps to pull out the excess oil from the pores, cleansing them deeply, while the minerals help to enhance skin health.
Shea Butter
The natural butter derived from brown seeds is a rich source of vitamin A and E that increase skin suppleness. It also promotes collagen production, which helps with acne scars. Shea butter contains lupeol cinnamate, a naturally occurring acid that has strong anti-inflammatory properties.
Jojoba Oil
Most chemical treatments for acne strip the skin of its natural moisture, which leads to the hyper production of sebum. This in turn causes increased pore blockage and more intense breakouts. Jojoba oil helps regulate the secretion of sebum while moisturizing the skin.
Calendula Oil
Produced from the bright yellow marigold flowers, this essential oil has several phytocompounds that help the skin in using amino acid hydroxyproline and speeds up healing after a wound.
It also imparts a soothing effect to skin that has been under stress due to bacterial infections and harsh chemical applications which are used for drying out the pustules. In addition, calendula tinctures are a potent homeopathic remedy to fight off infections.
Eucalyptus Oil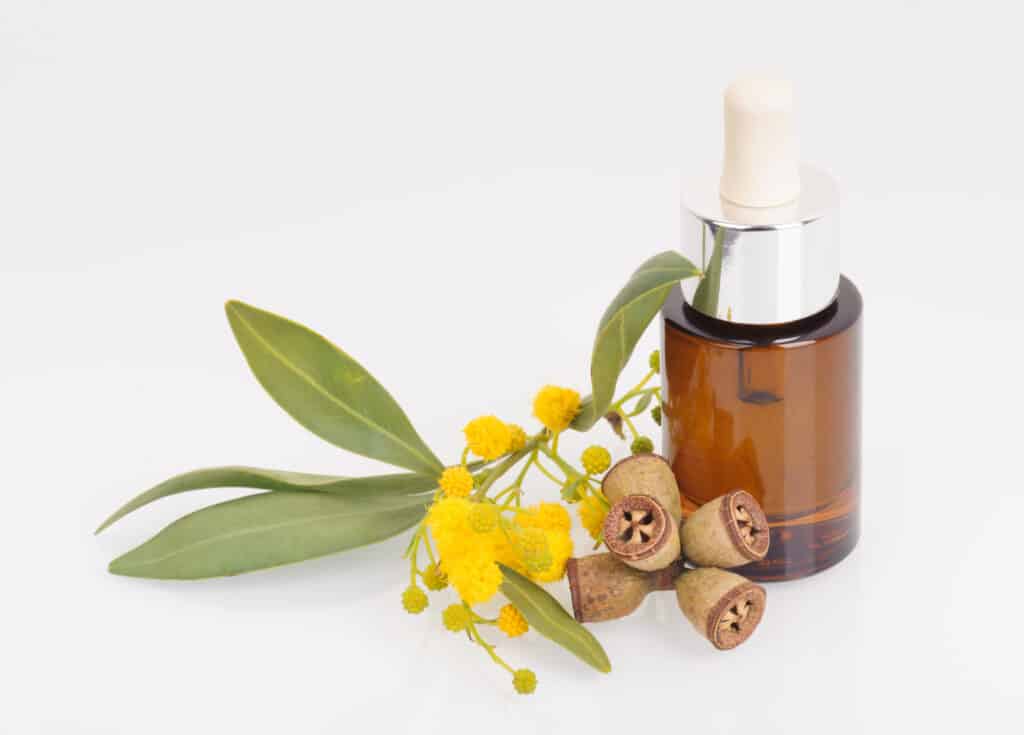 It has strong anti inflammatory and anti bacterial properties. Although using this essential oil on its own can prove too strong for most, when mixed with other anti acne and scarring ingredients, it works extremely well.
Retinyl Acetate
This form of vitamin A is natural, penetrates through the skin barrier faster and is essential for regeneration of dermal cells.
Green Tea Extract
The potent antioxidants in green tea act as a powerful toner and help in reducing the frequency and intensity of acne flare-ups. Also, a catechin found in green tea helps to reduce inflammation which is at the root of acne scarring.
Copper Peptide
Considered the most potent, natural treatment for acne scars, copper peptide works on multiple fronts. It helps to lower the production of skin oils while reducing pore size.
It also promotes the production of collagen fibers and visibly plumps the skin which makes a conspicuous difference to pit like scars.
Lactobacillus/Kelp Ferment Filtrate
Derived from kelp, this substance forms a natural film on the skin and protects the dermis from moisture loss.
Glycerine
It helps to absorb moisture from the atmosphere and plumps the skin, giving it a visibly soft and supple look.
Gotu Kola
This herb has been used for centuries in anti acne remedies and to treat blemishes including scars. When used topically on acne eruptions, it increases the blood flow to the wounds and helps in reducing the formation of scar tissue.
The natural compounds in Gotu Kola also aid in enhancing skin elasticity by improving the production of collagen and elastin, which in turn helps in recovery and reduce the formation of scars.
Vitamin E Oil
This has long been the "go to" treatment in every household for scars of any type including those that result from second and third degree burns. While some dermatologists disapprove of its use, there is ample of anecdotal evidence which proves the benefits of using Vitamin E oil on all sorts of blemishes.
The oil gets easily absorbed into the skin and improves healing while maintaining the proper production of collagen. It works on old scars and prevents the formation of new ones when used on healing wounds.
Coconut Oil
The light oil gets absorbed easily and is a powerful antifungal and antibacterial agent. So, it is frequently used in anti acne preparations to keep the skin moisturized and toned while dealing with the microorganisms that cause inflammation.
Olive Oil
Extracted by crushing olives, the oil helps to restore the moisture balance of the skin. So, it not only thwarts breakouts but also does wonders when it comes to other dermal complaints including fine lines, dryness and dark spots.
Royal Jelly
This is another natural ingredient that helps promote faster healing and reduces scarring as it strengthens the collagen. It is also a powerhouse of B-vitamins and Zinc which are known to bring acne under control and eliminate scars.
Tea Tree Oil
Although tea tree oil does not work as quickly as salicylic acid or benzoyl peroxide, studies have indicated that it is just as effective but does not damage the skin like the harsh chemicals do.
Alpha Hydroxy Acid
Found in citrus fruits, this natural acid helps to slough off dead skin cells which contribute to pore clogging along with sebum.
What Kind Of Results Should You Expect From Natural Products? 
There are numerous tests and studies along with anecdotal evidence that support the use of nearly all the natural ingredients above. When used on their own, these products are remarkably effective.
The best part is that you do not have to give up your regular skin care regimen or anti-acne treatment when using these products. They rarely react negatively with chemical ingredients since they are all natural.
Most of these plant-derived substances have powerful anti-oxidant properties, which not only help to ward off pimples but also keep free radical damage at bay.
Because people with acne prone skin often end up using products that are too harsh, it is not unusual to find them with dry, flaky skin that is sensitive to sun exposure and vulnerable to the signs of aging. In fact, the constant use of chemical products often turns into the bane of youthful looking skin.
However, if you are like me, chances are that your primary concern is to get rid of the ungainly pimples even if it is at the cost of your skin health.
But, if you can get a product that can address the issues of scars and dark spots while keeping your skin soft and healthy, why not?
The most important thing to understand here is that although natural products are quite effective, the results are usually slow in the coming, which can be disheartening at first.
Unfortunately, right when they are on the brink of a change, most people succumb to the disappointment and stop using the products and never see the results that are just a few uses / days away.
Also, it would be unrealistic to expect good results if you are not consistent and diligent when using these natural products. Acne is a chronic condition which means that you will need to continue using the skin care regimen that has worked for you if you want to maintain your flawless complexion.
The biggest advantage of going with natural products for acne scars is that there is a whole array of options available. These products can often be used as lone crusaders against mild to moderate acne or in combination. You could also put them together in your weekly or daily skin care regimen and get greater benefits.
The Top Natural Products For Acne Scars
Organic Rosehip Seed Oil
Prices pulled from the Amazon Product Advertising API on:
Product prices and availability are accurate as of the date/time indicated and are subject to change. Any price and availability information displayed on [relevant Amazon Site(s), as applicable] at the time of purchase will apply to the purchase of this product.
A 100% organic product, the virgin rosehip oil contains no artificial additives, which can cause negative reactions. The natural oil works in a multitude of ways to correct all skin concerns. With its content of 44% linoleic acid, rose hip oil balances the viscosity of sebum and makes it flow out of the pores quickly. The result is reduced pore clogging and fewer breakouts.
In addition, rosehip oil is an all natural moisturizer and packs a significant amount of essential vitamin A and tretinoin; this is the substance that retinol converts to in the body.
The oil gets readily absorbed into the skin and does not leave back the sticky residue that can typically be associated with the use of moisturizing products. Besides, it has exceptional hydrating properties as it forms a thin barrier on the skin and prevents the loss of moisture.
I used the product twice a day and found that I was most happy with its performance when applied at night. In the morning, I would wake up to supple, smooth and radiant skin.
It took about 4 weeks of use to see a visible difference in the hyper pigmentation and the pitted acne scars. An added advantage is that rosehip oil is a natural sun block. I could not use sunscreens because most of them were just too oily but with the rosehip oil on my skin, I could endure a fair bit of sun light.
Dead Sea Mud Facial Mask
Prices pulled from the Amazon Product Advertising API on:
Product prices and availability are accurate as of the date/time indicated and are subject to change. Any price and availability information displayed on [relevant Amazon Site(s), as applicable] at the time of purchase will apply to the purchase of this product.
If the natural goodness of Dead Sea Mud was not enough, this product combines essential oils with the mud to pack double the punch.
I would shy away from spa treatments and facials fearing a breakout. However, this product brought the efficacy of a professional facial to my home and I never had a problem with breakouts after using it.
In fact, the Dead Sea Mud helped to significantly curb the sebum output on my facial skin. The oily T-zone seemed less shiny, the pore size was reduced and I noticed a significant reduction in blackheads.
And, all of this with just 15 minutes of use every week. The mask offers gentle care and sure delivers the results it promises.  Even if you have combination or dry skin, your skin will feel soft and smooth after use. I have also tried it as a spot treatment and it works just as well. It is more effective on blackheads and at the early stages of an eruption, but you could also try it on the pustules as long as you are willing to take the time to remove the mask off gently.
After 4 to 5 weeks of judicious use, my acne flare-ups were less intense and the redness had all but gone, which was a good thing since it is the inflammation that causes all the trouble.
As far as the scars were concerned, there was a significant reduction in the black spots and the pits now had softer edges which meant that the product was indeed working.
Protégé Flawless
Prices pulled from the Amazon Product Advertising API on:
Product prices and availability are accurate as of the date/time indicated and are subject to change. Any price and availability information displayed on [relevant Amazon Site(s), as applicable] at the time of purchase will apply to the purchase of this product.
They do advertise this product with some lofty claims, calling it the best anti blemish preparation out there. To my astonishment, for a change, here was a product that actually lived up to its marketing promises.
This is not really a cream or a lotion although the consistency is somewhere in between the two. You simply have to scoop it up on your fingers and apply on the trouble areas. I must confess that I started using this product on my acne scars first, and once I noticed the dramatic difference, there was simply no keeping me away from it.
I have tried it on my stretch marks, a scar left by the friendly neighbourhood canine, who needed a taste of my calf muscle, and of course on the marks on my face attributed to my severe acne problem and this product came out a winner each time.
Although the ingredients lists on this one runs long, the most notable inclusions are copper peptide, which addresses nearly all acne related issues; glycerine, which helps to retain moisture levels in the skin along with aloe vera and green tea extracts, both of which are known to boost healing.
It usually takes a bit longer for the older scars to fade. In comparison, those that are just forming are the first to disappear along with any redness and hyper pigmentation.
Vitamin E Oil By GreatFull Skin
Prices pulled from the Amazon Product Advertising API on:
Product prices and availability are accurate as of the date/time indicated and are subject to change. Any price and availability information displayed on [relevant Amazon Site(s), as applicable] at the time of purchase will apply to the purchase of this product.
You'd have to be living under a rock to not have heard about the dermatological benefits of Vitamin E. My grandmother used to praise the benefits of this product and to this day her advice on the matter is as stellar as the day when she was using the product.
The only difference with this particular blend is that it combines two potent natural ingredients: Vitamin E oil and coconut oil.
While in its pure form Vitamin E oil is thick and viscous which can make application a pain, the combination of the light coconut oil gives this product the right flow. Although there is some murmur that a dermatologist from Down Under says the direct application of Vitamin E on acne wounds can actually exacerbate the scarring, my experience with this product was the exact opposite.
I have used this oil while the scabs were just a day old and continued till they fell off. What I noticed was that the depth of the scar pits was shallower than in areas where I did not use the oil.
Although it made a remarkable difference to the existing scars and black spots the most noticeable difference was in the new scar formation. In fact, you would have to look very closely to find the negligible dent from even the large pustules.
Egyptian Magic All Purpose Skin Cream Facial Treatment
Prices pulled from the Amazon Product Advertising API on:
Product prices and availability are accurate as of the date/time indicated and are subject to change. Any price and availability information displayed on [relevant Amazon Site(s), as applicable] at the time of purchase will apply to the purchase of this product.
This product is particularly effective when used on a face full of acne. Instead of spot treatment, I found this cream most effective when simply rubbed into the entire face.
Although the results do take a few weeks to arrive, but when they do, they are significant and this can be attributed to the high content of B vitamins found in the propolis and royal jelly extract. The preparation also gives your face a smooth and glowing look thanks to the use of olive oil in the formula.
Apart from my face, I have also used this product on my hands and it does help to smooth out the wrinkly, veiny look. When used on acne scars, there was a distinct improvement in the redness brought on by the inflammation which helped to reduce the scarring.
Overall, my skin was softer and the breakouts rarer once I included this product in my skin care regimen. I found that the efficacy of this cream increased greatly when used with a derma roller.
So, instead of using it every day, I reserved this product for my derma roller sessions. Not only was the after effect stunningly good, but also it offered quick recovery from the redness and the inflammation that resulted from the microneedling.
The Bottom Line
All in all, natural products are extremely effective when used to calm and soothe acne prone skin. They offer amazing benefits in terms of moisturization, faster healing and reduction in scar formation.
As far as existing scars are concerned, these natural preparations are only marginally effective on their own but work remarkably well when combined with other forms of treatment.