Also known as hospital bed tables, overbed tables are portable, rectangular tables specifically designed to span over a bed. They also have a base and lockable wheels that can easily slide beneath the bed. The tabletop itself is usually adjustable so that its height can be changed. This makes it more comfortable for patients to eat their meals, use their computers, read, or perform other activities from their bed.
Overbed tables are used for patients at hospitals, rehabilitation centers, or long-term care facilities. In addition, many people use overbed tables at home, not solely for hospital beds but also with low or regular-sized beds.
Steady as She Goes
Have you ever tried to prop your book against your knees or an unsteady pillow when reading in bed? Or perhaps you've gone to a restaurant where one of the table legs was slightly off-kilter, and you kept worrying that the entire table would tilt or topple over completely?
If so, you know how frustrating such unsteadiness can be. Now imagine that you're a senior at a rehabilitation center or you're hospitalized due to illness and injury. What would you do if your food was placed so awkwardly on an uneven surface or so far off to the side that successfully bringing your soup spoon to your mouth without spilling would be worthy of an Olympic medal?
Said another way, particularly for people who are ill and/or elderly, having an appropriate overbed table is not only a matter of crucial convenience but a safety issue.
What Are the Uses of an Overbed Table?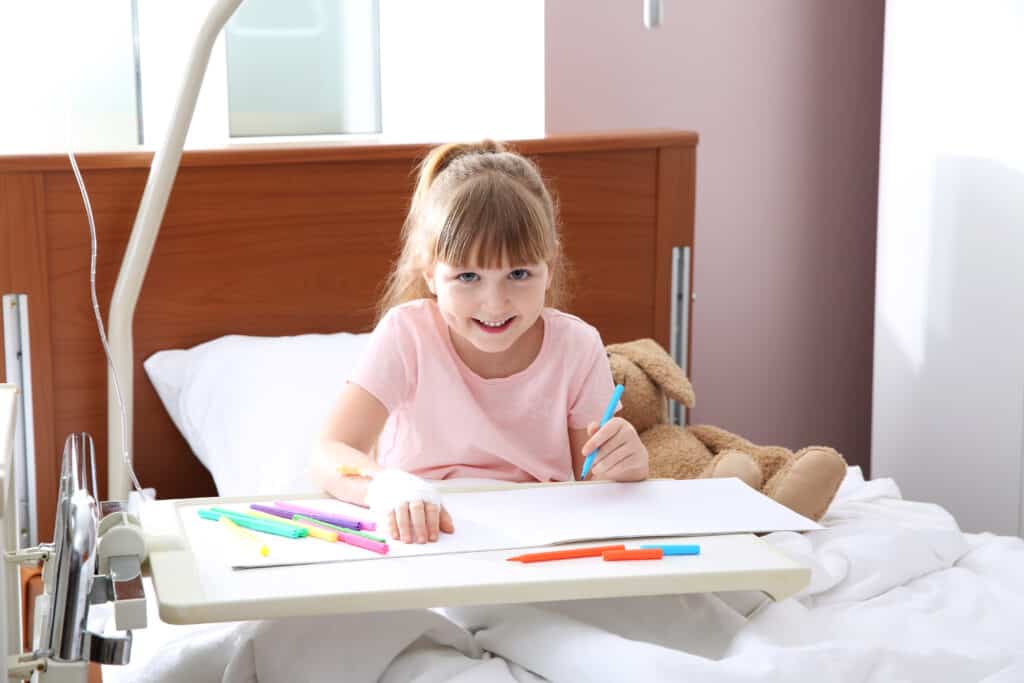 Overbed tables are used in hospitals and other caregiving facilities to make it easier and more convenient for patients to conduct multiple activities of daily living, work, and leisure while remaining in bed. These may include the following:
Eating meals or snacks
Having beverages
Writing
Using a computer
Knitting, crocheting or doing other crafts
Many people also store drinks or snacks on their overbed tables for later. In addition, they may store personal items on these tables for closer accessibility.
For Comfort at Home
Anyone who needs to spend a great deal of time in bed at home, whether recuperating from the flu or injury or affected by a long-term chronic illness, will also find using specially designed overbed tables helpful and convenient. In addition, it's important to note that those who use lift chairs or wheelchairs may also benefit from specially configured overbed designs.
Bariatric Overbed Tables and Beds
For people who are obese or have a long-term chronic illness and therefore may be at risk for developing bedsores, bariatric overbed tables are available that are large enough to fit over bariatric beds. Such bariatric overbed tables may accommodate up to 500 pounds.
Bariatric beds are specially designed beds that can safely accommodate obese individuals at hospitals, rehabilitation centers, clinics, and homes. These extra-wide and heavy-duty beds not only have a higher weight capacity than standard models but are also able to reach up to 88 inches in length and 54 inches in width.
What Should You Look For in an Overbed Table?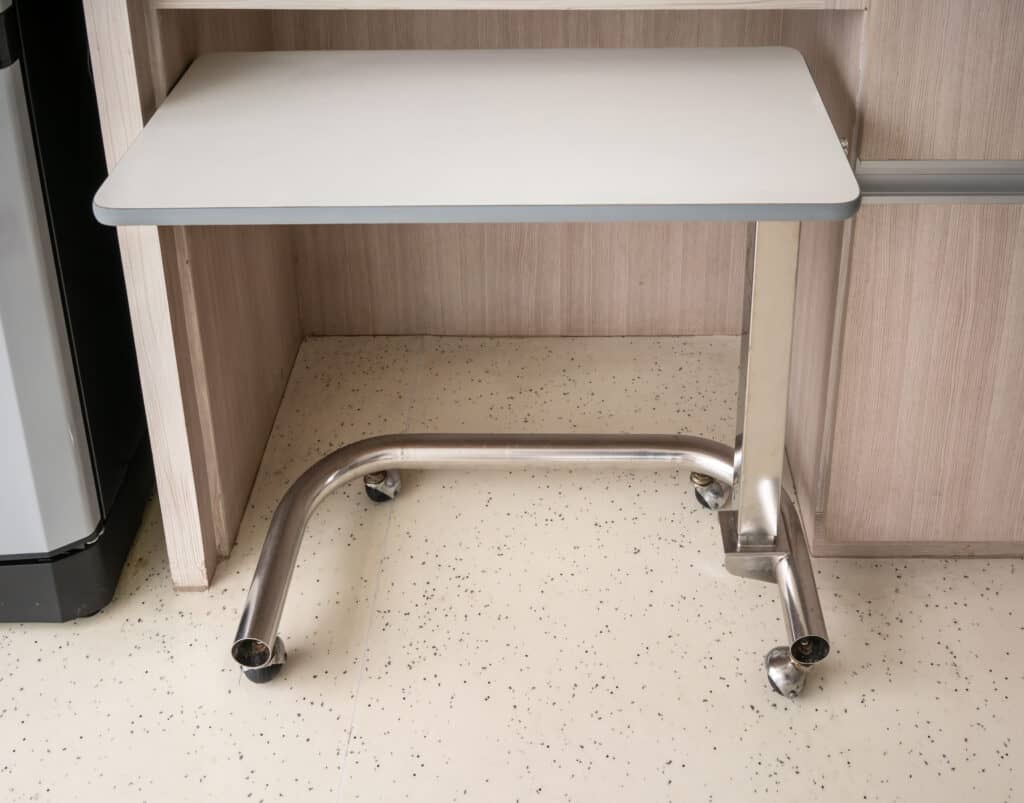 The purpose of overbed tables is to provide those who need to remain in bed for long periods with a solid, stable, and reliable surface to help them conduct a variety of necessary and desired purposes. You should consider multiple features before purchasing an overbed table to ensure that it fulfills the individual user's specific needs.
Design
Most people use overbed tables that they can adjust to an appropriate height over the bed and that have a four-wheeled base that easily slides beneath the bed. Thanks to the sliding base, you can simply move the overbed table away from the bed and store it in a safe location. Then, when the user is again ready to use the overbed table, you can slide it out of its storage location and position it appropriately over the bed.
Most purchase specific overbed tables based on their levels of sturdiness, durability, and reliability. Most overbed designs use composite materials or wood laminates with chrome-plated steel to withstand frequent use. For those concerned with aesthetics, many overbed tables use colored plastic or wood finishes or laminates that will nicely blend in with any existing decor whether in a hospital or caregiving facility or at home.
Simplicity
Unfortunately, overbed tables are often one of the most contaminated surfaces in a patient's room. Crumbs and spills may sit on them for hours, and just about everyone–including the patient, healthcare employees, and visitors–touch the overbed table surface. Worse yet, healthcare workers or family members may not clean the tables often enough.
Therefore, if the patient is at home, select simple overbed tables without extra components, which will make them easier to clean. Choose a tabletop that uses biocidal materials, such as copper-infused hard surfaces, that can kill bacteria between cleanings. If the patient is in a residential facility or hospital, ask whether they are or can start using simple overbed table surfaces that use biocidal materials. Last but not least, ensure that cleaning takes place regularly.
Base Configuration
Standard overbed tables use an H-shaped base configuration to enable easy sliding beneath beds. However, some people prefer to buy base designs that use a C- or U-shaped base with lift chairs, wheelchairs, and other specialty chairs. Others are interested in purchasing base configurations that they can adjust for use on either the left or right side of the bed.
Height Adjustability
Most overbed tables provide height adjustability to ensure that users can select different tabletop heights and levels depending on their specific needs. Those who purchase low beds should select overbed tables with lower height capability. In contrast, if you're purchasing a regular or high bed, also select an overbed table that can reach higher heights. You can easily adjust an overbed's height by using twist knobs or spring-loaded mechanisms that securely lock into place.
Tilting Options
As noted above, all overbed tables offer flat, stable surfaces. Yet some may also offer adjustable tilted surfaces to make it easier to write, perform artwork, read, or even to make a computer or Kindle more viewable. Some overbed tables may also offer adjustable angled surfaces in combination with pivoting for closer positioning and enhanced ergonomic functionality.
Tray Edge Options
Overbed tables may offer different tray edge options, such as raised edges or protective lips. These can be handy in preventing items including food and drinks from sliding or spilling off the overbed table's edges.
The Final Word
In summary, overbed tables can be used for many beneficial reasons. Yet, you must consider multiple factors to ensure that your choice safely and effectively fulfills the individual user's specific needs.