If you're caring for a senior, one of the toughest challenges is preventing them from wandering. On top of all the caregiver roles you have, dealing with a wandering individual can be both emotionally and physically draining. Unfortunately for many, it's inevitable, especially if the elderly person is suffering from Alzheimers or dementia.
Luckily, advancements in modern technology have made it easier to track the whereabouts of our aging loved ones. With the best personal tracking devices for seniors, you'll know exactly where your elderly parent is, at all times.
In this post, I'll share some of the top-rated personal tracking gadgets and guide you on how to choose one.
In a Hurry? These are Our Top Selections:
Image
Title
Price
Buy

Top

Top

Top

Top

PRIMETRACKING Personal GPS Tracker - Mini, Portable, Track in Real Time - 4G LTE - with SOS Button - Locator Tracking Device - for Seniors, Kids, Cars, Vehicle, Bicycles, Spy Tracking, Travel
Buy Now

Top

Top

Top

Spytec STI 2019 Model GL300MA GPS Tracker- 4G LTE Mini Real Time GPS Tracking Device for Cars, Vehicles, Kids, Spouses, Seniors, Equipment, Valuables
Buy Now
Tracki 2020 Model Mini Real time GPS Tracker. Full USA & Worldwide Coverage. For Vehicles, Car, Kids. Magnetic Hidden small Portable Tracking Device. Child, elderly, Dog pet drone motorcycle bike auto
Buy Now
Product prices and availability are accurate as of the date/time indicated and are subject to change. Any price and availability information displayed on [relevant Amazon Site(s), as applicable] at the time of purchase will apply to the purchase of this product.
Prices pulled from the Amazon Product Advertising API on:
What is a Personal Tracker and How Does It Work?
Simply put; this is a kind of surveillance system that utilizes a Global's Positioning System (GPS) to keep tabs on the location of a person, automobile or other asset. The GPS of the tracker links to the GPS satellite system to determine the specific longitude, latitude and movement of the entity in question.
The accuracy of a personal tracking device will differ from another, and this depends on the number of satellites that its receiver is linked to. Another reason why their precision varies is because of the differences in the satellites' position and their orbital dynamics.
The highest level of accuracy is achieved when the personal tracker is linked to a minimum of four satellites. However, being linked to just three satellites works fine as well.
Initially, GPS technology and the ability to track people and objects began as a concept that was only applied by the military and tech-savvy people. But with evolution, it's become widespread and more affordable.
Even better, personal tracking systems can now be used on an array of electronics; ranging from smartphones to tablets and wireless devices.
How to Choose a Personal Tracker for the Elderly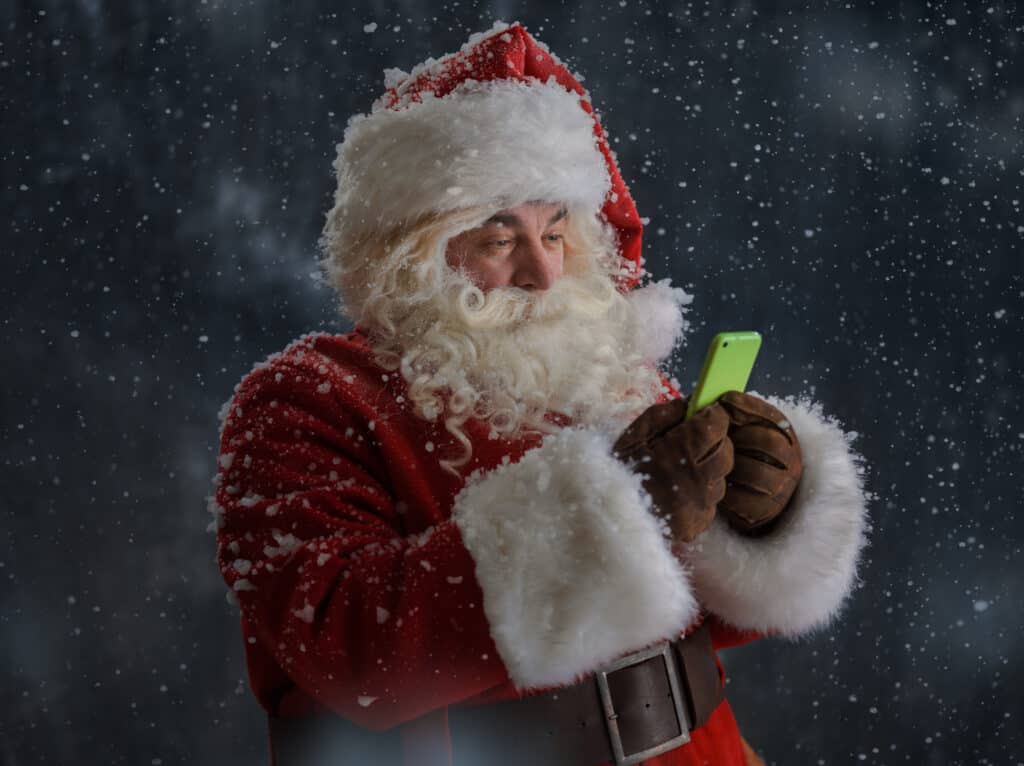 When picking a personal tracking device that will be used by an elderly person, there are certain features that it should have:
1. Real Time Tracking
The whole concept behind a tracking device is to be able to locate your loved one in case they wander off. For that reason, real-time tracking capability is a very important factor to consider.
The real-time tracking system used in one tracker will not be the same as that of another tracker. With some models, they don't offer the capability to manually ping the tracker, which would enable you to determine its precise location at any time. Similarly, other trackers will only provide location updates at preset intervals.
Another point to note is that there are different satellite-driven tracking systems in the orbit, each one run by a different country. The United States uses GPS, Russia uses GLONASS, China uses BEIDOU while the EU uses Galileo. Each one of these positioning systems constitutes between 20 and 30 satellites in the orbit.
A tracker that can be connected to multiple positioning systems will provide a more accurate reading of a location. In line with this, here are a couple more points you should keep in mind:
Location Update Intervals
If you're using a personal tracking device that updates your location every few seconds, its battery is likely to drain faster than one that has a longer update interval.
That said, short update intervals provide better accuracy. This makes them ideal for situations where you need to determine the route that your elderly parent usually takes. But if you only need to check the position of the personal tracker once or twice throughout the day, a model that offers a long update interval will suffice.
International Use
If you anticipate that you'll be taking lots of trips or relocate to a place abroad, consider personal tracking devices that can be used anywhere in the world.
Usually, tracking gadgets rely on SIM cards to relay information about one's location to the tracking platform. Thus, if you're traveling to another country, look for a tracker that can be used with global roaming SIM cards. These facilitate tracking anywhere in the world.
2. Design
The second factor you should focus on is the design of tracking device. Given that it will be used by seniors, you should find one that is simple enough for them to navigate. Here are some of the aspects you should pay attention to when evaluating the design:
Size
Personal tracking devices should come in a small size. Since they're used to monitor the location of people, a lightweight and compact design is necessary to enhance portability.
Apart from size, you should also consider the weight. Ideal GPS trackers shouldn't weigh more than 2 ounces so that they're easy to carry alongside other EDC items.
SOS Button
Whether you're a caregiver or family member, it's your responsibility to guarantee the health and wellbeing of the senior in your life even if they live miles away. While the GPS can help you monitor their whereabouts, it's no good if it cannot be used to call for help.
This is where the SOS button comes in. Also known as a panic button, this is a setting built into the personal tracking device to enable an individual to ask for help in the event of a crisis. Once the senior presses the SOS button, their emergency contact or the authorities will be notified of their location.
Each GPs tracker works a little differently. With some units, you only need to press the panic button once. But with others, the user has to press continuously for about five seconds to activate it.
Battery Life
Often overlooked, the battery life is another aspect you should pay attention to. The higher the quality of the battery, the more convenient it is to use as it doesn't have to be recharged too frequently.
The ideal personal tracking system for seniors should have a battery that can last for a minimum of 5 days with location updates every 30 to 60 seconds. Most of the GPS trackers we've reviewed provide upto two weeks of power on a single charge.
Ease of Use
As mentioned earlier, it's vital that the tracker you choose for your loved one be easy to use. Essentially, it shouldn't have too many buttons as this can be intimidating and confusing for the elderly.
Similarly, it should not be complicated to set up or charge. Look for trackers that come ready to use straight out of the box. A good unit should also have a battery indicator to notify your aging loved one when it's time to charge.
Water Resistant
Are you getting your elderly parent a wearable tracking device? Are they likely to forget to take them off when taking a shower or a swim? If you answered yes to both questions, then it's important that you get one with waterproof capabilities.
This way, the device won't get damaged the minute it's exposed to water. Also, your loved one will be able to use it regardless of the weather outdoors.
3. Monitoring System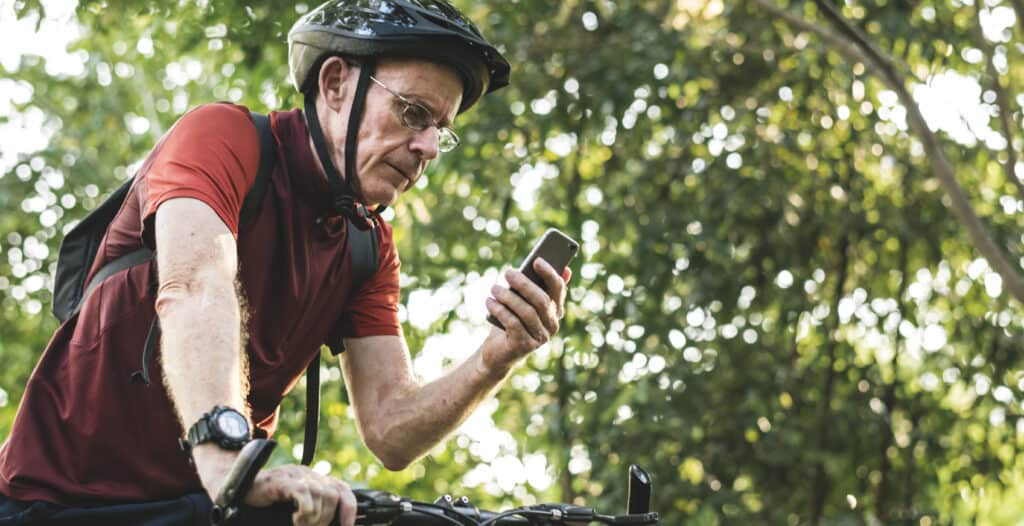 Keeping tabs on the senior in your life is made possible by linking the tracker to your PC, tablet or smartphone.
When it comes to the monitoring system, the main things you need to think about are:
Web tracking
A few manufacturers of tracking devices have web portals that help you locate the tracker. That said, the ideal web-based portal ought to be easy to navigate and offer additional features such as setting up geo-zones and accessing the route history.
Mobile App
One of the easiest mechanisms to monitor the location of the user is through a mobile app. Not only is this easier to use but it's also readily available. Most people will always have their smartphones with them, but not their PCs.
But even then, check the compatibility of the app. The last thing you want is to end up with a tracker whose app is only compatible with Android and not iOS operating systems.
Geo-Fence Zones
Another feature worth considering is the ability to set up geo-fence zones. Simply put; this feature helps you define the geographical area for tracking your loved one. Thus, any time the user leaves or enters that zone, you'll receive a notification.
A tracker that has this capability is a better option as it gives you the assurance that your elderly family member is safe within the set perimeter.
Route History
This feature is particularly important for seniors who tend to wander off. If you have such a person in your life, you can trace their last steps or examine the routes they use frequently in an attempt to determine their location. The majority of personal tracking devices allow you to store the route history in the tracking platform cloud for up to a month.
4. Technical Support
If your senior lives independently, then getting them a tracker with adequate customer support is crucial. You may not always be around to help. But the manufacturer's support team can be easily contacted through a live chat or email. As such, you should check whether start-up aid and support is offered.
On the same note, check whether the manufacturer offers guarantee. You don't want to be stuck with a tracking device that winds up being defective, and no return policies available.
Quality trackers will come with a warranty of 1 to 2 years. Manufacturers of such tracking  devices will also offer detailed but easy-to-understand return policy.
5. Price
Before purchasing that sleek GPS wristband for elderly, consider this: the upfront cost may only be a half of the entire cost. So even if it's fairly priced, it could be that the subscription cost is much higher than that of other trackers.
Once you get a personal tracker, you also need a GPS service. Often, subscribing to a GPS network costs nearly as much as subscribing to your cell provider. So before you make any decisions, compare the products' monthly subscription fees.
Be thorough and find out if you're required to sign any contracts or whether the subscription includes any hidden fees.
Top 7 Personal Tracking Devices for the Elderly
1 – PRIMETRACKING Personal GPS Tracker
PRIMETRACKING Personal GPS Tracker
✅ TAKE IT ANYWHERE: PrimeTrackings GPS tracker was developed with your busy lifestyle in mind. This compact tracker is portable and easily stored in strollers, vehicles, backpacks cars or luggage.

✅ REAL TIME TRACKING: Easily and privately track any location in the US from your computer, tablet, or phone with our ultimate GPS tracking app.

✅ INSTANT UPDATES: Get updates on location and direction; see movement as it happens and map routes taken. Our 4G LTE tracker is fast and reliable. Our competition is 2G and wont be supported as 2G continues to be deactivated across networks.

✅ $25 / month. Cancel anytime. $20 / month for 6 months.
Prices pulled from the Amazon Product Advertising API on:
Product prices and availability are accurate as of the date/time indicated and are subject to change. Any price and availability information displayed on [relevant Amazon Site(s), as applicable] at the time of purchase will apply to the purchase of this product.
The Personal GPS Tracker by PrimeTracking is one of our favorites because it provides accurate tracking and is incredibly easy to use.
Thanks to its lightweight and portable design, your aging loved one will be able to carry this tracker to virtually any place.
Another perk of this tracking device is that it provides real-time tracking to any location within the U.S. This system is superior to trackers that provide tracking data at specified intervals.
Apart from helping to track seniors, it can also be used to monitor the vehicles they travel in. Once put in the car, it can be configured to send you updates on your phone with every new direction they take.
To offer unparalleled tracking efficiency, PrimeTracking tracker employs 4G LTE network. This enables it to send data pretty fast and to record the location accurately. Thus, if the senior in your life is ever in an urgent situation, they can call out for help and receive it immediately.
Pros
Portable design
Provides real-time tracking
Sends updates regarding both the location and direction
Battery can last for up to 2 weeks
Cons
Comes with a monthly subscription
2 – Freedom Guardian GPS Location Tracker and Medical Alert System
Freedom Guardian Medical Alert System
Two Way Communication - Clear, built-In speaker allows you to speak directly to our 24/7 Emergency + Non-Emergency Monitoring Center no matter your location. Works off AT&T nationwide cellular network. Please check the AT&T connection in your area before purchase.

3-Day Weather Forecast - Stay up to date on the 3-day localized weather forecast via zip code directly through wearable

Reminders & Alerts - Keep track of your daily calendar with real-time alerts for medication, appointments and even important social events.

Text-to-Speech Messaging - Stay connected to friends and family through the text-to-speech messaging. The two-way speaker allows you to easily receive and verbally respond to messages from your Care Circle.

Advanced Location Tracking - Through GPS, Wi-Fi Positioning Systems and triangulation, help can be sent to your location within the U.S.
Prices pulled from the Amazon Product Advertising API on:
Product prices and availability are accurate as of the date/time indicated and are subject to change. Any price and availability information displayed on [relevant Amazon Site(s), as applicable] at the time of purchase will apply to the purchase of this product.
If you're looking for an all-in-one GPS tracker, the Freedom Guardian Medical Alert System is your best bet. This device is designed as a smartwatch. But unlike typical smartwatches, this one can be used for a bevy of tasks. This explains why it comes with a hefty price tag.
If your elderly loved one is big on style, then there's no doubt that they'll love the sleek design of the smartwatch that comes in either black or white. Better yet, it weighs a measly 2 ounces meaning the user won't get fatigued wearing it on their wrist.
Looks aside, the device doubles up as a medical alert system, a smartwatch and a GPS location tracker. Despite having so many applications, the tracker doesn't disappoint in any one of them.
If you're in need of medical aid, the tracker utilizes AT&T's cellular network to connect you to the nearest emergency response center. It then uses Wi-Fi and GPS technology to pinpoint your precise location.
Another noteworthy feature of the Freedom Guardian Tracker is its built-in speaker and microphone. This enables you to have a hands-free communication with emergency personnel or other person you've contacted.
The only drawbacks of this tracker is that it doesn't have fall detection capability. It also lacks the conventional fitness apps that you get with other smartwatches.
Instead, it offers traditional medical alert feature that includes a web portal and a mobile app. The mobile app makes it possible for caregivers and family members to monitor your whereabouts and interact with you from anywhere.
Pros
Advanced location tracking
Includes reminder and alert capabilities
Provides weather forecast
2-way communication feature
Cons
Lacks a fall detection feature
Cannot be synchronized to fitness apps
3 – Tracki 2020 Mini GPS Tracker
Tracki 2020 Model Mini Real time GPS Tracker
Unlimited distance real time tracking. Full USA & all countries worldwide coverage. International SIM card included. MONTHLY FEE of $19.95 required or as low as $9.95 for long term plans. Track Vehicles, Cars, trucks, Children, teen, spouse, dog, elderly, motorcycle, ATV, boat, equipment, tools, employees, assets, car fleets, valuable belonging. Place in a pocket, backpack, luggage, shipment or under a car & track real-time whereabouts via iPhone, Android, Web app, Google Assistant, Amazon Alexa

Trackis advantages that other trackers don't have: Tracki is 30% of the size & weight. SIM works worldwide. Live phone customer service. Free tracker if tracker lost. Lifetime warranty. Best smartphone App. Wi-Fi tracking when indoors. Can send beep to tracker. Manual 15 seconds ping. Attachments: Magnet, Belt clip, Key-chain, lanyard. 5 years history. Batt can be replaced, other dead if batt dies. 30 days batt tracking 3 times/day. Optional 6x larger batt can last 6 mo tracking 3 times/day.

Our expertise is GPS tracking, Tracki is developed & made by us. Our competitors are just reselling same exact GL300 as 12 different brands. Tracki is the Smallest & Lightest GPS tracker, only 1.26 ounce. Rechargeable BATTERY LIFE last 2-3 days tracking real time every 1-5 minutes. If real time tracking not needed, battery last 30 days tracking 3 times/day. Optional battery + magnetic waterproof box (ASIN B07YVNV82V) extends battery life to 2 weeks at 1 min update & 6 months tracking 3 times/day

Alerts, Monitoring & Smart Notifications: Revolutionary technology works indoors & outdoors. GPS/A-GSM/GSM for outdoors. Wi-Fi mac ID matching to Global database for indoors tracking & Bluetooth for the last 50 feet. Get real-time alerts when the tracker crosses a Geo-fence zone that you designate. Receive SOS, low batt, speeding, start moving alerts about the tracker's movements via App notification, SMS or email. 5 years history reports on peed, time stamps, map routes, play street view movie
Prices pulled from the Amazon Product Advertising API on:
Product prices and availability are accurate as of the date/time indicated and are subject to change. Any price and availability information displayed on [relevant Amazon Site(s), as applicable] at the time of purchase will apply to the purchase of this product.
If you're looking for a personal tracking device that is both portable and affordable, the Tracki 2020 GPS Tracker is an excellent option.
Its portability is a particularly welcome feature as it won't be unnecessarily bulky for the elderly user you're purchasing it for. To be specific, the tracker tips the scales at 1.4 ounces and measures 1.8 x 1.6 x 0.7 inches. According to the manufacturer, this size and weight are one-third that of other trackers.
Another feature we love about Tracki entails its user-friendly interface. For starters, it comes with its own international sim card. This eliminates the hustle of having to look for a compatible sim card.
Secondly, the tracker is designed to work right out of the box. All you need to do is attach it to the person you wish to track and you'll receive their respective location information via a mobile app. You can also track their location via the manufacturer's website.
This gadget relies on both GPS and cellular technology; hence, providing accurate details of the user's location.
In case you get stuck setting up this tracking device, you'll be pleased to know that Tracki provides exceptional customer support. You can use their live chat platform, email or call them directly.
Also, the tracker has an impressive battery life. The rechargeable battery that it's equipped with can last for a whole month when it's not being used for real-time tracking. If you activate the real-time tracking capability, it will last for about 2 to 3 days, which is still a decent amount of time.
Pros
Provides real-time tracking
Accurate in tracking user's location
Excellent customer service
Has own sim card for convenient use
Decent battery life
Cons
Requires monthly payment for cellular technology
4 – SpyTec STI_GL300 Mini Portable Personal GPS Tracker
Spytec STI 2019 Model GL300MA GPS Tracker
Powerful Real-Time Tracking + Visualization: A straightforward and stealthy way to track vehicles, teens, spouses, pets, seniors, luggage and all sorts of important belongings. Simply slip it into a backpack or hide it under a car seat to remotely track movements in real-time using Google Maps data. Our sleek and easy-to-use app can be accessed on your phone, tablet, or computer, providing you with a one-stop-shop for all the tracking data you need

Durability, Connectivity, Versatility: The device itself has a best-in-class battery life (up to 2.5 weeks), sleek and compact design, and reliable 4G LTE coverage. Set it and forget it on a person or car/truck--this device can perform reliably and discreetly for long periods, minimizing the need for tinkering and keeping chances of detection low. Our tracker is advanced enough for private investigators and professionals, but simple enough for anyone to set up

Precision Insights, Custom Alerts, & Geo-Fencing: Use cutting-edge GPS technology to get alerts anytime the tracker enters or exits a zone that you define. Customize your settings to receive key updates like proximity alerts and notifications about the trackers movements via text, push notification, or email. You can even create summary data reports that capture movement over time and provide valuable info about the tracker, like speed of travel, total distance, and more

Affordable Peace of Mind: Data plan required for use, starting at only $24.95 a month with no cancellation fees. Tracking service is month-to-month so you can cancel and reactivate at any time. With SpyTec GPS, you get quality hardware and advanced features for an unbeatable price based on your use and our value
Prices pulled from the Amazon Product Advertising API on:
Product prices and availability are accurate as of the date/time indicated and are subject to change. Any price and availability information displayed on [relevant Amazon Site(s), as applicable] at the time of purchase will apply to the purchase of this product.
The SpyTec GL 300 is a superb choice for seniors who are not tech-savvy.
One of the things that older users struggle with is figuring out how to charge their electronics. Thankfully, this tracker sports a revolutionary energy-saving mechanism, meaning it doesn't drain the battery as fast as other trackers.
If the user remains stationary at one spot for too long, the built-in accelerometer automatically turns the device off to extend battery life. With this feature, you won't have to recharge the battery for the next two weeks or more.
Another aspect that makes it the ideal GPS elderly tracking system is the provision of customer support. If you're grappling with any one of the features, simply log onto the manufacturer's website and use their online chat program to ask for help.
The GL 300 comes in a tiny box that stands at 2.5 inches tall. It weighs slightly over 2 ounces, meaning it's lightweight enough to carry around.
We also like its GPS tracking capability. It's capable of updating its current location as fast as once every five or so seconds. It enlists the help of GPS satellites to pinpoint its location after which it sends this data via T-Mobile's cellular network to the receiver.
That said, it's important to note that its tracking ability depends on the type of subscription you're using. Essentially, the tracker's manufacturer offers a variable subscription structure, which means that the more you pay, the higher the number of interval options. The basic plan updates your location every 1 minute while the premium plan updates every 5 seconds.
Also worth pointing out is its zones feature. If you want to leave your elderly parent alone and run a quick errand, you can configure the geo-fence system. This means that if they walk past the stipulated perimeter, you'll be notified immediately.
Pros
Equipped with battery-saving feature
Comes with mini-USB charger for convenient charging
On the premium package, the user gets their location updated every 5 seconds
Has a zones feature
Cons
5 – AMERICALOC GL300W Real Time GPS Tracker
AMERICALOC GL300W Mini Portable Real Time GPS Tracker. XW Series
GPS Tracker for vehicles, people, assets. New version of the famous GL300. As a welcome, Americaloc will add 2 extra months to your first service purchase. Service is USD 25 a month or even less if you buy more time. Cancel anytime

Why this one and not other version. This is the longest battery life version with extended multicarrier coverage. No activation or hidden fees. Ready to use. Beware of cheaper trackers with less battery life or less coverage. This is the new version.

Alerts: movement,parked, speeding, device on/off, low battery, entering or leaving zones, front button pressed.Battery life measured in days or even weeks, not in hours

Real Time Tracking and 1 year of tracking history. Track from any computer, tablet or phone or just download our Android and Iphone APP. Works in the US, Canada, Europe and in almost every country in the world

1 minute location updates while moving. Can be configured for location updates every 60, 30 or 10 seconds with no additional cost. This tracker is not an outdated 2G. This is the new version and it is better than a 2G
Prices pulled from the Amazon Product Advertising API on:
Product prices and availability are accurate as of the date/time indicated and are subject to change. Any price and availability information displayed on [relevant Amazon Site(s), as applicable] at the time of purchase will apply to the purchase of this product.
If you don't mind splurging on the best personal GPS tracking device for seniors, the Americaloc GL300W is a feature-packed tracker worth investing in.
And even though it costs a bit much, you get to save on subscription costs as the manufacturer adds 2 months to your initial service purchase. Another feature you'll love about this tracker is that it has a very simple payment system. You can cancel your subscription at any time and at no extra cost.
Another area where this tracking device really shines is in coverage. You'll be able to track the user's whereabouts all across the US, Canada, Europe and any other nation in the world. Plus, the tracking system allows you to store tracking information for up to 12 months.
The GL300W provides location updates every minute. However, the user can configure it to update much faster, specifically, at 60, 30 or 10-second intervals.
But remember that the faster it updates, the faster it will drain the battery. Speaking of battery, the manufacturer claims that it will last a long while before requiring a recharge. In fact, this tracker's battery life is estimated in terms of days and weeks rather than hours. This means the tracker lasts a couple of days at a time.
Pros
Offers real-time tracking
2-months of free subscription
Reliable battery
Small and compact design for portability
Cons
6 – Brickhouse Security Spark Nano Micro GPS Tracker
Spark Nano 7 4G Micro GPS Tracker
✅FULL 4G COVERAGE that works anywhere in North America, including the U.S., Mexico, and Canada. This means that your personal GPS tracking device wont experience any downtime when you cross North American borders.

✅PRE-SET 60 SECOND REPORTING on the exclusive BrickHouse Security GPS Platform for continuous location reporting. Reporting intervals can be adjusted to suit your tracking needs.

✅REAL-TIME LOCATION VIEWING. Simply log in from your browser, iOS, or Android device to access real-time reporting, detailed travel reports and history, speed alerts, geofence settings, and panic button.

✅TINY, LIGHTWEIGHT DESIGN makes it easy to stash in a backpack to track your childs whereabouts or use with accessory cases to connect to a belt or magnetically attach to a vehicle or asset.

✅NO LONG TERM COMMITMENT. The Spark Nano 7 Requires a Monthly Subscription Plan. No Contract Or Long Term Commitment Required. Cancel Anytime. Simple online activation.
Prices pulled from the Amazon Product Advertising API on:
Product prices and availability are accurate as of the date/time indicated and are subject to change. Any price and availability information displayed on [relevant Amazon Site(s), as applicable] at the time of purchase will apply to the purchase of this product.
If you're worried that buying a GPS wrist watch for elerly will be too bulky, then consider investing in the Nano Micro GPS Tracker.
As implied in the name, this is among the smallest personal tracking devices you'll find on the market. It measures 3 x 1.58 x 1 inch and it weighs slightly under 3 ounces.
Despite its conveniently portable design, this tracker packs a ton of features. Brickhouse has a reputation for selling high-quality security equipment and the Micro GPS Tracker is no different. This gadget uses Wi-Fi, satellites and cellular network to transmit a location ping to the receiver- this could either be your desktop or mobile app.
As with the majority of tracking devices, this one also requires a monthly subscription. Once you've registered and paid for your account, the Spark Nano will begin monitoring your senior's whereabouts as you watch remotely.
You have two viewing options. You can view their routes on a map or use the satellite mode. Personally, I found the satellite mode to be better as it provides a really accurate and detailed description of your loved one's location.
If you choose a particular spot on the map, you'll even get to see what that area looks like from the street. And as you can expect from such an advanced gadget, it provides real-time monitoring.
In fact, the tracker uses 4G network to provide tracking anywhere in North America, the U.S., Mexico and Canada. This means that even if you take your elderly parent on a tour to Toronto, the tracking device will continue working efficiently. The tracker is designed to send location updates every 60 seconds.
Pros
Lightest and smallest personal tracker
Provides wider coverage in terms of usage
Offers real-time location monitoring
Compatible with Android and iOS
Cons
Not the most durable build
7 – Amcrest 4G LTE GPS Tracker
Amcrest 4G LTE GPS Tracker
COMPACT 4G GPS TRACKER - Perfect for tracking vehicles, loved ones (teens, spouses, children, elderly) or assets. With its sleek and compact design, it easily slips into cars, backpacks, strollers, luggage and is highly concealable. With 2G coverage slowly coming to an end, now is the time to upgrade to 4G. Monthly subscription required. No contracts or activation/cancellation fees. $19.99 - 60 second updates. $24.99 - 30 second updates. $29.99 - 15 second updates. $34.99 - 5 second updates.

REAL-TIME SMARTPHONE & PC TRACKING - With lighting fast 4G LTE this GPS tracker offers real-time tracking with up to 5-second updates through Windows and MAC desktop web-access (Chrome, Safari, Edge, Firefox) or through the Amcrest GPS smartphone app (iOS/Android). The intuitive user interface allows you to easily monitor activity, manage alerts and generate custom reports. Create links and share them with your friends, family and co-workers to keep track of cars, children, seniors and assets.

GEO-FENCING, SMART ALERTS & REPORTS - Create custom geo-fencing zones that alert you anytime the GPS tracker enters or exits a zone. Speed limit, harsh breaking, start/stop and proximity alerts allow you to easily track your vehicles and loved ones. Receive text, push and email notifications directly to your smartphone or PC with the Amcrest GPS app and desktop web-access client. Access your data with intelligent reporting directly from your iPhone, Android, Mac or PC.
Prices pulled from the Amazon Product Advertising API on:
Product prices and availability are accurate as of the date/time indicated and are subject to change. Any price and availability information displayed on [relevant Amazon Site(s), as applicable] at the time of purchase will apply to the purchase of this product.
Keeping your loved one safe has never been easier with the Amcrest 4G LTE GPS Tracker. Coming in at a mid-range price, this gadget-which is shaped like a key fob- is definitely worth checking out.
One feature you'll love about its design is that it's waterproof. It has a water resistance rating of IPX5, making it one of the more durable options.
Even then, the manufacturer provides lifetime warranty and support. This is a handy feature considering many tracker manufacturers don't provide any kind of warranty.
Inside this tracker is a 2600mAh battery that provides a 2-week operation on a single charge. This is based on the condition though-: that it sends 60-second location updates and not any sooner than that. If you configure it to send location alerts every 15 seconds, the battery will only last for 4 to 5 days.
The Amcrest Tracker, with its sleek and compact design, can be used throughout the United States. By that we mean the US, Canada and Mexico.
Also worth pointing out is that the tracking device works seamlessly with a range of computer systems. It sends location updates through Windows or MAC desktop or to an app that you have to download on your smartphone. The app works on both iOS and Android devices.
Pros
Reliable battery system
Waterproof design for durability
Small for easy portability
Designed to provide real-time monitoring
Cons
Locations are not as precise
Tracking does not always happen instantly
Final Verdict
Deciding the best personal tracking device for the senior in your life can be a daunting task. Do you get them a wearable piece of tech like a smartwatch? Or is the usual rectangular-shaped GPS tracker a better option?
Ideally, you should ensure that the tracker meets certain requirements. For one, it should be easy to install and use. Trackers that come with round-the-clock online support are the best. It should also be durable, provide real-time monitoring and have geo-fencing capability.
One particular tracking device that ticks most of these boxes is the Personal GPS Tracker by PrimeTracking. It's very affordable and yet it offers so many features- long battery life, frequent location updates and a portable design.