Few things in life offer the absolute bliss of wanton freedom like a bike does. But, that is only till your pedaling away. The minute you bring your beloved cycling companion home, the reality of protecting it from the elements and miscreants hits hard.
Some simply choose to bring their bikes into their living space with them, often to the utter chagrin of other family members. This is not to say that indoor bike storage does not have an important role in urban living. However, if you do have the room to accommodate it, nothing works like an outdoor bike shed to keep your prized possession safe and out of the way.
While it's easy to see the benefits of an outdoor bike shed, buying one isn't all that simple. Most are confounded by the sheer number of options available. If that's you, continue reading to know what the various outdoor sheds can do for you and all the factors that you should consider before making your purchase.
Cutting through the chase to get to the top 5 outdoor bike sheds!
Comparison Table
Image
Title
Materials Used
Dimension
Best Features
Price
Buy

Top

Top

DuraMax 6 x 6 Metal Bicycle Lean-To Shed Kit
Hot dip galvanized steel
75.6"W x 79.2"D x 63.6"H
Corrugated hot dip galvanized steel sheet construction; 20% thicker steel sheets; Lockable double doors; Metal roof truss; Inbuilt vents
Buy Now

Top

Top

Suncast Horizontal Outdoor Storage Shed for Backyards and Patios 34 Cubic Feet Capacity for Garbage Cans, Tools and Garden Accessories, Vanilla
Polypropylene reinforced with steel
65"W x 38"D x 47"H
Weather and pest proof resin construction; Steel reinforced walls; Three door access; 10 year warranty
Buy Now

Top

Keter Factor 4x6 Outdoor Storage Shed Kit-Perfect to Store Patio Furniture, Garden Tools Bike Accessories, Beach Chairs and Push Lawn Mower, Taupe & Brown
Polypropylene reinforced with steel
43.7"W x 69.7"D x 74.8"H
Walk-in design; Weather and corrosion proof resin construction; Inbuilt window and vents; Shelf support
Buy Now
Product prices and availability are accurate as of the date/time indicated and are subject to change. Any price and availability information displayed on [relevant Amazon Site(s), as applicable] at the time of purchase will apply to the purchase of this product.
Prices pulled from the Amazon Product Advertising API on:
Don't have the time to weigh the pros and cons of all the products in the market? Fret not! What we have here is a list of the top 5 best outdoor bike sheds currently available.
1. Duramax 6×6 Metal Bicycle Storage Shed Kit
DuraMax 6 x 6 Metal Bicycle Lean-To Shed Kit
Hot-Dipped galvanized steel painting process

Full width double lockable doors

20% Thicker steel than conventional metal shed

Reinforced groove walls provide greater strength

Ready to Assemble with Pre-Cut holes and Materials
Prices pulled from the Amazon Product Advertising API on:
Product prices and availability are accurate as of the date/time indicated and are subject to change. Any price and availability information displayed on [relevant Amazon Site(s), as applicable] at the time of purchase will apply to the purchase of this product.
An all metal unit that promises strength, durability and reliability, the Duramax 6 X 6 outdoor bike shed is built to accommodate 4 adult bikes in its roomy interiors.
The shell of the unit is made from sheets of hot dip galvanized steel, so corrosion will certainly not be a problem, nor will you have to worry about pests. The sheets are reinforced with a metal frame and cross bars which adds to their strength. Plus, the surface is corrugated, which means that the unit looks as neat as a plastic product and there is a lower risk of denting, unless of course you take a hammer to the walls.
The unit has front opening double doors with inside outside panel locking and an inbuilt locking mechanism. So, you don't have to spend more on a padlock. The roof is all metal, including the truss, which adds to the sturdiness of the product. It also has inbuilt vents that help to regulate inside temperature on sunny days.
On the flip side, the unit does not come with an integral floor. But, Duramax makes up for this shortcoming with a unique feature – adjustable bike tracks. Yes, there are four of these inside the unit and they can be adjusted or removed as required. This means that you can use the shed for four bikes or 1 motorbike or 2 bikes and a whole lot of other stuff.
Above all, the tracks allow you to store the bikes without leaning them against each other, so no more scratches and dents. The product comes with an 8 year warrants on manufacturing defects and is reasonably priced when you compare it to similar products. It's available in grey and brown with trims in lighter shades.
The hot
Metal sheets that are 20% thicker than those used for other comparable products.
Full width, reinforced double doors with inbuilt locking mechanism.
Adjustable and removable bike tracks.
Made from hot dip galvanized steel.
8 year warranty.
Grooved walls provide greater aesthetic appeal and strength.
Front sloping roof allows for easy water/snow drainage.
 The not
Design does not include a floor.
Foundation not included.
Heavy to move at over 100 lbs.
Requires front clearance of 70 inches at the least.
Cannot use a padlock if required.
Needs two people to assemble.
2. Suncast BMS4700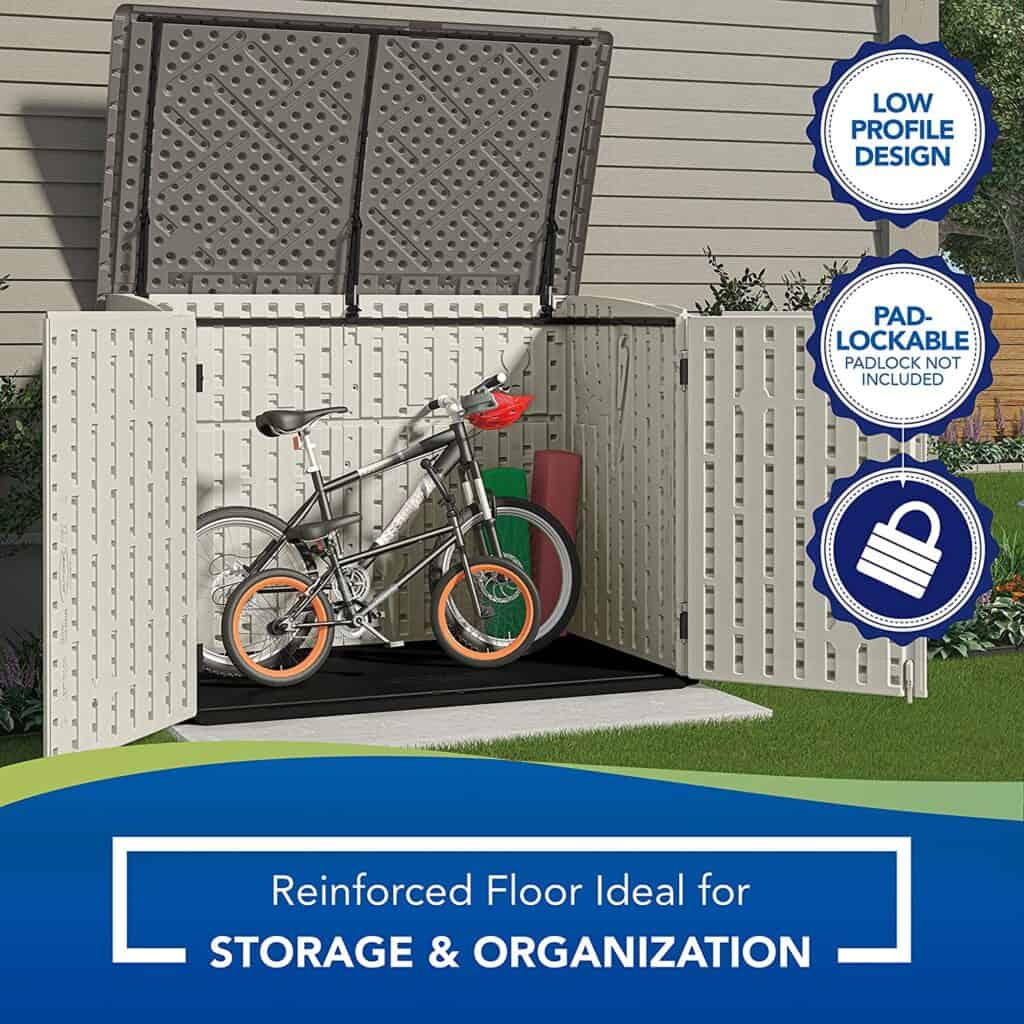 Small on the outside but surprisingly big on the inside; that would be the perfect way to describe the Suncast BMS4700. In terms of its design, the unit is the same as the Duramax product. You are essentially getting a front opening, horizontal shed.
But, instead of a metal body, you get a resin shell that is impervious to both weather and pest damage. Although you may not get the strength of reinforced steel with this unit, but the Suncast product will give you the longest maintenance-free lifespan.
Available in light shades that will easily match with the overall outdoor look of your home and yard, you won't have to worry about scratches and dents with this unit. Although its plastic body may not be as infallible as a metal shell, it is surprisingly strong and sturdy. Plus, you can access it through the lid as well as the front doors, making it the perfect utility shed that can hold more than just bikes.
The gas shock lid stays up on its own once opened and has a latch on the front, which can be used to attach a padlock. The design includes reinforced flooring with a ramp that makes it easy to park and remove the bikes from the shed. In terms of pricing, it is one of the more affordable products in this list and it comes with a 10 year limited warranty.
 The hot
Plastic body, reinforced with steel.
Weather and corrosion proof.
Fantastic insulation from heat.
Three door design.
10 year warranty.
Gas shock mechanism on top lid.
Enough room to store 2-3 bikes and some other stuff.
Can be installed against any wall or placed as a stand-alone shed.
Ramp makes it easy to store and remove bikes.
Design includes reinforced flooring.
The not
Latch only on the lid and not on the front doors
No mechanism to store each bike separately, so you will have to lean them against the walls or against each other, if storing more than 2 bikes.
Foundation required but not provided.
Does not fare well in windy conditions.
Needs two people to assemble.
3. Keter Factor 4X6 Outdoor storage shed
Keter Factor 4×6 Outdoor Storage Shed Kit-Perfect to Store Patio Furniture, Garden Tools Bike Accessories, Beach Chairs and Push Lawn Mower, Taupe & Brown
DIMENSIONS: Exterior: 51 in. W x 74.5 in. D x 85 in. H / Interior: 44 in. W x 67.5 in. D x 82.5 in. H

IDEAL SIZE: Storage capacity: 140 cu. Ft.

RESIN CONSTRUCTION: Made from polypropylene resin plastic & steel reinforced to ensure durability - will not peel, rot or rust & never needs painting

DURABLE: Weather-resistant, waterproof and UV protected - will not peel, rot or rust

LIGHT & AIRY: Skylight and window to let in natural light & vented for air circulation

VERSATILE: Use as a storage shed for a push lawn mower, bike storage, yard tools, garden tools, and patio furniture
Prices pulled from the Amazon Product Advertising API on:
Product prices and availability are accurate as of the date/time indicated and are subject to change. Any price and availability information displayed on [relevant Amazon Site(s), as applicable] at the time of purchase will apply to the purchase of this product.
Another plastic body shed that optimizes small areas to offer ample storage space, this a vertical unit that you can easily walk into. The 4 X 6 design means that you can store up to 2 bikes along with a ladder and at least a few gardening tools.
The shell is made from polypropylene sheets reinforced with steel; together they create a weather-proof unit that offers strength and stability. The shed comes with a full size front door as well as an ancillary door that increases the access area. The inbuilt window and vents offer natural light and temperature control through ventilation. Plus, the design includes shelf supports that greatly increase the storage potential of this unit.
The shed comes with integral flooring that is also made from resin reinforced with steel. In terms of aesthetics, this is truly the best looking unit in the list. However, given its vertical orientation, it's not meant to withstand heavy winds. A lock can be installed on the door adding to the security offered by the product. The unit is available in neutral colors and comes with a 10 year limited warranty.
The hot
The overall look of the product is very appealing and it's easy to blend with the external décor of your home and yard.
You can walk into the shed.
Window for natural light.
In built shelf support.
Secondary door for increased accessibility.
Weather-proof, rust proof and pest proof material.
Integral flooring.
Can install lock on the door.
Inbuilt vents.
The not
Vertical design cannot withstand heavy winds and stormy conditions.
Shelves not provided.
No provision to park the bikes separately.
No ramp.
Foundation not provided.
Panels can be hard to assemble and look flimsy till you put the unit together.
Need two people to assemble.
4. Bosmere WS1881H – Wood bike shed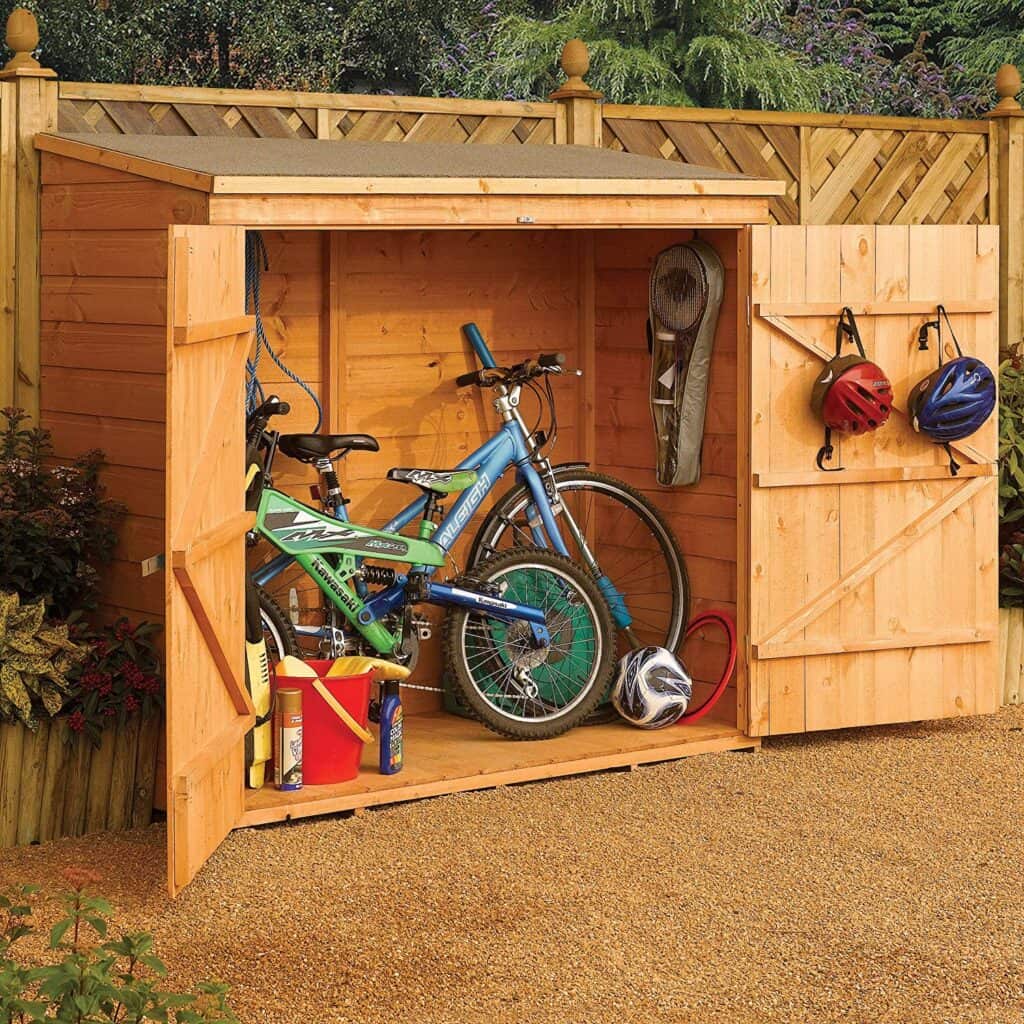 After metal and plastic, our next logical choice was of course wood and Bosmere offers just the product. The WS1881H is a horizontal, all-wood bike shed with full size double doors and a substantial 10 year anti-rot guarantee
The roof is made from mineral felt while pressure treated timber is used for the walls and doors. The groove floor offered as part of the kit increases the overall sturdiness of the unit. Because this shed has the traditional, wooden outdoor storage look, it is easy to blend it in with the design of the yard and the fence.
The all wood construction also means that is easy, whether you need a few shelves or hooks. The unit has enough space to accommodate 2 bikes and cycling gear. Although a padlock is not provided with the unit, you can use one on the doors.
The hot
Looks like a traditional garden shed.
Easy to blend wood with the look of the fence.
Lockable doors.
Easy to customize.
Grooved floor offers protection from the elements.
The not
It is after all wood, so although the guarantee protects you from rot-related problems, warping and pests can still pose trouble.
Needs two people to assemble.
No shelves or shelf supports.
Has to be installed against a wall.
Not designed for stormy/windy weather.
Will need maintenance over time.
5. Rubbermaid Roughneck Storage Shed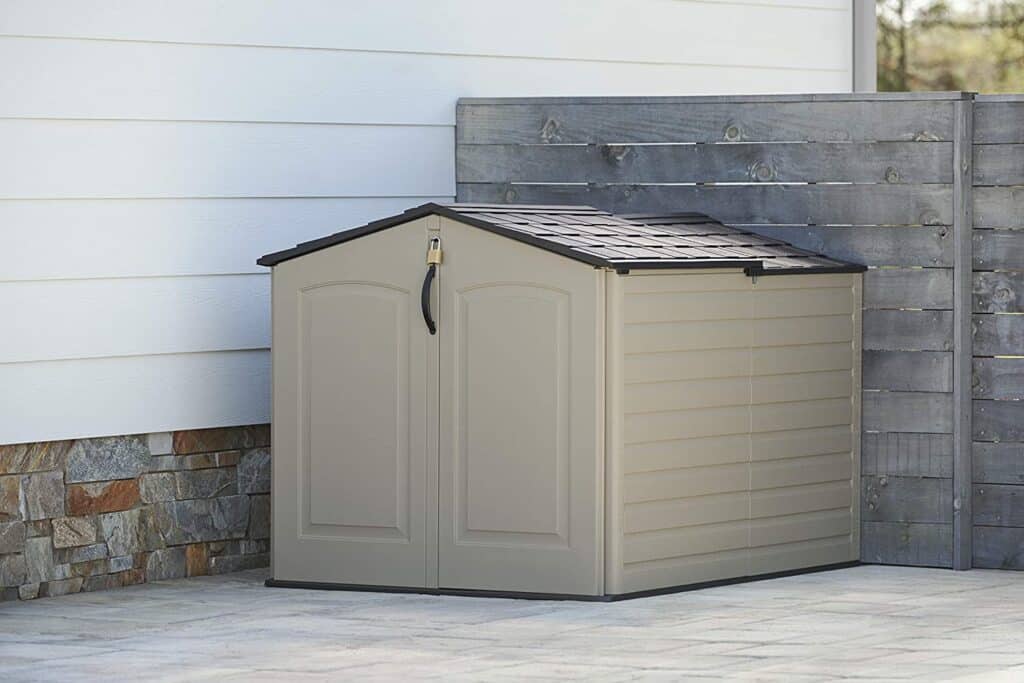 Another shed made from resin, this unit comes with double wall construction and reinforced flooring for added sturdiness. The unit has a sliding roof and double front doors that offer two access points that allow you to reach all parts of the storage area.
The maintenance-free and weather-resistant unit comes with bolt locking mechanism. The shed offers a storage space of 72" X 59", which is enough to accommodate 3 bikes, cycling gear and some more stuff. It is compatible with all Rubbermaid space organization products and most regular shelf anchors. The product is offered with a 1 year warranty.
The hot
Rust, weather and dent resistant design.
Two access points offer greater space optimization.
Comes with integral flooring.
Bolt lock mechanism that covers both access points.
Easy to customize.
The not
Doors and roof can be hard to install.
Takes two people to assemble.
No bike tracks.
Lid/roof can be get hard to slide with time and use.
Accessories not provided with the unit.
Needs a very firm foundation for installation. 
Summary
Duramax 6X 6 is an all-metal body horizontal shed that is roomy enough to accommodate 4 adult bikes. The design includes lockable double doors, inbuilt vents and 4 adjustable bike tracks.
Although the Suncast BMS4700 is also a horizontal storage shed, it is smaller than the Duramax product and employs polypropylene resin in its construction. A triple door unit that can hold up to 2 bikes, an integral floor is included in the design for added stability.
Keter factor 4 X 6 also uses resin in its construction, but this is a vertical unit offering a generous 6 feet of headspace and enough horizontal space to hold 2 bikes. The unit comes with shelf supports and double doors for better space optimization and access.
The only product that uses wood in its construction, Bosmere WS1881H is easy to customize and boasts a traditional garden shed look. With double lockable doors, pressure treated timber and mineral felt roof, this unit is every bit as sturdy as the other sheds in this list and can hold up to 2 bikes.
With a sliding roof and two full size doors, the resin-body Rubbermaid Roughneck storage shed is a roomy horizontal shed that is the perfect storage solution for small areas. Lockable doors, ease of customization and the capacity to hold 2-3 bikes are among its many features.
What Are The Things To Look For When Buying An Outdoor Bike Storage Shed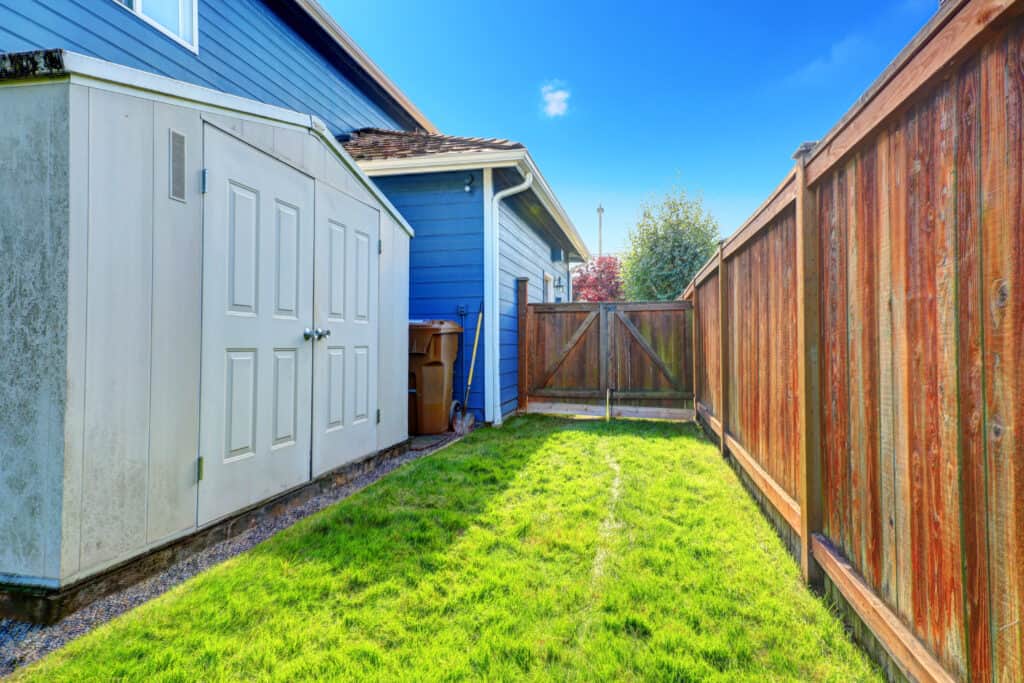 Here are 10 practical tips you need to consider:
1. The amount of outdoor space
Before purchasing a unit, it is quintessential to note the amount of space that you will need for its installation outside your home. Regardless of whether the unit comes with a floor or not, you will need an area of the yard with a firm foundation to install the shed.
If the product comes with a floor, any patch with a firm ground that is devoid of leaves, pebbles, etc. should be fine. However, if you are working with a unit that does not have a floor, you will either need to lay a foundation for it or use concrete squares.
The foundation and the area where you intend to install the unit should both allow for drainage of water away from the shed. This way, you won't have water stagnating below and around the unit. Typically, the foundation should extend 4 inches on all sides of the outer shell of the unit. That's the bare minimum folks; if you can give it 2-3 inches more, all the better.
2. The location
There are stand-alone units and there are those that work better when they are installed against a wall or fence. If you pick a product that fares better if it has the support of a wall, and try to install it as a stand-alone unit, you will be compromising on the safety and the security that the product is designed to offer.
Of course, we are not suggesting that it's easy to pick up the box with the bike in it and simply walk away. But, while it would be hard for a human being to budge the shed, Mother Nature plays a different ball game and unless you are comfortable with the idea of the shed tipping over or even flying off in high winds, it is best to anchor units that call for support, into the wall and the foundation.
So, choose a unit based on both the amount and kind of space that you have available for its installation.
3. The interiors of the unit
In terms of size, you will find a range of options; from bike sheds that just offer enough room for 1-2 bikes to mammoth storage units that could easily hold up to 6 bicycles and even a motorbike and much more.
It goes without the saying that the larger the unit, the more will be the space needed for installation and the higher will be the cost. Because an outdoor shed is a once-in-a-decade kind of investment, it would serve you to anticipate your future needs when making your purchase.
Ideally, you should go with a product that at the least has enough room for two bicycles and all your cycling gear. Typically, a 6' X 3' shed is roomy enough to hold two bikes or one bike and gear. How much internal space is available also depends on the design of the unit (that's coming up next).
4. The design of outdoor shed
In terms of design, you get two types of sheds: a unit that you can actually walk into (vertical sheds), and a parking-only (horizontal sheds) units that allows you to stow your bikes inside, but have less than 5 feet of vertical room, which means you can't actually walk into them.
On this front, you should base your choice on what exactly you want to store inside the shed. If you intend to dedicate the space exclusively to your bikes, then a park-in/horizontal shed should be good enough. But, if you want the space to double up as a storage area for gardening tools and other stuff, then a walk in shed would be a better option.
5. The material
In terms of material used, you get 3 choices and because this factors influences not just the sturdiness of the unit but also its lifespan and the amount of maintenance it will need in the future, let's discuss the pros and cons of each:
Wood: This is a veritable classic and remains a hit with DIYers as well as those who are looking for outdoor shed kits. In terms of aesthetics, no other material can compete with wood. It's easy to match it with the outdoor décor of your home. In terms of customization, this material offers more than others. It does not take a lot to put up shelves and drill hooks into the walls. However, you always have to be on the lookout for rot and wood-eating pests. Once the material strength is compromised, it is almost impossible to undo the damage. Also, regardless of how much it has been treated to withstand the elements, wooden planks simply don't perform too well when constantly exposed to moisture.
Metal: Typically, outdoor bike sheds are made either of galvanized steel or galvanized iron. It goes without saying that steel performs better than iron when pitched against nature. However, the process used for galvanization also makes a huge difference. Hot dip galvanized steel gets you the rust-proof properties and the strength of steel along with the anti-corrosive benefits of zinc coating. Plus, the paint which is applied through powder coating tends to stay on longer, lowering the need for maintenance over the long term and increasing the structural integrity as well as the aesthetic appeal of the unit. In terms of strength and security, metal is unbeatable but it is also prone to dents. If the mishap that led to the denting also bends a support structure on the inside, the integrity of the whole unit and its lifespan are compromised. Needless to say, once the metal shell is dented, you cannot simply un-dent it by beating it with a hammer from the inside. In other words, like with wood, you don't have the option of repairing/replacing just one or two planks. Also customization can be exceptionally hard with all-metal sheds because you can't just put up shelves and hooks in the walls with a drill machine. Finally, most metal units are offered in shades of grey or green. So, we can't say that they come in eye-catching colors.
Plastic: In terms of aesthetics and protection from elements, no other material is as good as plastic. They come in gorgeous shades and you can buy park-in as well as walk-in units. Because plastic will not corrode no matter what the elements throw at it, these products need little to no maintenance. Furthermore, they are easy to assemble and can be used as multi-purpose storage areas on the outside because the material not only offers protection from rain and UV rays but also from the heat generated due to sun exposure. While these resin-made units are sturdy, you cannot expect the same degree of strength from plastic sheets as you would from steel sheets, no matter how well reinforced they are. We are not saying that somebody could simply cut through the high density resin used in the construction of these sheds. But, it is easier to bust through the security measures (latch/padlock) of a plastic shed than of a metal unit.
6. Safety and security
Sturdy latches and an inbuilt locking mechanism are crucial features for outdoor bike sheds. In addition to these, you may also want to take a closer look at the reinforcement used for the doors.
Ideally, opt for units that have door panels with inside/outside locks that greatly increase the safety offered by the door lock/padlock.
7. The doors
Your choices include front and top opening doors and single and double doors. While most sheds have either of the two, some units have both front and top doors.
Top opening doors, offer greater space efficiency because you don't need front clearance to open the doors. However, you will have to physically lift up the bike and place it inside the shed. This can be a problem if kids are also expected to use the unit.
Also, if you intend to place more than one bike in the shed, it is likely that you will end up leaning them against each other, which increases the risk of damage.
Front opening doors calls for greater room in the front of the unit but placing the bikes inside the shed is simply a matter of rolling them into place. Although you will have to bend to access the walls, you can get greater shelf space with front opening doors as you will be able to access the entire length of the walls. However, in terms of damage, front doors are more vulnerable to dents and instability than top opening doors.
8. The shell of the unit
Regardless of whether the walls and the doors are made from a single panel or planks put together, opt for a design that includes some type of support structure behind. For instance, a frame and cross bars and a ridged exterior offer greater protection from human and natural elements.
As far as the roof goes, make sure that the unit has a roof with ample slope that prevents water and snow accumulation. Also, check the roof truss for sturdiness. Ideally, units with integral flooring are the best because they smooth out any problems that may be created by foundation issues.
You can also find products that are sold with the foundation needed for installation. You may/may not need this depending on the ground condition of your yard. Another feature to look for is inbuilt ventilation, which can regulate the temperature inside the unit, lowering the risk of damage to the rubber and plastic components of the bikes.
9. The accessories
One of the biggest problems with multi-bike outdoor sheds is that the bikes have to be placed against the walls or each other, which raises the risk of scratches and damage. So, when you get to evaluating the extras offered with the units, a design feature that allows each bike to be placed separately should be the first thing on your list.
Then, look for shelves, hooks and other storage features that are supplied with the unit. Even if the manufacturer does not offer this as part of the kit, look for the ability to install these as and when needed.
10. The price
Typically, you can expect to pay in the range of $300 to $1200 for an outdoor bike shed, depending on the size of the unit and the material used in its construction. While this may seem much, let's not forget that these units offer a usable life of at least 8-10 years.
So, you are basically investing about $80-$100 every year. But, then the unit protects products that are at least worth $500 each, so we would say this is a sound investment.
The Top Outdoor Bike Shed Brands
1. Duramax
The California-based company is a division of US Polymers and has been manufacturing yard and outdoor products since 1983. Apart from garden and bike sheds, their product line also includes decks, pipes, fencing, shutters and more.
Duramax offers high quality, aesthetically pleasing products that are wholly manufactured in the USA. With a commitment to following environment-friendly manufacturing practices as far as possible, the company is known to offer products that are eco-friendly and recyclable.
Most of their offerings come with a warranty of 8-12 years and are made in facilities that meet ASTM standards and follow ISO9001 principals.
2. Suncast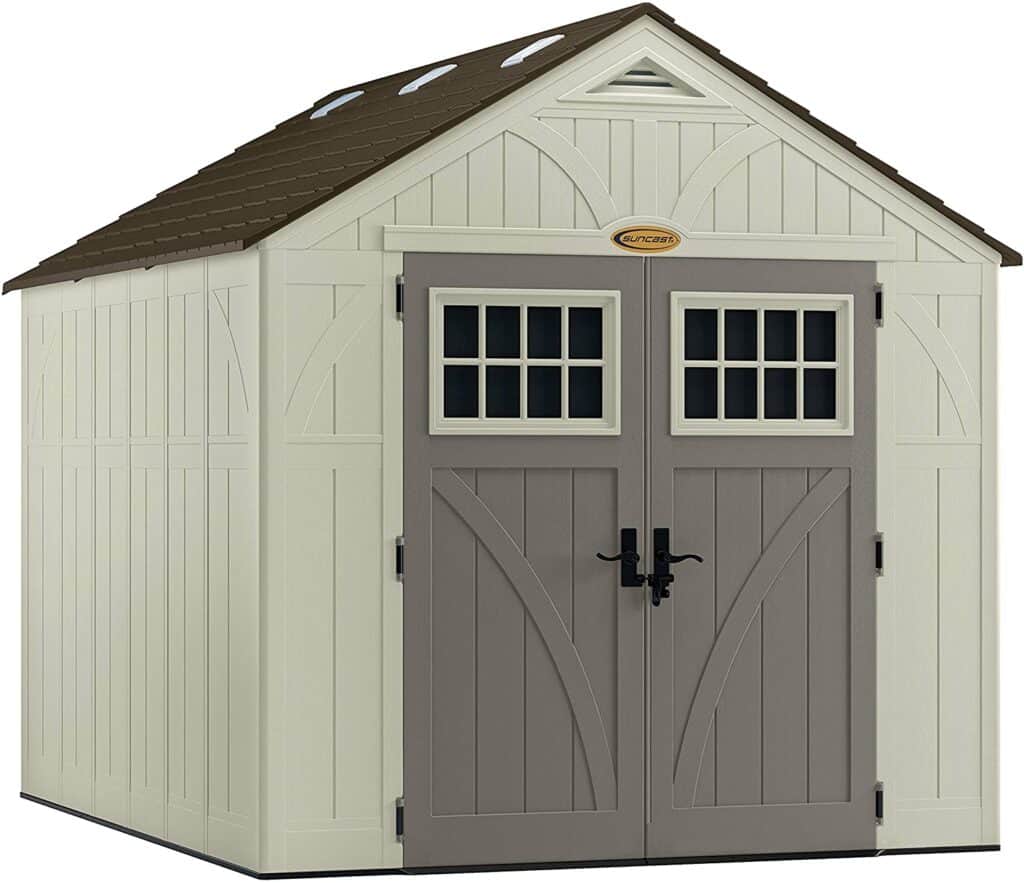 Over 1000 products in their range and about 25 years of experience manufacturing them is what makes Suncast one of the leading makers of outdoor bike sheds in the country. In their 700,000 sq.ft. plant in Batavia, IL, they manufacture everything from outdoor and indoor storage solutions to pet products, gardening tools, snow tools, patio accessories and more.
The company's outdoor storage sheds are primarily resin based but they do have some hybrid models. All their products are wholly manufactured in the US and they typically provide a limited warranty of 10 years on their offerings.
3. Bosmere
A family owned business that manufactures its wares in Concord, NC, Bosmere offers a range of outdoor accessories including garden ware, sheds, tools and more. The company's products are primarily made of wood and metal but you will find some plastic products as well.
The company prides itself not just in the quality of its products but also in its commitment to customer service. In keeping with this ethos, most Bosmere storage solutions are offered with a warranty of 8-12 years, depending on the material used.