Seniors should take advantage of the four seasons and regularly participate in activities that benefit them physically, mentally and emotionally.
Although taking part in these activities can be challenging at times, this will help them stay healthy and enjoy a more independent lifestyle.
Without further ado, let's dive into the activities that the elderly can do to stay healthy and active.
Spring & Summer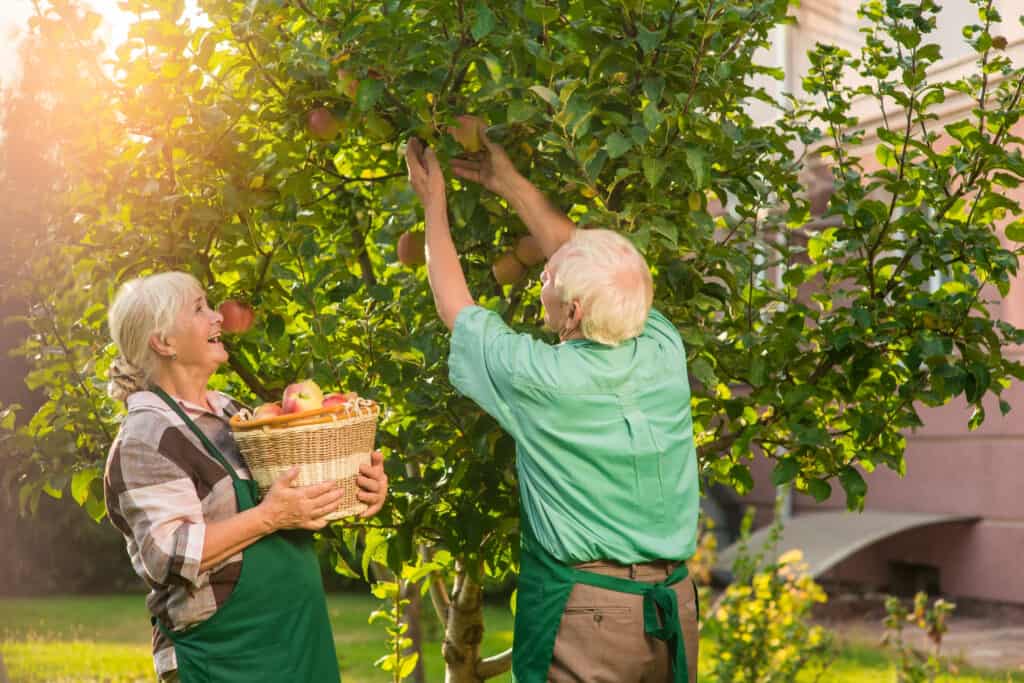 1. Outdoor concerts and events:
As it starts getting warmer and sunnier, most towns and cities host art and music festivals and events. The problem is that seniors tend to stay away from these.
Actually, you should be attending each one of these events. They are ideal for the frugal senior who wants to enjoy the offerings of the art world without spending a fortune on the experience.
You will find a fairly good mix of drama, music, singing, poetry and more at these events. Because these concerts and shows involve up and coming artists, they are usually free or the tickets are very reasonably priced. Plus, the prospect of significant foot fall also brings in food vendors to the arena.
So, you can have a good time enjoying the work of new artists, usually local talent and you can couple it with delicious food and fantastic outdoor weather. I, for one, would say that is the perfect recipe for a memorable summer evening.
2. Fruit Picking:
What do spring and summer bring along, besides sunshine and warm weather? All those juicy and delicious offerings from Mother Nature's garden! A lot of towns and even farmlands host fruit picking events for families.
Particularly, agriculturists who grow berries often have berry picking events. They let you pick and take the juiciest fruits back home with you, all for a small fee.
In fact, many farmers have customized their plantations to accommodate the needs and the compromised physical abilities of their senior berry/fruit pickers.
No doubt, the work can be a bit physically taxing. But you get to enjoy the fruits of your labor, quite literally.
Depending on the farm that you go to, you may even be able to have the freshly picked fruits canned and delivered to your home. I'd say that is one fabulous way to make summer-y sweetness last through the year.
3. Catch a sporting event:
Summer is also a good time to enjoy your favorite sporting events as they happen.
I agree that you won't get much of a workout as you cheer for your favorite player or team. But, the highs and lows of supporting the home team or any team/player can do wonders for your health.
For starters, you win with your team, which means you experience the same adrenalin rush as the players and all those cheering them on. Plus, there is an inherent sense of community and camaraderie among fans of the same team or player. So, you will have a topic of conversation even when interacting with strangers in the stadium.
And if you have other supporters of the team in your circle of friends, you will be chatting about it for days, and depending on just how memorable the game was, possibly for months and years. So, get out there and catch your favorite game because now you don't have to worry about missing work to do so.
4. Boat Rides: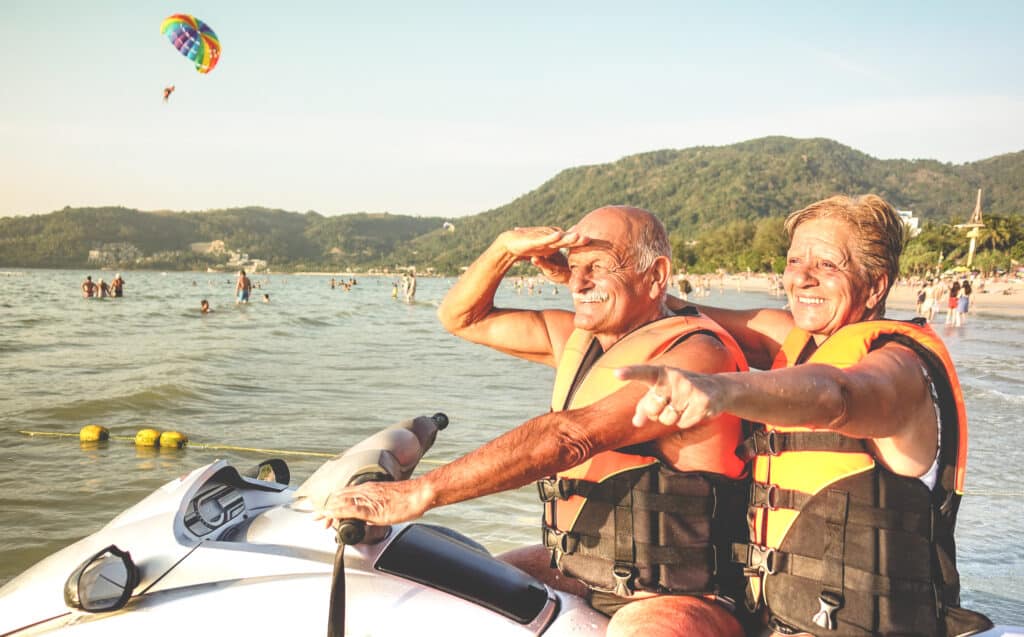 There can't possibly be a more tranquil and fantabulous way to enjoy the warm weather of summer than a boat ride.
There is something serene about the gentle rocking of the boat, the warmth of the sun light and the inevitable sounds of water splashing against the oars or the boat. These sensory inputs can bring a sense of calm and peace even when you are going through a particularly tumultuous phase.
So, imagine how quickly a boat ride can send your stress and anxiety packing. Plus, you may get a chance to work on those biceps and triceps if you are up to it.
Even for those who cannot muster up the strength to row themselves, there are plenty of establishments that offer guided and assisted boat and kayak rides. If you have never enjoyed time on water in a small vessel, you are in for a treat that you will remember for years to come.
5. An outdoor aromatherapy session:
This is another relaxing and almost meditative outdoor activity that can be enjoyed alone or in a group. An aromatherapy session on the back porch or even in the back yard works exceptionally well at dusk, when you have just enough light to not need artificial luminescence but it isn't so bright as to cause discomfort or be a distraction.
If you have a back porch or any kind of partially covered area; this would be perfect to operate an aromatherapy diffuser. Use your favorite natural scents as singles or you could blend them together. You can also use aromatherapy candles if you don't have a diffuser.
The idea is to enjoy the outdoor environment, the sights and the sounds of the world around you winding down for the day, along with the soothing aromas of the oils. Undoubtedly, aromatherapy also works exceptionally well when done indoors. However, the whole experience of combining nature with natural aromas creates a profoundly soothing effect on the senses. So, it is a fantastic way to deal with stressors and negativity.
6. Star watching:
When was the last time you gazed up at the sky to admire the twinkling display that Mother Nature puts up for you each night? No, you don't need an expensive telescope or even a pair of binoculars.
In fact, star gazing is one of the most affordable and a decidedly low impact, backyard outdoor activity that works wonders for your stress levels.
Before you complain that your neck just isn't what it used to be and the old spine will no longer support your budding astronomy adventures, pause right there! Who said you need to throw your head back to gaze up?
Get your yoga mat out if you don't have a pool chair or an outdoor recliner that can be put into a completely flat position.
Either way, when you are lying supine on your back, you get an unhindered view of what lies beyond your planet, plus you put your sympathetic nervous system in standby mode. This is the part of your physiology that controls stress (even giving rise to it) and basically keeps you battle ready all the time.
In the world of yoga, this position has a rather macabre name, shavasana, which literally means the dead man's posture. But make no mistake, it is meant to ward off fatigue, stress and anxiety and that is exactly what you do as you lie down to gaze up at the canopy of stars.
And for those of you who think that stargazing is a dying hobby, think again. They actually have stargazing train and bus tours that will take you to cabins in the middle of nowhere just so you can enjoy an unrestricted view of the night sky in all its glory, without pollution turning into a kill-joy.
7. Watch an outdoor movie:
As far as leisure activities for the elderly go, this one sure does take the crown. I mean, what better way to spend an evening than watching a classic when the skies are clear and the weather is simply perfect?
In fact, I can't think of any other outdoor activity that can bring back as many happy memories as a visit to an outdoor/ drive-in cinema.
Usually, these establishments play favorites from the decades gone by, which means it is perfect for a date night. Yes, seniors you can have those even when you and your partner are well into your sixties. So, what happens if there isn't an outdoor cinema in your town/city? They are, after all, a dying breed.
Well, you could simply recreate the experience in your own backyard. Although nothing beats the real deal, there is no need to take a trip to another city just to catch an old movie outdoors. As long as you have good company, good weather and a decent batch of popcorn to go with it, there is nothing stopping you from having one of the best evenings ever.
Fall & Winter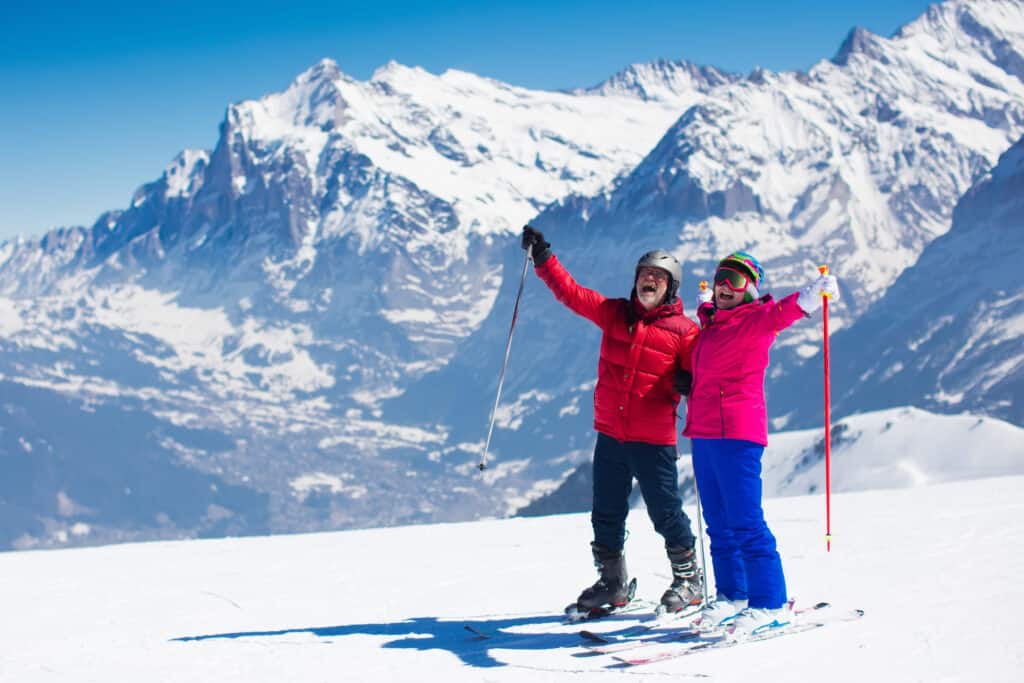 8. Indoor shopping:
With the holiday season just around the corner, malls are decked up for the festivities by the end of October.
This means there is a lot of scope for enjoying the seasonal displays. Plus, it is a fantastic time to get the holiday shopping done before the crowds hit the stores.
And, since it's the mall that we are talking about here, why go alone. Take a friend/friends along so you have company for the mandatory round of ice cream that should be a ritual for all mall–goers (IMO).
9. Skiing:
This one is for active and healthy seniors because it does call for a significant amount of physical effort.
If you have already tried your hand at skiing, you will enjoy going back to it again. But if not, it is always possible to take beginner lessons specifically designed for senior skiers.
However, like all other physical strenuous activities, it is imperative to talk to your doctor about it before taking up skiing again or as a beginner. Also, it is crucial to keep your adventurous streak in control when you are indulging in an activity that does have a few inherent risks.
10. Prepping for the holidays:
This activity is all about allowing nature to lend you a helping hand with your holiday décor.
In fact, I strongly recommend this as a pre-holiday activity for grandparents and grandchildren. The idea is to collect unusual leaves, pebbles, twigs, pine cones and more.
These will be the starting point of your Christmas tree ornaments and even your wreath. Keep glitter, glue and paint handy along with some ribbons, buttons and other craft items and you will have a ball of a time turning these offerings from Mother Nature into works of art.
11. Bonfire parties:
I believe a bonfire is the best way to tackle the nip in the air that autumn and early winter brings along. And if you have your loved ones and a lot of friendly banter and good food to go with the crackling fire, all the better.
As long as you have a backyard, you have the perfect setting for a bonfire party. The best part of indulging in this outdoor chill-out activity is that you can turn it into a multi-generation affair.
Get the seniors and their grandkids involved in the party. After all, when you have a toasty fire going and some marshmallows to go with it, more is always merrier.
Personally, I feel this is a wonderful way to share stories and to fish out happy memories from the past. And, this is just the season for it, so when are you hosting your next or first bonfire party?