Research has shown that gardening has a positive effect on our mental health. Whether you have opted for an outdoor garden patch or an indoor gardening project, the therapeutic benefits of gardening for seniors are extensive.
While gardening helps seniors venture outdoors, what about those that have mobility issues or who live in an apartment or senior living facility. Indoor gardening is a great alternative.
Follow these useful tips for creating a lovely indoor garden for yourself or your much-loved one!
1. Indulge in a terrarium
How many times have you seen an object that is meant to add to the aesthetic appeal of your home, actually do something worthwhile? Most of us would say never because show pieces are good at looking good and nothing else!
Well a terrarium is different. It not only looks fabulous and adds to the beauty of your home but also it offers a fuss-free and stress free hobby to indulge in.
You can purchase terrariums of all sizes and shapes to match the look of your home or if you are a creative and adventurous soul, you can create one from scratch.
While terrariums brings the beauty of the nature inside your home, they need very little maintenance aside from the occasional watering and pruning.
The best part is that you can find/make one with whatever plants you like the most. Moreover, you can choose a size that will conveniently fit on a side/center table in your house.
2. Cactus garden anyone
If you are looking for hardy plants that thrive indoors, you certainly won't go wrong with succulents.
In fact, for fuss free and effort-free indoor gardening, consider a cactus garden of your own. These plants will grow even if you don't have a green thumb.
Also, they don't have to be watered or pruned frequently. But, you will have to place them on the sill of the window that gets the maximum sunlight.
Because these are available in bright colors and varying shapes and sizes, you can get quite creative with your cactus garden.
3. Bulbs are perfect for indoor gardening
One of the best ways to bring the fragrance and the beauty of outdoors gardens inside your home is with plant bulbs.
Although they do require more TLC than succulents, bulbs are easy to start and you will find several that fare exceptionally well indoors.
Take your pick from daffodils, hyacinths, amaryllis and tulips. They are quick to flower and add a gorgeous burst of color to dark and dreary winter weather
4. Put your furniture to good use
Turn a normal piece of furniture like a coffee table or an old cabinet or shelf into a point of conversation by decking it up with plants in colorful pots.
The idea should be to mix plants of varying heights, colors and textures to create an eye catching display. Instead of soil, opt for potting mix for best results.
Another way is to make simple modification to existing furniture to create room for plants. This can be done by adding hooks and pot holders to old tables and shelves, so you create a permanent place for indoor plants.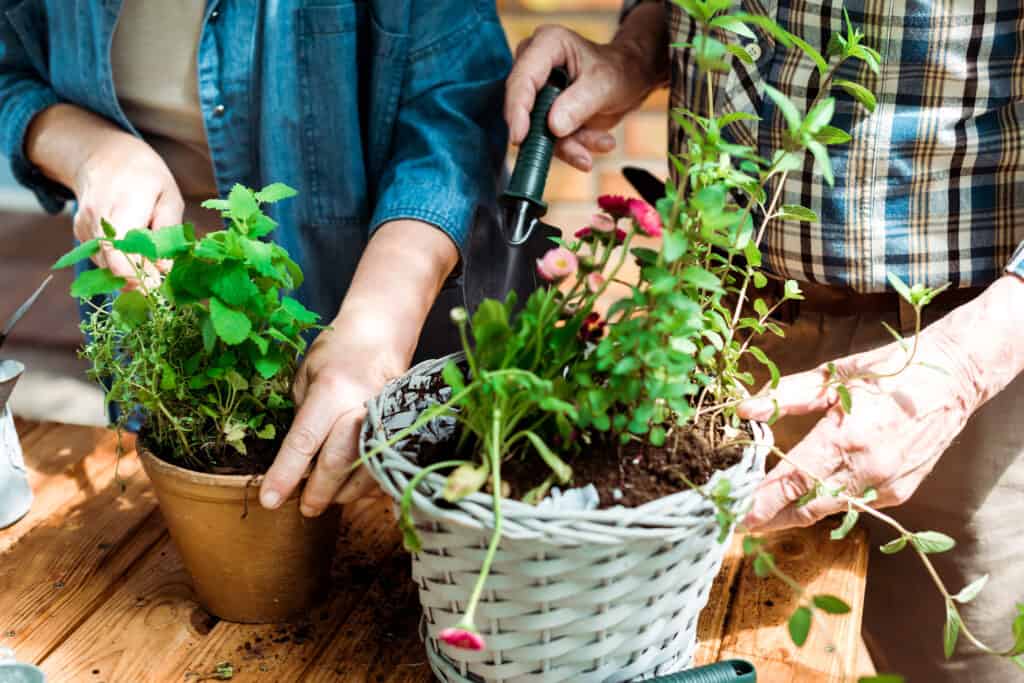 5. Use that sunny spot for hanging pots
If you have a large window or a sundeck or any other indoor area that receives long hours of sunlight, use it for accommodating hanging pots. In fact, few indoor plants look as fabulous as those that grow over and down the rim of the pots.
Because you can find both flowering and non-flowering plants that are perfect for hanging pots, you can create a gravity defying display without using up any floor space or creating a clutter in your home.
6. If not the plants, then the pots
This is for all seniors out there who do not have a green thumb. Even if you cannot get plants going, there is always the option of working with the pots.
Spruce up the indoor look with a few terracotta pots and some acrylic paint. In fact, turn it into a family painting party and use the pots for fake plants and flowers.
7. Put that windowsill to use
Flowering shrubs are a great choice for indoor gardens, including those that will thrive in the dead of winter.
The biggest advantage of some of these flowering plants is that even their cuttings will grow root if kept in water for a few days. Look up information on such plants and see if you can get cuttings from the community garden or the yard of a neighbor or a family member, with permission of course.
Place in a jar with 4-5 inches of water and wait till the cuttings sprout roots. Then, transfer the plants to small pots filled with potting mixture instead of mud.
Place the pots on the window sill because most flowering plants do need at least a few hours of sunlight every day. Enjoy the colors and the fragrance of the blooms as you prepare meals and work in your kitchen.
8. Grow what you can eat
Tending to an edible garden is possibly the most fulfilling of all indoor gardening activities.
Unfortunately, fruits and most vegetables are out of the running if your gardening is going to be restricted to the indoor space. But, herbs and some leafy greens are just the right candidates.
Take your pick from cilantro, parsley, chives, dill, mint, basil and others. Choose the size of the pots according to the available space and fill them up with potting mixture, which is less messy and a better growing medium. Make sure your herbs get ample of sunlight and occasional watering but regular clipping to help them to grow faster and better.
9. Introduce yourself to hydroponic gardening
A lot of people stay away from indoor gardening because the idea of getting soil or even potting mixture indoors does not appeal to all. If that's you, opt for hydroponic gardening, which is in fact the most well suited form of indoor gardening for seniors.
The plants are grown in a nutrient rich medium (water based) and if required in a temperature controlled cabinet. You can build your setup for hydroponic indoor gardening from scratch or buy it readymade.
Plants that are grown hydroponically don't require as much effort and they tend to grow faster and thrive more than those grown in soil, so expect a bountiful harvest.
10. Share your indoor gardening progress
If you are investing all that effort into growing herbs, flowers, succulents, bonsais or other plants indoors, why not show the greenery of your labor to the world.
Maintain a blog complete with information on how you tend to your plants as well as pictures of your indoor garden.
Use blogger.com or any other free blogging site to keep people updated on the progress of your indoor garden. If blogging does not appeal to you, share pictures of your plants on your Facebook page or any other social media site that you use.
The Final Word
No matter how to choose to do it, we hope that you or your loved one will enjoy creating an indoor garden together. Good luck!