For seniors, gardening can prove to be a boon in bloom! Apart from giving them the opportunity to spend some relaxing and engrossing time in nature, it's also an extremely effective low impact exercise. In fact, the time spent in the sun, the fresh air and the vibrant colors of the garden contribute to both a healthy body and mind.
The best part is that gardening is one hobby that can be acquired anew or you can simply pick it up from where you left of. It does not require a lot of space nor a significant investment.
Plus, there are so many options to choose from. While the merits of gardening for older adults are numerous, all that bending, kneeling, pushing, shoveling, digging and raking can prove to be too much for the aging muscles and bones.
But, that no longer has to be a reason for you to give up your favorite outdoor activity. You would be surprised at the assortment of elderly gardening equipment available in the market today that can more than make up for the physical deficits you may have picked up along the way.
The good news is that these tools don't cost much and they help you to garden just as much and as well as you did in your younger days.
So, without further preamble, let's start talking about a few things to consider when the gardener is an older adult and then I will tell you about some of the best elderly gardening products that I promise you'll simply love.
Gardening Problems That Come With Age!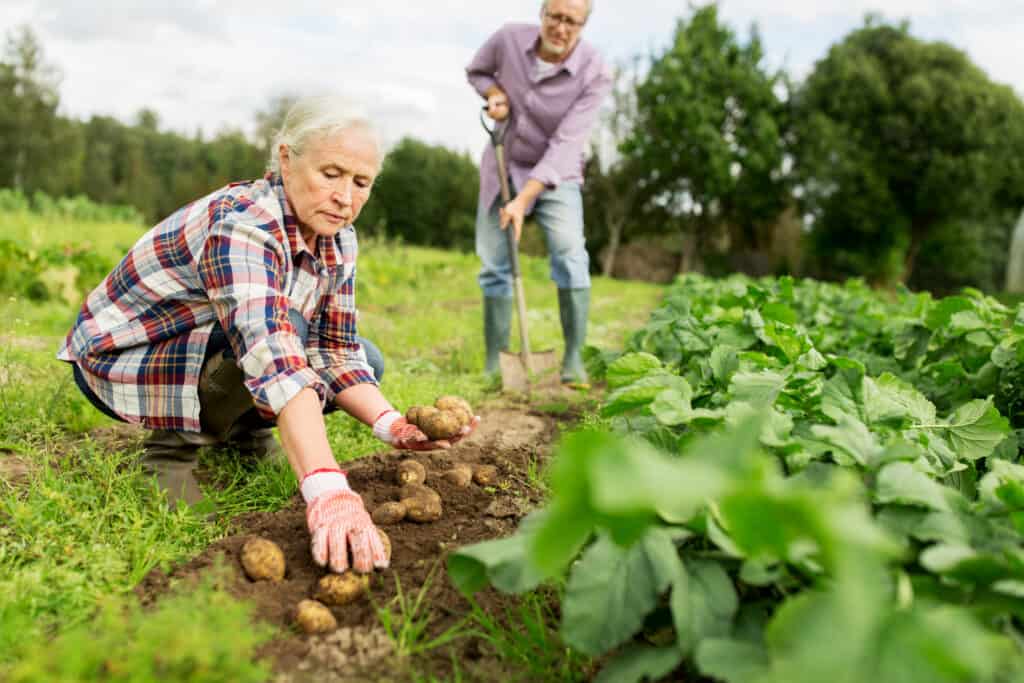 1. Lack of strength
Those arms may just not be able to support as much weight or do as much work as they used to in your hay days. One of the problems with age related muscle weakness is that it comes coupled with a decrease in healing ability. This means that it can take longer for those sore muscles to feel better again. So, it's important to not stress yourself too much physically.
2. Oh those creaky bones
Gardening work calls for a fair amount of bending and kneeling, and even if you don't have joint issues, spending that much time hunched over, kneeling or bent over can lead to creaks and aches. The worst part is that often falls among seniors occur when a person tries to stand up or get up from a sitting or kneeling position.
Unfortunately, this is one aspect of life that calls for acceptance more than rebellion. You certainly won't be doing yourself any favors by enduring the discomfort when there are tools available, which can help you to get on with your gardening without the pains.
3. Vision problems
There is such a thing as age-related color blindness, which can make it harder to spot things that are around you. Again, the idea is to adapt to these changes and deficits and try to work around them, with the help of modern day tools.
4. The risk of falls
Slipping, stumbling and tripping are implicated in a vast number of ER visits that result from seniors taking a tumble. You will agree with me when I say that a regular outdoor garden or backyard has a lot of slippery and unsteady areas that lack uniformity and pose a fall risk. If you are an older adult who is a gardening hobbyist, this is a factor that has to be addressed on the double.
5. Too tired and too soon
As you grow older, it becomes harder for the body to tolerate temperature differences and the heat brought on by sun exposure. But, don't fret that. As long as you don't overdo things and keep yourself hydrated, all will be well.
6. The skin going thin
As you blaze through your sixties, your skin will no doubt get thinner, which means that the use of sunscreen will become mandatory. Plus, even tiny cuts and bruises will need your attention because with age, wounds take longer to heal.
Any immunological deficits can turn even small scrapes and nicks into a gateway for germs to enter the body. So, it's best to be safe on this front otherwise, you will be sorry.
Best Gardening Practices For Older Adults!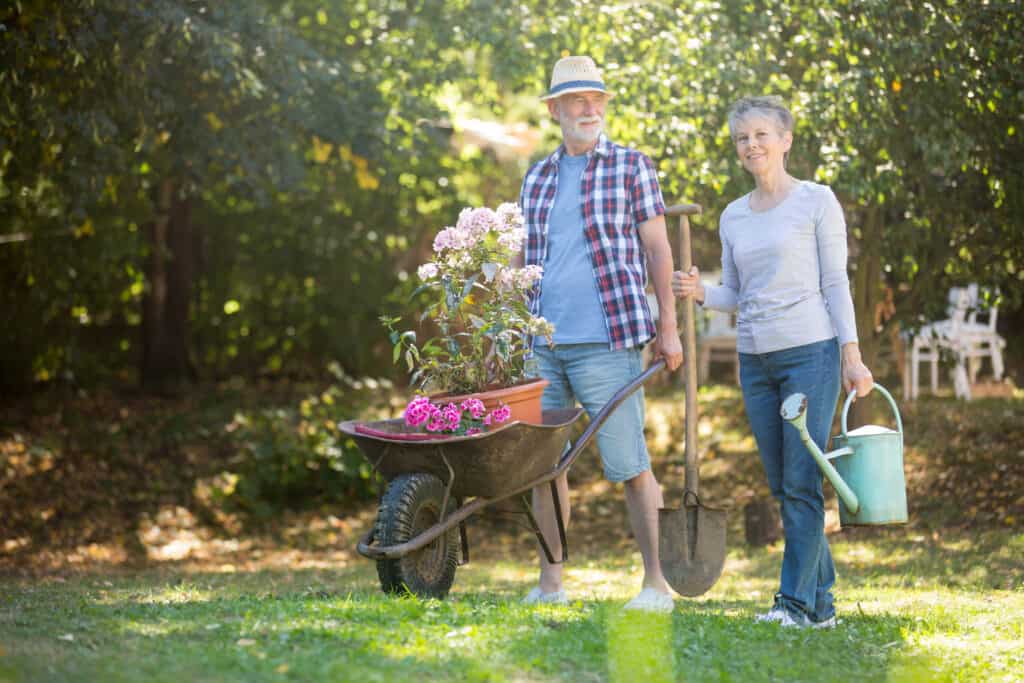 If you don't fancy the thought of kneeling and bending to access your plants, vertical/hanging planters can come in handy. In fact, you can maximize the available space by using the walls, and the trellis for hanging planters. These look amazing and get the job done to perfection.
Another way to make the gardening bed more accessible for planting, pruning and harvesting is by using raised beds/planters. These are available in a variety of materials and once you have one of these, you will never be bending to reach the herbs or the flowers again.
If you live in an area, where seasonal changes require plants to be moved around, opt for containers with castors or place the pots in wheelbarrows to begin with. This way, you will eliminate the need to lift the pots every time you need to move them.
You should definitely consider investing in adaptive tools, which are specifically designed to make up for the deficits that come with age and to utilize physical abilities that are still going strong. These tools help to significantly reduce the strain on muscles and joints.
If you cannot or don't want to change your gardening tools, modify your existing tools to give you a stronger and more comfortable grip with the use of foam, plastic tubing and tape. Another good practice is to wrap colorful tape on the handles of garden tool to make them more visible. This trick works particularly well on old equipment with worn out or faded handles.
Don't stress out your knees and your lower back by kneeling and crouching without the necessary amount of support. Using a garden stool will provide stability and is a comfortable option that will help you to continue working in your garden for longer.
For seniors, who enjoy gardening, it is imperative to have shaded areas as well as a comfortable seating arrangement somewhere in the garden. After all, if you don't have your very own "Me" spot in your yard, when and how will you enjoy the fruits and sights of your labor?
It's best to avoid the afternoon hours and get your gardening done in the morning or evening. This way, you can give a miss to the hottest time of the day and lower the risk of heat exhaustion and dehydration. Also, do not forget to apply sunscreen every 2-3 hours even if you have your gardening hat on.
Do not forget to keep yourself hydrated as you tend to your garden. Also, wear clothes that are light weight but offer full coverage to protect yourself from the inevitable scratches and cuts that come with gardening.
Don't be hard at work for hours at a time. A better approach is to alternate between rigorous chores and those that aren't particularly taxing on the body. This way, you give your body the time to relax and build its energy reserve. So, when you walk back into your home after your gardening session, you won't feel exhausted.
With that out of the way, I am going to get down to business and start talking about the best elderly gardening equipment available in the market today. Let's start with products that make it comfortable to tend to your plants.
Top 3 Gardening Stools For Seniors
There is certainly no dearth of options when it comes to gardening stools specifically offered for older adults with a green thumb. These stools offer stability, comfort and a myriad of additional features that make them a worthy investment. Take a look at some of the top of the line products in this range:
1. The rocker stool
When you need to park those weary bones as you shower TLC on your green pets, the rocker stool is the best product for the job. With an ergonomically designed seat and a convex base, this nifty contraption allows you to stoop, crouch, reach and stretch without fearing that the stool might slip from under you. A product from Vertex, the garden rocker stool is light weight and its height can be adjusted to suit the user's needs. In other words, anybody can use it, and anywhere.
Check on Amazon
2. The rocker with wheels
If a rocking chair was not fabulous enough already, Vector came up with a new improved design that has wheels. If you have an impressive collection of plants, you will love this little stool that allows you to simply roll your way all over the backyard. Think of it as a stool on skates! 
3. The famous garden scoot
The products just keep getting better and more efficient in this category; case in point is the famous garden scooter. So, much more than just a stool, these comfortable scooters with a wide seat and four wheels for greater stability promise to make your gardening sessions the most comfortable ever.
You can buy a product that has a swivel seat supported by four heavy duty wheels or you can opt for a wide rectangular berth with storage space in the body of the scooter. The swivel seat models usually sport a basket for carrying your tools around. You will also find products with extendable steer handles in this category.
Check on Amazon
Check on Amazon
Check on Amazon
Gardening Trolley For The Elderly: The Caddies, The Carts And More!
Now, you may come across some seniors who look down on the idea of using a gardening cart or even a stool. But, even the fiercely independent and still going strong seniors won't mind some help when it comes to lugging the sacks of mud, the pots and other gardening stuff around.
The good news is that you have plenty of options when it comes to gardening trolleys and most of them are quite affordable, which means that you are sure to find something that your elderly parent will totally love. Take a look at some of the top choices:
1. The collapsible wonder
Need a rolley that does not take up too much shed space? The folding red wagon trolley will fit the bill perfectly. When not in use, you can simply fold it and stash it in the corner. The fabric body makes for a compact design but do not underestimate the strength of this product.
It can easily support up to 160 lbs of weight. Fitted with four, large, all-terrain wheels, this trolley is perfect for taking newly started saplings to the soil bed or to carry fertilizer sacks all across the garden.
Check on Amazon
2. The bin caddy
The name says it all, this product sports a bin with enough space in it to carry saplings, fertilizer and the other heavy stuff plus a caddy on the side, which neatly holds all your tools and even a water spray bottle for the plants and a water bottle for you. Supported by four sturdy wheels, you can simply cart around with everything you'll need with this cool product.
3. Tradition with comfort
For seniors who like to do things the traditional way, you can always get a regular gardening cart with a padded handle that makes it easy to pull it around on the uneven terrain. One of my personal favorites in this category is the Gorilla garden dump cart that's equipped with pneumatic tires, a padded handle and a quick release dump assembly.
Check on Amazon
Must Have Garden Watering Equipment 
1. The coiled hose
Few things in the garden pose as much of a fall risk for seniors as the hose. It's heavy; it drips water; it's on the ground and it has to be dragged around, which means an older adult runs the risk of slipping, tripping or stumbling over it; not to mention that the weight of a regular garden hose can be too much for many seniors.
Say hello to the coiled hose, which tackles all these problems in one fell swoop. A light weight product that can be pulled as much as required, the coiled hose does not trail on the ground as much as a regular hose, making it a safer and a more practical solution for older adults.
Check on Amazon
2. The ergonomic hose nozzle
Even if the hose is right, those who suffer from muscle weakness or arthritis will find it painful to water the garden if the nozzle is not designed for senior use. Ergonomic nozzles make things simpler and more comfortable with designs, which include padded grips that are easier to hold and thumb controlled levers/buttons at the back to manage the flow of water.
Check on Amazon
3. Watering wands
These are joint-friendly watering wands that allow you to get to those hard to reach sapling in the back and the hanging planters. Made of light weight material with cushioned grips and push button operation, these watering wands are perfect for anybody with dexterity issues.
Check on Amazon
The Back-Friendly Gardening Tools To Help The Elderly
1. The litter picker
One of the most tedious aspects of yard work is keeping the area clean, which inevitably involves getting down on your knees and getting your hands dirty. But, not if you have a back-friendly litter picker.
These nifty tools measure a decent 26 to 28 inches and have jaws at the front, which are controlled with a lever in the back. All you have to do is simply use the jaws to lift small items without bending down to scoop them up. Some products also feature tiny magnets that pick up small metallic objects like coins and keys.
Check on Amazon
2. The long handle leaf grabber
Picking and moving garden foliage is always a back-breaking task. But the long handled leaf grabber makes things simpler. With padded handles and a light weight design, this tool makes easy work of picking up a large amount of leaves in one scoop, so that they can be moved and discarded with relative ease.
Check on Amazon
3. Telescopic gardening tools
As the name suggests, these are traditional gardening tools with super long handles, specifically designed for gardeners who suffer from back problems. Because the telescopic handles are usually adjustable and padded, they eliminate the muscle and joint stress caused by gardening equipment that is too large or too small. From tree trimmers to rakes and spades and even gardening sheers, you can find all the gardening equipment you need in the telescopic version.
4. The stand-up weeder
One of the most cumbersome gardening related tasks, weeding is a necessary evil that just can't be avoided. With a normal weeder, you will have to spend hours crouched over.
But with a senior friendly stand-up weeder, you can get rid of those weeds in no time and without stooping over once. One of my personal favorite products in this category is the ORIENTOOLS Garden Stand-up Weeder. It has a sturdy stainless steel construction with four claws that pull those obstinate weeds by the root.
Check on Amazon
Going Easy On The Knees With The Right Gardening Products For Older Adults
1. The kneeling pads
These are the most basic products in this line. Simply put, it's a square piece of thick foam that provides padding to the knee joints and prevents them from coming in direct contact with the hard ground.
Even if you don't otherwise have problems kneeling, the protective kneeling pad will make the time spent on those joints less painful. The pads are available in a variety of colors, are extremely light weight and don't feel as restrictive as the traditional strap-on knee pads.
Check on Amazon
2. The kneeler bench
With this product, things get interesting and highly functional. The kneeler bench also has a foam pad, but it is attached on a sturdy base. This base is, in turn, fixed to standard, metal stool side legs. The foam pad can be moved down to floor level when you want to use it for kneeling comfort. The arms on the side work as supports, helping you to lift yourself up from the kneeling position.
The kneeler pad base can also be moved up by several inches when you want to use the bench for sitting. Most kneeler benches also have handy tool pouches on one or both sides. So, you have physical comfort and access to all the tools you need with one single product.
Check on Amazon
Much Needed Comfort For Your Hands And Arms
1. The gardening claws
Yes, you read that correctly, these gloves come with built-in claws. I know that probably reminds you of Freddie Kruger. But haven't you ever wondered how easy it must be for Mr. Kruger to dig in the garden?
Well, you can also make things easy for yourself with the ingenious Garden Genie claw gloves. They are waterproof, easy to clean and quite sturdy. Because they allow you to dig and plant without straining your hands or getting them dirty, these are perfect for older adults who enjoy gardening.
Check on Amazon
2. Add-on handles and support grips
If you already have a lot of gardening tools in good working condition, it would be pointless to spend on new tools just because you need ergonomic designs. You can get all the benefits that they offer with adjustable and removable handles.
Designed to be fitted on most standard gardening equipment such as forks, rakes, trowels and hoes, these add-on grips work with any tool that has a handle with a diameter of up to 44 mm. You can simply fit them with steel clamps, so assembly is easy, and above all, these supportive grips keep your hand in the upright position as you work. This offers better control over the tool, a steadier grip and a significant reduction in muscle and skeletal strain.
Check on Amazon
3. Arm support cuffs
These support devices allow you to tap into the strength of your upper and forearms, thus reducing strain on the wrist, hands and the fingers. Comprising of two parts, these supportive devices have a round cuff that fits around the forearm, and the connector, which plugs into the handles of gardening tools.
While the round cuff helps to access the strength in the upper arms, the connector tackles the problem of weak grip by preventing the tools from slipping and falling out of the wearer's hands. So, seniors get better performance from the tools and an increase in safety.
The only problem is that the connecter will only plug into the handles of tools made by the manufacturer of the arm support cuff. So, if you are buying the Peta Easi-Grip Arm Cuff, it would will only work with Peta add-on handles or Peta gardening tools. 
4. Arthritis gardening gloves
These come from different product manufacturers but overall they are designed to offer a pain-free gardening experience. They offer the protection of regular gardening gloves as well as compression that comes with arthritis related rehabilitative wear. So, they are a must-have for anybody who suffers from hand weakness and pain in the finger joints as well as a weak grip.
Check on Amazon
Pruning, tilling, mowing and more 
1. Ratchet action secateurs
These pruning shears work for medium sized stems and branches and require less squeezing force than regular pruners because of the ratchet mechanism. With a regular pruner, you have to continue to press the handles till the blades don't cut through the live wood.
With a ratchet mechanism secateur, you can press and release and then press again and continue this till the blades don't cut through the stem. Every time when you release the pressure, the blades don't open like in a regular pruner.
They remain in the closed position around the stem, which means that the next time you press, you cut through a bit more and then some more and so on. Because the arm and wrist strength needed to work with these shears is significantly lower than the traditional variety, they are extremely useful for older adults.
Check on Amazon
2. Battery powered tiller
This lightweight tiller will allow you to till the soil while you stand, and without using physical strength for the job. The battery powered motor is strong enough to go through any topography and its performance is near flawless, regardless of how dry or hard the soil is.
Check on Amazon
3. Battery powered shears
This gadget works even for seniors with serious mobility issues. It is light enough to be operated by one hand, which means that even an older adult who uses a wheelchair can work with these shears. It is powered by a rechargeable battery and it is ideal for working on soft foliage as well as grass.
Check on Amazon
And there are a lot more from where they come…
This is, by no means, an exhaustive list of all the gardening tools and gadgets for seniors. In fact, these days, you can also find several technologically advanced gadgets that can make your gardening sessions more enjoyable and comfortable and less physically taxing.
For instance, you can use digital pots and aerogardens to grow plants indoors, soil sensors to record soil, humidity and weather conditions to determine if they would work for certain plant types, high-tech scarecrows that use motion detectors to sense the presence of pests and to drive them away and many other such amazing devices.
And when you put the new-improved, old world tools together with high-tech gardening gadgets, you basically get a medley that can meet the requirements of almost all seniors. So, whether you are keen on indoor or outdoor gardening, whether you like to cultivate your own vegetables and greens or are hooked onto flowering shrubs, gardening no longer has to be out of reach just because you have stepped into the 7th decade of your life.
In fact, gardening is one of the best and most effective activities to promote both physical and mental well-being. So, go ahead and indulge yourself because a lot of fresh air, some sunlight and loads of time spent in the midst of nature is good for just about everybody.