Spending time outdoors is good for everybody, no matter what your age. But for seniors the therapeutic effects of time spent outdoors can be nothing short of life changing.
And no folks; this isn't just some humbug to get you to quit your couch potato lifestyle. There are plenty of studies backing those words.
In fact, most doctors tell their elderly patients to spend at least 30-60 minutes outdoors every day.
Despite this, less than 40% heed to this stellar bit of advice. If you are among the 60% of all seniors who spend most of their time indoors and lead a sedentary lifestyle, here are just a few of the benefits that you are missing out on:
Nature-made dose of the sunshine vitamin
If you spend all your time cooped up inside your home, you certainly won't be able to keep your date with that big fiery ball in the sky.
And no sunshine means no vitamin D, which is an extremely important micronutrient for both your body and your brain.
I know, you must be very diligent about your vitamin D supplements. But hey, what's the harm in getting the natural stuff? Remember that since your body makes this natural form of vitamin D, it is obviously more accepting of it than the pills that you pump into your system.
It's time to rise and shine
Apart from vitamin D, the brightness and warmth of sunlight also tackles one more important physiological task. It tells your body that it is time to get up and about.
Aging and irregular sleeping hours often throw your circadian rhythm out of whack. Being outdoors in bright sunlight reboots your body's natural clock, which is programmed to keep you awake during the day.
Once your body goes back to being awake when it is bright outside, you feel more active and energized as you go through the day. Plus, there is one more benefit to being awake at the right time.
You get your zzz's as you should
Yes, rebalancing your circadian rhythm works to improve not only your day time efficiency but also your night time sleep. Spending time outdoors is known to help with insomnia and other mild to moderate sleep disorders.
So, if you find it hard to fall asleep or to stay asleep, getting your daily dose of exercise and sunshine will get you a nightly date with Lady Z.
Time spent outdoors always equates to some amount of exercise
It could be a walk in the woods or through the local art gallery, even when you don't make a conscious effort to indulge in a fitness related activity, time spent outdoors always gets you some amount of physical exercise. And when it comes to physical activities, even a little bit is better than nothing.
It's good for the brain
The combined impact of physical activity, daytime energy and a good night's sleep is bound to put your noggin in its Zen zone. Is it any wonder then that outdoor activities are known to alleviate stress and anxiety and increase the levels of happy brain chemicals?
More confidence and more time outdoors
The whole idea of being out and about on their own can instill a tremendous sense of confidence and accomplishment in older adults.
Together, these not only improve life quality but also motivate older adults to get out more often. In fact, regular outdoor activities are known to rekindle the sense of purpose and push away boredom and the very negative feeling of stagnation.
It's really good for the body
Time spent outside helps to lower the cortisol level in the body, which is often the main culprit that triggers auto-immune disorders. So, outdoor pursuits help to lower your risk of thyroid related ailments, diabetes as well as rheumatism.
Also, cortisol is bad for the heart and the cardiovascular system. This means living it up outdoors can help to keep your ticker healthy and your blood pressure in control.
And if that is not enough, nature time can also help to calm your sympathetic nervous system while enhancing parasympathetic activity. Because your parasympathetic nervous system controls your ability to wind down as well as your digestion, you can also keep tummy troubles in check by spending time outdoors.
Who knows, you may even make a few new friends while you are at it
You are certainly not meeting anybody while playing the couch potato! Being outdoors, even if it is just a walk around the neighborhood, gives you ample opportunity to greet and meet the people in your community.
Even if you never get to the point where you can indulge in philosophical debates about the meaning of life with these folks, you are sure to get a few smiles and greets along the way.
I assure you that these tiny interactions can go a long way in kicking out the sense of loneliness and the feeling of being left behind. Plus, there is always the chance that you may meet the other seniors in your neighborhood and get yourself a few BFFs.
When your brain and body are healthy and happy, your immune system is willing to go the extra mile
This is another distinctive benefit of spending time outdoors. The sights, sounds and smells of nature all help to enhance immune health. Because a faltering immune system is a part and parcel of aging, spending time outdoors and in nature is one of the most effective ways to turn back the clock for your body. I've got a list of the best 5 healthy activities for seniors right here.
A 2009 Japanese Study proved that "Forest bathing" increases the number and response of NK cells in the body. These immune cells are in charge of killing infected and tumorous cells in the body. So, spending time in the arms of nature can help to keep both infectious diseases and cancers away, or at least substantially reduce the risk of suffering from them.
So, Should You Indulge In Any Outdoor Activity That You Can Think Of?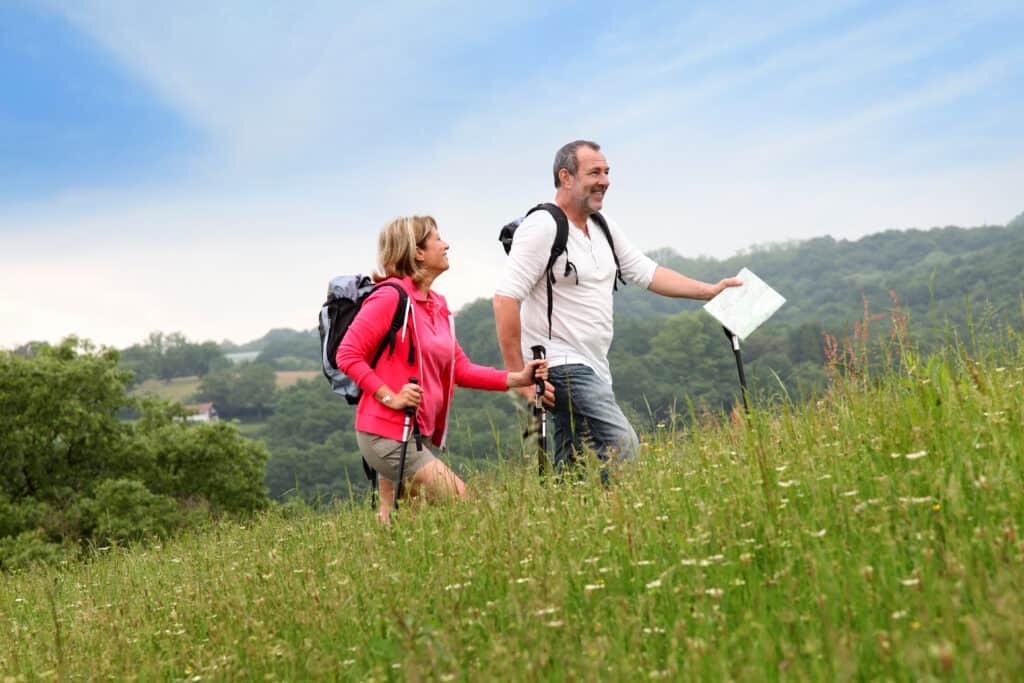 Not really! While the benefits of outdoor time for seniors have a lot of scientific backing, not all activities are suitable for all older adults. If you are choosing an outdoor activity for yourself or for an elderly loved one, a few things to consider include:
Physical abilities and disabilities
It would be pointless to pick an activity that would be too much for an elderly participant to handle. Instead of being a mental "pick me up", the inability to keep pace with others will act as a confidence and spirit dampener, and you certainly don't want that.
The good news is that there are so many activities that are suitable for seniors that you are bound to find one that is appropriate for the physical fitness level of your elderly loved ones. The central aim should be to have a lot of fun while getting yourself whatever workout that you can from the activity.
It's important to know that time spent outdoors does not always have to be about exercising those muscles. Even if you get a lot of laughs and joy out of it, you will still accomplish your goal of making your mind and brain happy.
Interests
Don't pick an outdoor activity just because it happens to be a hit among other seniors. If an older adult was involved in a particular activity in the past or is keenly interested in it, you can be sure that he/she will stick with it.
Simply put, a one off session of an outdoor activity that does nothing for a senior citizen is an exercise in futility because there are very slim chances of it being repeated.
The idea is to inculcate both the love and the desire for spending time outdoors in seniors. The majority of us loved to spend time driving around on the beach or in the woods when we were young but as people get older, these pleasurable pursuits seem out of reach.
Then, there comes a point when seniors get into the mindset of "why even bother". And that is what you are trying to change here. So, go for something that will get them to sit up and take notice; something that will rekindle their affair with the great outdoors.
Breaks and hydration
Whatever activity you choose, remember that regular breaks and keeping yourself hydrated is extremely important, regardless of age, but more so when you are past your 60th, and hence more vulnerable to the ill effects of harsh weather.
So, don't wear yourself out. Sit down, catch your breath, take a few swigs of water, look around and enjoy your surroundings before getting up and continuing to walk/explore.
Starting slow is always an option
The one thing that keeps a lot of seniors away from outdoor activities is the misconception that they are all too physically taxing, and that they won't be able to keep up with the required pace.
Well folks, you are in your golden years. The benefit of living in the seventh decade of your life is that you finally get to make choices based on what you like and want and not based on what must or should do.
Who said that you must run a marathon on your very first day outdoors? Of course there is nothing and nobody stopping you from doing so if that is what you want. But, I ask, "What is the harm in starting slow?"
Safety Tips When Planning Outdoor Recreational Activities For Seniors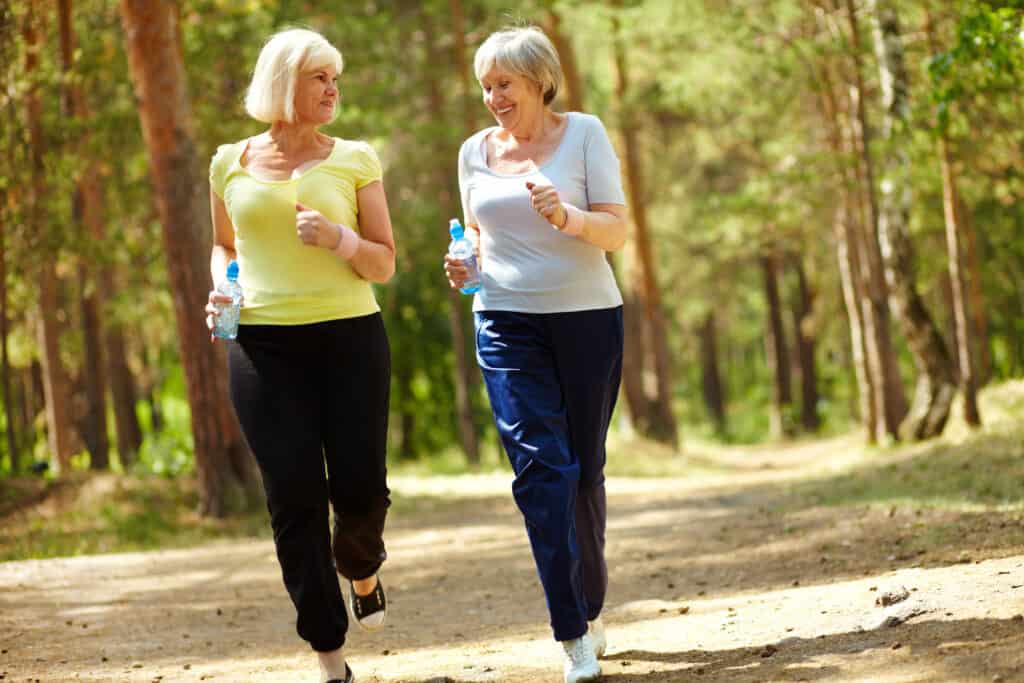 Before taking up a new outdoor activity or even going back to one after suffering from an acute or chronic ailment, always talk to your doctor about it.
You dress for the occasion, then why not for the season? Don the right ensemble to protect yourself from the elements.
Make sure your clothes are also appropriate for the activity that you intend to enjoy.
Always wear comfortable and safe shoes.
Keep your family members notified of your whereabouts.
Carry on your person the contact information of your immediate family or people who should be contacted in case of an emergency.
Keep your cellphone with you.
Don't carry a lot of cash or valuables.
Protect your eyes with the right eyewear.
Always carry a water bottle along and stay hydrated.
Educate yourself on the signs of both hyperthermia and hypothermia.
Always use sunscreen and opt for an extra measure of protection with a hat.
Use bug spray when heading out in the woods.
Avoid staying out in the sun for too long; at least, stay out of the afternoon sun.
Remember that physical activity will increase your daily calorie requirement. So, make sure you eat well and enough for your age and your physical activity level.
Avoid wearing headphones when outdoors.
If you are out shopping, use a cart so you don't have to carry a lot of stuff.
Limit your consumption of alcohol if out for dinner with friends and family.
Carry your medication with you to avoid missing a dose.
Understand the side effects of your medication. Some drugs can cause drowsiness and it is best to allow their effects to wear off before heading out.