Did you ever stop and think about the effort that goes into taking a shower? Most of us take such a routine activity for granted, but for the elderly, it's a whole different story
As we grow older, our bodies go on a trip down the performance hill. Bones get weaker, joints become stiffer, and maintaining balance is no longer guaranteed!
For senior citizens having trouble standing up for several minutes or reaching out to adjust the spray direction and settings, regular showerheads surely aren't the ideal option.
The solution? Well, handheld showerheads of course! These practical bathroom utilities help make bathing sessions easier and more convenient for elderly people.
However, with various models and features available on the market, choosing the best handheld shower head for elderly folks can be rather confusing.
Today, thanks to our list of the top 8 handheld showerheads for the elderly and informative buying guide, we'll be helping you land the perfect deal. So without further ado, let's dive in!
Our Finest Picks:
| Image | Title | Price | Buy |
| --- | --- | --- | --- |
| | Aquarius Handheld Shower Head With Hose (Extra Long) Luxury Spa Grade High Pressure Hand Held Showerhead With 6 Spray Settings - Adjustable Brass Ball Bracket Holder & Teflon Tape - oil rubbed bronze | | Buy Now |
| Top | Couradric Handheld Shower Head, 6 Spray Setting High Pressure Shower Head with Brass Swivel Ball Bracket and Extra Long Stainless Steel Hose, Brushed Nickel, 5" | | Buy Now |
| | Delta Faucet 7-Spray Touch-Clean Hand Held Shower Head with Hose, Chrome 75700 | | Buy Now |
Product prices and availability are accurate as of the date/time indicated and are subject to change. Any price and availability information displayed on [relevant Amazon Site(s), as applicable] at the time of purchase will apply to the purchase of this product.
Prices pulled from the Amazon Product Advertising API on:
Best 5 Handheld Shower Heads for Elderly
1 – AquaDance High-Pressure Chrome Face Handheld Shower Head
Kicking off our list, the AquaDance Handheld Shower Head is a widely popular product that received thousands of positive reviews thanks to its convenience and versatility.
This deluxe showerhead has a stylish chrome finish along with a face measuring at 3.5 inches of width to provide you with adequate coverage. The handle features an economic design, allowing for a solid grip
The AquaDance Handheld Shower Head comes with 6 different spray settings to accommodate various needs of users including Power Rain, Rain Massage, Pulsating Massage, and Water Saving Pause Mode. You can also clean the jets with incredible ease just by simply rubbing them.
This showerhead is equipped with a click lever dial divided into 3 zones for facilitated control. It comes with a wall mount bracket which is adjustable so you can point the water stream at any desired angle.
The included hose is sturdy, flexible, and made of reinforced steel to endure years of usage. It extends to a length of 5 feet, allowing free and swift movement.
Installing the AquaDance Handheld Showerhead is a breezy task since it generally fits standard shower arms, eliminating the need for plumbers and assembly.
This device has been tested to meet the highest US quality and performance standards, backed up by a limited lifetime warranty.
Pros
6 spray settings
Easy to clean
Great value for money
Includes free Teflon tape
Can be used as overhead and handheld showerhead
Cons
The head can be wider
Water flow can be improved
2 – HotelSpa 7-setting AquaCare Series Spiral Handheld Shower Head
This HandHeld Shower Head is manufactured by the American brand Hotel Spa as part of their AquaCare series. It was designed to deliver a luxurious experience, leaving behind thousands of satisfied customers.
Made of chrome-plated ABS material, this stylish handheld showerhead has an oversized 4 inches wide face to give you an extensive range of water stream. It bears 7 different settings that you can use depending on your current need such as Pulsating Massage, Hydrating Mist, and Economy Rain.
The handy On/Off Pause switch grants you instant control over the water flow with a simple flick. But the real advantage here is that the Pause option doesn't completely cut off the stream, just reduces it to a fine trickle. This protects you from bursting water and burn risks as it prevents the build-up of pressure and heat.
The Hotel Spa Handheld Showerhead comes with a 6-foot long stainless steel hose which is flexible enough to enhance reach and motion. The package includes an adjustable overhead bracket as well as a patented adhesive holder that lets you hang the handheld unit on any surface wherever convenient.
The installation is tool-free, and the showerhead is covered by a limited lifetime warranty.
Pros
4 inches wide showerhead
Patented On/Off Pause switch
Patented silicone Go-anywhere adhesive mount
6 feet long hose
Cons
Suction cup loses power over time
The switch may get stuck
3 – AquaBliss TheraSpa Handheld Shower Head
Built to melt away your stress and tension, the TheraSpa Handheld Show Head by AquaBliss landed hundreds of praising reviews, deeming it a favorite among users for all the right reasons.
Starting from the featured 6 modes of therapeutic massage patterns such as Pulsating, Gentle, and Mist. There's also a water-saving setting that works by reducing the water flow down to 80% or 90% of the original capacity, so you won't be feeling chilly as you soap up.
Installing the AquaBliss Handheld Shower Head is a quick hassle-free process, you just need to unscrew your old showerhead then fasten the TheraSpa instead and you're good to go! It a universal fit that suits standard shower arms.
The provided hose is a high-quality 6.5 feet long stainless steel extension, constructed to prevent leaks, tangles, and breakage. It also features a 360-degree rotation technology that allows for easier use and boosts elderly independence.
The AquaBliss package includes a wall mount that's adjustable to let you direct the water stream at targeted spots. This Handheld Showerhead comes with a risk-free 1-month trial, in addition to a 12-month warranty period.
Pros
6 massage modes
Water-saving option uses up to 90% less water
Extra-long hose
Quick and simple installation
Cons
4 – Aquarius Handheld Shower Head by Wellness & Co
Produced by Wellness & Co, the Aquarius Handheld ShowerHead is a perfect representation of high-end quality and long-lasting performance.
The showerhead unit is made of premium-grade ABS Plastic Thermo Material with an ORB finish. It's capable of withstanding hot water temperatures just as efficiently as cold water. It's also equipped with sealant rubber to guarantee you won't encounter any leaks.
The head of this handheld device measures at a sizeable 4.9 inches of width, offering extensive coverage and hitting every area without missing. Moreover, the main handheld head is equipped with a total of 56 nozzles that work together to give you a powerful and consistent stream.
The Aquarius Handheld Shower Head is engineered to deliver a flow rate of 2.5 GPM, maintaining a constant spray even at low-pressure conditions for a satisfying experience at all times.
It also comes with 6 integrated modes to serve various showering needs, with a "click" sound that notifies you when you reach maximum flow on each setting.
This luxurious spa-level showerhead is very easy to install, you just have to follow the included step-by-step instructions guide. The Aquarius Handheld Shower Head is packed with extra Teflon tape as well as a 5.5-foot hose to grant you freedom while moving.
The Aquarius is backed up by a 30-Day Money-Back Guarantee, along with a lifetime warranty in case an issue occurs.
Pros
Durable material
High-quality finish
Multiple spray modes
56 nozzles
Steady flow
Cons
Expensive
The hose can be longer
5 – Couradric Handheld Shower Head
Combining elegance and quality, this Handheld Shower Head from Couradric demonstrates outstanding craftsmanship, aiming to provide seniors with reliability, durability, and style. It's available in 4 colors; brushed nickel, chrome, oil-rubbed bronze, and polished brass.
Manufacturers at Couradric used highly pure ABS materials that are strong and solid enough to live through heavy-duty demands. This handheld showerhead is accompanied by a 6-foot long hose made of sturdy stainless steel and connected to the head via a flexible leak-free brass joint.
Speaking of the head, it has an ultra-wide face of 5 inches, specifically built to deliver large coverage whether you're using it overhead or handheld.
It also carries 48 medical nozzles made of thermoplastic elastomers (TPE) which are self-cleaning. They stop the natural build-up of calcium to avoid getting blocked. These nozzles are resistant to corrosion and impact.
The removable flow limiter allows for a more environment-friendly operation while giving you control over the stream intensity. The ergonomic handle provides a comfortable yet secure grip.
The Couradric Handheld Shower Head offers 6 options of spray patterns including Bubbling rain, Shampoo rinsing, Pulsating massage, and Water-saving mode.
Installing the Couradric Handheld Shower Head takes only a couple of minutes to complete as you won't be needing any tools or plumber-assistance. This showerhead is backed up by a limited lifetime warranty, with customer service available around the clock.
Pros
Self-cleaning nozzles
6 spray functions
Brushed Nickel finish resists fingerprints spots
Large 5-inch head
Water flow limiter
Cons
Pricey
Needs an On/Off switch
6 – Vive Handheld Shower Head
Another worthy contender on our list, the Vive Handheld Shower Head boasts hundreds of positive reviews for being a practical tool with lots of handy features.
The first thing you'll probably notice is the super long tangle-free hose measuring at a length of 6.5 inches. This means you can move freely while holding the showerhead or use a bathtub chair comfortably without worrying about restrictions. It's made of stainless steel which is durable but flexible at the same time.
The showerhead itself has a polished chrome finish, adding a touch of style to the unit. It's fitted with jet nozzles that utilize 5 different spray modes for versatility. You can choose between saturating spray, bubble spray, massaging spray, and 2 combo sprays.
To maintain water temperature and prevent outbursts, the Pause feature slows down the stream to a fine trickle instead of a total shutoff.
This handheld showerhead has a decent diameter of 4 inches offering adequate and satisfying coverage. It comes with brass cord nuts and Teflon tape to make your job of installing the device that much more convenient.
Additionally, the Vive Handheld Shower Head can fit just about any standard plumbing fixture since it's equipped with universal connections.
If you decide to purchase the Vive Handheld Shower, you'll receive a Vive Guarantee which is an unconditional lifetime warranty.
Pros
Good size head
Has an On/Off switch
Pause button for conserving water
Extra-long hose
Cons
7 – Delta Faucet Single-Spray Touch-Clean Handheld Shower Head
One of the bestselling handheld showerheads out there, the Delta Faucet Handheld Shower Head has thousands of soaring reviews to show off its superior quality and exceptional design.
This handheld showerhead delivers a powerful water stream that immerses your body in a satisfying experience of steady pressure. The invigorating massaging jets promise a nice relieving effect for sore and aching muscles, which is always a plus when it comes to older people.
The Delta Faucet Shower Head allows you to choose from 7 enjoyable spray modes according to your mood at the time, these include full body spray with massage, energy-saving spray, and drenching spray.
You also get a handy Pause option to lather up while it maintains water down to a small trickle which helps keep the shower temperature steady.
The soft rubber spray nozzles are quite easy to clean thanks to the Touch-Clean technology which allows you to simply wipe away accumulated calcium and lime from the surface of the showerhead face, no chemicals required.
The Delta Faucet Handheld Shower Head includes a flexible 6-foot long hose which is stretchable, kink-free, and fitted with a vacuum breaker to deliver a consistent water supply.
This handheld showerhead is available in two flow rate models: 2.5 GPM and 2.0 GPM. Additionally, you get to pick one of two colors, either chrome or white. Delta Faucet offers a limited lifetime warranty so you can rest assured that your purchase is backed up.
Pros
7 spray settings
Wipe-to-clean jets
Available in two flow rate options
The hose is equipped with a vacuum breaker
Cons
The hose flexibility can be improved
Trends to leak after a while
8 – LDR 520 3110WT Complete 3 Function Handheld Massage Showerhead
Last but definitely not least, this showerhead is an excellent choice for those seeking an affordable straightforward alternative without too many extra features.
The design of the LDR Handheld Shower Held is pretty simple, with a Lead-free construction made of quality ABS plastic wrapped in a traditional white finish that should efficiently serve you for many years to come.
Using the LDR Handheld Shower Head, you can switch between 3 stream settings including Spray, Massage, or a combination of both patterns. The LDR package also offers a holder that allows you to mount your showerhead onto the wall and enjoy a hands-free experience.
Additionally, you'll receive a 72-inch (6-foot) hose which grants you enough flexibility to let you move freely during the shower. Several sessions later, you can easily clean the spray nozzles by rubbing it to remove lime build-up and ensure your device is functioning properly.
You'll find the installation of the LDR Handheld Shower Head rather quick thanks to the illustrated instructions that'll guide you step by step through the whole process. To further facilitate your task, LDR includes seal tape as well as washers to establish a leak-free attachment.
This Handheld Shower Head from LDR delivers a maximum flow rate of 2.5 GPM and is backed up by a limited lifetime warranty.
Pros
Very affordable
Includes wall bracket and long hose
Easy setup
Lightweight
Amazing customer service
Cons
Only 3 spray modes
Not very sturdy
What is a Handheld Shower Head?
A handheld showerhead is a device functioning just like a conventional showerhead, but it's attached to a  movable hose that offers you the ability to freely maneuver it around your body.
One end of the hose is fastened to the showerhead while the other end is connected to a standard water outlet. As the hose is extendable, you can hold the showerhead in your hands and shift its position as far from the wall mount as you need and as the cord's length allows.
Handheld showerheads allow users to direct the water stream at various angles, reaching any spot with minimum hassle. Some showerheads even offer a dual-mode where you can use it as a normal and a handheld showerhead.
These handy shower devices enable elderly people to gain more independence in their day-to-day life as they rely less on assistance and more on their own capabilities.
Why use a Handheld Shower Head?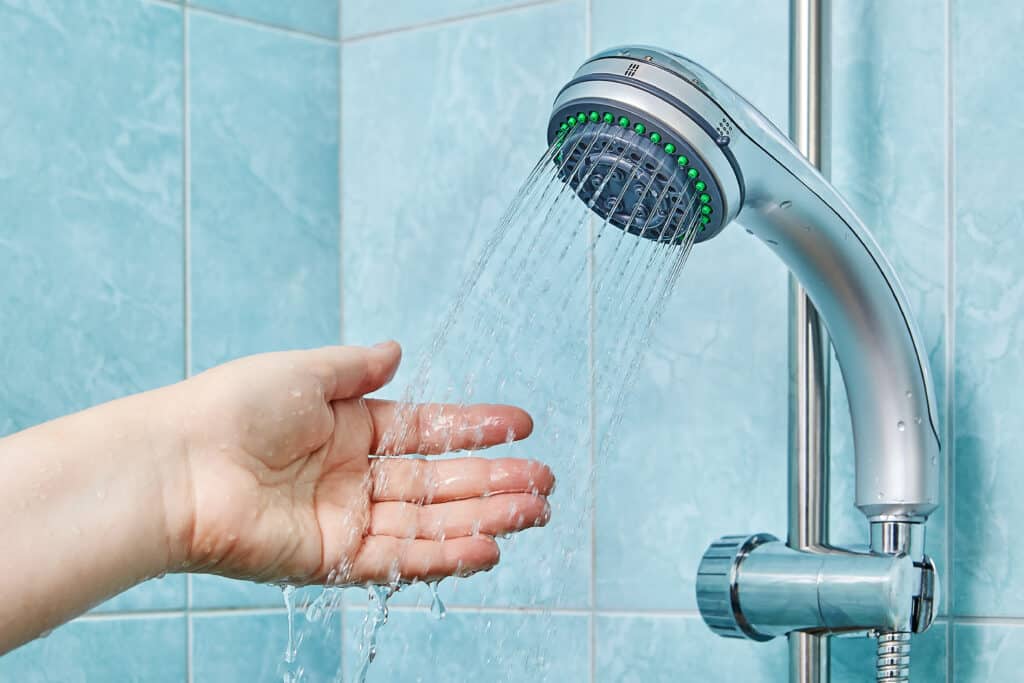 Numerous benefits accompany using a handheld showerhead, here are the highlights:
Sitting Showers
Elderly people frequently suffer from endurance issues, meaning they're very likely to be unable to remain standing up because their legs and joints are too weak to sustain such support.
Using handheld showerheads, it's easier for them to bath while sitting on shower chairs since a movable showerhead offers better control and adaptability.
Easier Control
Another problem facing senior citizens is their comprised ability to reach high for regular showerheads. This means they can't adjust the pressure, temperature, position, or any other aspect of showerhead functions.
However, handheld models allow them to simply access any buttons, levers, or knobs that control water flow, spray pattern, jet pressure, and so on.
Minimize Falling Risk
Seniors often suffer from difficulties when it comes to keeping balance and delivering fast reflexes. These problems are significantly reflected in the high probability of accidents involving elderly people and slipping or falling, especially in a bathroom setting.
Since using a handheld showerhead lets elder folks enjoy daily showers while sitting, the risks of slips and falls are remarkably reduced.
Similarly, if you need to prep the shower for them beforehand, you can do it away from the main bathing area so that they can enter it while it's still dry. This also minimizes the chances of falling and getting an injury.
Caregiver Support
For elderly people who receive assistance from caregivers, handheld showerheads are extremely helpful. The facilitated grip and easier handling render bath times a lot smoother.
Caregivers can finish the job faster with more efficiency. They also don't have to bend and twist in awkward poses which means less back pain and overall safer experience.
Better Reach
We've already established that seniors gradually lose flexibility in their joints as they become stiffer with age. This affects their general mobility, and in turn, their ability to reach certain areas on their bodies.
Handheld showerheads offer major help in delivering water to those hard-to-reach spots thanks to their long hoses, allowing for a better cleaning result.
What to Look for in a Handheld Shower Head for Elderly?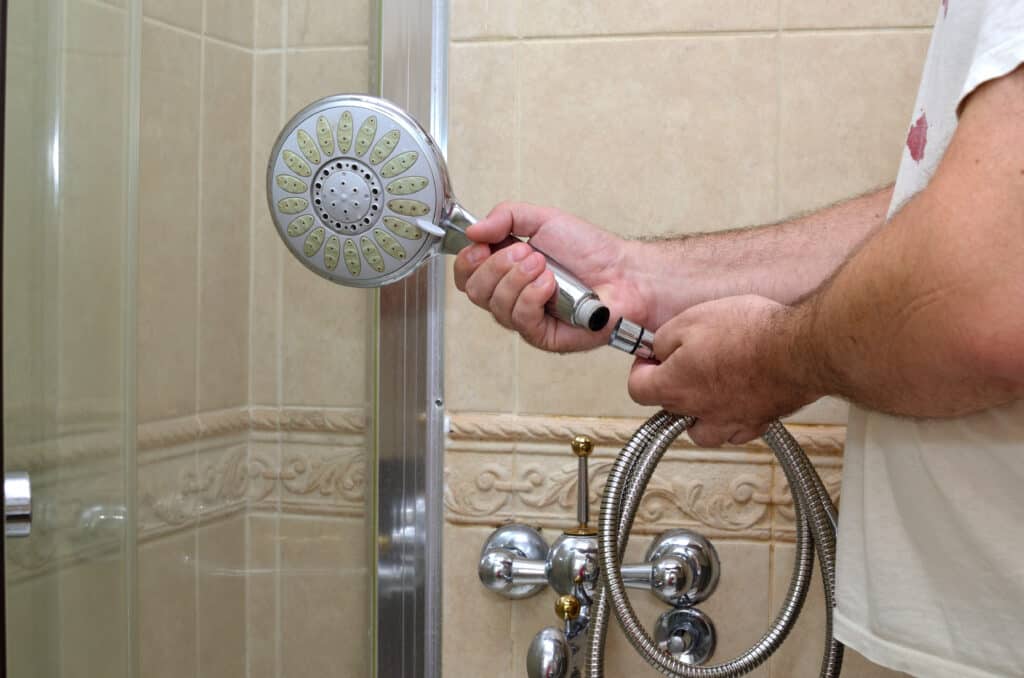 When shopping for the best handheld showerhead for elderly people, you can't just make a blind choice and call it a day! You'll probably end up with a disappointing product and an empty wallet.
What you should do is check for the following points and make sure they line up with the required criteria to effectively serve senior citizens.
Cord Length
Right off the bat, the first thing you should be looking at is the length of the cord. You don't want to buy a shower head with a hose that's too long or too short.
Think about the distance between the water outlet, the piping at the top of the shower, as well as the bathtub seat. The hose should be able to run across all 3 places while providing adequate slack to let you move around without restraints.
If the cord too short, you'd be forced to stay within a limited range which defeats the main purpose of the device. A hose that's too long may actually become a tripping hazard or get in the way of the person using it.
Ideally, you want a handheld showerhead with a cord about 70 to 80 inches in length. However, you also need to factor in the height of the individual's body to pick the best fit. This is why you'll find brands offering hoses as short as 50 inches and as long as () inches to accommodate various sizes.
Hose Flexibility and Kink
Another quality you should pay attention to regarding the handheld showerhead hose is its flexibility and tendency to kink.
Obviously, you should look for a hose that possesses enough flexibility to adapt to different movements and positions without being too flimsy that it lacks support or too stiff that it gets stuck at weird angles.
It'd also be rather valuable if you purchase a handheld showerhead with a kink-free cord. This means it won't knot up and get tangled very easily, so the risk of tripping, slipping, and falling would be minimal.
Size of Head
An aspect you definitely don't want to overlook is the size of the showerhead itself. How big a showerhead is, determines how wide the coverage it can deliver.
Granted, handheld showerheads aren't exactly known for their extensive coverage, especially when you compare them to normally fixed showerheads. However, they're still capable of providing enough coverage to satisfy the cleansing needs of seniors.
A showerhead with an average width of 4 inches should be large enough to produce decent coverage.
Weight
Always remember to check for the weight of the showerhead, particularly with it being a handheld model.
You should keep in mind the weaker state of the elderly people and how it'd be more difficult for them to carry certain weights. Seniors suffering from arthritis are quite sensitive to this specific factor.
Don't pick a too heavy model, usually made of steel, and try to opt for lightweight plastic showerheads as much as possible without cutting down on other handy features.
A handheld showerhead should be light yet sturdy enough to provide a comfortable grip, swift motion, as well as reliable performance.
On/Off Switch
One of the most useful features you can find on a handheld showerhead for older folks is an On/Off switch. Such a button allows you to easily turn on the showerhead spray and then cut it off when you're done.
This kind of control greatly serves older people with mobility problems since it saves them the pain and hassle of bending down to reach the wall switch.
If you buy a showerhead without an included switch, you can purchase one and simply install it at the spot where the hose connects to the handheld component.
Multiple Modes
When it comes to handheld showerhead models, the more modes are added, the better the experience you're going to have.
Brands usually offer a lot of different function settings to attract all sorts of users. In our case, we're searching for spray modes that are most helpful to senior citizens. These include massage, invigorating, stream, and multiple other beneficial spray settings.
For example, a handheld showerhead equipped with a massage spray option is highly recommended for elderly people with sore muscles. It can relieve aches and tension, leaving the body fresh and relaxed.
In fact, there are showerheads designed to deliver a range of massage spray techniques such as circular and pulsating massage patterns.
Sliding Tubes
As you browse through our list of candidates up there, you'll see some handheld showerheads are equipped with slide tubes. This extra piece is actually an excellent addition for seniors seeking adjustment options.
Sliding tubes enable you to shift the handheld unit up and down a vertical line, thus allowing you to place it at any height to accommodate the elder's position.
This means you can easily lower and fix the showerhead close to a senior who's using a bathtub chair while giving them an effortless reach in case they want to grab it.
Wall Mount Bracket
It's a good idea for your chosen handheld showerhead to come with a bonus wall mount dock or bracket. It functions as a storage area where you can hang your handheld unit during the shower till you're done with shampooing your hair or soaping up your body.
It's a more hygienic and practical alternative to just dumping the showerhead on the floor, which can create a huge mess.
These brackets will also let you change the angle of the showerhead so it can be directed towards a particular area or a certain muscle.
Safety Strap
It's not very common to see, but some showerhead brands do offer a safety strap in their package. This strap helps elders achieve a more secure and stable grip on the handheld device to ensure a safer experience.
Water Pressure
A distinct advantage that handheld showerheads have over regular fixed ones is their ability to deliver high water pressure at almost all times, even while operating under low-pressure situations since they can be positioned closer to the ground.
That being said, you should know that some models do a better job than others, utilizing the latest patented technologies to boost the providing of high water pressure.
Flow Rate
If you're concerned about the quantity of water that comes out of your handheld showerhead, then you should really pay attention to the unit's flow rate measured in GPM (Gallons per Minute).
On average, showerheads use 2.5 gallons of water each minute, however, in an effort to conserve water, the U.S. Environmental Protection Agency (EPA) launched a campaign called WaterSense. To earn this label of certification, a showerhead must deliver no more than 2.0 GPM.
Using such handheld showerheads, you can save up to 2,700 gallons of water per year.
Installation
The process of installing a handheld showerhead should be as simple as possible. Of course, this will help whoever responsible for performing this task to get it done easier and quicker. It also serves seniors by requiring no plumbing changes so they won't have to bear the cost or the time of such hassle.
Style
Just because the handheld showerhead is for an elder doesn't mean it can't be stylish! Luckily, there are many shapes and colors available on the market to suit all elderly tastes. We've also made sure our list has a variety of styles for you to pick from.
Wrap Up
A handheld showerhead is a must-have item for any elder loved one in your life. Such a device offers an easier, more convenient bath time, eliminating slip, fall, and injury risks.
Choosing the best handheld showerhead for elderly people surely isn't a simple task, but it all comes down to matching their needs with the considerations mentioned above, hose length and weight being the highlights.
The Couradric Handheld Shower Head takes this home as it offers a 6-foot long hose, a 5-inch wide head, several spray settings, and impeccable construction quality.
However, if you're on the hunt for a budget-friendly option that still delivers an awesome experience, then you should definitely check out the Delta Faucet Handheld Shower Head.