For seniors with mobility limitations, toileting can be quite challenging. As the name suggests, raised toilet seats help decrease the distance between the user and the toilet. As a result, users aren't required to bend down so much to reach the seat. While this may not seem like a big deal for the able-bodied individual, it makes all the difference in the world for a senior.
Buying a raised toilet seat may seem like a straightforward affair, but it really isn't. With the wide range of products on the market and the numerous features available, buying a raised chair can become quite overwhelming. In this article, we're going to help you pick the ideal raised seat for the senior you're caring for by presenting our top picks for the best raised toilet seats for the elderly.
Our Finest Picks:
| Image | Title | Price | Buy |
| --- | --- | --- | --- |
| Top | Vaunn Medical Elevated Raised Toilet Seat & Commode Booster Seat Riser with Removable Padded Grab bar Handles & Locking Mechanism | | Buy Now |
| | Carex E-Z Lock Raised Toilet Seat with Handles - 5 Inch Toilet Seat Riser with Arms - Fits Most Toilets | | Buy Now |
| | PCP Raised Toilet Seat and Safety Frame (Two-in-One), Adjustable Rise Height, Secure Elevated Lift Over Bowl, Made in USA | | Buy Now |
Product prices and availability are accurate as of the date/time indicated and are subject to change. Any price and availability information displayed on [relevant Amazon Site(s), as applicable] at the time of purchase will apply to the purchase of this product.
Prices pulled from the Amazon Product Advertising API on:
1 – Carex Health Brands Elongated Hinged Toilet Riser
If you're someone who doesn't suffer from any injuries and just looking for a simple toilet riser to take the edge off the distance between you and the toilet seat, the Elongated Hinged Toilet Seat Riser from Carex Health Brands is your best bet. However, as the name suggests, this riser can only be applied to elongated toilet seats. You can find the round version of this toilet riser here.
This toilet seat riser adds 3.5 inches worth of height to your toilet seat, which is good enough for people who find it hard to bend all the way down to a seating position on a regular toilet seat. It's also capable of handling up to 300 pounds, and considering the average weight of an American man is around 177.9 pounds, this seat riser should be able to accommodate almost everyone.
The great thing about this seat riser is that it doesn't need any locking, which may not sound all that safe, but as long as you have the right seat shape whether round or elongated, it should be totally safe. Also, the seat doesn't really weigh that much at only 3.2 pounds, so it can easily be moved around. And since it requires no locking, the installation process should be pretty simple.
The hinged seat design allows for ease of cleaning as if it's a regular toilet seat. This seat riser is ideal for people that have difficulties with mobility and for handicaps as well. It's also notably comfortable. It's also worth noting that Carex is one of the leading manufacturers in the medical supplies and senior equipment department. This ensures high quality standards.
However, there's one thing you need to take heed of before ordering this product. The product is shipped with 3/8-inch mounting bolts, and every toilet seat has different mounting holes in terms of size. So what you need to do is check the size of the toilet seat holes to see if the bolts will fit. Apart from that, this is an overall excellent product that will rise up to the occasion.
Positives:
The height that this riser adds to toilet seats is perfect for people with sitting difficulties
The design is of this toilet seat riser is straightforward in terms of installation and use
This product has heavy-duty construction that's capable of handling up to 300 pounds
This is one of the most portable toilet risers on the market as it only weighs 3.2 pounds
You're guaranteed great quality as Carex is a leading manufacturer in this department
Negatives:
The mounting bolts accompanied with this product can't be fitted into all toilet seat holes
Suffers from a sanitary issue as urine residue tends to collect between the riser and bowl
2 – PCP 7007 Raised Toilet Seat and Safety Frame
This isn't just an elevated toilet seat, the PCP 7007 is also a super-sturdy safety frame that will ensure a safe and secure toileting experience for the senior you're caring for. This toilet seat is ideal for individuals who suffer from limited mobility and a poor sense of balance. It's perfect for those who've undergone surgery in their lower body or suffer from strains or muscle injury.
We're quite fond of the seat's construction. It's built from remarkably sturdy materials and it has an incorporated frame that you can extend with ease. The frame can be used as an arm grip or arm rest. The frame is also pretty user-friendly, so you don't have to worry about it giving you a hard time when attempting to sit. It offers ideal comfort and does a great job of removing stress.
And despite being extremely rugged, the entire construction of the seat is lightweight and can easily be moved around. In addition, the installation process is also simple and straightforward. Applying and removing the seat doesn't take any time or effort. Another thing we like about this seat is that the design is built from medical-grade materials that comply with hospital standards.
In terms of adjustability, you can adjust the height of the seat anywhere from 18 to 23 inches. In addition, it has a maximum weight limit of up to 275 pounds, which is quite impressive when you take into consideration that the weight capacity of most raised chairs on the market is about 250 pounds. Also, note that the width between arms is 18 inches and the overall width is 21 inches.
PCP has gone the extra mile to make sure that this raised seat provides ideal comfort by adding splash protection, which also reduces the risk of infections. The PCP 7007 can easily be fitted in between fixtures and over various bowl shapes, so you don't have to worry about getting a seat that won't fit your toilet. Lastly, the product is shipped pre-assembled and ready for use.
Positives:
This product doubles as a raised toilet seat and a safety frame for your convenience
Rugged construction that's built from medical-grade materials to hospital standards
The seat can easily be fitted into a wide range of bowl shapes and between fixtures
It has an impressive maximum weight capacity and its height can be easily adjusted
This raised toilet seat boasts splash protection that helps reduce the risk of infections
The seat is delivered pre-assembled and the installation process is straightforward
Negatives:
The width of the arms cannot be adjusted and it's not wide enough for larger people
The frame is too narrow and it doesn't allow you to spread your legs nearly enough
3 – Vive Raised Toilet Seat Portable Elevated Riser
Looking for the best raised toilet seat with removable arms? Well, look no further! The Vive toilet seat is exactly what you're looking for. This raised seat can easily be fitted onto all standard and elongated toilet seats. By adding this seat onto your toilet, it provides you with 5 inches worth of added height, allowing you to sit and raise up off your toilet without too much knee bending.
We're in love with the contoured design of this seat which helps provide ideal comfort and safety for seniors. In addition, the seat comes with removable handles for preference. The handles are padded with a soft layer of foam that offers more security and stability as they're non-slip. This is extremely beneficial for the elderly when attempting to get up off the seat.
As far as the build quality of the seat itself, it's built from composite materials that grant it a high level of strength and the ability to withstand up to 250 pounds. The installation process is simple and it requires no tools whatsoever. You don't even have to get rid of your existing toilet seat, as it can be attached to it with the aid of rear wings and an adjustable knob.
The entire construction weighs around 7 pounds, which is relatively lightweight considering that it's not an armless seat. This allows you to apply or remove the seat with ease. It also allows for great portability in case you'd like to take the seat with you during visits. In terms of sanitation, it can be wiped with sanitizing wipes or just about any disinfectant that you use around the house.
The seat is designed to fit onto the 2 most common seat types in the US. It can be fitted onto an elongated seat with measurement C around 18 inches, and also round seats with measurement C around 16.5 inches. One gripe that this seat suffers from, however, is that it can wobble a bit, which doesn't make it an ideal pick for someone who has a poor sense of stability.
Positives:
The contoured and durable design of this seat provides great comfort and longevity
It features removable, padded arms that offer ideal stability and comfort for seniors
The installation process is straightforward and doesn't require the use of tools at all
This raised toilet seat can easily be fitted onto both round and elongated toilet seats
The height that it adds to your toilet seat almost eliminates the need for knee bending
Negatives:
This isn't the most stable seat on this list, so it's not ideal for people with poor balance
For men who cannot stand to urinate, the small opening on the front is unsatisfactory
4 – Vaunn Medical Raised Toilet Seat & Commode
It's hard to find an all-in-one raised toilet seat. Most units on the market tend to offer one feature but compromise on the other. The Vaunn Medical Raised Toilet Seat & Commode breaks out of that mold by combining all the features one could want in a raised toilet seat into one design. Its ergonomic design adds 4 inches worth of height extension onto any seat it's applied on.
This elevated seat is designed mainly for people who are disabled or handicapped. It's also one of the best high rise toilets for seniors and people who suffer from limited mobility. It's also great for pregnant women who find it hard it bend their knees as they attempt to sit. This raised seat is a great fit for both standard and elongated toilets. It's also super to wipe clean.
Stability is one of this seat's strongest suits, as it features a locking mechanism, push pins, and an anti-slip surface. This helps ensure a secure toileting experience for seniors. In addition, the seat features removable grab bar handles that are padded for perfect comfort and support. Not only that, but the seamless edges also add to the security and safety that it provides.
The construction of this is remarkably rugged as it's built from molded plastic, meaning that this seat will last you for years to come. The construction is also anti-bacterial, so you don't have to worry about infections. Another great thing about this chair is that it only weighs 5 pounds. It can be moved around or stored without physically taxing the user.
The seat features a contoured design that's wider than most models so that larger individuals will find it accommodating to sit on comfortably. It also helps increase the seat's overall stability. The installation process is pretty hassle-free as it doesn't require using any tools. You simply need to place the seat on top of your current toilet seat. Overall, this is definitely a tough competitor.
Positives:
This chair provides incredible value for the money as it features just about everything
It has a heavy-duty construction that will last for years and that's contoured for comfort
The construction is also anti-bacterial, which reduces the chances of bacterial infection
This seat is heavily geared towards achieving maximum stability, safety, and comfort
The installation is hassle-free and it can be fitted onto standard and elongated toilets
The overall weight of this seat is relatively low compared to other toilet seats with arms
Negatives:
While it feels pretty comfortable, some users report comfort issues with dangling feet
Some users also reported that the front tightening knob has dangerous sharp edges
5 – Carex Health Brands E-Z Lock Raised Toilet Seat
The final product on our list is a second entry from Carex Health Brands, which we're aware by now is one of the best manufacturers in this very department. The E-Z Lock Raised Toilet Seat is a toilet seat that's compatible with both round and elongated toilet seats. Its highly convenient locking mechanism ensures that it's secured firmly onto almost all toilet bowls for great stability.
The chair features padded toilet seat handles that are vital for senior stability and security. If the handles aren't needed, you can simply remove them by undoing some screws. There are a few dimensions you need to be aware of. The distance between the arms is 17.25 inches, the width of the seat is 15.5 inches, the hole in the middle is 9 inches wide, the depth is 17 inches.
As far as the height extension that this seat offers, it provides an additional 5 inches of height. It helps reduce the degree at which you need to bend your knees and alleviate pressure off joints. This is perfect for seniors who have mobility challenges and for handicaps as well as it will help them sit down or get up from the toilet seat independently and with ease.
The installation process for this product is similar to that of the previously-reviewed Carex raised toilet seat. All you need to do is remove the packaging, attach the right and left arm into the unit, place the seat onto the bowl, and then use the E-Z knob in the front to tighten the seat onto your toilet bowl. However, tighten it with caution as you don't want to over-tighten it.
Like we've already stated, the adjustable arms are removable, so you can skip the second step of the installation process if you're not in need of the arms. In terms of comfort, this raised toilet seat conforms very well to the contours of the user. In addition, it has a maximum weight limit of 300 pounds, so it'll easily accommodate both men and women of all sizes.
Positives:
The locking mechanism makes this seat it among the best raised toilet seats with arms
It provides 5 inches of height extension that helps make the toileting experience easy
The installation process is comprised of 3 simple steps that are very easy to follow
The construction is highly durable and can withstand a maximum weight of 300 pounds
The seat features removable, padded arms for stability and security when standing up
Negatives:
The hole in the center of the seat isn't big enough for men to be seated comfortably
Once you screw the handles in, attempting to take them off can be quite challenging
Selecting the Right Raised Toilet Seat for Elderly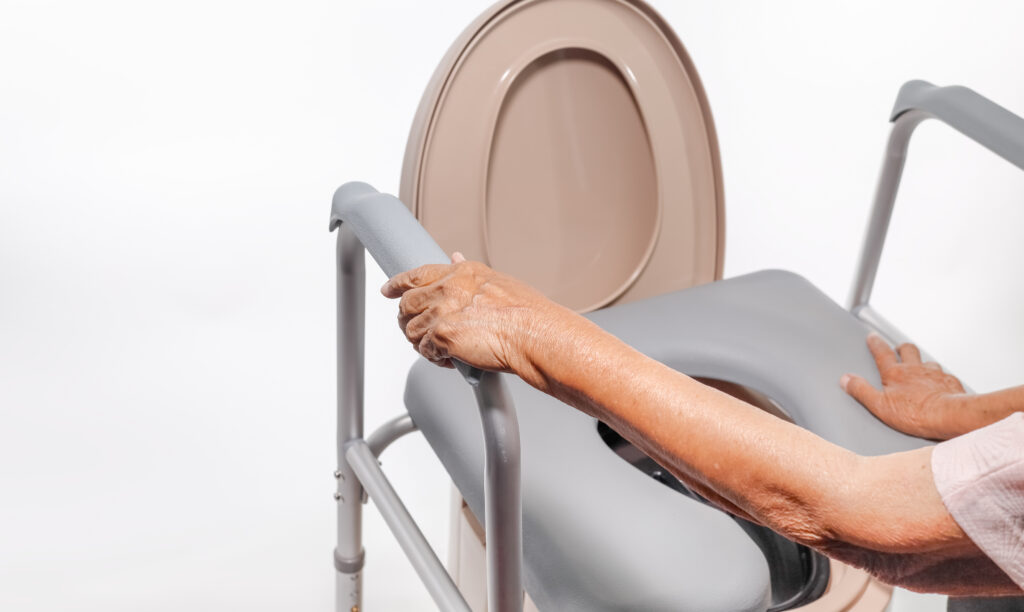 Raised toilet seats are available in a wide variety of shapes and sizes, from round toilet seats to elongated ones. Not only that, but they're also available in various thicknesses. In addition, each raised toilet seat is equipped with an array of features that are designed to provide an ideal user experience. To get the most value for your money, the following factors are to be considered:
Seat Height
The higher the toilet seat is, the less bending you need to do. But there's a fine line between too high and high enough. A seat that's too high will result in you losing your balance and potentially slipping or falling. A general rule of thumb that you need to follow when shopping for a toilet seat is that your feet need to be flat on the ground in a comfortable manner and without reaching.
There are toilet seats that are raised 2 inches, while others are raised about 5 inches. It's crucial that you consider the height you require in a seat to ensure getting the most convenience out of it. Also, keep in mind that the higher the toilet seat is, the less strain falls on your knees and hips as you attempt to sit or stand up off the toilet seat.
Weight Limit
It's important to note that not all raised toilet seats are appropriate for everyone. Each toilet seat has a maximum weight capacity that, if exceeded, the seat may break under pressure, meaning that you need to pick a toilet seat that can handle the weight of the user. On average, the weight capacity of most raised toilet seats is around 250 pounds, so it shouldn't be much of a problem.
Build Quality
This is often an overlooked factor, but the build quality and materials used in the construction of a raised toilet seat is extremely important. On one hand, you have toilet seats that are built from hard and durable plastic. And on the other hand, you have models that are padded with vinyl. If you're someone who suffers from pressure sores regularly, we'd recommended a padded seat.
Bowl Style
Like we've already mentioned, raised toilet seats are available in a wide range of shapes, which is why it's important to pick a seat that integrates perfectly with the design of your toilet bowl. On the market, you'll find round toilet seats and elongated ones. Obviously, getting a round seat for an elongated bowl design or vice versa is nothing but a waste of your money.
Seat Stability
Stability is one of the most important factors to consider when for a raised seat for the elderly, if not the most important. Luckily, there are plenty of ways you can make a raised seat secure and stable. For users who already have a balance problem, it's advised to go with a thicker seat that features locking clamps arm support to ensure that getting on and off the seat is be trouble-free.
There are other models that are equipped with slip-resistant pads or even Velcro straps. Those models are ideal for seniors who have a good sense of balance but would like some assurance. We highly recommend buying a raised toilet seats that feature non-skid pads either way as they help reduce the risk of slipping and falling, ensuring more security and safety.
If the seat you're looking to buy doesn't feature arm support, you can opt for a toilet grab bar as an alternative. Toilet grab bars are easy to install and very effective. Another thing you can do to ensure maximum stability is to look for a raised seat that features legs that act as a safety frame for your toilet or you can simply buy them individually if they're not featured.
Clamping Mechanism
Clamping mechanisms are no strangers to raised toilet seats. This feature allows you to remove the seat quickly and with ease. Not only that, but it also makes the installation process easier on you. The fact that your seat features clamps means that you can literally take it anywhere, which is highly convenient if the senior you're caring for is visiting friends or relatives.
Asymmetrical Design
If you're someone who just got out of surgery recently or if you suffer from fractures or injuries, there are special seats with asymmetrical form factors designed specifically for those who've gone through surgery in their back, hips, or knees. However, before making the choice to buy an asymmetrical-design seat, you must first consult with your doctor to make sure it's okay for you.
Benefits of Using a Raised Toilet Seat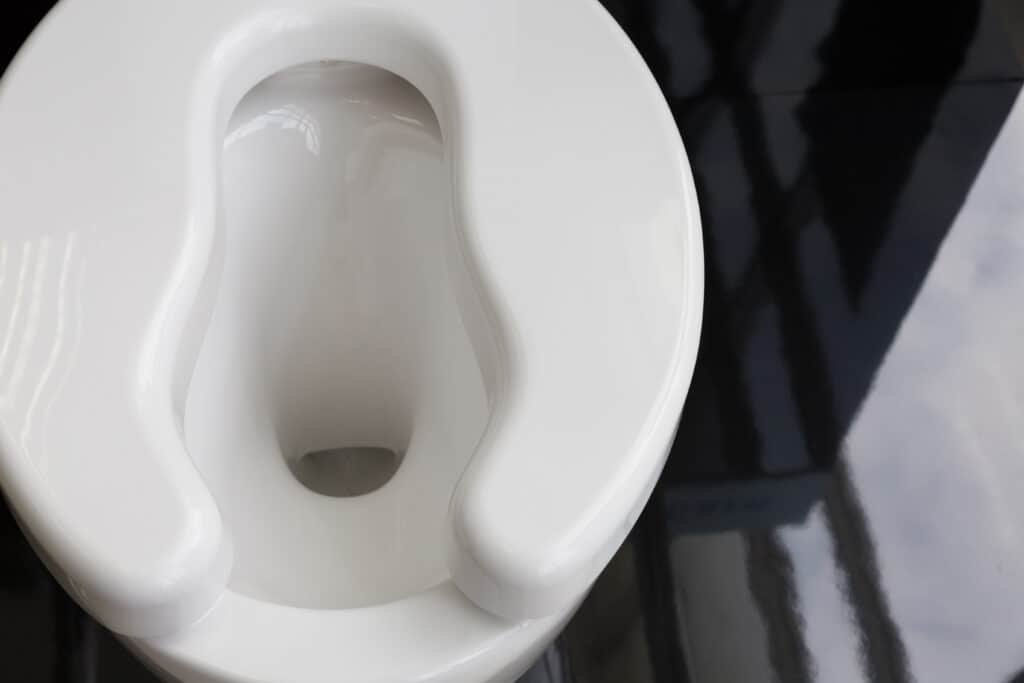 Independence – While we're certain that the senior you're caring for appreciates all the help you provide, most people don't like asking for it. Just think about it, no one wants to be dependent on someone else to help them meet their needs. Raised toilet seats offer the independence that seniors want without putting their safety in jeopardy.
Versatility – Like we've already mentioned, there are numerous features when it comes to raised toilet seats that are designed to provide the best user experience. Some of the features you may find in some toilet seats include splash guards, backrests, straps, and padding. The inclusion of these features increases security and ease of use.
Relief – Using a raised toilet seat helps reduce the pressure falling on your joints, which is a valuable benefit to reap if you're someone who suffers from arthritis and you find it a little challenging to bend your joints. In addition, the use of a raised toilet seat will reduce how much squatting you need to do to reach the toilet seat, which is highly convenient.
Helpfulness – Assisting an elderly to the toilet is a physically-strenuous task considering the weight of the individual being assisted. This puts caregivers at a high risk of injury as they assist the person they're caring for. The distance reduced between the user and the seat using a raised toilet seat helps make the transfer less challenging on the caregiver.
Security – The closeness raised seats provide to users helps prevent them from getting off-balanced. As a result, the chances of slipping or falling are reduced significantly. Not only that, but raised toilet seats can be very accommodating as well, meaning that a big individual won't find it hard to toilet even with a misaligned sitting position.
Conclusion
Picking an undisputed champion from amongst the above-mentioned products isn't a very easy task because most of them share a lot of the same features. However, one product that we think has everything right going for it is the Vaunn Medical Raised Toilet Seat & Commode. Let us know which one of the above-mentioned raised toilet seats you think is the best.