Are you ready to play!
Indoor games provide convenient ways for seniors to have fun and promote their overall well-being. It also keeps their mind active, entertained and can be sure way to eliminate boredom and relieve stress.
It's time to discover 9 of the best indoor games and activities that are especially suited for the elderly. Plus, they have amazing health benefits and are sure to entertain! 
1. Board games
From classics like Monopoly and Ludo to new age offerings like "Hey that's my fish" and "Ticket to Ride", the choices are simply unlimited when it comes to board games for seniors.
Because many of these involve handling dice, cards and tiles, they are fantastic for motor skills. Plus, the fact that players do need to plan and strategize makes them good for the brain. Take your pick from favorites like  "Bugs in the kitchen",  "Cranium", "Hive, "Scattergories", Dixit, Catan, "Big Letter Bananagrams", "Clue", "Patchwork", "Azul" and others.
2. Tile games
If you thought dominoes and the famed mahjong were your only options, think again!
There are plenty more from where those two come. Some of my personal favorites are Blokus Duo, a fantastic strategy game for two players; Carcassone, a tile laying puzzle; Tsuro, an oriental puzzle that starts by laying a single card and others such as "Take it easy", "Medina", "Galaxy Trucker" and many more.
3. Puzzles
These come in all forms and not just the classic jigsaws. You can opt for "whodunit" type puzzles such as, "Betrayal At House On The Hill" or "Family Pastimes Secret Door" or "Ravensburger Scotland Yard".
There are plenty of games and puzzles that involve both strategy and team building like "Risk" or "Codenames Deep Undercover", and others.
4. The big fun games
These offer the max number of laughs and loads of fun but without taxing the body. You can find giant versions of many outdoor and indoor games that come with inflatable, cork or foam pieces that are lightweight to handle and just perfect for seniors.
Some of the most popular options include inflatable rock, scissors and paper, cork three pin bowling, popout safe darts, giant inflatable hoopla, inflatable pond toss, feeding time frenzy bean bag toss, giant foam noughts and crosses and others.
5. Building games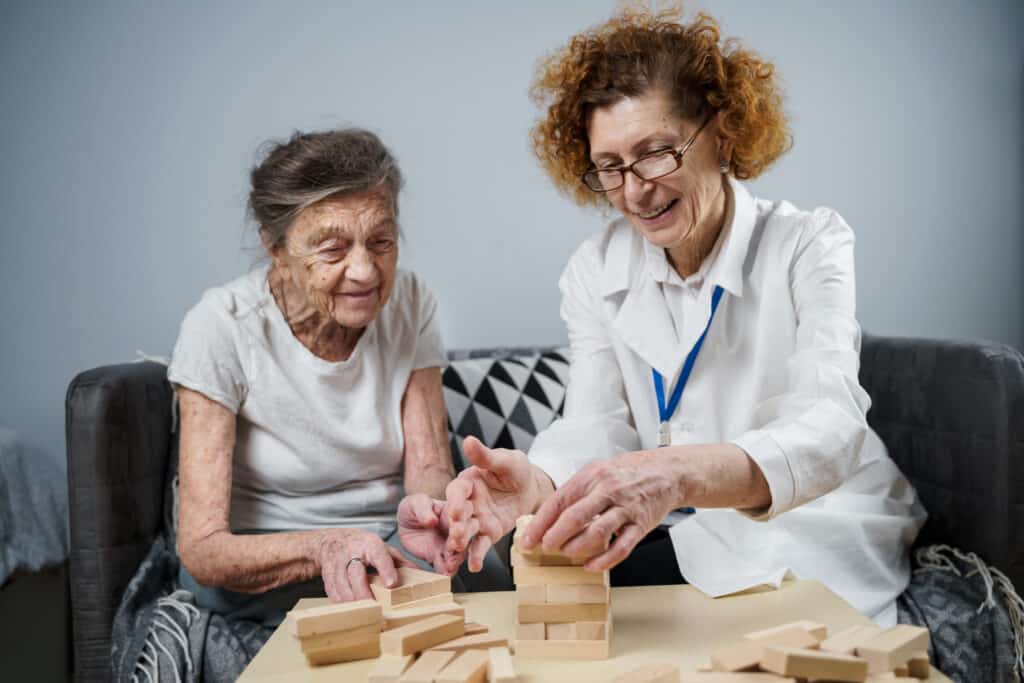 The name says it all; these indoor activities for the elderly all involve building something. For instance, if you choose the very popular Jenga, you will be building towers with wooden blocks but with the "Sharp Brain Zone- 3D", you will be constructing a cube.
Similarly, Meccano lets you build one or more types of machines and vehicles while with Mechanix, you can choose a specific model such as a helicopter or even a car.
6. Chess, Checkers and more
In a league of their own, chess, checkers and connect four are still hot favorites when it comes to abstract strategy games.
However, if you are in need of a change and would love to try out something new, you may want to go for some of their competitors from foreign lands such as Chaturanga (the Indian version of chess), Shogi (Japanese Chess), as well as other games such as Kropki and Dots and boxes.
7. Paper and pen puzzles
Sudoku, math puzzles, spot the differences, kakuro and others which are often featured in dailies also make for fantastic brain exercises. In fact, both Sudoku and Kakuro are also available online.
8. Video games
No list on indoor games for seniors would be complete without mentioning the offerings of modern day technology.
I have articles devoted to the best iPhone games for seniors and best Android games for the elderly. Check these out for information on some the best apps on these platforms.
9. Card Games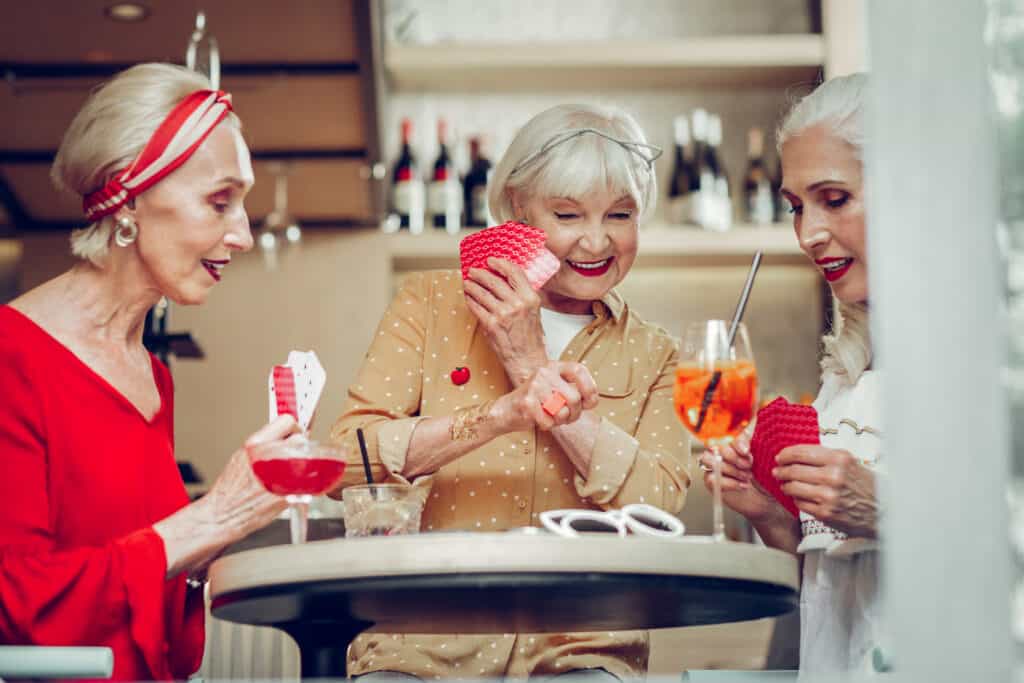 Playing cards is beneficial for the elderly – studies have shown that it stimulates brain activity and improves mental health.
Card playing is an inexpensive game and makes older adults use their thinking, judgement and decision-making skills. Here is a list of 15 simple and easy card games that will keep them happy. 
Bridge: A classic that will help to keep your brain and your instincts sharp.
Rummy: A worldwide favorite, this game can be played by two or four players and has very simple rules.
Pinochle: This one can be played in several variations and is well-loved by most seniors.
Canasta: Because it was such a hit in the 1950's, the seniors of today will find this game up their alley.
Cribbage: This one has a membership club devoted to it, which should tell you something about its popularity.
Solitaire: Who hasn't heard about this legendary single player game? Also known as "patience" all you need is a deck of cards and several hours on your hands to enjoy this card game.
The Big two: This is a competitive strategy based card game that has its origins in China.
Chinese Poker: Unlike the Big Two, this isn't a card shedding game. It involves forming hands the way you would in regular Poker.
Crazy Eights: Another card shedding game, you play this one by laying down cards of a single suite or the eights you carry. The first player to lay down all his cards wins.
Snap: If you are the first one to yell "Snap" as soon as the upturned card laid out by one player matches the upturned card of another player, you get to keep both cards.
Spades: This is a bidding game in which two or four players (partner up to make two teams) take the number of books. The name comes from the fact that the Spade suit always trumps others.
Go Fish: The object is to collect four of a kind by asking your opponents for the cards you need or fishing them out of the undealt deck.
Old Maid: This card shedding game has long been a family and kids' favorite. Cards are laid out in matching pairs and the last one left behind, even if it is the Queen is termed the "Old maid".
Euchre: This fast paced game is from the same family as bridge and it involves taking at least three out of the five available tricks.
War: Another simple game, in War, the player gets to take the card if his card outranks the one laid out by his opponent. The player that has the maximum number of cards wins the game. 
The Final Word
Indoor games have no age-limit, are great fun and help the elderly stay connected and active. There are plenty of indoor games to choose from to help you relax. So have fun, challenge the mind and discover a new skill perhaps!