You boil water every day, possibly several times a day. In fact, most of us start the day by boiling one or more cups of water.
I mean is it even possible to survive without the morning hit of Java? Having said that, today morning when I was preparing my fix, I noticed that water takes awfully long to boil.
Perhaps it is just my desperation for caffeine that made every minute seem longer. But, it got me thinking – Just how much time does it take to bring water to a boil?
After all, apart from coffee, you use boiled water in every second form of cooking.
So, logically, the question should be – How much time before whatever food I am cooking can be dunked into the hot water.
But here is the thing, most recipes call for the use of boiled water. This means that if you start with a lower-than-required water temperature, you are bound to end up with an overcooked and mushy version of whatever it is that you are whipping up.
Even if you are not into cooking, the answer to a question like, "how long does it take to boil a gallon of water" would come in handy if you ever find yourself in the woods with just a gurgling river as your source of life-sustaining H20.
So, continue reading to learn more about an oft-ignored fact.
How Much Time Would Science Take To Boil Water?

And you thought boiling water is about culinary arts! Science is still on the scene, so let's use physics to solve the problem.
In an optimal scenario, which means completely efficient and constant heating as well as no heat loss, it would take:
90 seconds to raise the temperature of 250 ml water from 15 degree C to 100 degree C, in a water heater that uses 1kWh.
250 ml is a cup of water, so 2 cups would take you 180 seconds or 2.5 minutes.
4 cups (1 liter) would take you 5 minutes.
Now, let's take the scientific babble further and talk about how we arrived at these figures.
Assume that you are working with a perfectly efficient water heater and you want to know how long it takes to boil a gallon of water.
You need 1.8 Btu to raise the temperature of 1 pound of water by 1 degree Celsius.
1 gallon of water = 8.33 lbs.
So, you would need 1.8 X 8.33 = 14.99 (about 15) Btu to increase the temperature of 1 gallon of water by 1 degree Celsius.
Remember that you started with water at 15 degrees C and you want to boil it, which is 100 degrees Celsius.
Hence, we are talking about a temperature increase of 85 degrees C.
The heat energy requirement for that would be: 15 Btu X 85 degrees temperature increase = 1275 Btu
The 1 kWh water heater will give you about 3412 Btu/hour. i.e. 3412 Btu divided over 60 minutes.
So, how much time would it take for this heater to get you 1275 units?
That would be: (1275 X 60) / 3412 = 22.42 minutes (approximately 23 minutes)
Phew, that was a lot of math for one day and one article!! Bet that transported you back to high school. But, don't worry, I am not going to ask you to fiddle around with the calculator when you have a casserole to worry about.
Don't get me wrong now – The calculation above is 100% accurate. But, the big problem is that it only works in optimal conditions. That means constant heating and no loss of heat energy!
But, no matter what kind of appliance you use, you will not achieve the optimal conditions.
So, rest assured that it will take you longer than the 23 minutes we calculated above to get a gallon of water to a rolling boil. But, the good news is that you can lower the time required by controlling or changing certain factors.
Why Is The Dang Water Taking Forever To Boil?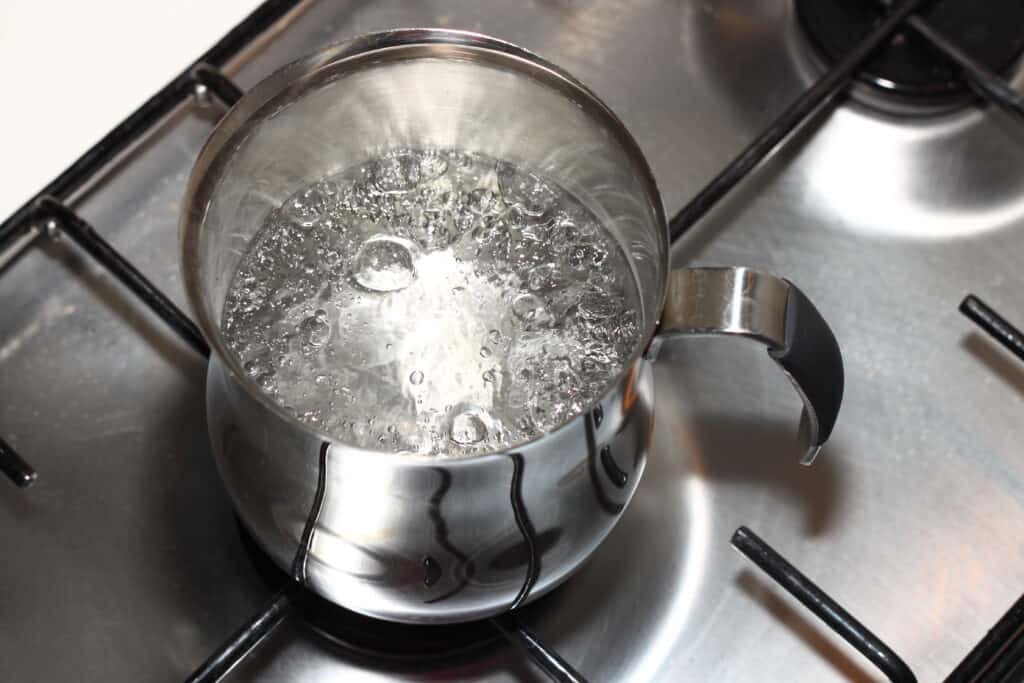 That's because you are watching it constantly and making the stove and the water nervous! Jokes apart, but there are actual factors that do influence the amount of time it takes for the water in that pot to boil and these are variables that are completely in your control. They include:
1. The starting temperature
Notice how in the calculation above, the amount of heat available is multiplied by the actual degrees of temperature change that has to be achieved.
Because we started at 15 degrees C, we did this- 15 BTU heat required X 85 (degrees temperature change between 15 and 100 degrees C).
But, if you were to start at 30 degrees, you need to achieve a temperature change of 70 degrees. This would bring down your heat requirement to 1050 Btu and your time down to approximately 19 minutes.
2. The heating appliance or method
Unless you are out camping with just a small stove at your disposal, you will have a multitude of ways to boil the H2O. It goes without saying that some of these methods and appliances are more efficient than others.
For instance, while a regular kitchen stove is indeed the number one choice for boiling water, a closed, electric powered appliance can get the job done faster, simply because there is less heat loss in the covered chamber of a microwave and in the covered, flameless pot of an electric kettle.
3. The amount of heat energy and water
Yes, you do create a more optimal heating environment with the above mentioned appliances. But, these appliances don't allow you to control the amount of heat supplied.
For instance, the energy that you get from an electric heater vis a vis a gas stove will get a cup of water or even a liter of water to boil faster. But, what happens when you increase the amount of water to say 3 gallons?
In this scenario, the heat supplied will continue to stay almost constant in a heater or even the microwave. Simply put, the quantity of water will be more than what is optimal for the heat energy provided by these appliances. So, it will take longer for the 3 gallons of water to boil.
On the other hand, suppose you have the same three gallons but this time you have a massive stove top that creates a roaring, large flame and allows you to control the flame size. Although there will be greater energy loss, for the given amount of water, you can supply the required amount of heat and maybe even more with a flame-control appliance.
The result will be a rolling boil achieved in a matter of minutes. So, the conclusion to this discussion is that the amount of water and the amount of heat both matter. The lower the amount of water, the faster you can get the liquid to boil. And, the higher the amount of heat supplied, the faster the water gets to its boiling point.
4. The cookware metal
Take a stroll down the aisle that sells kitchenware and you are bound to notice pots and pans of different shape and made from different metals. For instance, multi-clad bottom and copper bottom pots have been the rage for a while now, and for a good reason.
Copper is, hands down, the best conductor of heat when it comes to cookware material. It conducts heat 20 times better/faster than steel, five times as fast as iron and almost twice as fast as aluminum.
Because we are not talking about cooking in general here or even cookware, I will restrict this discussion to just water, which is non-reactive. So, you don't have to worry about compounds generated by exposure to aluminum or copper while the liquid is boiled.
That considered, a copper pot should theoretically fare better than all others. But, a NY Times columnist discovered different! Harold McGee found that it takes:
3 minutes to boil a cup of water in a copper or in a cast iron pan.
5 minutes in a multi-clad, aluminum-stainless steel pan.
2 minutes in an aluminum pan (thin and nonstick)
So, why did the theory not hold in this case? I'll explain in the next section.
5. The cookware type and shape
The aluminum pan fared better not because of the nonstick coating, but because it was thin. In fact, the thickness of the copper pan proved to be its undoing. Now, if this weren't water that you were talking about, without a doubt, the copper pan would have performed better.
But, you cannot burn water, so a thin gauge pot/pan will no doubt heat up the liquid faster by allowing greater transfer of energy to the water molecules.
Having said that, another factor that plays a role in the rate at which heat is absorbed and conducted by the cookware is its shape. A round or concave bottom pan won't heat up as evenly as a flat bottom pan. So despite the greater surface of exposure in a rounded pan, you will get better boiling performance from a flat bottom cookware.
Similarly, a covered pot will retain the heat energy that is lost as the steam wafts into the air. This, again means, faster boiling time as compared to a similar pot used without a lid. Finally, size does matter in this case. A smaller pot is actually better because it conducts the heat energy better.
6. The ambient pressure
It's true that it can take forever to get food to cook as you go to higher altitudes. Blame this on the lower air pressure! As the ambient pressure decreases, it takes the boiling point of water down with it.
So, while water comes to a rolling boil at 100 degrees Celsius in California, the same water would start bubbling and boiling at 95 degrees Celsius in the mountains of Colorado (1600 feet above sea level).
Now, if your sole purpose is to get the water to boil, and the heat is kept constant in both scenarios, it would take less time to boil water at a higher altitude than at a lower altitude.
But, if you purpose of boiling water is to cook, then 95 degrees will not cut it.  And that is the reason why pressure cookers are often employed in high altitude and low pressure areas. But, who uses a pressure cooker to boil water? So, I will leave that one aside.
7. The ambient temperature
The outside temperature does not directly impact the boiling time of water. But, if it is freezing, chances are that you will start with H2O that is colder and that would increase the time needed to boil it.
8. Impurities in water:
An old myth that people still tend to follow judiciously is adding salt/sugar to water to get it to boil faster. On the contrary, anything added to water will most likely increase its boiling point and time.
How Much Of A Difference Does The Appliance Used Makes To The Boiling Point?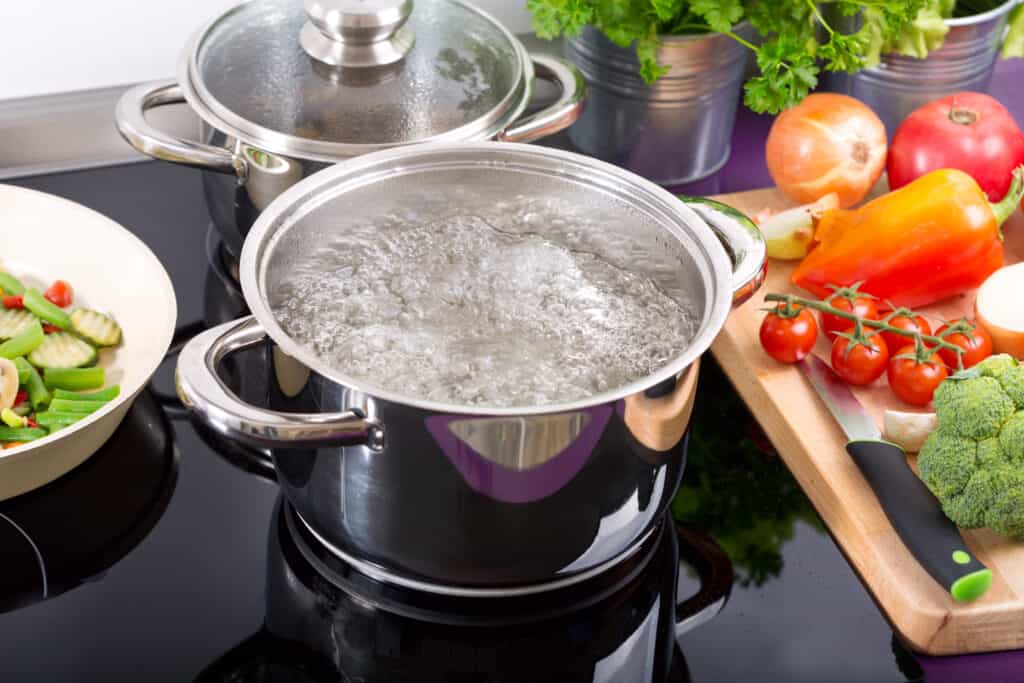 As I said, the amount of heat energy available will depend on the type of appliance used, as will the heat loss and your control over the amount of heat supplied to the pot and the water in it. Consider these 3 factors and this is how different appliances fare if we start with a liter or 4 cups of water:
Stove: Generally (not factoring the fuel type and stove rating), it takes about 2 minutes per cup to bring water to a boil on the stove. So, for 4 cups that would be 8 minutes.
Microwave: 2 cups of water takes less than 2 minutes to come to a boil in a microwave (1.5 kWh microwave). So, when working with 4 cups, you are looking at a boiling time of approximately 3-4 minutes.
In a 700-800 watt microwave it would take twice as much time, so 4 cups of water would come to a boil in about 6-7 minutes.
Electric Kettle: In a 1500 watt kettle it takes about 4-5 minutes to boil 4 cups of water. Increase the wattage to 2400 watts and you can get the water to its boiling point in half as much time.
What About The Different Types Of Stove Tops, Do They Make A Difference To The Boiling Point Of Water?

The type of stove or the fuel used to power it does not have a direct bearing on the time taken to boil water. However, it does influence the amount of heat energy generated because some fuels burn hotter than others.
Also, the type of stove makes a difference because some will provide a bigger flame size thus maximizing the heat energy made available. So, when you consider all these factors, here is the performance of different types of stoves:
Electric coil stove: About 7 minutes
Electric plate stove: About 8-9 minutes
Natural gas stove: About 9 minutes
Propane stove: About 10 minutes
Induction cooktop: About 4-5 minutes
So, there you have it folks; a clear winner- The Induction cook top stove that transfers a whopping 84% of heat energy to the cookware and the water in it.
Compare this with the 80% efficiency of an electric stove (it takes that long because of more energy loss as compared to the other sources) and the 44% efficiency offered by gas power stoves. And that is why an induction cooktop will bring water to a boil faster than any other stove type out there.
However, there is one problem! You cannot use copper or aluminium cookware on an induction stove, unless it has the cladding of a ferromagnetic material like steel or iron. Also, you will need to work with a skillet/pan/pot that has a fairly flat bottom.
And Now That You Have Your Cup Of Boiling Water…
Before you go ahead and add a spoon of coffee to it or just wait for it to cool down, let me clear a few myths and offer a few more facts about boiling water to conclude this article.
I have already told you that adding salt or sugar to water increases the boiling time as opposed to the popular misconception pertaining to this. However, these additions to water will help you to get the cooking done faster.
If you are boiling water to rid it of germs, bring it to a rolling boil and allow it to continue to boil for about 3-4 minutes. In fact, you will need a bit longer than that to kill the germs if you are boiling it at a higher altitude. Microbial organisms are temperature, and not boil, sensitive.
Finally, that story about the exploding water from the microwave, it's true! So, make sure that you only use microwave compatible cookware when boiling water in the microwave. And with that, I will bid adieu and let you get on with your cuppa or cooking with that boiled water.