Group and community activities for the elderly provide an opportunity for them to socialize, remain active, and enjoy life.
Your loved one should have access to activities to help keep their mind, body and spirit healthy.
Activities that encourage them to socialize with others as well as ways to pass time, get involved, and discover new passions include group and community activities.
Here are some popular ideas you can consider…
Group Activities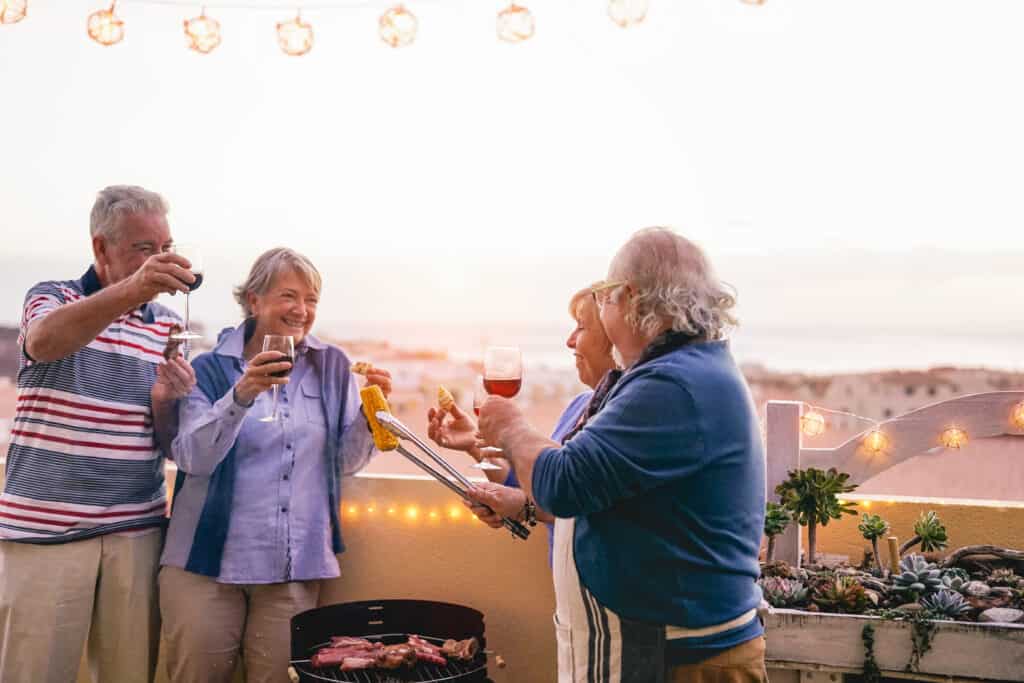 1. A cookout:
Nothing is more fun than a BBQ in the backyard. But, why stop at just that when you can have something like an outdoor potluck party? Yes, this is where you get a few of your friends to come over and show off their culinary skills.
All you have to do is set up 2-3 basic cooking stations and tell everybody to keep the recipes simple. Well, you can even turn this into a neighborhood event or a seasonal celebration of sorts.
Now, think of all the frolicking times and the lip smacking delicacies and the company of good friends and of course the warm weather outdoors. Doesn't it all sound too good to be missed?
2. Picnics:
If cooking is not up your alley; fret not. A few sandwiches and some salad can satiate your taste buds and your desire for good company just as much as a cookout, as long as you are joined by friends and family on a picnic.
The best part is that you don't have to choose a special venue for this outdoor activity. It could be a park nearby. Everybody can whip up simple fares and bring them along.
Just don't forget to take a ball or racquets for badminton or other outdoor game kits along. Why stop only at eating and enjoying the fresh air and warm weather when you can also play a few games?
3. Group walking:
Walking does a lot of good for the human body and brain but it can get a bit lonely to traverse down trails and even sidewalks on your own. The good news is that there is a simple way to circumvent this problem- Group walking.
You will still be walking but the venue will have to be changed to the nearest park, so that all participants can walk at their own pace without being in the way of other walkers and joggers. The best part is that along with your pins, you can also put your noggin to work by chatting up a storm.
In fact, include a few memory activities for seniors in your group walking sessions. For instance, every walker can build their memory castle around the walking track, memorizing the things they see. When you all need a break, gather around and allow each walker to talk about the things/objects/people that he/she saw and how it was committed to memory.
Another good game to play outdoors is color association, each walker picks a color and you point out to a person/object in the park that matches the color. The idea is to choose "not so common" colors to make the game interesting. This way, you get to walk, talk and have fun while spending time outdoors.
4. Nordic walking:
This one comes to you straight from Finland and if you haven't tried it already, believe me when I say that you have been missing out on a lot. Also known as pole walking, power walking and urban poling, as far as health and fitness benefits are concerned, you get a lot more from Nordic walking than regular walking.
For starters, you engage 50% more muscles than what you would for regular walking. This includes the muscles in the upper torso, particularly in the upper back, arms, the chest and the core. These don't see a lot of action when you are simply putting your pins to work.
Because a pair of poles are used in Nordic walking to simulate movement that is close to skiing, you get greater stability and are compelled to maintain proper posture as you walk.
This alone can help immensely to improve and maintain spinal health. Plus, the use of support structures means that the exercise is easier on the joints and the bones of the lower body than regular walking.
Put all of these benefits together and you get an outdoor activity that is virtually tailor-made for the elderly. Is it any wonder then that Nordic walking is fast gaining traction in senior living communities as well as among older adults the world over?
But, here is the best part- Nordic walking is more often than not undertaken in groups. This means you get a mental as well as a physical workout as you jabber away while enjoying your walk in nature. The best part is that and not once will you have to worry about falling down because you can always count on the poles for support and stability, whatever the terrain.  
5. Out of town explorations:
This is another outdoor activity that is best enjoyed with a group than alone. Pick towns and cities that are a simple and short bus ride away from the homestead. This way, you won't be spending a lot of time travelling.
Get your group together beforehand to discuss likely choices and opt for a theme. Use the internet to research the special aspects of neighboring counties and towns. Give each member in your group the opportunity to pick his/her favorite theme. This could be anything from history to food and from art to pop culture.
Pick a non-peak time and date for your group exploration and make sure that the travel arrangements work for everybody.
Remember the aim is to have a lot of fun, learn and experience something new while spending time with your friends/family/likeminded people. So, choose your location and theme such that the trip is simple and affordable to plan yet offers several memorable hours to all the members of the group.
Community Activities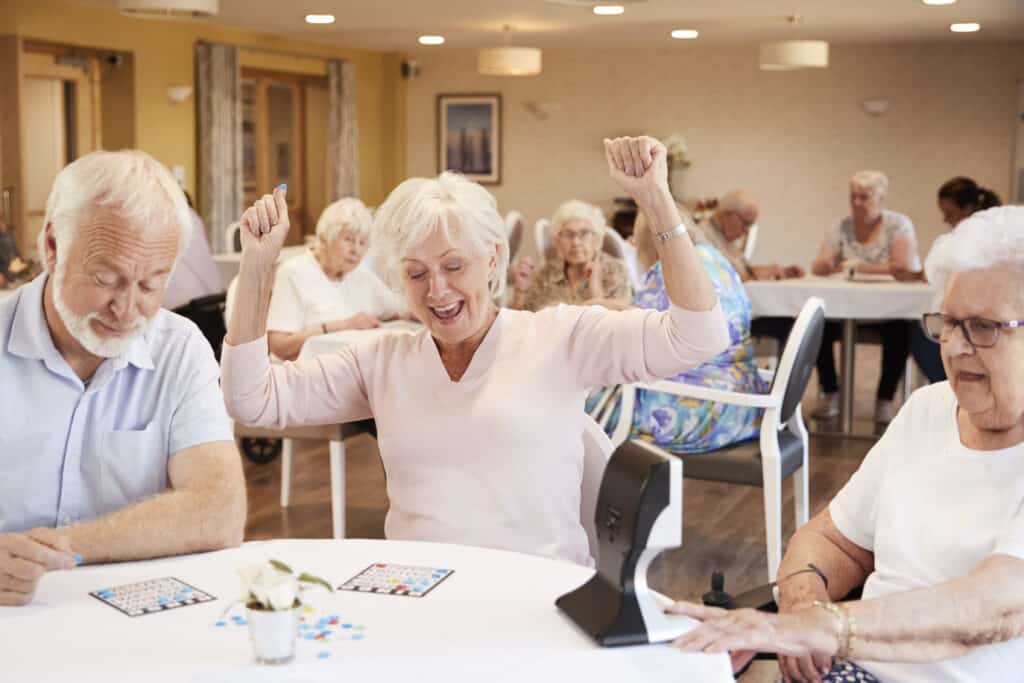 1. Volunteer to contribute to your community:
The one big problem with aging is that it allows the poisonous emotion of redundancy creep into your psyche. But, there is a simple way to kick it out of your system.
I bet you have heard this one – "Do good and you'll feel good". Well, what better way to show yourself that you still matter and can still make a difference than to contribute actively to the community that you live in.
And, no, when I say giving, I am not talking about greenbacks here. This is strictly about volunteering to make your community and neighborhood a better place. A lot of seniors enjoy offering babysitting services for the families in their neighborhood after school hours, when the kids get home but the parents are still away at work.
Working at food banks and homeless shelters and collecting clothing and other necessities for the poor are just a few of the meaningful ways to contribute towards the overall well-being of the community and to make a difference in the lives of a few. The takeaway for seniors from all of this is so much more than just mental and physical.
Yes, you will be going around neighborhoods collecting stuff and talking to people but also there is the 'feel-good" factor that comes from helping those in need. And that is what makes this outdoor activity worth all the effort and time you spend on it!
2. Pick your social battles and fight passionately:
I have seen a lot of older adults shrug their shoulders in helplessness when social issues and causes are discussed with them. Often, this outward display is misinterpreted as apathy. In reality, it is a feeling of being powerless that many seniors feel.
But, here is the question- Who said that your age should stop you from fighting for and taking a stand for what you believe in and care about?
In fact, active participation in community events and initiatives linked to social causes is a fantastic way to keep yourself involved in the world around you and above all to feel a sense of relevance about yourself.
3. Pass on your knowledge:
This is possibly the most invaluable contribution that seniors can make to the community they live in and to the younger generation. Folks, your skill sets and the knowledge and wisdom you accumulated throughout your life can help others more than you know.
Unfortunately, when people retire from their workplace, they let all this precious information flow out of their lives. This is nothing short of tragic because your expertise can literally help to save lives and businesses.
I assure you many young professionals out there would be more than happy to have you help them. In fact, a lot of community centers host tutoring and mentoring programs specifically aimed at the transfer of knowledge from the older to the younger generation.
Whatever your skill; it could be marketing, management, accounting for small business, healthy cooking, frugal and natural living or just about anything else, I bet there are scores of folks out there who can benefit immensely from what you know. So don't let it pass away with you. Instead pass it on and make a difference to your life and the lives of others.
Even if the local community center does not have such a program in place, a few flyers or an advertisement on a local website will undoubtedly get you many inquiries. Plus, while you teach and mentor, you will strike up conversations and friendships. I, for one, would definitely call that a win-win situation.
4. Continue to work on what you love:
I know that most commercial establishments will ask you to pack your things as soon as you hit a certain age. But, just because you have retired from your job does not mean that you have to stop doing what you loved.
Although this isn't that much of a problem for people who work for themselves, the fact is that there is a general perception that folks ought to hang up their work gear once they are past a certain age. Well, here is an important question- Is this a mandate or a legal requirement? Hell, no!
Yes, you may not be able to go back to doing a job after your 65th birthday but there are plenty of success stories of people who started a new venture in their golden years and were wildly successful; case in point Col. Sanders. Then, there are those who never really stopped working and continued enjoying their work well into their eighties and even nineties.
Now, you may or may not get to the legendary status of Sanders or Buffet, but hey there is no reason to let age stop you from doing what you love or even trying your hand at something new.
Because this is the day and age of the internet, whether it is a service or a product that you are selling, your initial investment can be very modest. And once the money problem is tackled, there simply isn't anything else to stop you from starting your dream venture.