I recently read that both the bedroom and the living room pose an equal risk of falls for seniors at approximately 30% each. The figures got me pondering over the common factors in these areas that make older adults take the tumble.
Unlike the bathroom, there are no slippery surfaces and unlike the stairs, there is no ascent or descent involved, yet the bedroom has a significantly high incident rate of senior falls. Then, it occurred to me that three factors are to be blamed for such mishaps.
The sheer amount of time spent in the bedroom, which is higher than most other parts of the home.
The number of things, including furniture, fixtures and gadgets placed in the bedroom.
That people are not always wide awake when they walk out of their bedroom or even from the bed to the adjoining bathroom.
I am sure you will agree with me when I say that these three factors can cause trouble even for younger folks who don't have physical issues that mar their movement and coordination abilities.
Now, imagine the manifold increase in the danger when you put an elderly person who uses medication or is battling a health condition that impacts the ability to move about normally?
In this article, we will discuss the top tips for making the bedroom safe for older adults and how to assess fall risks. But first, I am going to debunk a common myth:
Aren't falls an age-related thing?
Over 60% of all falls among seniors result from tripping and stumbling, and no, it's not an age-related issue. Experts suggest that advancing age is not always responsible for higher risk of falls. Actually, environmental factors and health condition are more to be blamed for those tumbles.
For instance, an 80-year-old senior who is in good health and lives in a home designed to meet the requirements of older adults has a lower risk of suffering from a fall than a 65-year-old individual who has health problems that impact gait and balance and who lives in a home that is not appropriately renovated to handle the needs of the elderly.
So, when assessing potential fall hazards, you have to consider both environmental and health causes.
Watch Out For These Fall Risks That Can Catch Seniors By Surprise!
Most falls among seniors that occur in the bedroom are attributed to these causes:
1. The lighting
Inadequate lighting increases the risk of falls by 1.5 times. The thing to understand here is that it's not just the lack of illumination that causes the problem but also issues with vision and the sense of perception, which exacerbate the problem.
So, assess the following lighting and illumination related factors:
The position of the light switches in the bedroom.
The distance that a senior will have to cover in darkness before getting to the switch.
The type of light switches and their suitability for older adults, who are struggling with arthritis or other joint problems.
The illumination offered by the lights.
The availability of a night light system.
The brightness of the lights in the bathroom vis-à-vis those in the bedroom.
The glare produced by overhead and natural light during the day.
The availability of task lights in the bedroom.
2. The clutter
When it comes to causing falls, clutter is second only to poor lighting. The problem is that with age, people find it increasingly difficult to avoid and tackle obstacles.
The combination of vision issues, coordination and balance problems, as well as muscle and bone weakness, make seniors above the age of 70-75 years particularly vulnerable to falls caused by clutter.
So, when assessing falls risks, take a good look around the bedroom for:
Clothes and other small items that often find their way onto the floor and in the pathways that lead to the door, bathroom, closet or windows.
Furniture that's more of a hindrance than a useful feature.
Wires and cords that hang on the floor and can cause a person to trip.
Books and shoes strewn across the floor.
Crowded night tables that just don't have enough room for everything placed on them.
Dirty clothes and linen on the furniture and the floor.
Drawers that are brimming with things.
3. The flooring
While bedrooms don't have the slippery floor problem of the bathroom, there can be plenty of issues with the floor space that can cause trouble. For instance, make a note of:
Carpets that are buckling in the corners or frayed all over.
A step-on threshold.
Uneven flooring.
Old and worn-out flooring that has cracks and blisters.
Throw rugs that can cause a person to stumble or trip.
Laminate flooring can get slippery when wet.
Quality of floor space around the bed and outside the bathroom.
4. The furniture
A lot of seniors tend to spend the major part of their day in their bedrooms and these hours are not always spent on the bed.
So, it's important to ensure that all the furniture in the room, including the bed, is fall-proof. A few things to check for include:
The height of the bed, which can have a huge impact on fall risk quotient.
The sturdiness of the bedside tables.
The placement and sturdiness of the chairs.
Height of the bedroom bench if available.
Tables with edges that can increase the risk of injury in case of a fall.
Upholstery that can cause slipping.
5. Hard to reach, easy to fall
And finally, we come to the storage spaces in the bedroom. The harder it is to reach something or the more a person has to bend or stretch to get something out of the storage space, the greater will be the risk of falling/stumbling in the process.
Having said that, more storage space is always a welcome addition to any home. Particularly, for older adults, more storage space can equate to less clutter in the room and greater accessibility to frequently used items.
Health Issues That Are Fall Risks In The Bedroom For Seniors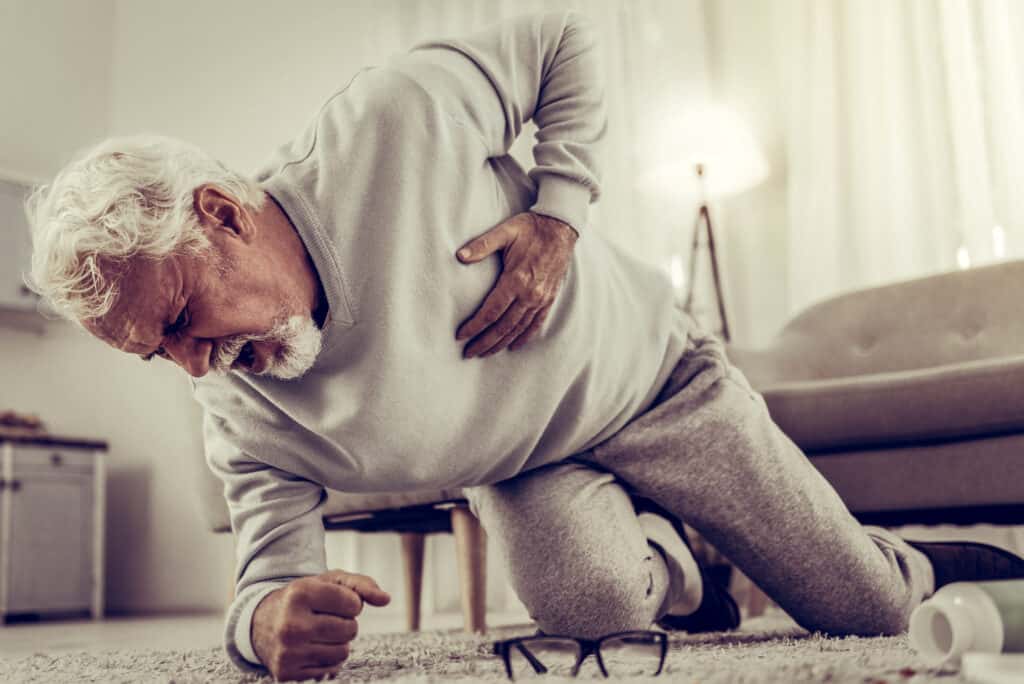 Undoubtedly, environmental factors have a huge impact on the risk of falling in the bedroom. But, health conditions are just as much of an issue.
So, once you are done assessing the environmental risks, start noting down health issues that can create a problem. For instance, make a note if your elderly parents suffer from one or more of these ailments:
Arthritis can make it hard to use light switches, door and cabinet handles and to get off the bed and chairs.
Rheumatism can make it hard to stand and sit.
Other joint issues can make it difficult to rotate the upper torso and to stretch and bend.
Spondylitis can lead to dizziness when changing positions.
Impaired vision can make it hard to spot and maneuver around obstacles.
Hearing problems can impact gait and balance.
Vitamin D deficiency can increase the risk of falls and fall injuries.
Osteoporosis can raise the risk of fracture.
Dementia can lead to confusion and loss of coordination.
Cardiovascular and cerebrovascular accidents like strokes and heart attacks can cause lightheadedness when bending and standing.
Higher body mass can create problems when walking.
Obstructive sleep apnea can lead to grogginess and distracted mental state.
Urinary incontinence can make a person rush to the bathroom.
Arrhythmias and anemia can cause lightheadedness.
Diabetes can cause dizziness.
Neuropathy can lead to muscular weakness.
Alcohol use can increase the risk of tripping and slips.
Frailness can impact balance and coordination.
Spinal problems can impact posture and balance.
Recent hospital discharge and a history of fractures can cause fear and anxiety.
In addition to these, polypharmacy or the use of multiple drugs can also greatly increase the risk of falling in seniors. Some of the drugs which are frequently associated with balance, gait and coordination problems include:
Sedatives
Antidepressants
NSAIDs
Diuretics
Antihypertensives
For existing and new medication, always talk to your doctor about possible side effects of the drugs that can increase the risk of falls. Also, you need to understand that memory loss can significantly add to the woes of seniors as it becomes harder to process visual cues and to react to them.
70 Bedroom Safety Tips For The Elderly
The lighting
Get the most from natural light during the day by using voile panels or sheer curtains that keep the glare out, but not the light.
Change to easy to flip, rocker panel light switches that are exceptionally senior-friendly.
Install light switches near the door of the bedroom so seniors don't have to grapple in the dark.
Use glow in the dark toggle or rocker style switches.
Consider the use of bedside lamps that are touch activated.
Also, offer additional task lighting on the bedside table in the form of a night lamp.
If there is a sitting area/couch in the bedroom, make sure that a light switch is installed close to it.
Install motion-sensing lights in the main pathways that lead to the bathroom and to the door.
Use LED light strings/rows around the door frames to offer spatial cues that help with balance and visibility.
Install a night light in the bathroom and in the bedroom.
Opt for high-quality fluorescent lamps instead of incandescent bulbs.
Consider the use of clap/voice-activated overhead lights.
The clutter
Lower the rods in the closet, making them accessible without the need to stretch.
Add more storage space with a walk-in closet.
Make sure the walk-in closet is well-lit with a centrally placed fluorescent light.
Ensure that the door of the walk-in closet is wide enough to accommodate mobility devices.
Replace swing-out doors with sliding doors.
Change to lever-style door knobs that can easily be used by seniors.
Place heavy items on the lower or middle shelves and the lighter stuff on the top shelves.
Change the position of the closet shelves such that they are between shoulder and waist height to limit the amount of bending and stretching needed to reach things.
Use closet organizers to minimize clutter and place things such that they can be found with relative ease.
The accessories and décor
Choose light colors for the walls that minimize shadows.
Consider the use of motorized or automated curtains and blinds that can be opened/closed with a remote control.
Don't place more than one or two items on the bedside tables.
Minimize the use of glass in the room; this includes picture frames, vases, lamps and other accessories, opting instead for fiberglass or other unbreakable and lightweight materials.
Rearrange decorative items, furniture and electronics along the wall and away from the regular path of movement.
If floor lamps have been installed, make sure that they have a sturdy base that will prevent them from tipping over.
Place all lamps near power outlets to avoid the use of extension cords that can turn into a tripping hazard.
The flooring
Remove step-on thresholds, and if that is not possible, make them more ramp-like than step-like.
Fix uneven flooring, including the cracks in hard floors, bumps in hardwood floors and chips in tiles.
Remove all throw rugs from the bedroom.
If installing a new floor, consider the use of cork flooring, which offers greater cushioning in case of a fall.
Use non-slip tape on the floor space outside the bathroom, around the bed and the door.
If you are using rugs in the bedroom, ensure that they all have non-slip backs and secure them in place with non-slip tape to avoid curled edges.
Wood flooring with carpet on it offers maximum protection against fractures resulting from falls but greatly increases the risk of falls. So, either remove the carpet or secure it firmly with tape to prevent inevitable buckling.
For added comfort
Put a clock in the room with a large number dial or with a large digital display and numbers that can easily be seen from the bed.
Invest in a white noise generator that produces soothing, nature sound effects, which enhance the quality of sleep and help with insomnia and sleep disorders.
Use over-bed tables, particularly for seniors with mobility issues.
Invest in a reach-assist tool that can be used to grab objects placed far away, with relative ease.
Encourage your elderly parents to use a long stick shoe horn, dressing stick and sock aid to dress.
The communication
Yes, your elderly parents should own a cell phone, but I would also recommend that you have a landline phone on the bedside table.
Ensure that the dial pad of the phone is such that it can be used by seniors.
Program social and emergency numbers into all the phones.
Keep a laminated copy of all these phone numbers in the nightstand drawer.
Ensure that the room has Wi-Fi access if your elderly parents enjoy using the internet.
Make sure that all charging stations are conveniently placed with easy to reach and use switches.
The furniture
Remove all furniture placed around the exit points and on the way to them.
Ensure that tall furniture pieces like wardrobes and bookshelves are anchored to the wall.
Use non-skid pads under the furniture; particularly, smaller pieces that may slip if grasped onto for support.
Choose seating arrangements that are shallow for smaller seniors and deeper seating for taller individuals.
Make sure that the height of the bed and chairs allow the senior to sit down and get up without struggling.
Consider investing in a recliner.
Upholstered headboards offer greater comfort and safety; ditto for padded bases.
Choose round tables and furniture with rounded edges for greater safety.
Avoid tables with glass tops.
Ensure that all furniture, including the tables, are height appropriate for the person who will be using it.
Invest in a hip chair if your elderly parents suffer from arthritis.
Have at least one chair, which is sturdy and has armrests.
Remove all unwanted furniture from the bedroom.
Choose non-slip material for the upholstery.
Pick upholstery that is easy to clean, preferably in bright colors that offer better contrast.
Only keep the required number of pillows on the bed since throw pillows often get thrown on the floor at bedtime and turn into a fall risk the next day in the morning.
Invest in adjustable beds and lift chairs for older adults who have trouble rising from a seated or sleeping position.
For added safety and security
Ensure that all windows have secure locks and screens.
Replace all damaged and frayed electric cords.
Check all electrical wiring periodically.
Ensure that the window fittings can be used easily by seniors who suffer from musculoskeletal and vision problems.
Don't rearrange the bedroom furniture drastically, particularly if your elderly parent suffers from dementia, Alzheimer's or vision problems.
Encourage seniors to wear non-skid slippers/shoes indoors or non-slip socks.
Ensure that all electrical and electronic cords are safely tucked behind the furniture.
In Conclusion
Before I conclude this article, I want to draw your attention to the biggest fall risk of all – Seniors who refuse to accept their physical limitations and the need for age-related changes that are required to live safely.
It's up to you to talk to your elderly parents about these things and convince them that although the changes can feel odd and even unnecessary at first, in the long run, they will help to make their life safer and smoother.
Along the same lines, never underestimate the importance of keeping those aging bones, muscles and noggin in good shape with regular exercise. You would be surprised at the extent to which inactivity contributes to fall risks.
And on that note, here is me leaving all you seniors out there with my best wishes for many happy, memorable, content and fall-free years to come!