You embark on an exhilarating journey the moment you discover you're pregnant. There are so many exciting things you will do from that point onwards. One of the most thrilling of these is announcing the stork's impending visit to your partner, your family and your friends.
Some of you gals may prefer a more personal announcement while others may want to scream the good news from the roof tops (virtual ones and not the real ones, of course). Whatever your style, you will find just the inspiration you need in this big list of pregnancy announcements.
From the traditional to the "damn, that's so cute" and from the crazy creative to utterly naughty, this list has them all plus the right time for the big announcement, the etiquettes to remember, shopping tips and so much more. So, if you have a bun in the oven already or will be getting there soon, continue reading…
When Is The Right Time To Announce Your Pregnancy?
If you have been eager to start a family, the minute you see the red line on your OTC pregnancy test confirming your pregnancy, you will probably want to announce your mega good news to the whole world.
But, it's not time yet for the big reveal! As one expert puts it, at least through the first trimester, your pregnancy is akin to winning a surprise lotto. You may want to wait to tell everybody about it till you ascertain that you will actually get the grand prize.
It does not matter if it is your first or fifth bundle of joy, the first trimester is always risky. So, it is best to time the announcement such that it comes round or after your 14th week into the pregnancy.
A lot of ladies wait it out till the 4th or the 5th month to make their big announcement because at that point the bump becomes evident, hence the beans will spill themselves if you don't do it. So, a lot of women consider this to be the perfect time to let family, friends and co-workers in on their happy news.
Also, by the 20th week, you will be done with more than one ultrasound, which will give you reasonable surety about the healthy progress of the pregnancy as well as the gender of your unborn child, if you choose to go that way.
So, Who Gets To Know First?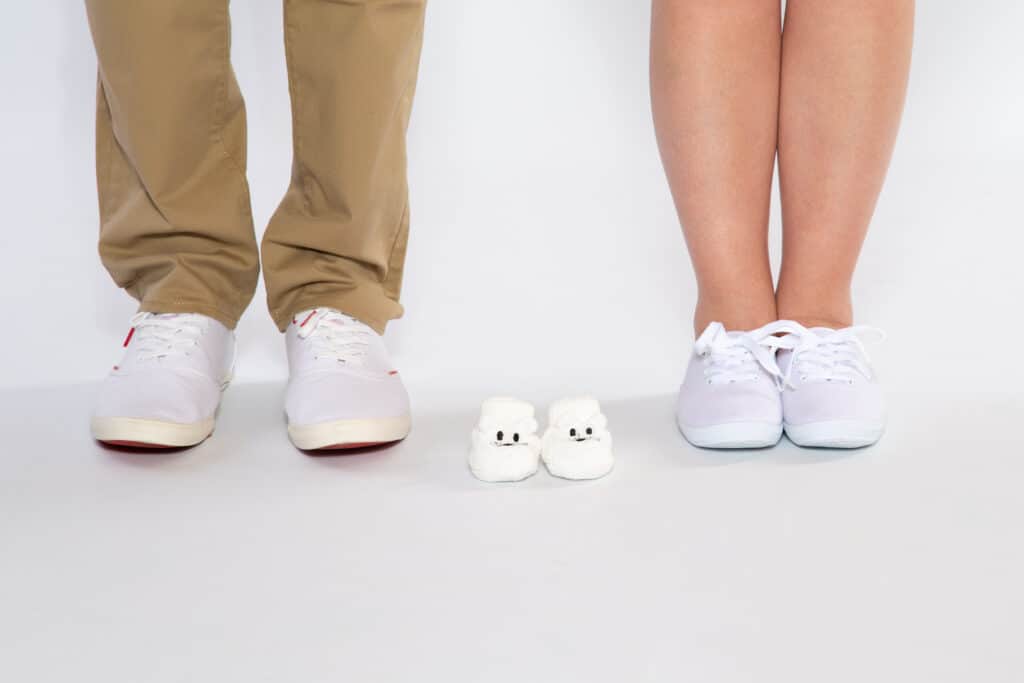 As with all social aspects of life, you have to follow certain etiquettes even when it comes to pregnancy announcements; for instance, the hierarchy you should follow when making your announcement and of course the medium used. So, who hears about the new arrival's expected grand entry first?
Because mommy and daddy both put in the efforts:
Chances are that the daddy to be and you will find out about the pregnancy together.
What with him waiting impatiently outside the bathroom, the nervousness, anticipation and anxiety all literally bubbling out of him to the point where he loses the "yuck" factor of holding the  stick that you have peed on, it's not like you can keep the news away from him.
But, if that's not how the grand news comes to light for you, it goes without saying that your partner should of course be the first to know. And needless to say, the announcement is best made in person. However, not everybody has that liberty.
If your partner is working overseas or even out of town, a video call is the next best thing and certainly beats all other forms of communication in this case. In this scenario, personally, I would recommend that you hold the announcement of your happy news till the end of the first trimester.
The immediate support system:
Once both of you are in the know, it is time to move to the next level of the hierarchy. This group should include family and friends that you are very close to. So, we are talking about his and her parents, siblings, best friends, etc.
The older brother/sister:
If this is the second time that the stork is paying you a visit, your first born will also have to be prepped for his/her promotion in the sibling hierarchy. But, once again, I recommend that you wait till you are showing to make the big announcement to the other little ones in the household.
All those who love you and care for you:
The second trimester is a good time to inform distant friends and family about the pregnancy. Chances are that you will be getting ready for you preggers photo shoot by then, if you intend/want to have one, that is.
So, those pictures can be a wonderful way to announce the news or they can be used as a follow up to the grand announcement.
The good folks at work:
And once the bump can no longer be concealed under the baggy clothes or when you want to flaunt it, the time is just right to tell your co-workers. But, here is the thing, unless you are sure that a colleague can hold the news in for a while, make sure that you let your immediate superior or your boss know about this first.
After all, he/she will be the person/persons who will be in charge of making the required changes to facilitate your maternity leave, etc. So, a bit of a heads up will help.
That said, once you let one co-worker in on the news, rest assured that the announcement will flow through the departments and cubicles like a river. After all, work colleagues were social media long before online social media was invented.
People who rely on your professional expertise:
If you are handling client accounts, it would make sense to prepare your regular clients for your absence along with your co-worker who will be handling your accounts while you are on leave.
This is best done in the 6th or the 7th month, so that you get enough time to smooth the rough edges but not enough to create your replacement.
Hear Ye Hear Ye, I've Been Knocked Up!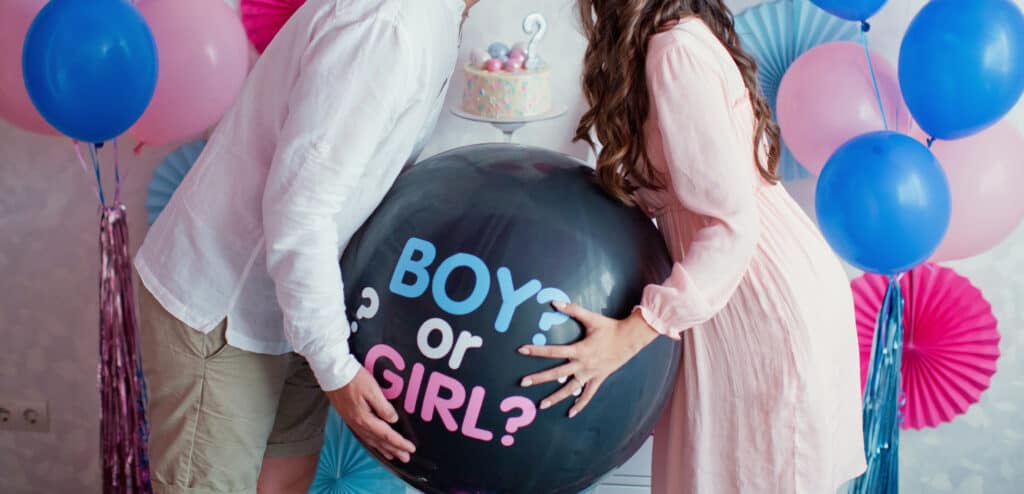 A town crier or an announcement outside the manor may not be practical unless you happen to be royalty. But, fret not my fellow regular earthlings, there are a myriad of other ways in which you can tell the world about the impending arrival of your bundle of joy.
However, like the message itself, the mode of delivery too should be chosen based on the recipient of the message as well as your personality of course. For instance:
Make it personal: Partner and close family and friends should hear about it in person. But, just because the announcement is huge, you don't need an over-the-top event to put it out there. As a matter of fact, keep things casual because you don't want to ruin the surprise.
Ring it in: if it is absolutely impossible to get all your loved ones together in one room to hear about the good news, a phone call/video call is the next best thing.
It goes without saying that all in-person and over-the-phone announcement have to go out first before you get to the point of announcing your pregnancy on social media. The last thing you want is for very close family and friends to find out about your pregnancy from outsiders.
FB for baby:  Social media figures in the pregnancy announcements of most couples these days. And, it truly is a wonderful and effective way to tell everybody who matters and also some who don't about your life changing news.
But, here is the deal – You cannot expect to be in control of who finds out about your pregnancy once you post the news on a public forum like social media, even if you have your profile locked.
Do things the old fashioned way: If you are a sucker for the ways of the bygone world, then snail mail is another way to let everybody know about your pregnancy.
The most important thing to remember is that your announcement should match your personality and of course your desire. Really, there is no social rule or law of the land which dictates that you have to tell the world about your pregnancy.
So, don't follow the trend blindly just because everybody else is doing it. A pregnancy, while a very big and transformational event, is also very personal. So, if you choose to keep information about this important development just among immediate family, then that is and should be your choice, completely.
In fact, even though I have a section dedicated to when is the right time to make the announcement, only if you are comfortable can there be a right time to let others know of your pregnancy. If you are generally a private person, turning to social media may not be the right move for you.
A Few More Tips For Making The Announcement!
If you need personalized items like cups, t-shirts, pictures, picture frames, balloons, beverage bottle labels or any other creative paraphernalia/prop that you intend to use to make your announcement, make sure you order them well in advance. It often takes weeks for these to arrive. So, either you won't get them in time or you may spill the beans before you actually get to the point of using them.
Let the kids be the last to know; they are notorious tattletales. So, if you tell your toddler or even tween about the big news, the whole world will learn about it before you can blink an eyelid.
Arrange your announcement around a regularly scheduled event/get together. Think about the announcement in the movie "Father of the Bride 2". The fact that the young couple calls beforehand to tell both set of parents that they have some big news is a dead give away. So, if you call everybody over for an out of turn dinner/event, they will expect you to come out with the big news that you are expecting. But surprise is the best aspect of the announcement; you want them to not see it coming.
Since you are planning on springing a big surprise on everybody, you better have your camera ready to go. In fact, you want to capture all those utterly unbelievably happy expressions, so make your announcement in a well-lit area of your home.
At the event, be casual and keep the party décor normal too. If you smile too much or appear too excited, they will get an inkling of what's going on.
If you are hosting a meal for your big tell, personally, I'd recommend that you wait till everybody is done eating. In my observation, once you let the cat out of the bag, everybody is just too excited to eat.
Finally, it really does not matter how the announcement event goes or even if it does not play out exactly as you planned it. The fact is that you have a starring role in a movie which is already a blockbuster!
Plus, once the message is delivered, no one will have a second to so much as think about the event. With that out of the way, let's get to some fun ideas that will give you all the inspiration you need:
Cute Ways To Announce Pregnancy To Family (giving the good news to your partner)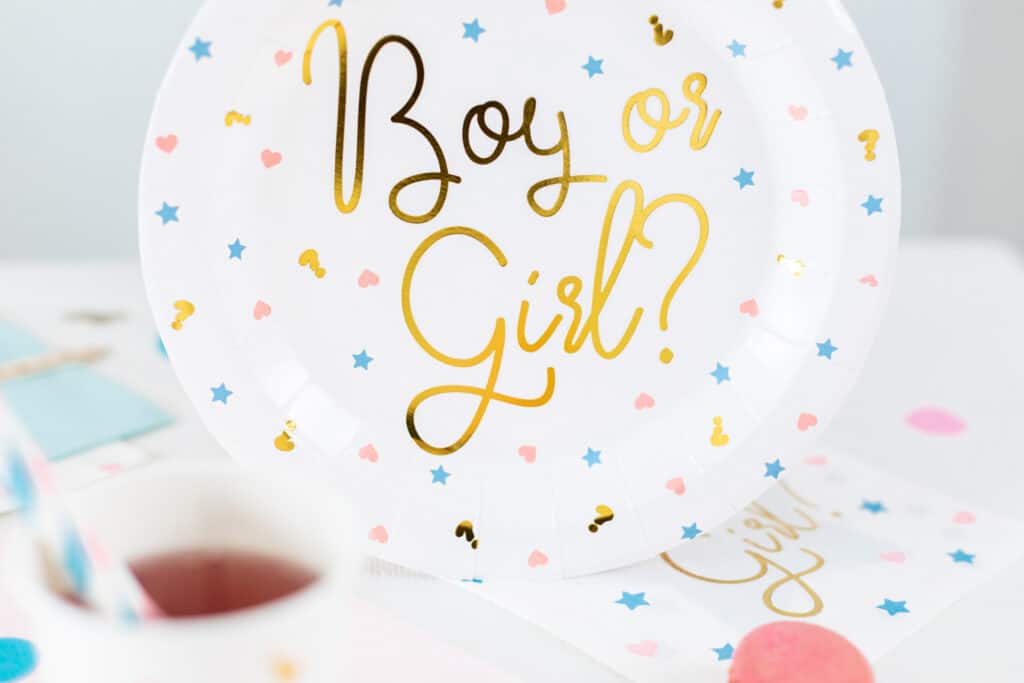 Do a baby themed meal:
Aunt Becky from Home Improvement did it and so can you! Yes, make the meal all about "baby", so the plate should have baby potatoes, baby corns, baby carrots, baby back ribs and others. He may not get it immediately but it will dawn upon him as he gets through the meal.
A box of baby goodies:
Put in a few baby goodies in a box, just the simple stuff along with one special item that says, "Congratulations Daddy to be". The special item could be a onesie, a small placard or even a t-shirt with the message on it.
Keeping it simple and straight forward:
Hide the positive pregnancy test in a place where he is bound to find it. If you want to make things interesting, you could plan a scavenger hunt which culminates in him finding the test neatly wrapped in a small box of course.
Create a vision of the future for him:
Get him a gift that is connected to his favorite hobby in some way but make sure that it has a message on it, which says that a team mate/partner in crime will be making an arrival on ___ date.
Get the pizza or his favorite food or brew to do the talking:
This one will take a bit of planning but on the plus side, you will already have all that's needed for a celebration. Your options range from the words "Congratulations Daddy to be" written on his favorite pizza with pizza sauce to custom wine and beer labels and from cookies and cakes with the good news spelled with icing on them to a bun in the oven (Yes, a literal bun that you ask him to take out of the oven).
Let the older siblings break the news:
If are going to be second time mommy or are a pet parent, older sibling gear is also a delightful way to announce the big news to daddy. Once again, this one will take a bit of preparation but the toddler and pooch or even kitty clothes out there that announce the future arrival of a baby sibling are out of this world cute. 
Creative Ways To Announce Pregnancy To Family (getting the grandparents in on the excitement)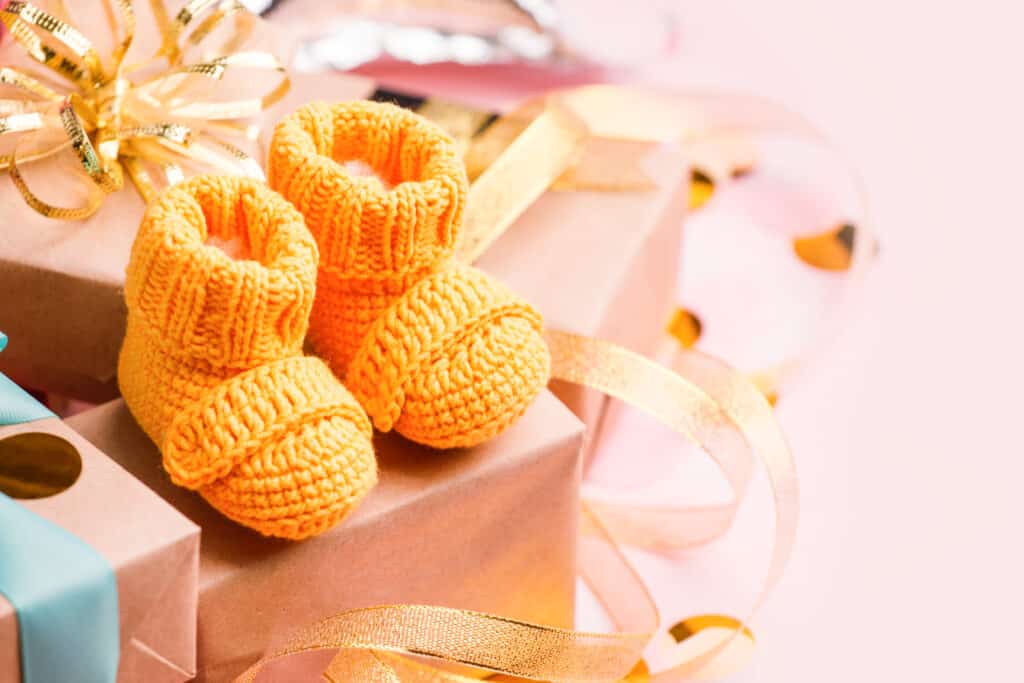 Trying to be creative in announcing your pregnancy, here are some tips:
You can say it all with little gifts:
Nothing can make parents happier than the announcement of their dividend being on the way, and you sure do want to capture the shock and excitement of it all. So, announce the news with simple and unassuming gifts like coffee mugs, t-shirts, countdown calendars, tiny booties gift wrapped and complete with the message "Can't wait to meet ya Gramps" and other such little things.
Over a meal:
Make sure you wait till the very end because there will be a lot of excitement and even a few tears of joy. The best way to end the meal with your spectacular news is to find a way to announce on the dessert. From cupcakes to fortune cookies and even good ol' chocolate syrup can be used announce the news.
They have to play to know:
This is another fun and discrete way in which to tell grandma and grandpa. Take your pick from puzzles to scratch cards and even a friendly game of Pictionary or a treasure hunt.
Give them a head start:
You can also help them to prepare for their grandparent roles with a starter kit complete with a book for grandparents, bay bibs and more. If you don't have the time to put one together yourself, you can easily buy a starter kit online or even send them a picture of one.
This is going to be the start to a memorable journey:
And grandparents will want to record and capture every minute of that wondrous journey! So, you can give them a memory journal or a new phone with a good camera or the first picture of their grandchild (yes the sonogram) or a picture frame with the words "to be filled on this date" on it.
Fun Ways To Announce Pregnancy To Family (the siblings, the cousins and of course the best friends AKA aunts and uncles to be)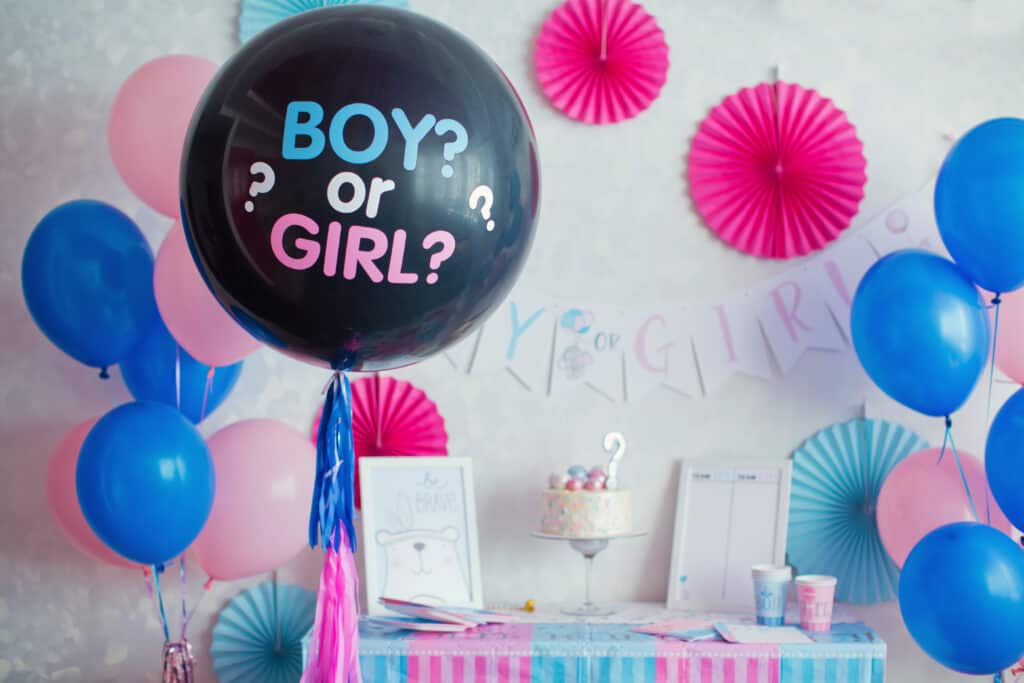 Ok, so wanna do it the funny way, here we go:
Of trinkets and goodies:
For all the aunts-to be, tiny trinkets like charm ornaments and even "Promoted to aunt status) badges work the best and for all the uncles to be, you can go with t-shirts with cute/funny uncle quotes, beer/coffee mugs, engraved key chains, memorabilia placards etc.
A special note from mom to be:
This could be a greeting card or a handwritten note with a keepsake like a wooden family tree with one space left blank for when the baby comes along.
A baby themed party:
Short of actually spelling out the words "I am having a baby", everything else at the party should be baby themed. The fun is to get all your siblings, friends and cousins to attend, and waiting to see who figures out the message and the reason for the party first. Of course keep a camera handy for when the first uncle/aunt gets the theme.
Cook up something special:
If there was any specific food item that your sibling and you particularly enjoyed as kids, prepare it or have it sent to his/her home or office. Wait for the uncle/aunt to get in touch and ask the reason for the treat. Simply answer with, "very soon you will have to share that treat with more than just me".
Create a cool playlist:
The idea is to not include baby themed songs, although you could add in a few numbers that you guys were crazy about as kids/teens. Arrange the songs so that they form the sentence "I am pregnant" or even "Uncle to be". Wait for the message to seep in- That is the thrill of this one!
Unique Ways To Announce Pregnancy To Family And Friends (so that distant relatives and coworkers don't feel left out)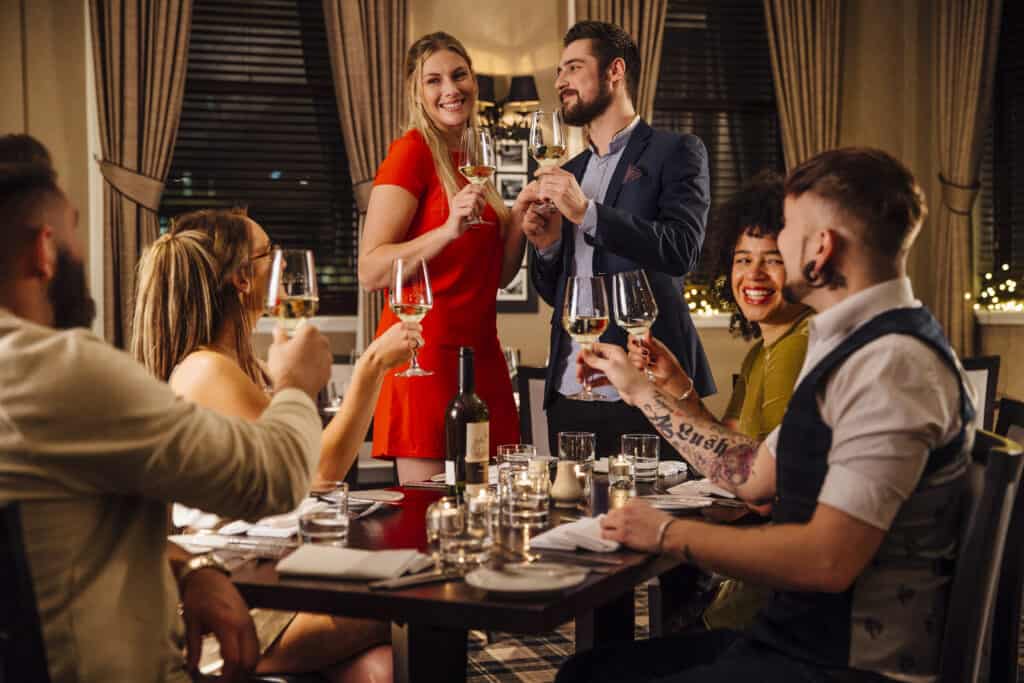 Here are a few ideas that will help:
Say it with a GIF:
This idea works for friends, family and even coworkers that you are particularly friendly with. The best part is there are scores of funny and even elegant GIFs that you can simply download.
A picture speaks a thousand words:
This is where you can let loose your creativity. You can use the very unique and trendy pregnancy shadow theme or you could get a t-shirt for your fur baby that announces the news or get the older kids involved by having them sit next to an extra small, empty chair with the date of arrival written on it or simply with baby balloons.
Of goodies and games:
You can make this one as simple and un-tedious as you want or as fun and involving as you want. The simple way is to have the local cupcake or doughnut shop spell out the words one alphabet at a time on each cupcake or doughnut.
Distribute these and wait for everyone at work to figure out what the alphabets are trying to tell them. If you want to get involved, bake up some cookies and put them in a special box; three in each box that is, 2 big cookies and one small cookie.
Because that big an announcement totally calls for a blockbuster:
Put yourself and your partner on a magazine cover (replica of it of course) with your big announcement and send it to friends family and even the colleagues you are close to. While that one is going to take some work, if you are looking for a fuss-free and cheaper option, you can simply download a movie poster announcement template and add your pictures and words in it.
Extra cheer during the holidays:
And if you are expecting around the holidays, there are only about several dozen creative ways to add your grand news to your regular festive wishes. Take your pick from Easter eggs that can be cracked open to find a chit that reveals the news to pumpkins carved to hold a tiny little pumpkin inside and of course a tree decked up with baby themed ornaments or even a tiny plate set at the thanksgiving table.
And there are about million or so other cool ideas from where these came! In other words, you are bound to find a way that appeals to your sensibilities and your audience as well as suits your persona.
Once again, don't fret this one because everybody is going to be more engrossed in the message and will forget all about how the announcement was actually made. On that note, let me be the first to congratulate you on your pregnancy because…
"Peeing on a stick and preserving that stick is the start of the many disgusting things you will do as a pregnant woman. Congratulations!"