As you get older, it is as important to exercise your mind to keep it active as it is to maintain physical fitness. If you participate in regular physical activity in your old age, you will see significant health benefits that can add extra years to your life.
Read on as we uncover the best 5 healthy activities for seniors…
1. Walking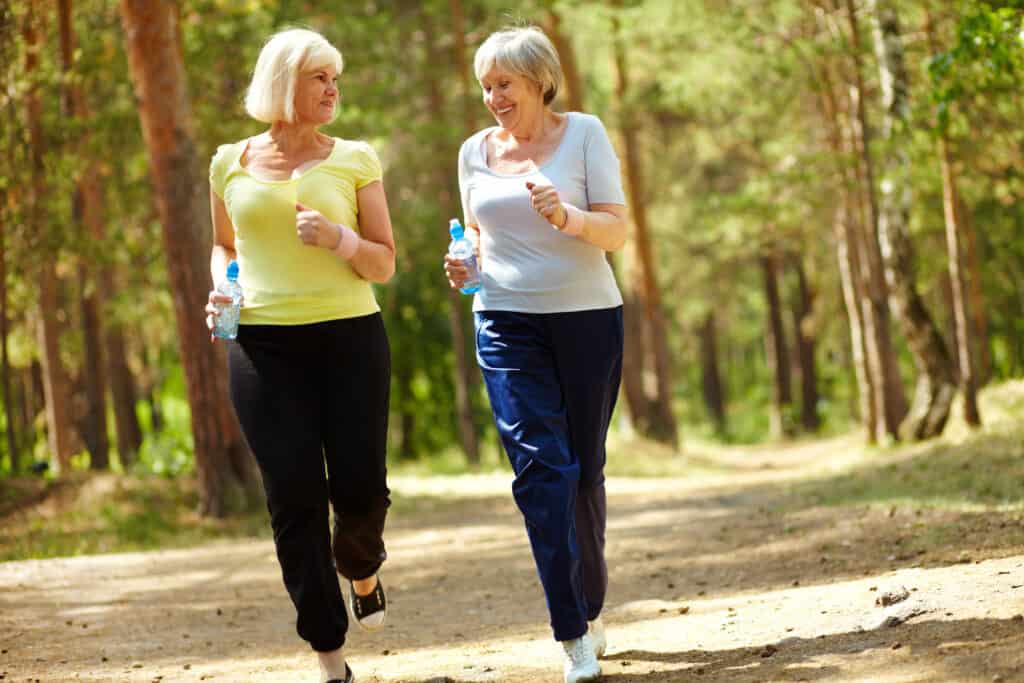 I am sure you were expecting this one to be made a part of the list. What can I say, when a mere 30 minutes of an activity strengthens your heart, lungs, immune system and legs, plus helps you to shed the extra pounds and keeps your blood sugar level in control, it has earned its place on our list.
Actually, walking is one of the best low impact outdoor sports that seniors can indulge in. The best part is that if you are just starting out, walking is a great way to build stamina and endurance so that you can work your way up to other more physically demanding sports. Another advantage is that you don't need a special setup, place or sports gear to walk your way to fitness.
For best results, you should aim for at least 30 minutes of brisk walking. But you can start with 20 and work your way up to 45 minutes gradually. Brisk walking, the kind that allows you to talk but not sing is the most beneficial. However, always start slowly and then increase your pace. At the end of the walk, don't forget to spend a few minutes to stretch those leg muscles.
2. Tai chi
If you are looking for a low-paced yet effective activity, then tai chi will be just right for you. Called "meditation in motion", tai chi provides a risk-free way to improve physical health. Although it calls for less physical exertion than most moderate intensity exercises, do not underestimate its ability to improve your health.
In fact, the gentle stretching and shifting of the body weight from one leg to the other in a rhythmic manner helps to greatly enhance coordination, motor skills and balance in older adults. An improvement on these three fronts equates to a significantly lower risk of falls. Plus, the sublime pace of this activity has a calming effect on the brain, which helps to push excess cortisol out of your system.
Because this outdoor activity also involves mental imagery, it creates a sense of harmony between the practitioner and his/her surroundings. Many people suggest that the sense of equanimity created by Tai Chi is so deep and all-pervading that it flows into all aspects of their life.
In addition, this soothing form of internal martial arts helps to improve breathing and lung health. Tai chi is particularly well suited for seniors because it is gentle on the joints, making it one of the best forms of outdoor activities for those who are suffering from arthritis. Plus, Tai Chi is usually performed in groups, and although there is no interaction between participants as they indulge in the fluid movements, there is a lot of scope to hobnob once the routine is completed.
3. Yoga
This offering from the East needs no introduction as people of all ages and from all walks of life are choosing yoga as the perfect indoor/outdoor activity to stay healthy and active. One of the reasons for the popularity of this form of yoga is its extreme adaptability. Regardless of your age and health conditions, you will find yoga asanas (postures) that are just right for you.
Yes, the general impression is that yoga involves extreme stretching, but you don't have to twist yourself into a human pretzel to get the benefits of this fitness regimen. The thing about yoga is that it combines mental, spiritual and physical practices to offer all-around health benefits. From losing the extra lard to improving muscle tone and strength and from enhancing balance to dealing with stress, yoga can help you to do all of this and more.
Because proper and deep breathing are integral to the various asanas, yoga also helps to improve respiratory health. In addition, yoga postures work on improving blood circulation and cardiac health. As you gain mastery of the various yogic poses, you will feel your body getting limber. Since greater flexibility equates to improved agility and balance, yoga is incredibly effective in lowering the risk of falls among older adults.
The best part is that there are so many versions of yoga that you are bound to find one that will suit your specific needs. Plus, it is always possible to mix and match two or more forms of yoga. Also, yoga can be coupled with any other form of physical activity. In fact, you could use the famed sun salutations as the perfect warm up routine before a more taxing exercise regimen.
Although old school yoga teachers recommend doing the asanas in the morning, there really is no one perfect time or place for this discipline. As long as you have your yoga mat handy and haven't eaten anything for a few hours, you are good to go. You can do yoga at home or join a yoga studio or simply take your mat to the nearest park. You can get others to join you in this journey to fitter and healthier senior years or simply enjoy the quiet serenity that you are bound to experience after a yoga session, on your own.
4. Swimming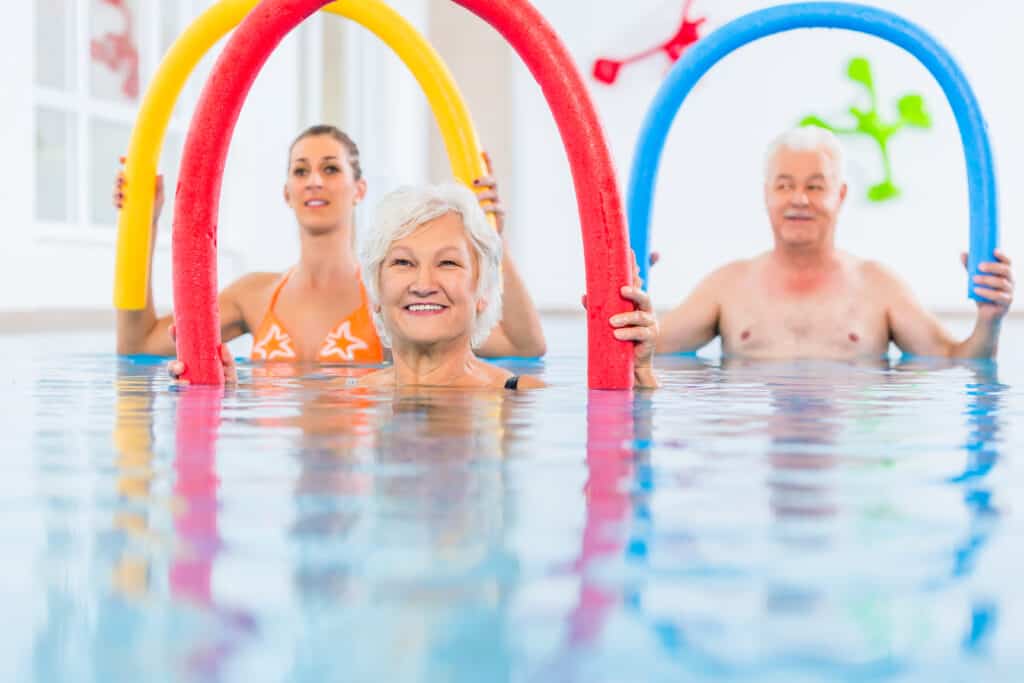 It's time to become a water baby folks because nothing soothes the body and the mind like the fleeting and gentle touch of water. Like yoga, swimming too is a highly adaptable form of exercise, which means that you have no excuse to not get into the pool. Even if you never learnt to swim, it is always possible to enjoy the therapeutic benefits of water with a floatation device on. Plus, it is never too late to grow a set of gills.
That said, swimming does promise some extraordinary benefits for people past their sixtieth birthday. For starters, it reinstates the stamina, endurance, muscle strength and flexibility that all but disappear with age. Moreover, it is also great for your ticker as well as your internal plumbing system. Plus, the fact that water does a grand job of supporting your body weight means that swimming is gentler on the joints than most other forms of physical activity, even more so than walking.
So, whether osteoporosis is just beginning to raise its ugly head in your life or you are in the throes of advanced arthritis, slow and rhythmic swimming can offer some much needed reprieve to those joints and bones. And while your skeletal system gets some TLC, swimming helps to strengthen the bones and improves the tone of the muscle structures that support them.
In fact, so effective in swimming in improving physical stability and balance that it actually lowers the risk of falls in 70 plus year olds by a whopping 35%. Another reason why swimming has gained favor among older adults is its ability to keep the body cool while those muscles are put through a grueling workout. This makes it particularly beneficial for people above the age of 65, who are more susceptible to a rise in body temperature.
5. Hiking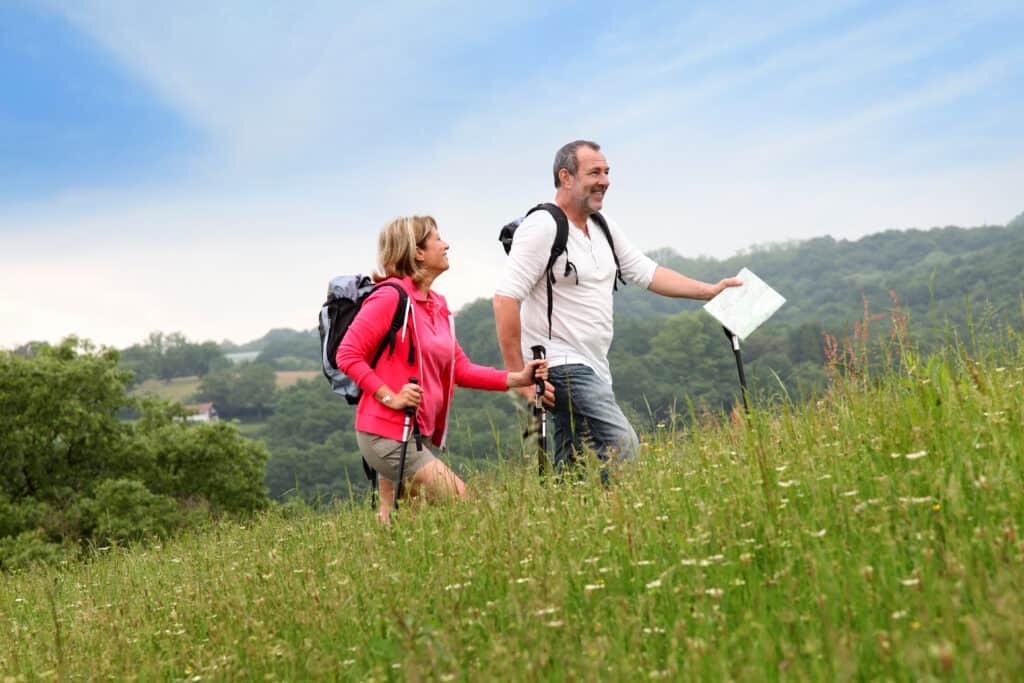 Unless they have done it before, for most seniors, hiking seems like a pursuit that is out of their league. But, here is the deal- there is no such thing as "too old to hike". Yes, you won't be able to navigate through every trail because limitations do creep in as the body ages.
But, shorter hikes along easy trails are always an option. In fact, when it comes to spending time outdoors, this is one of the best activities for seniors. Why you ask? Because along with a sound workout for the body, hiking also offers your brain some much needed reprieve from stress, depression and anxiety. Plus, all that fresh air is very good for your lungs and your heart.
The biggest advantage of hiking for seniors is that it is a highly customizable activity. You can choose the place and pace that suits you. Moreover, you can enjoy the outdoors on your own or with senior hiking groups from your city/town. Yes, there are plenty of those, so all you have to do is look online to connect with them.
Hiking works for newbies as well for those who have conquered trails all over the world. Also, most states and even cities boast of several trails, which means that you will never want for options. But here is the best part- even if you have a preference for one or two trails, every hike promises a new and unique experience. And even if you walk across your favorite trails every day, you will come out feeling just as relaxed and rejuvenated as you did the last time you traversed through those woods.