I can attest to the fact that seniors take to gaming like fish to water because I often see my mom spending hours working her way through levels of her favorite games on her cell phone. The biggest advantage is that these Android games for older folks offer more than just entertainment. Think of them as a brain training regimen that helps in multiple ways.
To begin with, because there is some amount of button use involved in the play, no matter the genre, these games help to improve hand-eye coordination. Plus, if you pick puzzle and quiz based games for oldies, you can be sure that the ol' noggin will see far more action than those hands and fingers.
And if that is not enough, many of the best Android games for seniors are also available in multiplayer version, which means they offer ample opportunity for communication with other players. In fact, with some games, the player can also become a part of a team.  So, if your parents or grandparents aren't already hooked on to mobile game apps, it is time to introduce them to the world of gaming.
I recommend you start with free Android games for seniors and then pay for premium versions of their favorite apps. If you are not sure about which apps to choose, here is a list of the some of the most addictive and beneficial games for seniors. I am sure, you will find more than one, which will appeal to the older adults in your life. 
The Top Ten Android Games For Older Adults
1. Dots: Fun in simplicity!
Never has the idea of connecting dots been so much fun as it is with this game. A stimulating offering that ruled the top 10 game charts in several countries, the game logic is simple. Actually, the beauty of this game lies in its simplicity, and that is what makes it so perfect for seniors. There are no distracting graphics nor are the rules of the game too complicated.
Yet, you get a whole brain workout with this one, as you go about joining dots of the same color to form different geometric shapes and even a straight line. You get points for connecting more dots and making more shapes and that's where you really have to put your noggin to work.
Some of the dots are placed so far apart that unless you use a significant amount of strategizing and problem solving skills, along with a wholesome peppering of creativity, it can get hard to manage even simple shapes as you work up the levels.
The game can be played in 3 modes; the time mode allows you to compete against the clock while with the moves mode, you limit the number of moves you make. The easiest is the endless mode, which is without any limitations. Other similar games include Dots and Co, Two Dots, Blob Connect, Two Links Delux and Draw Line.
2. Scribblenauts Unlimited: The Puzzle with a difference
This one is for all older adults who have had their fill of old school puzzles. An immersive and fresh take on the genre, this game combines creativity, problem solving and loads of laughs. As you play your way through various challenges, you will be assisting the game character Maxwell to get through various chores and problems, and only your imagination is used for this.
In other words, the fun you can have with this game and your score is only limited by your imagination because if you can think it, this game makes it. So, if Maxwell is faced by a collapsed bridge, you can put gigantic angel wings on his car or use bleach to scrub clean the pig on Maxwell's farm. Your solutions can be as realistic or as outlandish as you want them to be.
In fact, when you type in something unexpected the game turns into a true laugh riot because it is fun to see how the game logic responds to your choices. This is a fantastic game for seniors because it has very few rules and you get prompts that help you to move along.
The only problem is that this offering from Warner Bros will cost you $4.99 to download. The game can be played in both single and multiplayer modes and is also available in a Remix version.
3. Dog Hotel: If you love your canine pals, you'll love this game!
This game is perfect for all seniors who once owned a furry friend or still do and can't get enough of their four-legged companions. Although the game did not gain as much traction as some of the others in the list, it is a free offering and no less fun than the others.
Yes, it's a pooch hotel that we are talking about here and you will be the manager. Your responsibilities will include everything from feeding the four-legged clients to grooming them and even taking them out for a walk. And, you get to watch the canines frolic around in the yard. At the end of the day, you have to remember to clean the hotel, only then will you be allowed to advance to the next day.
Every day represents a new challenge and a new level as every one of your pooch customers has varying needs and a history, which plays an important role in its temperament. Your job as the manager of this doggie resort is to ensure that everything works as it should, and therein lie your challenges. Because something will always go wrong, you have to think on your feet so the issues are tackled before they turn into trouble.
Since this game does not need a lot of button-clicking, it is perfect for older adults who find it hard to play mobile games due to finger-joint issues. Plus, the gameplay is designed to improve memory retention and recall as well as enhance the ability to correlate information, which is ideal for senior gamers.
And if that is not enough, caring for so many furry pals, even if it's done virtually, is not only a fun prospect but also one that offers the very same joy that the elderly may have once derived from the companionship of their pets. 
4. Bejeweled Classic: These gems offer a good time!
Called, the best and most popular match-three games of all time, the classic version is still free and still just as much fun. The lower levels are simple, which keeps you going, but things quickly get hard as you work your way up the different levels.
At the core of it, the gameplay is simple, you have to match 3- like gems. In the beginning, you will find it easy to do the matching, but as you progress, it gets harder to swap similar gems to get 3 of them together. The game keeps your dopamine levels up with bombs and boosters, which are your rewards that quickly make your score skyrocket.
This is a simple game which does not need a lot of fiddling with buttons, which makes it ideal for seniors. Moreover, the game design amply stimulates the visual senses with the use of striking colors and varying shapes.
If you are willing to dish out about $4 for each version, you can also play it in the Diamond Mine mode, which involves a hunt for the matching jewels; in the Poker mode, which allows you to make flushes and pairs, and even the Lightening mode, which puts a time restriction on the player.
5. Monopoly: A classic that is still just as much fun!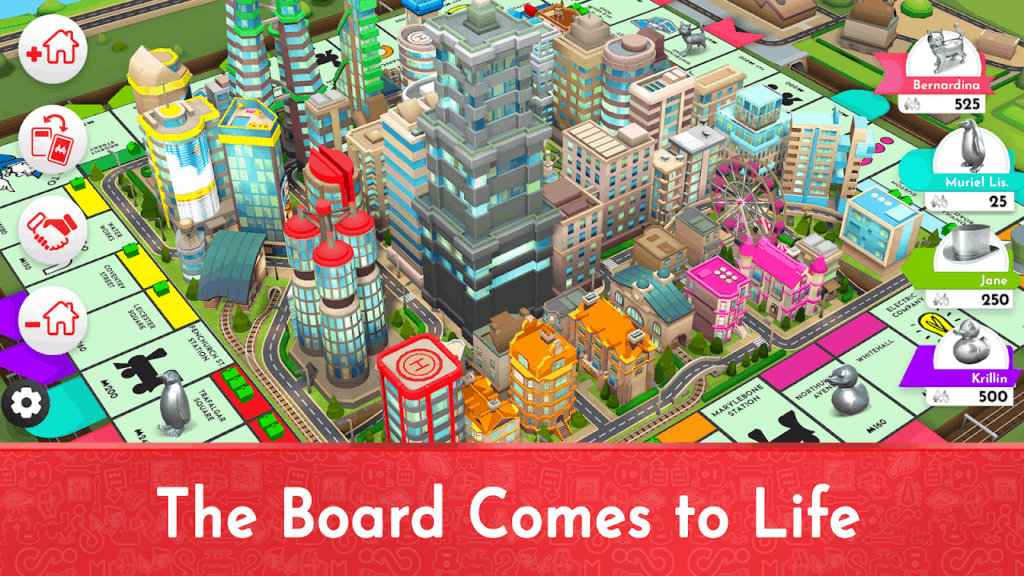 This game is for all those seniors who spent hours as kids trading monopoly dollars for assets. Here is the good news, this mobile version allows you to have a go at the game on your own. Yes, the game plays with you, so even if you don't have friends to play with, you can still have fun building your monopoly empire.
The rules and the game play are the same as the board game, with the difference that the board is on your phone screen and you will be rolling a digital dice. What adds to the fun quotient and the excitement of the game are the 3D graphics. Of course, you can also get your friends in on the fun with the multiplayer mode.
The classic version from Black Fort Games is free but it contains ads. If you are looking for an upgrade, you may want to try other games which are inspired by the classic, such as Quadropoly, Crazypoly, Business Board, Risk and landlord Tycoon.
6. Words with Friends: Build your vocabulary and brain as you have fun!
They don't call it the best word puzzle on the android platform for nothing! If you were/are a fan of scrabble and crossword, you can put your vocabulary to test with this entertaining game. The best part is the word-building skills of this app are not just restricted to English. The game is also available in Spanish, French, German, Italian and other languages.
So, if you are learning a new language to work your noggin, this app can help you to expand your vocabulary. The game can be played in single mode, but it's all the more fun when you compete with your friends in the multiplayer mode. You can choose from your Facebook friends list or use the game's Smart Match feature to find an able opponent.
For all experienced wordies, the game is also available in the lightening mode that pitches teams against each other. Words with Friends is available in version 1 and 2 and although it is free to install and play, you will have to endure ads between games.
You can purchase a no-ad version for $10/month, which makes it one of the more expensive mobile games. If you are looking for alternatives, I would recommend Word Crack, Scrabble Cheat, Word Breaker, Word Wars and Wordmeister.
7. Fruit Ninja: You are not killing Bill, but fruits in this one!
The game is simple yet fast-paced, and that is what makes it at once entertaining and interesting. You have a sword and you are basically chopping fruits with absolute precision with your super Ninja skills.
The fruits get tossed up one after another up from the screen and you have to make a clean cut before they start falling down and away from the blade. In the first few levels, you get enough time to adjust to the pace of the game and the fruits that come your way are big enough to be sliced easily; think melons and pumpkins here.
But as your cut your way up the levels, the fruits get smaller, they keep coming up faster and above all bombs get thrown your way when you least expect them. And, that is how this game involves every one of those neurons so completely. If you let your focus veer, you are bound to slice through a bomb, which results in a Big KABOOM that throws you right back to Level 1.
This is a fantastic game to play when you are looking for both entertainment and stress and anxiety relief because it is simple yet you will find yourself completely engrossed in playing it. The original from Hasbrock can be downloaded for free but it contains ads although you can make in-app purchases.
The game is available in two versions; Fruit Ninja Classic and the more modern take on it, which is simply known as Fruit Ninja. Other similar games include Fruit Cut 3D, Fruit Slice, Veggie Ninja, Katana Fruit Slicer and Knife Ninja.
8. Tricky Test: Riddle me this, Quiz me that!
Play Store users have rated this one at a very high 4.8 and if that is not enough to pique your curiosity, the makers of this game say that they have managed to trick more than 6 million players into accepting defeat with their cunning questions that can even get Mr Riddler thinking.
No, you don't need to know the capitals of all the countries in the world to get through this quiz. The answers are right there in front of your eyes, yet they are so hard to figure out and find.
In fact, when you get a question wrong, the right answer is bound to culminate in an "Ah- ha" moment. What makes this game particularly suitable for seniors is that while it jogs the noggin, it's really not hard on the hands or the fingers.
There is just a lot of creative and out of the box thinking involved and that is what makes this game as addictive as it is. In fact, this is the perfect game to get through a dull day or a cloudy mood because some of those deceptively simple questions and their unassuming answers will leave you laughing at yourself.
The game can be downloaded and played for free and the good news is that there are no ads to deal with in the middle of the game or even in between plays. However, they do have an ad banner that runs at the bottom of the screen. You'll find several other versions of this game and many of them come from different game makers. So, there are a lot of choices and loads of fun to be had with this one! 
9. Mister Smith & His Adventures: Embark on a "quizzy" adventure!
This game is sure to be a hit with seniors who have had their fill of regular quizzes. It combines adventure and a game story with a quiz. Once again, the game does not require the finger taxing inputs that some other apps call for.
So, while your hands have it easy, your brain will have to do a lot of heavy lifting to get through the conundrums that the hero Mr. Smith finds himself in. Plus, this is an interactive game, so if you miss witty chat, this game will be just right for you.
The best part is that you get to choose how your hero will be; you can take your pick from wacky, intelligent, kind, flirty and other choices. You then get to choose the adventure that the titular character will embark on. Plus, you get to live the life story of Mr. Smith as you get through tricky scenarios.
To help the hero get past the many hurdles, you will have to play small trivia games that combine general knowledge, geography, history and pop culture to create an interesting and riveting mix of questions. Because the game play is perfectly complimented by the sassy attitude of Mr. Smith there is never a dull moment in this adventure.
The free version of the game comes with ads, but you can upgrade to the premium and ad-free form. If you enjoy this game and want to have a go at others like it, your options include: Secret Agent, Jungle Adventures, Granny Smith and Leo's Fortune.
10. Disjoint: Tease, tickle and tax your brain all at once!
"Ingenious" is the first word that comes to mind when describing this adventure plus puzzle game. Because it is presented in a comic book format, this app will particularly find favor with all seniors who spent their childhood days immersed in comic book adventures.
The central characters are a hobo and a pig, who are on a quest to find a treasure. As they go through one tricky situation after another in their hunt for riches, you get them through their problems by solving various puzzles.
All the text is in rhyme which is a quirky yet attractive element of the game. The imagery is visually appealing yet easy to follow. You will be answering geometric puzzles, so there is a lot of thinking involved that taps into memories of old information and the brain's ability to combine it with new information.
In simple words, this game is a cognitive treasure that reaps rich rewards. You can buy it for $4.49 on Google Play.
In addition to these, there are a lot of other games out there that can offer hours of entertainment and a sound brain workout for seniors. Here are a few that you should definitely check out:
Geometry Dash
Think
Clockwork Brain
Horizon Chase
Real Racing 3
Block Puzzle Legend
Tetris
Pigments
Word Connect
Bag it
Angry Birds
Peggle Blast
And others…