If I were to ask you to imagine a person merrily playing a game on his iPhone, I bet in your mental imagery, the player is a teen or millennial whiling away his time, glued to his cell phone.
The cliché comes from the fact that many view digital games as time killers that offer no benefits and as technological offerings that only youngsters should and do indulge in. If you find yourself nodding in agreement with these assumptions, you could not be more wrong!
Did you know that in a recent survey, nearly 40% of all seniors said that they regularly play games on mobile devices, and why shouldn't they?
Digital gaming comes second only to outdoor activities as far as therapeutic benefits go. In fact, if it is only the brain that we are talking about, these games can help more than physical activity to slow down age and disease-related cognitive decline in older adults.
So, if your parents/grandparents haven't yet discovered the joys of using their cell phones for gaming, it's time to introduce them to the best iPhone games for seniors.
If you are a senior who has just ventured into the wondrous world of mobile games, in this article, you will find all the information you need to download and enjoy some of the best games for older adults on iPad and much more. 
iPhone Games For Seniors: Do They Actually Help? And, How?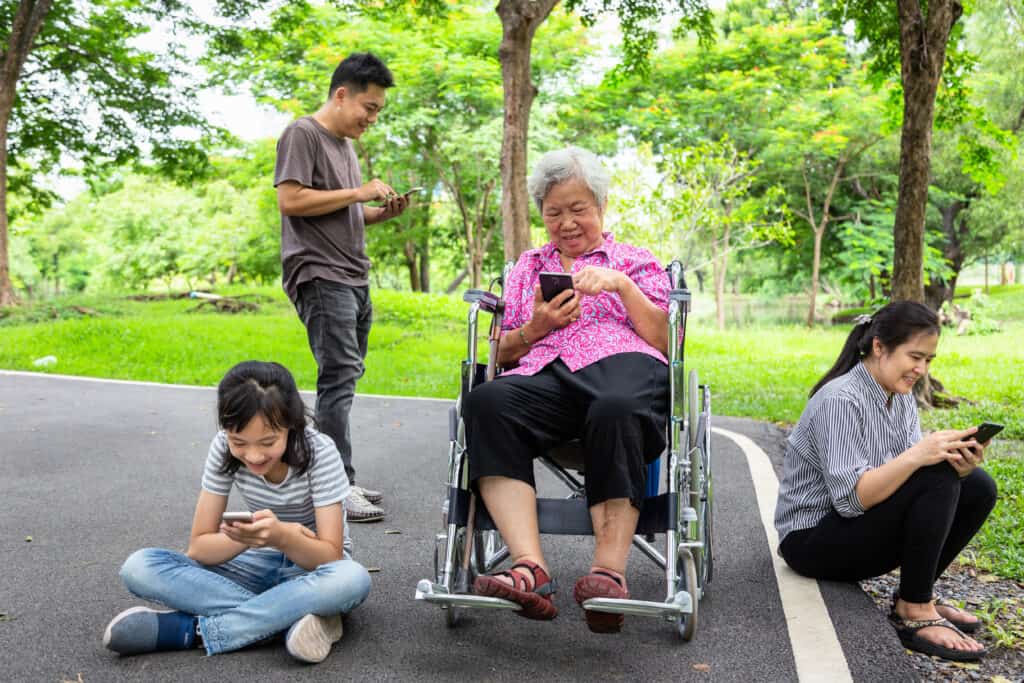 For starters, digital games have a distinct edge over traditional board games in that seniors find them more attractive, hence are motivated to spend more time playing them. Another distinct plus is that like traditional games, you don't need other players to have fun.
You can choose to ride solo or play with people from your circle or even complete strangers. Moreover, there are more choices available and the prices are lower. Of course, there is also the immersive environment of digital games that offers greater engagement than paper versions.
So, it comes as no surprise that a 2010 study revealed that older adults preferred and enjoyed playing digital games over their traditional counterparts. But, that is not where the good stuff ends…
Unlike regular board games, which stop at being a form of entertainment and an avenue for social interaction, digital games offer actual health benefits, such as:
Improved motor abilities: This is a well-researched benefit of digital games, including arcade style games that are much preferred by older adults. The improvement in motor skills comes from the fact that players engage the visual sense to see the output on the screen and coordinate their hand/finger movements to get the desired results.
Increase in processing speed: Most digital games are fairly fast paced and the players have to process the information on the screen quickly to keep up with the game. This helps to strengthen the centers of the brain responsible for comprehension and information processing.
Lower reaction time: Because seniors have to respond rapidly to the prompts, these games help to lower reaction time and are also known to ease brain fog and sluggishness that come with age.
Enhanced focus: Selective visual attention is another cognitive ability that is remarkably improved in response to frequent use of digital games. One of the age-related issues suffered by seniors is the inability to maintain focus. Their thoughts tend to wander off while they are in the middle of a conversation or are doing something.Because games call for intense focus as well as the ability to concentrate on a particular aspect of the gameplay, they help to improve both selective attention and the ability to focus on something.
Distinct improvements in cognitive abilities: Since the advent of arcade games several decades ago, researchers have been studying their impact on cognitive abilities. And what arcade games offered in terms of therapeutic effects, digital games offers several times of that.
From working memory to retention and recall and from fine motor skills to interference resolution and even the ability to multitask, digital games can bring about a significant improvement in all these areas and others.
The best part is that you don't need specialized digital games to get these benefits. Something as simple and standard as the digital version of Tetris or a first person shooter game (the simple ones) can help seniors to keep their noggin healthy.
Above all, like traditional game, their digital versions also offer ample opportunity to socialize. The good thing about these games is that you don't have to wait for your friends to show up to start playing. But, if you do feel like challenging an old friend or even your kids to a round of scrabble, it's possible to play with your chosen competitor even when the two of you are sitting thousands of miles apart.
In fact, the improvement in life quality that is attributed to digital gaming is one of the distinctive benefits of iPhone games for seniors. In one 2013 study, seniors reported feeling more connected and less lonely after regularly playing casual digital games.
So, now that you know the benefits of digital games, let's talk about what's available and the games that most seniors tend to favor. 
How Do You Pick Good iPad Games For The Elderly?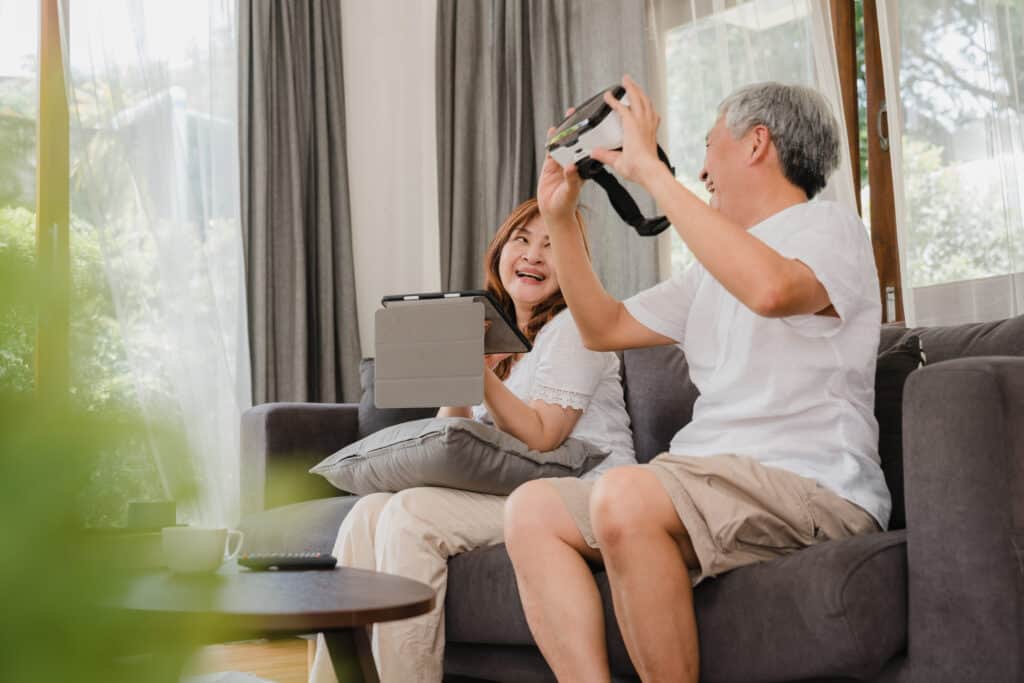 Older adults prefer to go with the old school stuff like quizzes, puzzles and card games. These have their own cognitive benefits to offer. But, if you really want to get more out of gaming experience, go for something that is new.
Choosing digital games for yourself: The more novel the experience, the more your brain will have to work to get the hang of it. Since your noggin is a muscle, all that exercise will do it a world of good. Don't worry, if you don't like the ultra-realistic games that are often full of blood and gore, you can leave them out from your 'must-try" list.
If you enjoy first person shooting games, and they are awfully good to work on your visual attention and reaction time, you can always find games which are funny with a comic-like graphic environment that offers loads of fun and cognitive benefits.
Choosing a game for your parent or a senior loved one: A 2012 study noted that puzzles are among the most popular phone games in people over the age of 55. This is followed by card/board/tile games.
Coming in at third and fourth positions are strategy and word games. Arcade games are also loved by many but they can't compete with the popularity of puzzles. And in a distant sixth position are all sports-related and sporting games.
Preferences based on time and gender: Seniors opt for casual games, regardless of the gaming category. The majority of older adults seem to enjoy games that can be played in 10-30 minutes like Sudoku, matching games, Blackjack and others like them.
The study also highlighted that while elderly women held a preference for puzzles and word games, male seniors were happy with strategy and puzzle games.
Sport games were not a hit with most women but some men aged 60 and over loved the idea of playing basketball, baseball and other such games on their phones.
Now, that you know about the most popular gaming categories for seniors, let me tell you about the best options in each category and their costs.
Are There Any Free iPad Games For Seniors?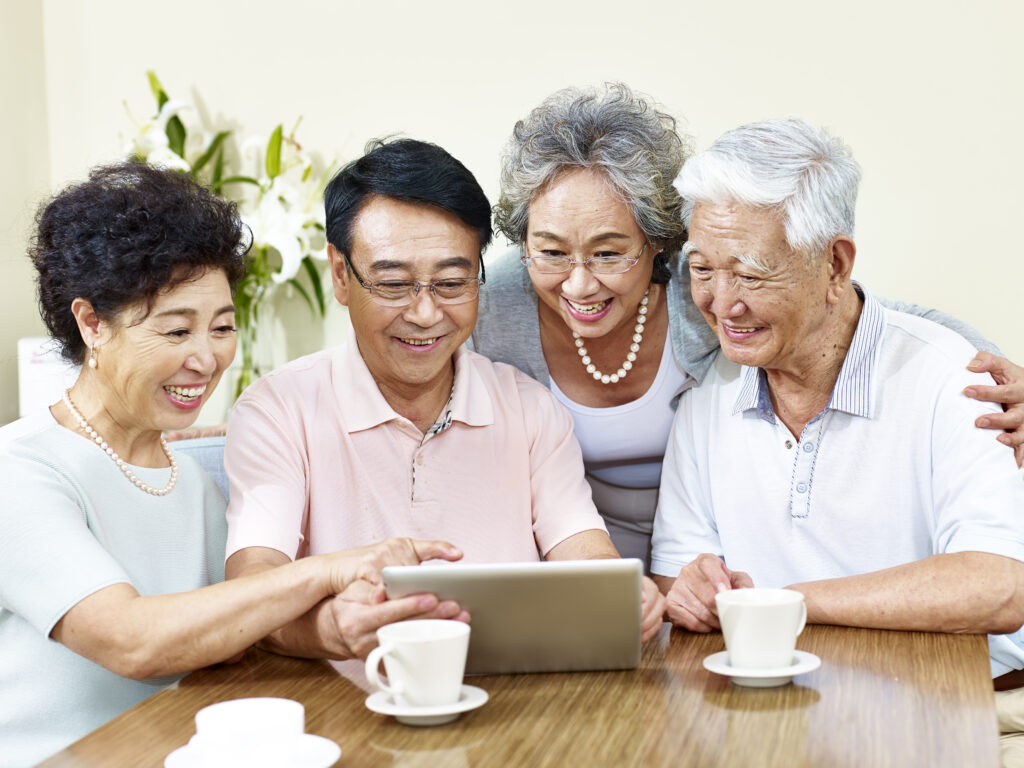 If you are a fan of iphone games, I am sure you will agree with me when I say that a lot of the free stuff available is utter garbage. Then, there are those games which are fairly good but won't appeal to older players. But, don't worry, here is a list of the best of the free stuff:
1. Data wing
Think of this as a racing game with a difference. There are no cars here; instead you are driving data across a neon landscape on mother's orders, getting unexpected and unanticipated boosts in thrust as you hit the walls. This is a story driven game with 40 levels and simple two touch controls that will keep you engrossed for hours.
2. Super stickman golf
The third edition of the award winning series boasts of 20 new courses to master along with multiple game modes and power ups; plus the ability to compete against other players. For seniors who enjoy golf, this game is an absolute must-have.
3. Pocket run pool
No pool table? No problem! You will still have just as much fun with this digital snooker offering. There are just 8 balls on the table and you have to sink all of them. But when and where they go matters the most. A simple yet engrossing game, Pocket Run Pool is fantastic for older adults who are looking for a few minutes of extremely effective stress busting.
4. OCO
It's achingly stylish and shockingly simple, and therein lies the beauty of OCO. A medley of 135 puzzles, the game also gives you access to user created levels and allows you to share your own with others. Given it's one touch controls, daily challenges and its robust online community, this is one of the best Ipad games for seniors.
5. Full of sparks
As a kid you must've had fun lighting up firecrackers and now you will have just as much fun stopping them from exploding. You will be in control of one firecracker and you will lead it through multicolored obstacles to complete the level. Don't let the simplicity of the gameplay fool you, because this one requires both intense focus and significant coordination to play as you make your way up the levels.
6. Pin out
A digital version of the arcade pinball game, PinOut has a smooth design that includes a timer that keeps ticking and a constantly evolving pinball table. So, although the game may seem familiar at first, you will need more than just regular pinball skills to get good at this one.
7. King rabbit
A rabbit that wears a crown and goes about rescuing other bunnies, how cool is that? A decidedly enjoyable and fun game to play, this is a puzzle-adventure that involves the king getting through various obstacles to get to the cage that holds his bunny friend. Along the way, he is also supposed to collect the 3 gold coils scattered all over the place. The levels are bite-sized, but the challenges will give your noggin enough to chew on.
8. Flip Flop solitaire
There is certainly no dearth of solitaire games on the App store but this one flips the classic on its head by subverting almost all the rules of the game. And that is what gives this digital offerings its element of novelty.
9. Little alchemy
How would you like to be the God of your own little digital universe? Well little Alchemy promises to give you just that. You combine two things to make new things that can be used in your digi-verse. While some combinations are obvious like putting two ponds together to make a lake, others take a bit of creativity like putting wings on a car to turn it into an airplane.
10. Alphabear 2
Did I hear you say, "Not another word game"? Well, what if this little gem has bears in it to go with the words? Yes, you heard that right and these are wiggly, naughty bears at that! They squeeze themselves into the space created every time you use a letter tile. Plus, the tiles have timers that turn them to stone if not used up in time. So, this is one helluva bear-y brain teaser.
11. Slydris
If you thought Tetris was the best block dropping game ever, Slydris is here to change your views. You will still be dropping blocks into the well but this time, you will have to wait your turn to do so. Also, the blocks can only be moved horizontally, one at a time. So, you will need to put your noodles to work if you want to create chains and prevent the game-ending breach.
12. Crush the Castle: Siege Master
If you liked the famous Flash game with the same name; you are bound to love its iOS version. The game is simple and promises hours of fun. Plus, you will be throwing rocks at the bad guys using a trebuchet to hurl them across 300 meters, so that's a lot of visual selective attention that we are talking about.
The Best iPhone Games For Seniors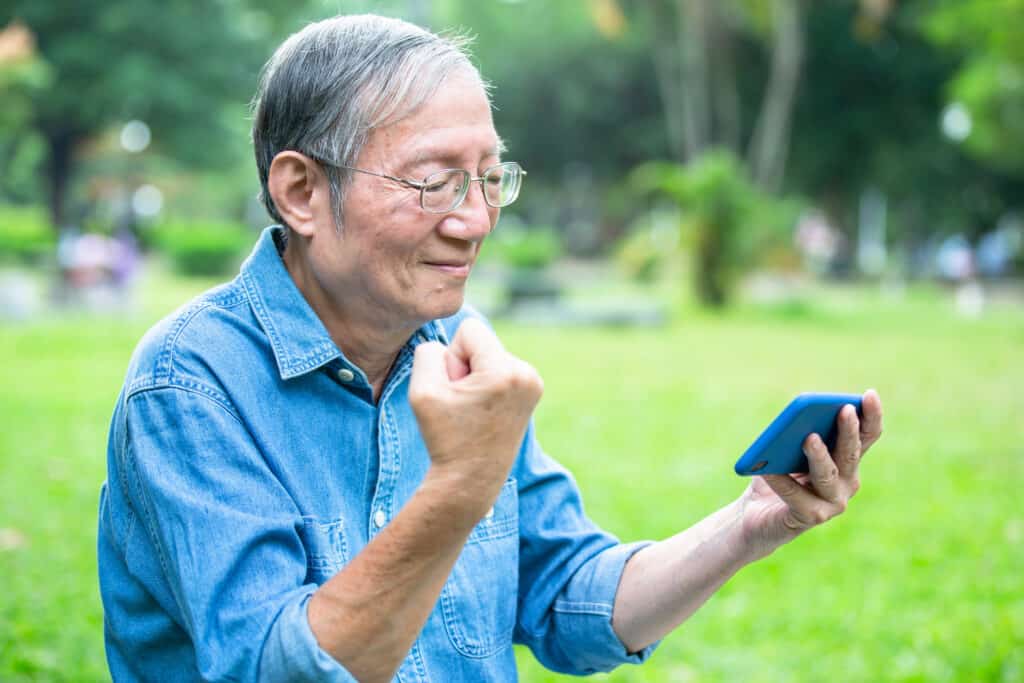 The games in this list may not be free but they offer so much entertainment and such a thorough brain workout that they are well worth the few dollars you pay for them. The best part is that the lower levels are usually free, so you can try them out before paying to unlock advanced game features and the higher levels. Here goes the list of free iphone games…
1. The Room
The mysterious ambience is meant to strike fear while the puzzles and challenges that have to be solved to open the safe in the room are designed to keep you thoroughly engrossed for hours. No wonder this game is called a delightful combination of intrigue and entertainment and it can be yours for just $0.99.
2. Cut the Rope Gold
This is a simple physics puzzle in which you will be cutting the string that holds candy away from Om Nom's waiting mouth. The monster is cute, so you want to feed it. But as you cut through the levels, it gets increasingly hard to get past the hurdles that will destroy the candy before it gets to Om Nom.
3. Crossy Road
Why did the chicken cross the road? The game does not answer this age-old riddle but it does put you in the chicken's shoes, as it makes its way through roadways teeming with oncoming traffic. The ultimate aim is to make it to the other side without getting yourself squashed and this gets increasingly harder with each passing level.
4. Orbital
If you like shooters and puzzles, this game that combines the two to deliver a whole new level of entertainment will surely appeal to the gamer in you. The game-play is simple; all you do is shoot orbs into space. But once in the antigravity environment, the orbs continue to grow till they touch something. The aim is to shoot down all the orbits before they fill up the space completely. Every orb has a counter that decreases with each hit. The orb blasts when the counter runs down to zero and you get one point for it.
5. Florence
If you like small stories and games, you will love Florence's tale which is served up in the form of an interactive game. As Florence goes through the highs and lows of her life, you will be living her moments of giddy romance and heart breaking failures with her by making the choices for the central character. This may not be as high paced as some of the other games in this list but it is no less entertaining. In fact, the novelty of it all is bound to keep you riveted.
In addition to these, you may also like Hidden folks, Miracle merchant, Rymdkapsel, Shadowmatic, Kero blaster, The Witness, Stranger Things 3 and Song Pop 2.
Seniors with mobility issues will also enjoy the realistic Flower Garden that allows them to tend to digital plants in the garden on their screen. My Reef 3D is another hyper real game that involves maintaining an aquarium, full of marine life forms. This is another one for older adults who want life-like experiences from gaming.