Biking has always been and remains to be, a significant part of our lives. Think about it, you, or someone close to you, probably had a first-hand encounter with a bike. Be it during childhood or as a grown-up, for business or pleasure, millions of people from all over the world are enjoying the benefits of riding bikes, which actually extend to our elderly years!
Yes, you read that correctly, riding bikes is becoming more and more popular among senior citizens. This fun activity isn't just an effective way to help older people stay in shape, but it also has a significant positive impact on other health aspects such as balance, circulation, and cognitive skills. All of which sounds great, until you arrive at the tricky part: purchasing a bike for an elder person.
Choosing a bike for a senior loved one can be quite a confusing task. Between all the brands, mechanisms, and features, a lot could go wrong with your purchase if you don't know what to look for.
Today, we'll be assisting you on your bike shopping mission, with a detailed buying guide and our lists of the best bike for 50, 60, 70-year-old men and women, you can rest assured that by the end of this article, you'll be landing the right deal. So without further ado, let's get started!
Best Bike for 60 Year Old Man
Image
Title
Price
Buy

Top

Top

EuroMini ZiZZO Campo 28lb Lightweight Aluminum Frame Shimano 7-Speed Folding Bike 20-Inch (Yellow 2019)
Buy Now

Top

Top

Schwinn 230 Recumbent Bike
Buy Now

Top

Top

sixthreezero EVRYjourney Men's 7-Speed Hybrid Alloy Cruiser Bicycle, Matte Black w/Black Seat/Grips, 26" Wheels/19 Frame
Buy Now

Top

Top

Marcy Magnetic Recumbent Bike with Adjustable Resistance and Transport Wheels NS-716R
Buy Now

Product prices and availability are accurate as of the date/time indicated and are subject to change. Any price and availability information displayed on [relevant Amazon Site(s), as applicable] at the time of purchase will apply to the purchase of this product.

Prices pulled from the Amazon Product Advertising API on:

Marcy Magnetic Recumbent Bike NS-716R
Constructed with over 50 years of experience in manufacturing sports equipment, this Magnetic Recumbent Bike from Marcy is a machine that combines convenience with action, delivering excellent workout for any 60-year-old man.
The seat on this bike has a fully adjustable stride length to better accommodate the different body sizes. It's also designed in a way that adapts to your body shape, with mold injections for an optimum fit.
Marcy's Magnetic Recumbent Bike can take on users up to 300 pounds heavy, featuring soft foam-padded handlebars to provide a steady yet comfortable grip. Additionally, it's equipped with a digital LCD tracking panel which displays data such as speed, time, and distance, so you can easily monitor your status.
This bike allows you to change the level of intensity of your pedaling into one of 8 tensions using the integrated preset knob. There's also a handy cup holder so you can stay hydrated during your daily routine.
Pros
Mold-injected seat
Padded handlebars
Adjustable length
Easy to transport
Cons
The tracking panel tends to glitch
Assembly instructions can be improved
Final Verdict
The Marcy Magnetic Recumbent Bike is a solid option for 60-year-old men looking for a solution to practice cycling right from the comfort of their homes. It offers good value for money, with adjustable sizing and sturdy construction.
Schwinn Recumbent Bike
From the renowned Schwinn Bikes brand, this Recumbent Bike is a great representation of high durability as well as premium-quality, made of solid steel to guarantee long-lasting service.
The seat of the Schwinn bike is contoured and ventilated with soft padding on the bottom part, providing effective support throughout your workout. Moreover, it's equipped with an aluminum rail system to let you slide close and away from the pedals till to arrive at the best position.
This indoor bike is equipped with a large console featuring DualTrack LCD screens, built-in speakers, MP3 port, USB charging, as well as an adjustable fan. It offers 29 pre-installed programs including heart rate monitoring and fitness tests.
Schwinn Recumbent Bike is also equipped with 25 resistance levels to present different challenges for a 60-year-old man to build muscle mass. The operation of this bike is quite easy and silent thanks to its high inertia drive system with a weighted flywheel.
Additionally, the Schwinn bike features Bluetooth connectivity where you can sync the machine with the Schwinn Trainer App to keep tabs on the user's fitness data.
Pros
Ventilated and padded seat
Solid steel construction
Can handle heavyweight seniors
Has 25 levels of resistance
Features 29 programs
Cons
Expensive
Speakers quality is disappointing
Lacks a fan
Final Verdict
Schwinn Recumbent Bike is a wonderful choice for those seeking high-end quality indoor cycling. The solid build allows for users on the heavier weight side to get a fun yet productive workout. You'll definitely need to splurge on this one, but the reliable performance should be worth it.
Sixthreezero EVRYjourney Men's Hybrid Alloy Cruiser Bicycle & eBike
Designed bearing convenience, ease of use, and style in mind, the EVRYjourney Men's Hybrid Alloy Cruise Bike is all about making your outdoor cycling experience into a comfortable yet exciting adventure.
The seat on this sleek bike is supported by a base made of high-density foam to provide adequate support for uses, offering up to 300 pounds of weight capacity. It has a wide dual-spring saddle with cushioning to maximize comfort.
The body of this bike bears a forward pedaling system which helps riders maintain an upright position, putting less strain on their backs and shoulders.
It also gives you enough space to stand properly with your feet flat against the ground when you stop, while still having enough room to extend your legs when riding. Additionally, the wide curved handlebars provide better control for seniors seeking a secure but comfy grip.
The EVRYjourney Men's Cruiser Bicycle features a lightweight, extending 19-inch frame made of aluminum and suitable for versatile use. It sits on 26-inch whitewall semi-slick tires of 2 inches width, delivering a smooth and stable performance during rides. Also, there are handbrakes located at the front and rear for quick stopping.
This particular sixthreezero EVRYjourney bike model features a 7-speed gearing to serve all sorts of commutes and roads. It's a one size fits all design, accommodating individuals of 5 feet, all the way to 6 feet and 4 inches tall.
This bike arrives 80% preassembled, and you can also order it with electric assistance as an e-bike version.
Pros
Frame design allows for proper leg stretching
Upright position makes back and shoulders more comfortable
Wide and cushioned seat with foam support
Curved handlebars
Sturdy aluminum construction
Cons
Customer support can be improved
Assembly can be tricky
Final Verdict
Not only is the sixthreezero EVRYjourney a treat for the eyes, but it also delivers a safe, reliable performance, suitable for 60-year-old men who prefer cycling in outdoor settings.
EuroMini Zizzo Campo 28lb Folding Bike
Sporting a compact and lightweight design, the EuroMini Zizzo is a fantastic choice for 60-year-old men searching for a convenient ride to work their muscles without being too much of a hassle.
The star of the Zizzo Campo show has got to be their folding aluminum alloy low-profile frame. Specifically designed to maximize portability, this bike easily folds down to a small size of 27″H × 31″L × 12.5″ W dimensions. The whole process can be completed with 30 secs, and you can lower the seat post to use it as a tripod with both wheels for stability.
Speaking of the seat, you can also adjust its height to better suit the rider for an extra comfortable experience. All you need to do is alter the position of the alloy clamps controlling the seat post. The height of the handlebar post can also be changed via corresponding clamps.
Integrated into this handlebar, you can find a 7-speed grip shifter to let you smoothly switch between gears. There's also a grip that activates the aluminum V-brakes located on both wheels for enhanced stopping power. The seat on the EuroMini Zizzo Campo is rather wide with an ergonomic shape.
Finally, this bike is available in 3 colors: yellow, white, and black, so you can pick your favorite out of the bunch.
Pros
Ultra-lightweight
Foldable frame
Adjustable seat height
Adjustable handlebar post height
Powerful brakes
Fully assembled
Cons
User weight capacity isn't very high
Seat padding needs some work
Final Verdict
The EuroMini Zizzo Campo Bike is a great purchase for any 60-year-old man aiming to enjoy the outdoor life at an easy-going pace. The fact that it's so light with adjustable seat and handlebar height, makes it a convenient companion on cycling adventures.
Best Bike for Over 60 Year Old Man
Sunny Health & Fitness Magnetic Recumbent Exercise Bike SF-RB4708
Applying 15 years of fitness equipment manufacturing experience, this Magnetic Recumbent Exercise Bike from Sunny Health & Fitness is built to deliver users a full-body workout without ever having to step outside their homes.
It features a particularly comfortable seat, which is great news for older folks. Supported by generous padding and cushions, the SF-RB4708 seat ensures adequate flow of blood in the gluteal region to enhance stamina.
The softness also works to relieve the resulting pressure on your tailbone, which is caused by sitting for a long time with cut-off circulation.
While seated, you can easily adjust the inseam height to a minimum of 29 inches, and a maximum of 36 inches. This patented system allows you to make such changes with a mere flick of a side lever, no standing up required.
The step-through design of the Sunny Health & Fitness Bike makes it so much easier to actually get on the seat since you won't have to overextend your legs across the frame, you simply step over the bar and you're basically done.
This Magnetic Recumbent Bike also has a built-in pulse monitor to help you maintain a certain heart rate which is displayed on a digital screen.
Pros
Extra cushioned seat
Step-through frame
Easy seat adjustment
Wheels for room to room transportation
High weight capacity of 350 pounds
Has pulse monitor
Cons
Can get noisy
Long assembly time
Final Verdict
The Sunny Health & Fitness Magnetic Recumbent Bike is a heavy-duty piece of equipment, ideal for over 60-year-old men looking for a daily dose of decent full-body workout indoors, as well as older folks with overweight issues.
NAKTO 26″ 250W Cargo Electric Bicycle
The Nakto 26″ 250W Cargo Electric Bicycle is one of the most appealing bike options for senior men over 60 years old, thanks to its facilitated operation that combines comfort with activity in one reliable performance.
Made from reinforced carbon steel, the frame has a low step-through design to facilitate the "get-on" phase of cycling. The front of the bike sports a V brake while the rear part has an expansion brake, keeping you safe in case of sudden stops.
Utilizing a 36V, 10Ah removable Lithium battery, this electric bicycle features 3 working modes: Human, Assisted Bicycle and E-bike. You can pick the assisted bicycle mode when you're more oriented towards exercising but could use a push, or switch to e-bike when you're riding for longer distances. All you need to do is press the pedal-assist button.
The Nakto Cargo Bike allows you to cover a distance up to 28 miles (45 kilometers) on a single full battery charge, which takes about 4 to 6 hours to completely charge up. The 250W motor with brushless gear easily lets you ride at the conventional road speed limit of 18 to 25 mph (miles per hour).
Nakto backs up this bike with a 1-year warranty, and it arrives at your doorstep 95% assembled.
Pros
3 riding modes
Removable battery
Offers reasonable distance and speed
Low frame design
1-year warranty
Cons
Expensive
Poor manual
The seat may be too narrow for some users
Final Verdict
For men aged 60 and older, the NAKTO 250W Cargo Electric Bicycle can bring about both fun and sweat to biking, totally depending on their mood. The fact that it features 3 operation modes, makes it much more effective as a workout or leisure tool for seniors.
Schwinn Loop Folding Bicycle
Keeping millions of cyclists happy all over the world, Schwinn continues to fortify its reputation as a leading brand in America with its Loop Folding Bicycle, featuring a low-profile step-through frame that conveniently serves older folks.
The Schwinn Loop Bicycle folds down to a compact size of dimensions 30 inches × 32 inches × 11 inches, which makes for easy storage in just about any closet or car. When you're ready for some action, folding out the bike is also pretty simple and can be done in a couple of minutes.
This bike is equipped with a 7-speed derailleur, controlled by a responsive Shimano Twist shifter for smooth riding. On the 20-inch wheels of the Schwinn Loop Bicycle, there are front and rear fenders to protect your body from getting scratched by accident.
Additionally, you'll find a rack on the backside of the bike to help you carry whatever items you may need. The Schwinn Loop Bicycle package includes a heavy-duty nylon carry bag in case you want to pack your bike and conceal it.
Schwinn offers a limited lifetime warranty on its bike, which is shipped ready to assemble and available in colors black, silver, and white.
Pros
Foldable construction
Convenient low frame
Front and rear fenders for protection
Has rear carry rack
Includes nylon storage bag
Lifetime warranty
Cons
The saddle could use extra padding
No handlebar adjustment
Final Verdict
The Schwinn Loop Folding Bicycle is a solid bike for seniors, featuring a step-through frame, adjustable seat, and a handy rear carry rack. The foldable aspect makes it easy to store and the lifetime warranty is a nice touch.
IDS Home unYOUsual Transformer 20″ Folding City Bike
Another bike that you can safely bet on is the unYOUsual Transformer 20″ Folding Bike from the IDS Home brand based in the USA.
This bike has a swooping alloy frame with a low-profile design that doesn't require you to overextend your leg to get on the seat. It's also a foldable body, which is sized down to approximate dimensions of 33 inches × 13 inches × 25 inches, allowing users to better maneuver and store this bike without much hassle.
The unYOUsual Transformer Bike features a Shimano 6-speed gear with a twist grip shifter to give the rider better control on the road. It sits on sturdy WANDA 20-inch tires, delivering a smooth performance session after session. Also, there are built-in V brakes on the front and rear sides to ensure safe riding.
This bike accommodates users weighing up to 250 pounds, with a maximum height of 6 feet. You can adjust both the seat and handlebar positions to better for your body. Moreover, you can find a rack installed in the back so you can carry grocery bags or other items.
Pros
Easy to fold
Seat and handlebar height can be adjusted
Strong V brakes
Quick assembly
Affordable
Cons
Not the highest quality construction
Squeaky sounds when making height adjustments
Final Verdict
For older men over the age of 60, the IDS Home unYOUsual Bike is an affordable option offering an overall decent performance. It features an adjustable seat and handlebar, with front-rear V brakes for a satisfactory cycling experience.
Best Bike for 70-Year-Old Woman
Marcy Recumbent Exercise Bike with Resistance ME-709
Landing in with thousands of positive reviews, this Recumbent Exercise Bike ME-709 from the established Marcy brand is a widely popular bike among senior women trying to maintain a healthy lifestyle from home.
The appeal of this bike starts at the step-through design of its frame, made of rugged 14-gauge steel tubing and finished with a protective powder coating. Such a convenient construction is particularly helpful in minimizing back and knee strain as you can get on and off the bike without having to overextend your legs.
The seat is also rather comfortable thanks to the generous high-density foam padding which supports and relieves pressure from the tailbone, letting you enjoy a more relaxed workout. On either side of the saddle, there are handles also covered in foam, with a contoured shape to give your back and arms an extra boost while maintaining a correct posture during sessions.
This bike comes with an adjustable length where you can easily bring the seat closer and farther away from the pedals at the front portion.
Moreover, the pedals on Marcy's Exercise Bike are built to offer users ultimate foot support, with a weighted counterbalanced design that improves peddling control. The pedals are also equipped with adjustable straps so you can create a secure fit for your feet.
This recumbent stationary bike features a digital LCD screen with odometer functioning. It's super simple to read, displaying time, speed, distance, and burned calories count in large numbers.
Additionally, this bike offers 8 levels of preset magnetic resistance that you can smoothly control via an integrated tension knob. Marcy's Recumbent Exercise Bike weighs 60 pounds, sporting a compact design capable of withstanding 300-pounds riders.
Pros
Elder-friendly step-through bar
Foam-padded seat
Contoured side handles
Has foot straps
Easy to read LCD screen
Amazing value for money
Cons
May require drilling holes to fit shorter users (5 foot tall)
The seat adjustment mechanism can be made simpler
Final Verdict
Marcy's Recumbent Exercise Bike is a solid choice for a 70-year-old woman. It comes at a great price, offering all the necessary workout features without being too fancy.
Sunny Health & Fitness Magnetic Recumbent Exercise Bike RB4616
From the 15-year-old company Sunny Health & Fitness, this Magnetic Recumbent Exercise Bike RB4616 is highly praised by hundreds of users thanks to its affordable price and sturdy quality.
The seat on this bike makes for quite a comfortable routine since it has a wide 14.5″ × 11″ saddle with a large backrest that's well-padded for extra support. The low frame with a see-through bar allows you to easily access and get off the bike, reducing strain on the legs and back.
This Recumbent Bike also features a patented seat adjustment mechanism, utilizing a side seat lever to simply adjust its proximity back and forth with a mere flick. It's a hassle-free task that doesn't even require you to stand up. You can also alter the inseam height to a minimum of 26 inches or a maximum of 33.9 inches.
The paddles of this indoor workout bike are self-leveling which means a more convenient foot placement enhanced by straps for a secure fit. You can also find an integrated pulse monitor aiming to help you keep track of your heart rate, displayed on a digital monitor along with data such as speed, distance, and time.
Holding riders up to 300 pounds, this Sunny Health & Fitness Bike includes 8 levels of magnetic resistance to provide older women with various workout patterns.
Pros
Large padded seat
Simple seat adjustment
Convenient step-through frame
Affordable cost
Built-in pulse monitor
Cons
Tends to make a noise after a while
The display screen can be larger
Final Verdict
For 70-year-old ladies, the Sunny Health & Fitness Magnetic Recumbent Exercise Bike is a reliable affordable option, especially if it's their first work out bike. The adjustability and ease of use make for a solid exercise.
Firmstrong Urban Lady Beach Cruiser Bicycle
Receiving hundreds of recommendations from happy users, the Urban Lady Beach Cruiser Bicycle by Firmstrong is a fantastic choice for 70-year-old women with a knack for outdoor activities.
Featuring a classic look with a touch of modernity, this sturdy 15-inch frame is made of solid steel with an attractive curved design, resting on 26 inches aluminum wheels that effectively absorb shocks for smooth sailing.
The included seat has a particularly large seat which is cushioned for added comfort and equipped with dual springs to provide extra support while cycling.
Moreover, this bike sports wide handlebars which are both convenient and easy to reach for. They're adorned with rubber grips to provide a firm hold.
The Firmstrong Urban Lady Beach Cruiser Bicycle offers 4 different gear options: 1, 3, 7, and 21. However, this specific model bears the simple 1-gear system for riding at a relaxed pace, reaching a maximum speed of 15 mph.
Another neat feature you can find on this bike is the absence of confusing cords that may get in your way. It also includes a powerful rear coaster brake, allowing for easy and quick stopping.
The Urban Lady Beach Cruiser is available in 13 color assortments, so you're certainly bound to find your match. It arrives at your door 80% percent preassembled, meaning that some work is due before you're able to hit the road.
Pros
Classic curved eye-catching design
Wide handlebars with anti-slip rubber grips
Relaxed operation
Shock-absorbing tires
No hanging cords
Lots of color options
Cons
Requires assembly work
Not exactly low-frame so the user may need higher grounds for easier access
Final Verdict
If you're on the hunt for a vintage-looking bike with high-quality construction, you may want to consider the Firmstrong Urban Lady Beach Cruiser Bike. It delivers a relaxed outdoor workout for older ladies in need of some cycling action.
Schwinn Meridian Adult Tricycle
Manufactured by the infamous Schwinn brand, the Meridian Adult Tricycle is a wonderful option for ladies over 70 years of age, thanks to its superior stability and convenient performance, especially for folks suffering from balance issues.
Right off the bat, the Meridian tricycle features a durable low frame made out of solid aluminum. It grants older users an easier way to get on and off the bike without putting much strain on legs as they're just required to step over the bar.
As for the handlebars, they bear a wide swept-back cruiser style which makes for a painless reach, encouraging the user to maintain a healthy upright posture thus reducing pressure on the back. Also, you can adjust the handlebar pole height from 37 inches minimum to 40 inches maximum.
To protect you from getting scratched and to keep your clothes clean, there are fenders located on the front and rear wheels. Additionally, the Schwinn tricycle comes with an oversized carry basket that you can simply fold down when not in use.
This low-maintenance bike is available in 7 color options, backed up by a 5-month warranty.
Pros
Safe and stable performance
Effortless mounting and dismounting
Large foldable rear basket
Adjustable height of seat and handlebars
5-year warranty period
Cons
Some users may experience a popping noise
There's a learning curve for first-time tricycle riders
Final Verdict
The Schwinn Meridian Adult Tricycle is a premium-quality bike for outdoor cruising, offering high stability and impressive adaptability, which makes it a terrific ride for older ladies.
Best Bike for 50 Year Old Man
Exerpeutic 400XL Folding Recumbent Bike
Showing off thousands of positive reviews, the 400XL Folding Recumbent Bike from the established Exerpeutic brand is a superb choice for 50-year-old men looking to build or preserve muscle mass as the aging kicks in.
Built for easy access and exit, this bike has a semi-recumbent frame design that limits the strain on your back as you get on and off the saddle. Speaking of which, the seat on the Exerpeutic 400 XL is large, cushioned, has a padded backrest, and offers you the freedom of adjustment to accommodate your height from 5″ 2′ up to 6'2″ tall.
The 400XL bike is a folding model that you can size down to a compact package of dimensions 20″ L × 17″ W × 54″ H. The fact that you can transform it into half of its original size allows for extreme portability and facilitates storage.
This bike also features a 3-piece high-torque crank system that works to ensure a smooth pedaling motion without "hiccups". The integrated combination of the V-belt drive and precision-balanced flywheel allows for quiet operation to minimize disturbance.
Additionally, the Exerpeutic 400XL bike comes with built-in pulse sensors, a big LCD screen displaying fitness readings, as well as 8 levels of magnetic resistance. It includes wheels for transportation and is backed up by a 1-year warranty.
Pros
Amazing value for money
Affordable price
Semi-Recumbent frame
Wide seat
Consistent pedaling
Pulse sensor
1-year warranty
Cons
Could use extra padding
Awkward flaring of the digital piece
Final Verdict
If you're searching for a top-quality stationary bike that delivers a solid performance and outstanding convenience without breaking the bank, this Exerpeutic 400XL exercise bike should be right up your alley.
Nautilus Recumbent Bike R616
Popular among hundreds of users, the Recumbent R616 Bike from Nautilus is all about combining modern fitness technologies with premium-quality and comfort to produce a unique workout experience, adaptable to aging demands.
The recumbent design with a step-through frame is ideal for 50-year-old men to gain easy entry and exit, especially those with knee or back problems that prevent them from overextending their legs.
The seat of the R616 is wide enough to handle various body sizes, reducing pressure on the tailbone thanks to its generous padding. The backrest, however, isn't cushioned but rather ventilated to promote cooling during your workout sessions. Also, this seat is resting on a sliding rail which means you get to adjust its positioning back and forth till you achieve a perfect fit.
The Nautilus Recumbent Bike features 25 levels of tension so you can change your workout intensity according to your specific needs. Additionally, the R616 offers 29 exercise programs displayed on an LCD console, these include 12 profiles, 9 heart rate control, as well as 4 custom ones.
Utilizing Bluetooth, you can sync your bike to the Nautilus Trainer 2 App that helps you keep track of your progress and fitness data. Moreover, there's a built-in port where you can connect to charge your devices as you pedal.
Pros
Easy step-through access
Adjustable sliding seat
Ventilated backrest
25 resistance levels
Integrated MP3 jack and charging port
29 workout programs
Cons
Assembly instructions can be improved
You may require back cushioning
Final Verdict
Overall, the Nautilus Recumbent Bike is a well-built machine offering loads of interesting features. Due to its ease of adjustment and sturdy construction, this stationary bike is definitely worth your consideration.
KENT Oakwood Men's Cruiser Bike
Built under the concept of helping you get where you want as safely as possible, the Oakwood Men's Cruiser Bike by KENT certainly has the materials and the specs to keep such a promise.
First noticing its looks, the Oakwood bike is surely an eye-catcher thanks to its sleek and attractive design, as well as its black and white color scheme that adds some serious style points.
The frame of this bike is made of aluminum tubing with a heat-resistant coating for long-lasting service time.
The seat is contoured for comfort, while the handlebars bear a wide, extended shape to provide a painless reach and an upright cycling position, aiming to minimize back and shoulder strain for an extra enjoyable ride. Also, you can adjust the height of both the seat and handlebars posts to better fit your own size.
Observing the sturdy 26-inch wheels, you can see fenders at the front as well as the rear side which are important to protect you from scratches, dirt, and mud. The Caliper brakes on both ends also serve to keep safe in case you need to make a quick stop.
Pros
Stylish design
Extended handlebars
7-speed twist shifter
Front and rear fenders
Powerful Caliper brakes
Seat and handlebars have adjustable height
Good customer service
Cons
The seat can be made softer
Assembly isn't very simple
Final Verdict
For men at the age of 50 who enjoy outdoor cycling, the KENT Oakwood Cruiser Bike offers a fun, effective, and stylish way of fulfilling their daily workout requirements.
ANCHEER Folding Electric Bike with 250W Motor
ANCHEER is a renowned brand in the e-bike world. Known for manufacturing top-class electric bikes at affordable prices, this Folding Electric Bike is no exception, offering dependable and versatile performance.
This bike boasts a lightweight collapsible frame made of rugged aluminum alloy to take on heavy-duty jobs. It quickly folds down to a compact package of approximately 32″ × 21.8″ dimensions, so it won't occupy too much of storage space either in a closet or a car.
Powered by a removable 36V 8AH Lithium-Ion battery, the ANCHEER e-bike can grant you a riding distance up to 25 to 50 kilometers (15 to 31 miles), which is plenty of range to reach your destinations. The included smart lithium battery charger takes about 4 to 6 hours to fully charge, and you can even do it without detaching the battery.
This bike features 3 working modes: Normal, Assisted bicycle, as well as E-bike, allowing you to pick the most suitable settings for the task at hand. Moreover, the built-in LED headlight and loud horn enable users to safely ride at night.
The ANCHEER bike is further equipped with front and rear disc brakes as well as a shock-absorbent front carbon steel fork. It's available in 2 color options: black and white, and arrives at your doorstep 85% preassembled with a 1-year warranty on all parts except the frame.
Pros
Sturdy collapsible frame
Has 3 working modes
Allows for night riding
Removable battery
Seat height is adjustable
15 mph maximum speed
Cons
The seat can get a bit uncomfortable after a while
Final Verdict
The ANCHEER Folding Bike is an excellent solution for 50-year-old men looking for a good workout, a reliable way to commute, or an extra "nudge" on their daily rides.
Best Bicycle for 50 Year Old Man
sixthreezero Around The Block Men's Cruiser Bicycle
An awesome companion for men aged 50 years searching for some casual cycling to run errands or work their muscles, the sixthreezero Around The Block Cruiser Bicycle for men adopts a classic curved steel frame design with wide flared handlebars to promote comfort.
Utilizing a simple 1-speed gear system and an upright cycling style, this bicycle aims to provide a relaxed performance without straining your back and shoulders too much.
The seat on Around The Block Bicycle is cushioned and equipped with dual springs to support longer periods of cycling. The whole bicycle body sits on aluminum wheels, sized 24 or 26 inches, with waffle tread tires delivering a smooth roll.
On the rear side, there's a rack where you can carry baskets or bags. Also, this bicycle can fit quite a range of riders since its 24-inch model is suitable for users up to 4 feet, 11 inches tall, while the 26-inch version accommodates men up to 6 feet, 2 inches tall.
The sixthreezero is available in 4 color combos, shipped 85% preassembled.
Pros
Simple operation
Durable frame
Foam grips
Comfortable handlebars reach
Includes rear rack
Cons
Final Verdict
The sixthreezero Around The Block Cruiser Bicycle is a very nice choice for laid back 50-year-old men who enjoy outdoor riders without many complicated features.
Firmstrong Bruiser Man Seven Speed Beach Cruiser Bicycle
Boasting a balanced blend of simple and modern, the Bruiser Cruiser Bicycle from the Firmstrong brand is a favorite among 50-year-old men thanks to its sturdy build and practical performance.
The frame of the Bruiser Bicycle takes up a curved style with a thick top tubing for a beefy look. It's made of steel, so it's rather durable, extending out to wide handlebars that boost comfort, adorned by synthetic leather grips for a secure grasp.
The Bruiser Bicycle also offers an oversized saddle to provide softness during long rides, supported by double coil springs to maximize stability. Moreover, the 2.125-inch wide whitewall tires do a solid job of absorbing shocks and bumps, allowing for a smooth experience.
The Firmstrong Bruiser 26-inch Bicycle comes in multiple gear versions, but we're mainly concerned with 1-speed and 3-speed. You should pick the 1-speed gearing option if you're leaning towards casual riding and moderate workout, however, if you want your bicycle to help you do some hill-climbing or have more gearing options, then you may be better off with a 3-speed bicycle.
This cruiser bicycle utilizes rear coaster brakes that are easy to use, ensuring your safety on the road. It encourages an upright riding position to reduce strain on your back.
The Firmstrong Bruiser Bicycle is shipped 80% preassembled, available in multiple colors.
Pros
Attractive design
Powerful rear coaster brakes
Fits men up to 6 feet, 4 inches tall
Promotes an upright, relaxed riding posture
Cons
Final Verdict
The Firmstrong Bruiser Cruiser Bicycle combines functionality with style, offering an all-round solid performance at a moderate pace.
EuroMini Zizzo Via 27lb Folding Bicycle
Next up, another highly praised bicycle from the EuroMini brand, the Zizzo Via bike is designed to provide riders with the best of both worlds when it comes to quality and affordability.
This mid-range bicycle is built around lightweight durability, with a sturdy low-profile frame made of aluminum alloy tubing and weighs only 27 pounds.
A particularly handy feature on the Via bicycle is the fact that you can easily fold it for convenient transportation and storage when not in use. It transforms into a compact package of dimensions 27″H × 31″L × 12.5″W. You also receive a magnetic clasp that serves to tie both wheels together when collapsed.
Additionally, you can find alloy clamps on the seat post as well as the handlebar post, enabling you to simply adjust their heights for a more comfortable fit. The Zizzo Via can accommodate riders 4 feet, 8 inches tall, all the way up to 6 feet, 3 inches tall.
This bicycle adopts a 7-speed cassette made of rust-resistant stainless steel, offering users versatility when facing different types of roads. It's also equipped with front/rear fenders as well as powerful V-style brakes.
The Zizzo Via is available in 2 colors: black and sky blue.
Pros
Lightweight construction
Front and rear V-style brakes
Stainless steel 7-speed gearing
Folds down into a compact size
Magnetic wheels catcher
Cons
Tires aren't very sturdy
The seat could use extra cushioning
Final Verdict
If you're on the hunt for a little bicycle packing lots of versatility, the EuroMini Zizzo Via is surely worth consideration, offering a compact 27-pound frame with 7-speed options.
Firmstrong Urban Man Seven Speed Beach Cruiser Bicycle
Showing off hundreds of positive reviews, the Urban Man Beach Cruiser Bicycle from Firmstrong is what comes to mind when you think of vintage style and modern hybrid functionality.
Starting with its sleek frame made of durable steel and adopting a classic cruiser design, this bicycle definitely has the looks and the construction to stay by your side for years to come.
The Urban Man Cruiser is equipped with an oversized saddle supported by double coil springs to give you the ultimate smoothness during long rides. Also, the installed whitewall 2.125 grippy tires provide decent shock absorption to boost stability.
This particular model of the Urban Man Cruiser features a premium 7-speed Shimano gear-shifting system, granting you the freedom to choose the most suitable settings for an extensive range of activities going from relaxed to high-intensity.
The brakes on this bicycle are rather impressive as well, utilizing front / rear hand brakes for added safety and control.
This 26″ version of the Urban Man accommodates riders from 5 feet, 4 inches tall, up to 6 feet, 2 inches tall. It's available in several color options to appease all tastes and is shipped 80% assembled.
Pros
Highly versatile
Stylish
Long-lasting quality
Great user weight capacity
Comfortable wide handlebars
Cons
Final Verdict
If you're a 50-year-old man wanting to stay true to the classic cruiser style, while also making use of multi-functional modern features, this durable bicycle may just be the one for you!
Best Bike for 60-Year-Old Woman
Exerpeutic 900XL Recumbent Exercise Bike
Striving to present users with high-end quality products at affordable prices, the 900XL Recumbent Exercise Bike managed to earn thousands of loyal customers swearing by its superior value for money.
The Recumbent design of the bike adopts a step-through frame which helps minimize pressure acting on your back, legs, and joints, while still giving you an effective cardio workout.
The seat on the 900XL is built bearing comfort and compatibility in mind, sporting a padded oversized seat and cushioned backrest. You can simply adjust your seat to accommodate your size, going from 5.3 inches up to 6.6 inches tall.
The pedals on this indoor bike are made larger to add extra convenience to your routine, complete with foot straps for a secure slip-free ride.
There are 8 levels of magnetic tension integrated into the 900XL, allowing you to set new goals for your exercise while alternating between various intensities.
Additionally, you can easily view all your fitness data such as burned calories, time, and distance, thanks to the included LCD computer. You can also monitor your heart rate, read directing via hand pulse sensors on the seat handles.
The 900XL Recumbent Bike can be transported from room to room without much hassle using its built-in wheels.
Pros
Large cushioned seat and backrest
Hand pulse sensors
8 levels of magnetic tension
Step-through design
Quiet operation
Cons
The display could use backlighting
Final Verdict
This is an incredibly dependable stationary bike, offering adequate workout options for any 60-year-old lady.
sixthreezero Around The Block Beach Cruiser Bicycle & eBike
Right out of a romantic movie, the classic Around The Block Beach Cruiser Bicycle from sixthreezero is ideal for women with a soft spot for casual cruising, with amazing quality and hundreds of positive reviews.
The frame on this bike is constructed out of solid steel to serve you for many years, with a width measuring at 17 inches. It has an eye-catching curvy shape available in lots of bright colors including coral, teal blue, and mint green.
The single-speed system makes for a simple yet efficient cycling experience on flat roads, while the pedal-backward Coaster brakes keep you safe by quickly stopping.
As for comfort, this bicycle promotes a healthy upright riding position to relieve the strain on your back and shoulders. The handlebars also allow for a better reach with foam grips to minimize slips.
This 26″ bike fits riders going from 5 feet, up to 6 feet, 2 inches tall. If you're on the shorter side, consider buying the 24″ size instead. It also includes a rear rack so you can carry some shopping bags or other items.
Pros
Stunning design
Promoted upright riding position
Simple operation
Pedal-backward brakes
Comfortable handlebars
Cons
Fenders are sold separately
Final Verdict
This bike is an excellent choice for 60-year-old women searching for a simple cycling experience to enjoy outdoor life without breaking the bank.
Firmstrong Bella Women's Beach Cruiser Bicycle
Aiming to provide women with a wholesome cycling experience that brings together style and functionality, the Firmstrong Bella Beach Cruiser Bicycle is as easy to operate as it's reliable.
The frame of the Bella Classic is a thick top cruiser body made of rugged steel to withstand all sorts of beating, serving users weighing up to 300 pounds. The seat is built to induce comfort, with dual springs to support you during longer rides.
Simple to operate, the 3-speed gearing system is controlled by a top-class Shimano shifting system, which means you can switch between casual cruising around the neighborhood and more challenging sloping roads.
Located on both the front and rear wheels, the included fenders help you avoid getting scrapped or having mud stains decorate your outfit. The built-in coaster brakes are quick to trigger, and the whitewall balloon tires provide a smooth roll.
The Bella Bike comes in 4 beautiful colors, shipped 80% assembled.
Pros
Comfortable riding position
Fashionable design
Affordable
Includes fenders
Responsive coaster brakes
More versatile than single-speed
Cons
Assembly instructions can be made clearer
Final Verdict
Looking for a middle ground between simplicity and versatility? The Bella Bicycle may be exactly what you need with multiple gearing options and comfortable riding posture.
Sixthreezero EVRYjourney Women's Step-Through Hybrid Cruiser Bicycle
For ladies who like to be prepared for all possibilities, the EVRYjourney Women's Step-through Hybrid Cruiser Bicycle by sixthreezero is a cycling choice that should really serve your cause.
It has a sleek swooping frame made of sturdy aluminum, designed to offer easy mounting/dismounting without having to overextend your legs, thanks to its convenient step-through style.
This bike also encourages riders to maintain an upright posture while cruising since it adopts a forward pedaling position that keeps your back straightened to avoid painful pressure.
This particular model of the EVRYjourney bike features a 7-speed Shimano external hub system that allows you to take on just about any road, from casual relaxed cruising to demanding hills and long-distance rides.
The sixthreezero bike can go as fast as 30 mph, recommended for rides up to 30 miles. The 24″ size works best for riders from 4′ 3″ to 4′ 11″ tall, while the bigger 26″ version is ideal for users from 5′ to 6′ 4″ tall.
Additionally, you can pick your favorite color combo out of the available bunch including navy, mint green, and teal.
Pros
Highly versatile
Step-through frame
Maintains proper back posture and leg extension
Wide-styled handlebars
Comes with matching fenders
Cons
You may need more padding for the seat
Assembly can be overwhelming for older people
Final Verdict
If you're trying to maximize versatility to conquer the not-very-straight roads standing between you and your destination, the sixthreezero EVRYjourney Hybrid Bicycle will help you achieve exactly this, but safely and in style.
What are the Benefits of Riding Bikes for the Elderly?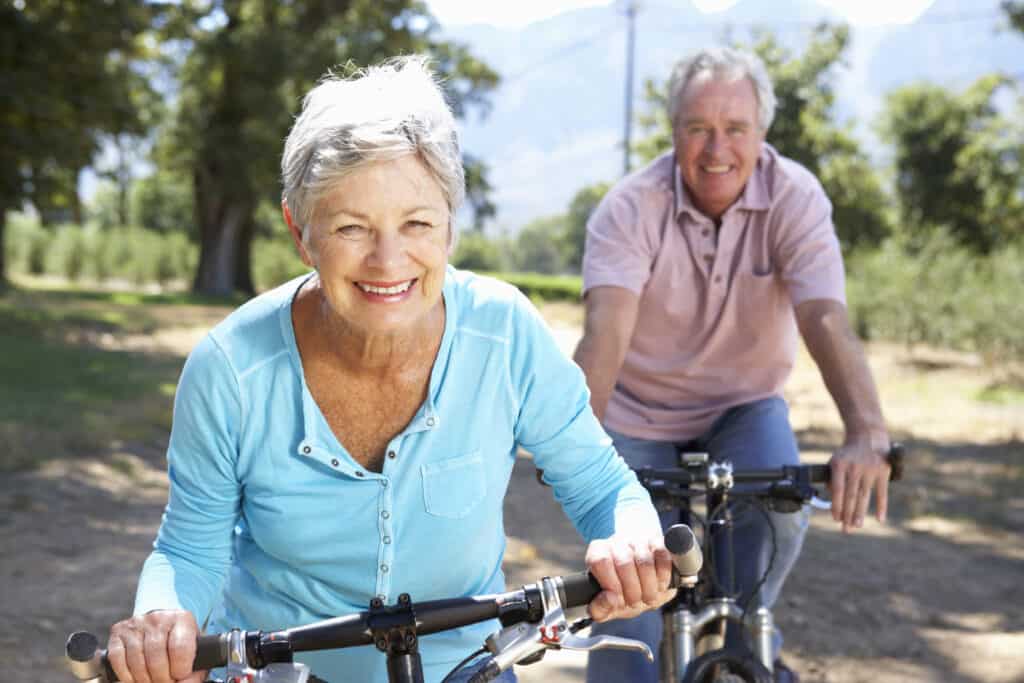 The benefits of cycling or riding a bike have been repeatedly discussed over the years, but for men and women above the age of 50, the advantages are so prominent that they completely transformed the world view of cycling as being exclusive to the younger generations.
In fact, according to statistics represented in the ACTIVE Data Report which reflects information collected throughout cycling events organized by Generation X in 2015, boomers (people aged over 50 years) are the single fastest-growing demographic when it comes to registering in such event. The percentage of senior registrations increased from 25% in 2014 to an impressive 31% the following year.
So let's take a closer look at some of the benefits that continue to draw more older folks to this fun sport:
Weight Control
One of the very first things that come to mind when we think about riding a bike is, of course, the exercise we can get out of it. In other words, how cycling can help you lose weight or maintain a good shape. This is also the case for senior citizens since bicycling helps them burn off calories while boosting their metabolic functions.
According to the U.S. Department of Health & Human Services, a healthy older adult should have a BMI (Body Mass Index) value ranging between 19 to 24. It was also found that 35% of adults older than 60 years were obese by BMI definition between 2007 and 2010, which means that more seniors are becoming in need of a reliable method to cut down on the extra weight.
Riding a bike, whether indoors or outdoors, can be a fantastic solution for elderly weight control. A senior bicycling at a moderate rate (less than 10 miles per hour), can burn 290 calories on average in 60 minutes.
Diabetes
Diabetes is a disease that's becoming increasingly prevalent among senior citizens, but it's also an area where cycling can be a huge help.
In 2015, according to the American Diabetes Association and the National Center for Chronic Disease Prevention and Health Promotion, 12.0 million elders suffered from diabetes, that's 25.2% of the population. Moreover, 84.1 million American adults had prediabetes.
Back in 2014, a study was done to determine how effective weight cycling can be in reducing the incidence of diabetes, which was found to have a significant impact on lowering diabetes risk in adults.
Cognitive Skills
As people age, their cognitive skills often get compromised and they tend to lose the "edge" they once had. This means having slower reactions, less focus, and an increasing inability to remember things.
Once again, science has proved that cycling can, indeed, produce a favorable effect on the cognitive function and overall well-being of older adults.
In 2019, 100 older adults (between the ages of 50 and 83 years) participated in a study, where cognitive function and well-being were measured before and after an 8-week period, during which 74 of the seniors were cycling for at least 3 times weekly and 26 were non-cycling.
The cycling elderly showed improved results in processing speed, accuracy, and mental health in comparison to non-cycling individuals.
Balance
It's quite common for older people to suffer from balance disorders that frequently accompany humans' aging process. Balance and gait problems are also one of the main risk factors for falls as well as the injuries that follow such shocks.
Luckily, cycling was found to be rather helpful in reducing fall risks in older adults. According to a 2018 case study where self-reported function and fear of falling were examined, older bicycle riders showed distinctly enhanced balance and better lower-extremity function when compared to non-bicycle riders.
Heart and Circulation
A sufficient dose of daily exercise can help senior folks combat cardiovascular diseases including high blood pressure, strokes, and heart attacks.
Bicycling on the regular stimulates heart work, thus strengthening your cardiac muscles to endure more strain if needed. This also leads to improved blood circulation as well as better lung functions.
The effects of cycling on the heart were studied by danish scientists over 14 years with the participation of 30,000 people between the ages of 20 to 93 years. It was found that individuals who practiced routine cycling were less likely to suffer from cardiac diseases.
Other than the stated health benefits, there are additional advantages for elderly people using bikes, such as independence when it comes to transportation. They'll be able to run simple everyday errands without having to wait on favors from relatives or paying for a cab every time they need to buy some milk from the local store.
What Should You Look for in Bikes for Seniors?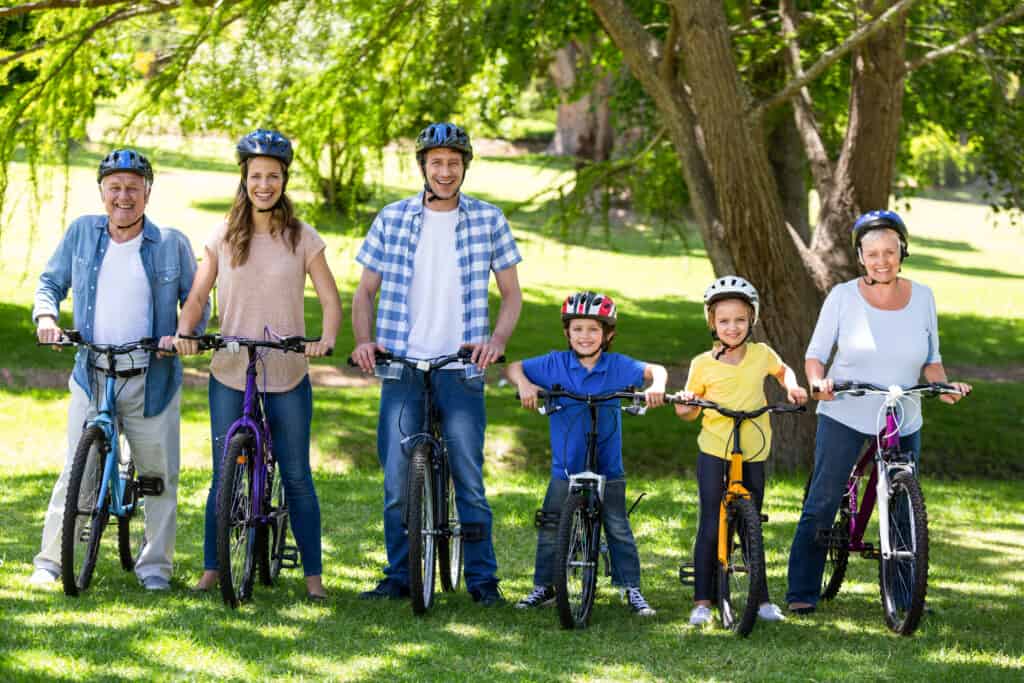 When shopping for a bike to best serve an older person, no matter its type, the following points should be considered in order to make a correct decision:
Type
First things first, you should begin by pinpointing the exact needs of the senior person on the receiving end. Majorly, there are 3 types of bikes you may encounter during your search: stationary bikes, outdoor bikes, and electric bikes.
Stationary bikes are ones used solely for exercising rather than transportation since they don't actually move as a whole. They're mainly placed indoors, possibly in a home gym, a garage, or whatever room you prefer.
Stationary bikes are typically heavier and bulkier than the other 2 types.
On the other hand, outdoor bikes are precisely what their name suggests; bikes that you ride outside your house in the open air. They come in loads of styles and shapes, with multiple frame designs and gearing options to accommodate different user demands.
As for electric bikes, also known as e-bikes, these are seemingly the same as regular outdoor, but with a distinct addition of a battery (Lithium-Ion) powering a motor. This allows for an assisted or fully motorized riding mode, depending on your bike's settings.
They're particularly helpful for elders with joint problems, such as arthritis or knee issues, to go on longer cruises without feeling pain.
Frame
After figuring out your targeted bike type, you want to pay attention to its frame design. Not every older person is unable to lift their leg as they mount a bike, but for those who have trouble doing so, a step-through or low-profile frame proves to be most valuable.
Seat
Of course, you don't want to overlook the design of the seat since it directly relates to the rider's posture and comfort.
Always opt for seats that are generously padded as they offer more support for the back and tailbone. Cushioned seats are soft and serve to reduce pressure build-up during workout sessions, thus elongating your exercise period with minimal strain.
Numerous stationary bikes also offer backrests that are either padded for extra comfort or ventilated to help you cool down as while in action.
Another aspect you need to keep an eye out for when it comes to seats and saddles is their height adjustability.
The best bikes for seniors are ones that include options for making size alterations, such as knobs or sliding rails, enabling you to increase and decrease the seat height until you achieve a comfortable fit.
Wrap Up
Buying the best bike for an older person isn't exactly a piece of cake. However, we're confident that once you've read our considerations and applied them to your own unique requirements, you'll indeed wound up with the perfect purchase out of our lists of the best bikes for 50, 60, 70-year-old man and woman.