Whether you're an expecting parent, already a mommy/daddy, or a relative/family friend to a youngster, you're probably wondering about the best type of toys you should get for your little bundle of joy.
If you've been searching the market for any while, chances are you heard the term "open-ended toys" flying around. This should come as no surprise since open-ended toys and play is a super hot topic in the early childhood education scene.
So what are open-ended toys and open-ended play? Well, to put it simply, these are toys or activities that have no set outcome. They can be played in lots of different ways, limited by your child's imagination only.
This type of toy/play does a fantastic job nurturing creativity and developmental skills, which makes it a must-have in the toy/activity collection for any kid.
Today, we're helping you start a fun yet beneficial collection of open-ended toys for newborns and older babies, as well as recommending some open-ended toys for toddlers and preschoolers.
We'll also be discussing open-ended play in more depth and talking about several open-ended activities your kid can enjoy. There's even a detailed buying guide to make sure you're choosing the right toys for your little one.
Without further ado, let's get started!
Open-Ended Toys for Babies
First up, we have a few of the best open-ended toys for babies. These include toys suitable for newborns and babies from 0 months and up until 12 months.
MINTLIFE Black White Flash Cards for Babies
Error: Unknown Link Type
The MINTLIFE Black White Flash Cards are an excellent choice for newborns aged 0 months and for babies up to 6 months old. Unlike most flashcards out there sized at an average of 5 to 6 inches, these cards come in a size of 8.4 inches to ensure that the infant can clearly see them when placed at a proper distance.
Based on the fact that newborn babies are sensitive to black and white colors, these flashcards are guaranteed to capture their attention thanks to their high contrast. This helps boost babies' brain development by stimulating their vision and ability to quickly find goals using both eyes.
This set includes 20 cards with an image on each side. They're waterproof and made of 350G coated paper, which makes them both sturdy and easy to clean.
The anti-glare surface protects your baby's eyes, the rounded corners keep from hurting your baby's hands, and the soy oil print makes these cards 100% safe for baby use.
Pros
Large size cards
Highly contrasting
Easy to clean
Soy oil print
Cons
These flashcards are fun, intriguing, and educational. They're perfect for brain stimulation from early on.
Manhattan Toy Skwish Classic Rattle and Teether Grasping Toy
This grasping toy by Manhattan Toy is another great option for babies aged 3 months and up. It has a 3-in-1 design that serves to encourage multiple sensory skills including touch and hearing.
First of all, this toy is a classic wooden grasping trinket that supports your baby's clutching motor skills. It's also a rattle with beads that slide back and forth for auditory stimulation.
This skwish is easy to grab for small hands, fitted with elastic ties that allow the toy to always return to its original shape after being flattened or squeezed.
It's made out of dense rubberwood that's splinter and chip resistant, with a water-based non-toxic finish to keep your child safe when they put the toy in their mouths.
Pros
Easy to grab
Always returns back to original shape
Water-based non-toxic finish
Cons
Although marketed for 0 months old newborns, it's better suited for babies at least 3 months old
This cool toy combines the classic features of a traditional teether with modern principles of open play, creating a unique sensory experience for your baby.
BOBXIN Baby Blocks Toy Set
Error: Unknown Link Type The BOBXIN Baby Blocks Toy Set is recommended for babies starting from 6 months old. It consists of 15 soft blocks and a textured ball (of random style).
The blocks are very soft and easy to squeeze. They make a squeaking sound to keep babies and toddlers engaged in playtime.
These blocks also promote reaching and grasping, so you can use them as an effective tool to encourage crawling. Being soft and durable, these blocks are suitable for a wide range of activities including chewing and stacking.
Additionally, you can use the BOBXIN Baby Blocks as bath toys since they float on the water and even spray water when squeezed.
Made out of food-grade silicone that's BPA-free, safe, and non-toxic, these blocks feature multiple vibrant colors with textured patterns of animals, numbers, and fruits.
Pros
Soft and durable
Textured for extra stimulation
Can be used as bath toys
BPA free silicone
Cons
Can be a bit tricky to clean
A staple toy when it comes to open play, these blocks do an excellent job sparking creativity and stimulating physical activity.
Hape Penguin Musical Wobbler
Ideal for babies 6 months and older, this penguin is full of intriguing features that are sure to keep your little one interested.
For starters, this penguin is a roly-poly toy that your baby can hit without causing it to roll away. It just bounces back up for hours of fun.
Additionally, the arms of the penguin shake amusingly while waddling. It even comes with a built-in bell that produces a tinkling melody to soothe your baby to sleep or gently wake them up.
Made out of sturdy wood with a child-safe paint finish, this Penguin Musical Wobbler is both safe and long-lasting.
Pros
Bounces back up upon hitting
Waddles and spins
Produces soft sounds
Sturdy wooden construction
Cons
Doesn't move well on carpet
Unique and amusing, this roly-poly toy is a wonderful tool to encourage active play. It even throws music into the mix for sensory stimulation.
Melissa & Doug Pull-Back Vehicles
This set includes 4 soft, lightweight vehicles that your baby can easily grab and roll. They're also designed with a rev-up mechanism that delivers impressive speed once pulled back and released.
The vehicles are a school bus, a police car, a fire truck, and a family car. They come in bright colors to capture your baby's attention, even more so as they zoom across the floor.
The cloth covering the vehicles is removable to make cleaning easier, but don't throw it in the washing machine to avoid breaking the mechanism.
Pros
Plush to grasp
Bright colors
Lightweight
Very durable
Great acceleration
Cons
These pull-back vehicles introduce your little one to pretend play from early on, which is great for stimulating cognitive skills.
Final Verdict
Suitable for newborns and babies up to 12 months old, these open-ended toys are perfect to get your little one started on their development journey.
Open-Ended Toys for 1-Year-Olds
Here are 3 of the best open-ended toys for 1-year-old toddlers to support their mental and physical development:
Goobi Juniors Play Sticks Construction Set
This particular set includes 20 jumbo pieces consisting of 12 bars (5.7 inches) with strong attraction points at each end and 8 hollow steel balls (2.4 inches) coated with metallic paint. The bars are made of ABS plastic to ensure your toddler's safety.
Goobi Juniors Play Sticks come in vibrant red, yellow, blue, and green colors to attract attention. They're BPA free and comply with ASTM (USA) and EN71 (EU) toy safety standards.
This set is backed up by a money-back guarantee so you'll receive a full refund if you're not 100% satisfied with the product.
Pros
The balls are too big for a child to put in their mouths
Non-toxic materials
Easy to clean
Cons
The magnets are too weak to support bigger structures
If you're looking to sharpen your toddler's creativity and motor skills, then you can't go wrong with these play sticks.
Fat Brain Toys InnyBin
The InnyBin is basically a cube fitted with elastic bands on the sides. It comes with 6 chunky shape blocks made with interesting textures to excite little fingers.
These shapes include a cube, a sphere, a flower, a diamond, a triangle, and the happy Fat Brain logo. Each shape measures at about 2 inches, while the cube itself measures at 5.5 inches.
The InnyBin is made out of high-quality, BPA-free materials, and it comes in a bright assortment of colors to ensure maximum engagement.
As your kid pushes the shapes through the elastic bands of the cube, they won't be able to hold back their curiosity. They'll start to investigate and experiment meanwhile nurturing spatial reasoning, tactile exploration, and fine motor skills.
Pros
Very sturdy
Super engaging
Great value for money
Cons
The shapes aren't soft enough for chewing
The InnyBin is a terrific open-ended toy to get your toddler started on the right track for exploring different aspects of spatial reasoning and tactile exploration.
Manhattan Toy Wee Baby Stella
This doll is 12 inches tall and it features a microencapsulated lavender scent that's released upon gentle hugging to soothe your child for bedtime. It even comes with a bedtime storybook, a cute teddy bear, and a magnetically-attachable bottle.
The Wee Baby Stella is designed for cuddling and snuggling, but it also makes for a great friend throughout the day. It's super soft with embroidered facial features, a magnetic pacifier, a plump tummy, and removable/interchangeable outfits.
This baby doll makes for a wonderful gift, especially since it's available in a variety of fabric skin tones, hairstyles, and clothes for boys and girls.
Pros
Magnetic pacifier and bottle
Available in a wide variety of designs
Releases lavender scent for soothing
Cons
The scent faded away too quickly
This baby toy is a great choice for promoting empathy and compassion in your toddler's personality.
Final Verdict
With the purpose of supporting mental and physical development, this selection of toys is designed to shape up your toddler's skills in such a critical stage.
Open-Ended Toys for 2-Year-Olds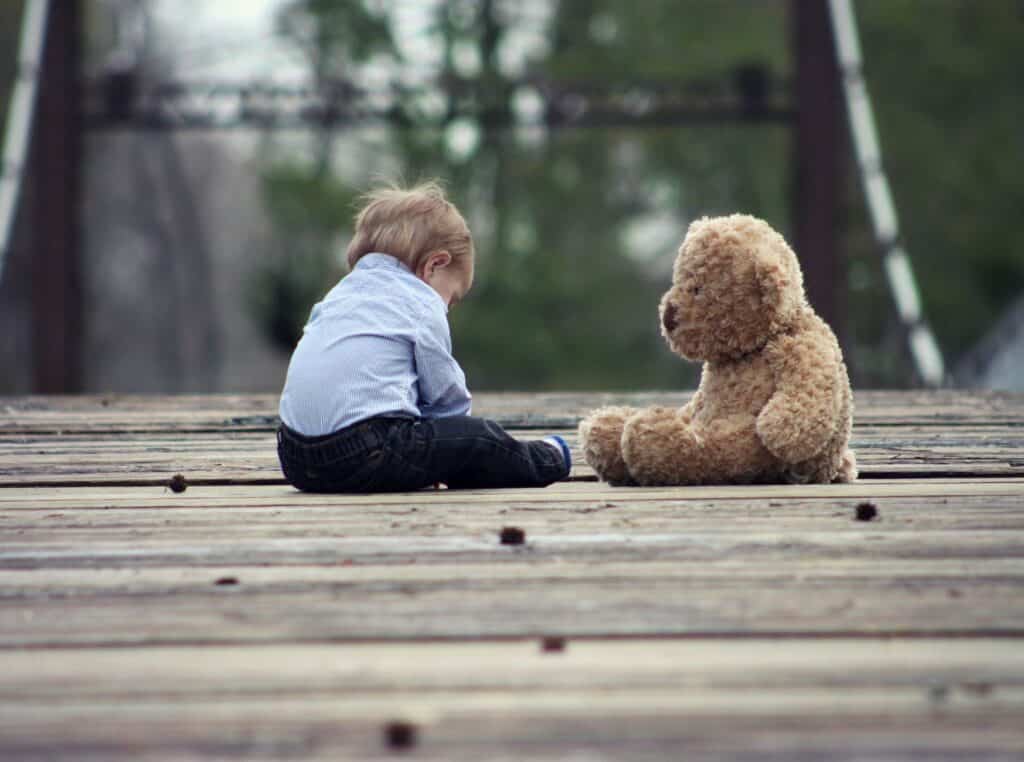 Has your toddler joined the 2-year-old club? Here are a few open-ended toys to keep their minds busy:
Boley Farm Animals Toys
Kids love their animals, which happen to make terrific open-ended toys. These Farm Animals Toys by Boley are a nice option for a 2-year-old to learn and pretend play.
This bucket comes with a rotating handle for easy carrying and includes 12 different animals found on the farm such as chicken, sheep, horse, cow, dog, and more. Each animal is made out of water-resistant hard silicone and measures about 3 to 4 inches long.
The colors are true to life whereas the corners of each animal toy are smooth and rounded to guarantee children's safety. These toys are also pretty durable, built to last for hours of rough play whether inside or outside the bathtub.
Pros
Durable materials
Easy to clean
Water-resistant
Cons
Weird odor needs to be washed before first use
Old but gold, this selection of toy animals is perfect for nurturing pretend play, which encourages problem-solving and decision-making skills.
Play-Doh Modeling Compound
Unless you've been living under a rock, you should know what play-doh is. This fun, versatile modeling material is one of the best toys/activities you can get for your 2-year-old toddler when it comes to open-ended play, and it may even turn into a hobby that sticks with them for many more years!
The set we're talking about here features 10 cans of different colors play-doh so your kid can unleash their creative side using the right colors. The frustration-free packaging, cans, and lids are all recyclable, with each can weighing about 2 ounces.
Play-doh compound is non-toxic, non-irritating, and non-allergenic. Any kid should be able to safely play with it, but adult supervision is still needed to make sure they don't eat it.
Pros
Vibrant colors
Non-toxic, non-irritating, and non-allergenic
Recyclable packaging, cans, and lids
Cons
The cans are a bit too small
A classic in the world of open-ended toys, play-doh is the go-to choice when it comes to bringing out your toddler's crafty and creative side.
Skip Hop 3-in-1 Baby Activity Walker
The Skip Hop 3-in-1 Baby Activity Walker is an awesome choice in this aspect, designed to adapt as your little one grows older. So not only is it a walker that your toddler can push and pull in wagon mode (which is stage 1), but it also transforms into two more structures for extended fun.
In stage 2, the wagon becomes a seat for ride-on mode, ideal for children learning floor-to-floor motion. As for stage 3, the walker becomes a scooter for older toddlers.
The Skip Hop 3-in-1 Baby Activity Walker also features buttons that trigger headlights and amusing sound effects.
Pros
Grows with your toddler
Very versatile
Adjustable handle height
Cons
The wheels can be a bit too fast
This walker is a spot-on toy for supporting your kid's imaginative mind meanwhile doing some physical activity.
Final Verdict
Creative and stimulating, these open-ended toys are perfect for nurturing your 2-year-old sensory responses.
Open-Ended Toys for 3-Year-Olds
Don't know what toys are equipped to support open-ended play for your 3-year-old? Well, here are a few picks:
SimplytoPlay Sensory Bin Tools
These tools are made out of real wood, which children tend to enjoy the feel of. They're also sized just right to suit the little hands of toddlers.
This set includes 7 unique tools, all sanded down for a smooth finish. Inside the cotton bag, you'll find 2 wood bowls, 2 scoops, a bean pot with cover, and a bamboo tong.
These tools allow you to whip up an affordable sensory bin for long play sessions. Just pair them with rice, oats, pompoms, or beans and you're all set.
Pros
Made of real wood
Good size
Perfect for sensory bins
Cons
Interactive and interesting, these bin tools make for hours upon hours of play to feed your kid's growing curiosity.
Kidzlane Kids Doctor Kit
Not only does this kit help your toddler learn more about the human body, but it also helps ease their fears regarding doctors and hospitals as they get into the doctor/patient role play.
This kit includes 12 medical gadgets such as a syringe, a blood pressure monitor, glasses, and a reflex testing hammer. There's also a cell phone that produces exciting melodies and a stethoscope that gives a real-life heartbeat/coughing sound.
This set comes with a big, sturdy carrying case to fit all your little doctor's tools and keep them secure thanks to the snap-lock. The gadgets are durable and easy to clean for easy hygiene maintenance.
The Kidzlane Kids Doctor Kit is backed up by a 100% satisfaction guarantee in case you're not completely happy with the purchase.
Pros
Well made gadgets
Sturdy carrying case
Batteries are included
Cons
Not the best sound effects quality
Nothing does a better job encouraging pretend play than a doctor's kit. With 12 gadgets included, this set is as entertaining as they come.
Simple Sweet Fabric Play Scarves
Colored scarves are a great raw material for open-ended play. Your child can use these Play Scarves by Simple Sweet for endless fun activities, granting you lots of value for money.
Toddlers can wear them as capes, make them into skirts, play dress up, make Halloween costumes, hide things under, lay them out for a picnic, and the list goes on.
These scarves, in particular, are 100% polyester with a soft, silky feel. They come in a set of 6 colors including blue, red, yellow, pink, purple, and green.
The colors are vibrant and long-lasting, where each scarf measures at 35 × 35 inches. You also get a cute storage bag for convenient cleanup.
Pros
Long-lasting quality
Vibrant colors
Cut storage bag
Outstanding value for money
Cons
Simple yet highly effective, play scarves will accompany your toddler in plenty of open play sessions as they get older.
Final Verdict
As your toddler's capacity for imagination and creativity increases, these open-ended toys will definitely keep up.
Open-Ended Toys for 4-Year-Olds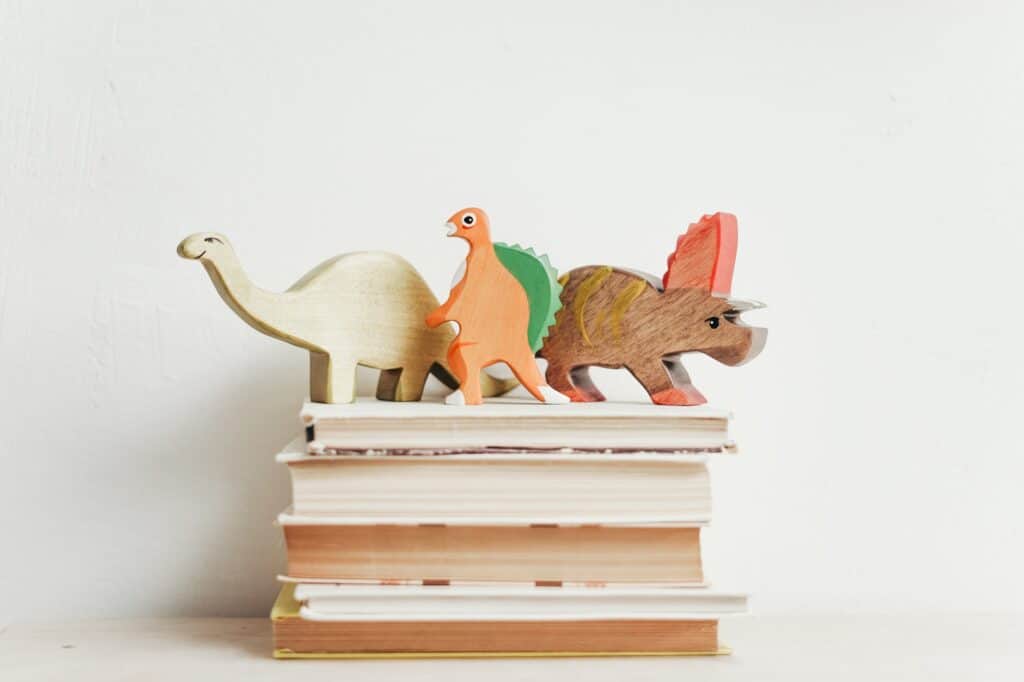 Last but not least on our grand list, the following open-ended toys are best suited for older toddlers around 4 years old and up.
Hape All-in-One Wooden Kids Art Easel
The All-in-One Wooden Kids Art Easel has a double-sided that features a magnetic whiteboard on one side and an erasable chalkboard on the other side.
The magnetic whiteboard allows your kid to hang paper for drawing or painting. They can also attach fridge magnets to make shapes. The traditional chalkboard side lets your toddler play teacher or just scribble around for fun.
The height of the easel is adjustable to accommodate children of varying ages and sizes. Made of high-quality wood with a non-toxic finish, this easel also comes with 3 paint pots and a replaceable paper roll.
Pros
Double-sided design
Adjustable height
Comes with paint and extra paper
Cons
An awesome tool to bring out your toddler's artistic side, this double-sided easel offers two times the fun!
PicassoTiles Magnetic 3D Building Blocks
With no size limitations, your child can go as big as they want with their structures simply by adding more pieces. Unlock typical blocks, each piece of these tiles can be swapped and an option for expansion is always on the table.
The tiles are a range of squares and triangles of different sizes and colors. They're easy to construct, sturdy while in shape, and simple to put away for storage.
Pros
Intriguing shapes
Strong magnets
Lots of pieces to work with
Cons
Can crack if you step on them
These 3D building tiles are a fantastic way to improve your little one's understanding of color, geometrical shapes, magnetic polarities, and architecture.
Lewo Wooden Rainbow Stacker Blocks
These colorful blocks are flat, which allows them to stand up well without falling over. Your toddler will get 6 arch-shaped tiles of different colors and sizes to inspire their creativity.
Children can use these arches as tunnels, hills, small houses, beds/rocking chairs for little toys, and much more. Nested together, the 6 pieces measure at 10.4 inches wide × 5.1 inches high × 1.2 inches thick.
This rainbow stacker is made out of non-toxic wood and finished with child-safe water-based paint. It complies with the US Toy Standard, and it's ASTM and CPSIA approved for safety.
These blocks arrive in stylish packing, which makes for a nice gift. They're solid, sturdy, and best of all, very affordable.
Pros
Flat blocks are easy to stack
Child-safe paint
Affordable price
Cons
The paint is prone to chipping
These rainbow stacker blocks allow your toddler to unleash their imagination by incorporating them in various games.
Final Verdict
More interactive and engaging, these open-ended toys are highly effective when it comes to shaping up your 4-year-old's advanced mental skills.
What is an Open-Ended Toy?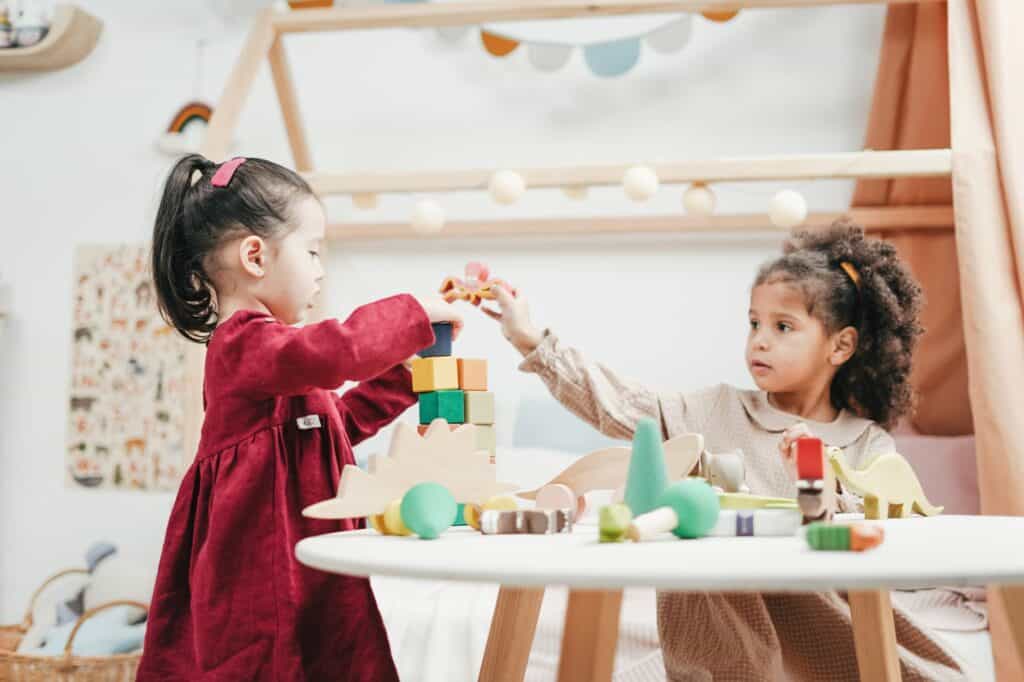 For many people, the first thought that comes to mind when they hear the words "open-ended toy" is mostly related to the physical appearance of the toy. However, this couldn't be any further from the truth.
An open-ended toy is simply a toy that supports open-ended play, which means that the real question to answer here is: what is open-ended play?
Basically, open-ended play is an activity with no predefined structure or preset goals for the play pattern linked to the toy. The entire experience (or at least the vast majority of it) is a result of the child's imagination and ability to come up with different ways to play with the toy.
Think of open-ended toys and activities as a blank canvas that your kid interacts with and brings to life. These toys allow your baby to make up stories, characters, problems, and solutions.
A good comparison to help you understand what open-ended toys are is between puzzles and playdough.
On one hand, puzzles can be fun and all, but they have a specific goal to achieve – completing the puzzle. Once the child puts all the pieces together, the game comes to a conclusion with no extra room for play.
On the other hand, playdough literally offers unlimited possibilities when it comes to what your kid can create and play with. Here, the child is the master of their own play destiny.
Why is Open-Ended Play Important?
Now that you have a better idea of what open-ended toys are, let's discuss the importance of open-ended play and how it can be beneficial for your child.
1. It allows your child to be creative
One of the most significant advantages of open-ended play is that it supports creativity in your child. Let's say you got your kid a SpongeBob toy with a built-in soundbox to make him talk and sing.
Sure, your child will be entertained and they'll learn that their actions have consequences as they trigger some buttons, but that's about all they can do with the toy.
Being a popular character, your child already has assigned specific traits to the toy. For example, SpongeBob is a male who lives in the ocean and makes burgers. Your child even knows the names of the characters in the toy's world, so they don't need to make up new ones.
Now, let's picture how different the scenario will be if your child got a non-branded stuffed cat instead. Because it's a brand new character in your baby's life, they can decide every trait on their own.
Your child can decide whether the cat is a boy or a girl and what its current mood is since there's no permanent smile plastered on its face. Your kid will be in charge of creating an entire world for this cat, with all sorts of friends and adventures depending on their day-to-day imagination.
2. It helps your child process information
Open-ended play also promotes the processing of information from early on. For example, some children struggle with being stuck at home all day instead of going out.
This is especially true if your kid goes to kindergarten or has already started school, but they're staying inside because the year is over (or on the account of a certain pandemic). Maybe your child is used to visiting the grandparents and going out on the weekend, so they don't quite understand why that's not happening.
Now, let's add stuffed animals to the equation. Your kid will be able to turn the stuffed toys into friends and hold conversations with them. They may mimic the voices or encounters they experience with relatives or classmates.
The idea here is that the child will be able to reenact what he sees and feels, and will understand that toys are still friends with him and each other, even if the actual people aren't present.
Many parents also give their daughters or sons a baby doll around the same time a new baby is due. Similarly, this helps children process the idea of a baby and the role of being a caring sibling.
As you can tell by such situations, open-ended toys allow for pretend play unlike any other type of toy. This gives children a chance to cope and process information in their own way.
3. It encourages your child to solve problems
One of the main issues with closed-ended and more "entertaining" toys is that they often force the child into the role of a passive participant.
Say there's a toy that lights up or produces a sound when your kid presses a button. Yes, it's going to be fun and interesting, but there's nothing more to it. Other than the usual learning of cause-and-effect (when I press the button, I see light/hear music), the toy is pretty limiting.
On the other side, picture a set of building blocks. The same cause-and-effect aspect is there, only much much wider. For example, "when I hit two blocks together, they make a noise" or "when I put too many blocks on top of each other, they fall".
These scenarios do wonders for children in the department of problem-solving. The lack of specific patterns or instructions encourages the child to resolve issues on their own. For example, they need to figure out how to stack blocks without them falling down.
4. Your child will learn more than you think
Another reason why open-ended play is important for any child is that they'll learn more than the toy or activity seemingly allows. This includes making decisions and choices, reacting better in various situations, feeling inspired, being responsible, and enhancing cognitive skills.
5. It's timeless
Finally, open-ended toys and activities last through the ages. The simplicity of these toys just makes them timeless.
Think about that Lego set you had growing up and how your child can play with the same set, feel the same excitement, and get the same benefits.
Open-ended toys encourage creativity and allow the child to fabricate their own game every time they play with it. Such toys don't go out of trend, they remain relevant as long as a person can use their imagination.
Open-Ended Play Ideas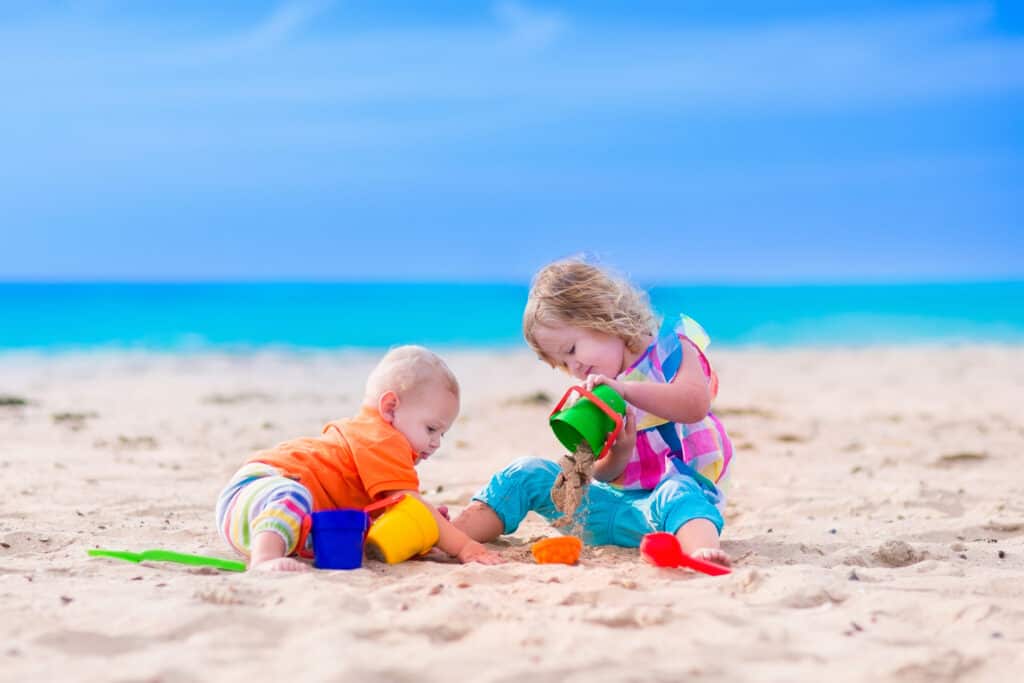 Other than open-ended toys, you can plan open-ended activities using everyday items that you can find right at home. Here are some simple yet entertaining open-ended play ideas for your child to try:
Water Painting
Good old painting is fun and all, but the mess it leaves behind can be too much to handle, especially after a long day.
Instead, why don't you give water painting a shot? This is a great alternative where your child uses water to paint or draw.
Here's what you'll need:
Construction paper
Tape
A small cup of water
A paintbrush
Now, tape the paper down onto the floor, onto a wall, or onto a table and let your kid paint away.
Your toddler may stir the water with their finger or the paintbrush (you can also let them use a carrot stick). They may dip their hands into the water and press or wipe them onto the paper, or they might use the wet brush to make shapes.
Water Pouring
Kids love to touch, splash, dribble, and dunk water – so why not give them more of what they like? Water pouring is a fantastic source of open-ended play and a really affordable one at that.
Here's what you'll need:
A shallow bin
Various bottles and containers
Water
Food coloring if needed.
Now, you can set a mix of empty and half-filled bottles of water. Use clear water or add food coloring for visual effects.
Your child may dump all of the water out into the main bin and they may try to pour the water from one container into another. Also, they may simply play with their hands and splash in the water.
Oatmeal Set up
Sand, plus a shovel and a bucket equal hours upon hours of fun! But at home, this also means seriously annoying cleanup later on. The solution? Oatmeal of course! Oats have a better texture and less grit than sand.
Here's what you'll need:
A small shallow bin
Dry oats
A few small containers or bowls
Scoops and/or spoons
Your kid may use their hands, a scoop, or a spoon to fill the containers with oats. They may pour the oats back and forth between the containers, simply run their hands through the oats to feel it against their skin.
Another thing you can try is putting a cup of dry oats in the bathtub and letting your child play all they want. Once they're done, add water to make an oatmeal bath. It's great for the skin.
Straw, Spaghetti, and Shaker
Kids love to play with food, and that's exactly what you're gonna give them (minus the mess, obviously. Based on personal experience, this idea for open-ended play will keep your little one occupied for hours on end.
Here's what you'll need:
Some thin straws
Spaghetti noodles
An empty spice bottle with a shaker-style lid
You may notice your toddler exploring the spice jar and attempting to unscrew the lid. They may also explore the straws or noodles and try to bend/break them.
Your child may try to pass the noodles through the straws or pass the noodles and/or straws through the holes in the shaker lid.
Containers and Lids
A particularly awesome aspect of open-ended playtime is how the simplest things can pack tons of fun. This is exactly the case with this idea using some containers and lids.
Here's what you'll need:
Several containers and bottles, with their lids and caps. If possible, include a variety of colors and shapes here.
Now, separate the containers from their lids for this one and present them as such. Your toddler may try matching the lids with the containers or stacking the containers to make a tower.
They may fill the containers with different toys or items from around the house, or they may pretend to eat or drink from the containers.
Homemade Playdough
There's nothing that screams open-ended play quite like playdough. If you want to make sure your child isn't playing with anything potentially toxic and want to save some money in the process, try the following recipe to make homemade playdough super easily.
Here's what you'll need:
1 cup flour
1 cup of water
1 tablespoon cream of tartar
1 tablespoon oil
½ cup of salt
Food coloring
Blend the flour, cream of tartar, salt, and oil together. Mix the food coloring with the water and add it to the flour mixture. Put it in the microwave for 1 minute, stir it well, then microwave it again for 1 minute.
Take the mixture out, stir, and let it sit until it's cool enough to touch. Knead well and voila, playdough.
How to Encourage Open-Ended Play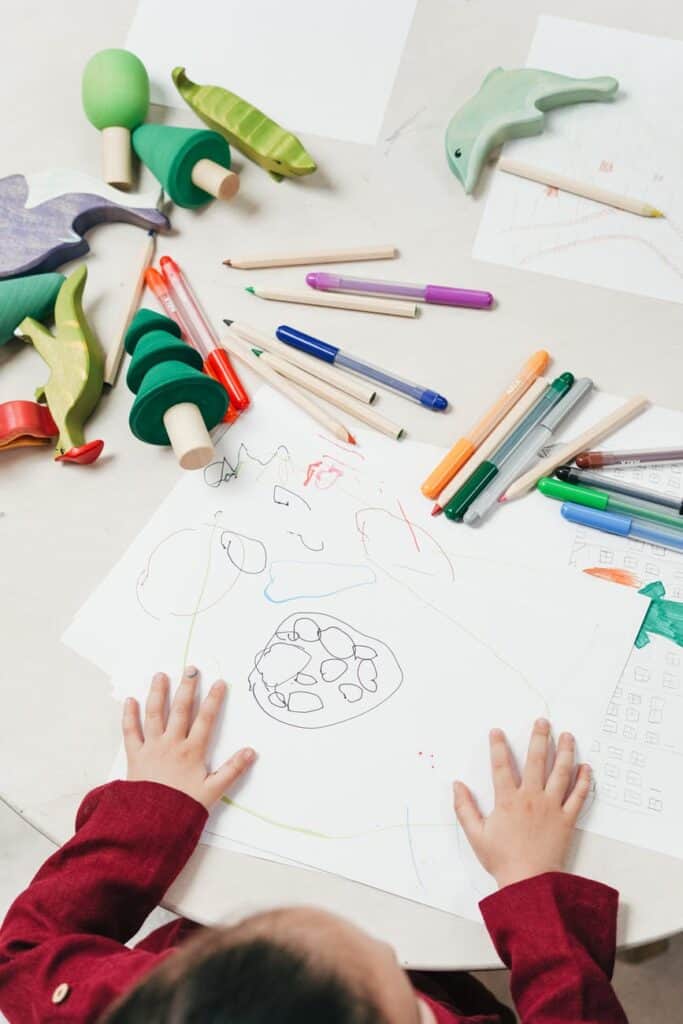 It's one thing to understand the benefits of open-ended play and have some ideas to try out, but it's a whole different story to actually get your child to participate in open-ended play.
This brings about the question: how can you encourage open-ended play at home?
Well, the good news is that there are several simple yet effective ways to get your kid invested in open-ended play. Here are some steps that you can try:
1. Give your child enough downtime
Between homework, extracurricular activities, and family functions, you could be over-scheduling your kid's day without even realizing it. This should change if you want your child to engage in open-ended play.
Giving your kid too much to do and having them constantly on the go takes away from their ability to deal with boredom and come up with ways to fill their time.
Open-ended play works best when the child has enough downtime on their hands to figure out ways to create entertainment on their own. Even if your little one participates in many activities, downtime is crucial to accommodate free play.
Downtime is your child's chance to relax, be bored, and start turning the creativity wheels in his brain. This could be an hour before they start the day, while you're making dinner, or before bedtime.
2. Ask your child open-ended questions
Asking open-ended questions is a great way to give your child a helping nudge towards open-ended play. As a bonus, you also get to spend some quality time together and get to know how his mind works.
You can do it while playing with your kid or as you watch them play. Such questions allow children to direct their own play without you unintentionally taking over.
Before you start asking questions, you want to give your little one your full attention first. As they share their opinions, stories, and descriptions, respond by asking open-ended questions such as:
Why do you think that happened?
Why did you choose that toy?
How does it work?
Why is the dog in the story crying?
If you could go to any place, where would you go? Why?
How can you help your little brother?
What does this remind you of? Why?
What are you most excited about for tomorrow?
What else can you use?
How are you planning to do this?
How are these different / the same?
3. Provide multiple options for open-ended toys
Open-ended toys are available in a variety of options that serve different purposes.
Some toys promote creativity and stimulate physical activity, while others challenge kids mentally. Some encourage decision making and taking the lead, whereas other toys are fun games for the whole family to enjoy together.
Filling your home with lots of different types of open-ended toys helps encourage your child to use them as tools to create, explore, and express.
4. Include household items
One thing that we often forget is that children will explore anything they get curious about, which means that anything could be a toy!
Raise your hand if you ever caught yourself telling a kid not to play with an item because "it's not a toy", meanwhile, you'd still give them a plastic bottle or a wooden spoon to play with. Let's face it, we've all been there!
Open-ended play doesn't need a fancy budget or a whole lot of work. For example, a big cardboard box that you got from an online order can become a house, a fort, a car, a canvas, and even a dancing floor.
Boxes, paper towel tubes, and kitchen utensils are among the household items that are great tools for open-ended play. Your kid's imagination will only get better by using non-toy items around the house as long as they're safe and age-appropriate.
5. Dedicate a spot for arts and crafts
As we mentioned in the previous section, arts and crafts are one of the best outlets to promote open-ended play. So, it's a good idea to designate a space in your home for making art.
This can be as simple as setting aside a table and a chair in a corner of the kitchen (of course, you get the added benefit of not worrying about spills!).
You can set up an easel in the living room where your child can paint, write with chalk, or play with play dough. Or, perhaps you can transform the dining table into an art studio between meals.
Additionally, you should store art supplies in the same containers to teach them how to be organized. So, keep pencils in the same box, markers in a certain marker bag, and paint in the top drawer of their desk.
6. Let your child be bored
Children who are used to being entertained will typically hit you with the infamous "I'm bored" when you put them in a situation where they need to figure out ways to entertain themselves.
Don't back down right away and give them entertainment solutions. No, let them stay bored instead.
You see, boredom is the key to unleashing your kid's creativity. So before you rush into supplying the child with things to do and hovering over every step, motivate them to come up with a way to not be bored.
They'll learn the important skills of not only tolerating boredom but also fixing the problem themselves.
7. Let your child be in charge
It's pretty common for parents to be guilty of taking over their kids' playtime. For example, offering a craft activity to do with your child but end up telling them exactly how to make it.
Nothing kills the benefits of open-ended play more than others telling a child what to play and how to play it. There's a huge difference between supervising and controlling – every parent or guardian should learn the difference.
By following your kid's lead, you're encouraging their creativity and problem-solving skills. Otherwise, you're just diminishing their potential.
Open-ended activities are well designed to let your child lead without issues. You can be there to help and support, but allow the child to create his own play or artwork without projecting the "finished product" you have in mind.
You can also ask your kid what he wants to play and let him make the decision such as playing in their bedroom or in the living room. Asking open-ended questions can help get them to determine the direction of their playtime.
Wrap Up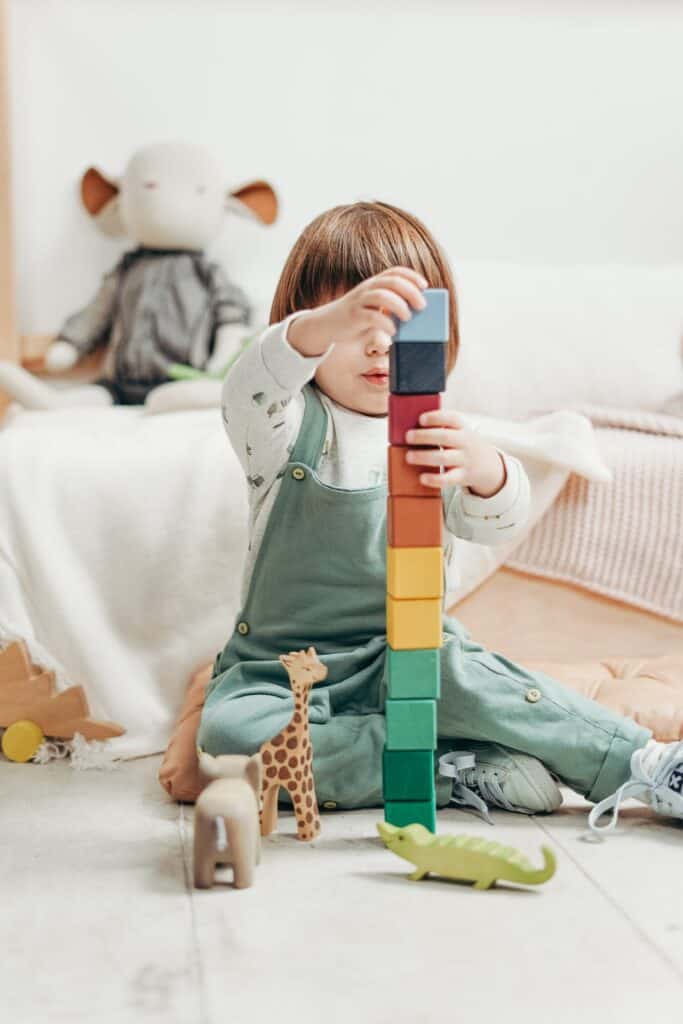 We can go on and on about the benefits of open-ended play, but at the end of the day, your child won't be getting any of them unless you provide the right tools.
This is why we included only the best options on our extensive list of open-ended toys for kids to make sure your child is sufficiently engaged.
Inspiring creativity in your little one is crucial to develop other skills such as information processing and problem-solving.
Remember, don't try to rush or force the process. The best thing you can do is support and guide while letting your kid take the lead.