You keep calling out your kid's name but the sound of your voice hardly registers or you get a one-word answer, "coming", but your child stays put, game controller firmly clutched in his hands; his undivided attention fixated on the screen and the game playing on it.
Sound familiar?
Right at that minute, you'd like to do nothing more than just snatch that damn game controller and fling it against the wall. But, here is why most parents don't do it. Watching kids every minute of the day is luxury that no parent can afford in these hectic times, not even stay at home moms.
So, the prospect of something that keeps the kids occupied and out of trouble and safe in the confines of your home, does not seem like such a bad thing, at least on the surface. 
But, there is a sinister side to those seemingly harmless video games!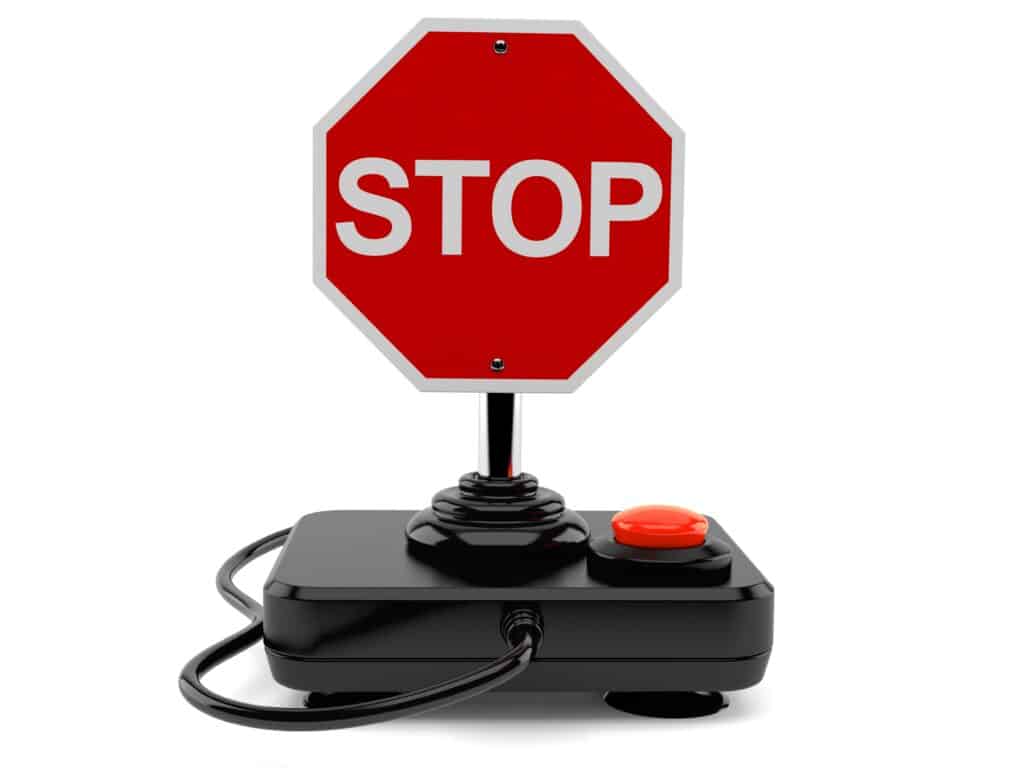 Some of these games are quite violent and they can increase aggression in kids. Even if you make it a point to monitor the game genre, the fact is that games do give kids a reason to spend a lot of time indoors and sitting in one place. That can do a lot of harm not just to the physique of a growing child but also to his/her social skills.
In fact, a lot of children spend so much time in the gaming world that the line between real and fantasy begins to blur for them. Then, there is the problem of how children who spend a lot of time playing video games end up neglecting their studies.
Investing long hours in video games can actually damage a child's ability for long term concentration. Also, the one track thinking can make one part of the brain stronger at the expense of another part. But, what a child needs is whole brain exercise. And, that's not even the worst of it!
Video game are addictive even if an actual addiction is rare!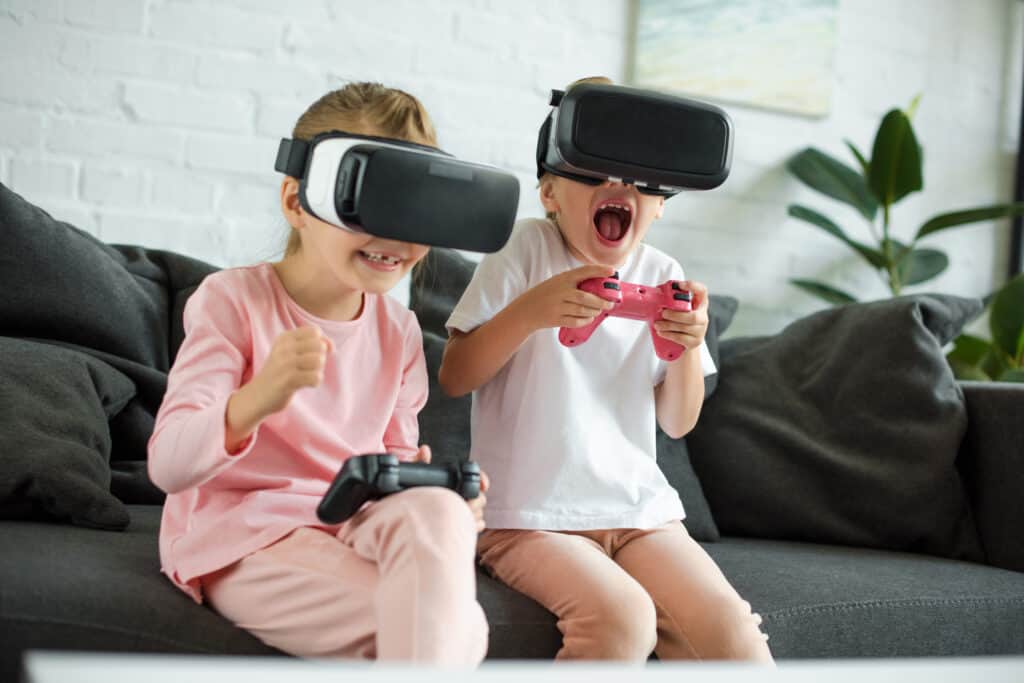 No, game makers will not openly admit that their products are designed to be addictive, but this is an undeniable fact. Of course, this does not mean that every child who owns a game console is an addict.
However, video games do mess up the dopamine mechanism in the brain, pretty much like sugar does. It is simple; when we experience something pleasurable, dopamine floods the noggin and this makes us feel good.
In time, your brain gets used to this dopamine burst and starts craving more of it. To get more dopamine, you have to increase the indulgence that causes it release, and that is how, "I'll play for just one more level" turns into a whole night or even day of gaming.
In fact, in time, this causes dopamine insensitivity in the brain. So, any other pleasurable task, think going out, hanging out with friends like a normal kid, does not get the brain the amount of dopamine it has come to expect. So, these acts are just not as pleasurable anymore.
Also, video games provide an artificial challenge and your brain enjoys challenges. Things would be alright, if these games would stop at that. But, they go a step further and provide the ability to win the challenge that is completely subservient to your own action. So, kids no longer feel the need to seek out real challenges to keep the noggin entertained
And if that is not enough, gaming engages the amygdala, which is the emotional center of the brain. So, it is a perfect "feel-good" activity. But, just like going through a tub of ice cream does not actually resolve the issue that led you to seek it out, video games are merely a Band-Aid that end up masking the problem. And as we all know, negative emotions are best resolved than swept under the carpet. 
How Do You Get Your Kids To Let Go Of Their Precious Game Controller?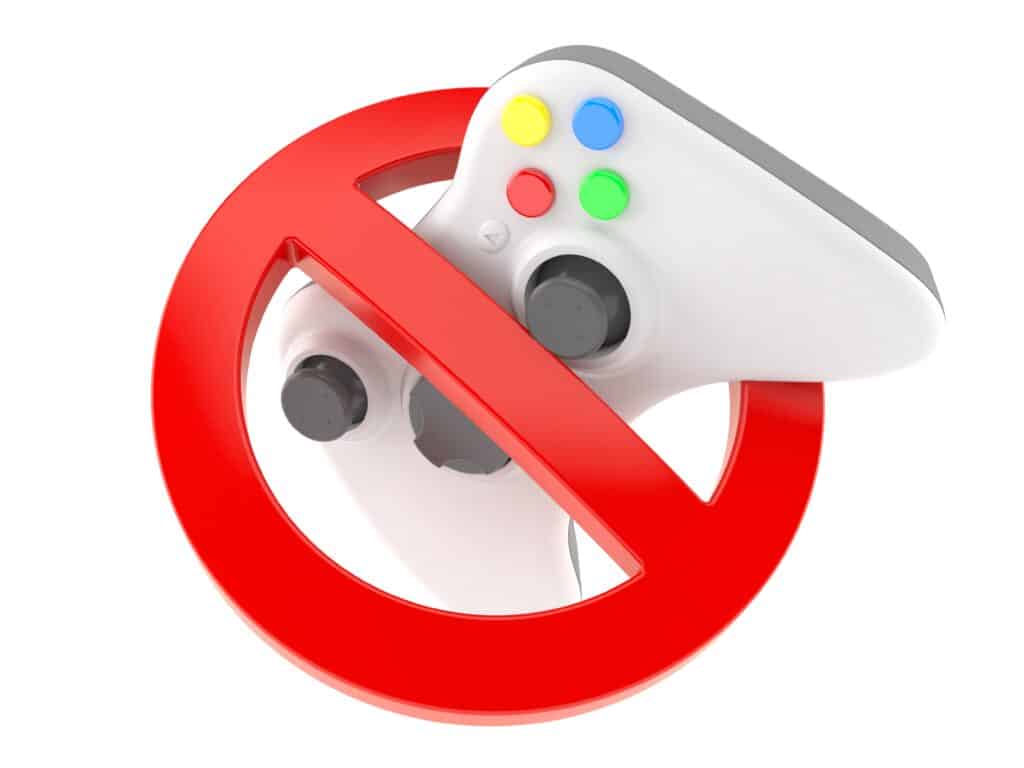 Yes, I will give you the answer to this question. But, first let me tell you about ideas that simply won't work.
Doing chores:
Think about it mommies and daddies, would you want to give up something pleasurable for something that is utterly boring, physically taxing and something that you totally hate?
Be honest about this with yourself, and I bet, you will hear the word "No", ringing in your ears.
Your kid may get the chore done to escape the imposition that disobedience earns in your household. But, it will send your child running even faster into the arms of his/her beloved video games.
After all, like all dopamine-release factors, video games too are an escape mechanism that let you forget about all that is bad or not to your liking in your life.
Reading books:
Sure, in theory books are a fabulous alternative to video games. They transport you into another realm and life and engage your attention. But, here is the big problem – Flicking through one page after the other to allow the story and the excitement to build is just too slow paced for a gamer.
They get that kind of stimulation within minutes and are in fact habituated to the fast paced world of video games. So, hand them a book, no matter what the genre and how interesting the work is, it will not live up to their expectations.
Playing board games:
You are asking a person to let go of a Ferrari in favour of a Ford, is that even humanly possible? Just like books, board games are simply not fast paced enough and don't offer the adrenalin rush that gamers so enjoy.
Heading outdoors: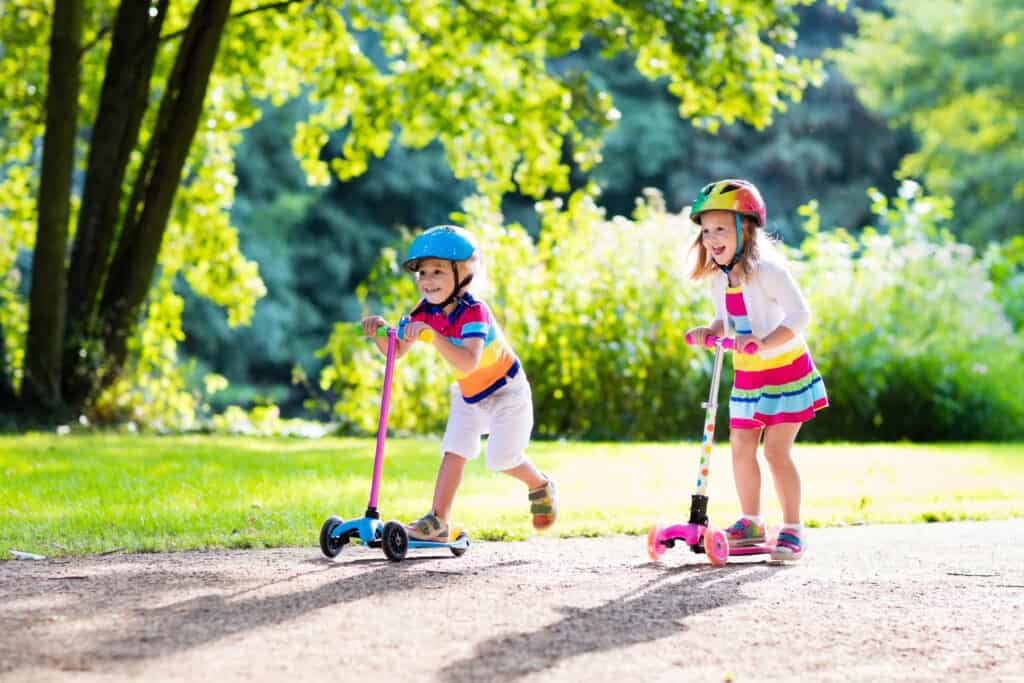 Gamers lose the taste for a lot of outdoor stuff, including playing outdoors for one simple reason, they are habituated to the well-defined framework of games.
But whether you take them out for a walk through the woods or ask them to go play outside with their friends, it is all just too abstract.
For instance, a child who is a heavy gamer will inevitably wonder, "go out and play what and play with whom?" when asked to spend time outside with his/her friends.
Unless the trip outdoors involves an actual challenge or an adventure or thrill of some sort, don't expect it to engage your little gamer.
Spending time with the family:
Depending on how much time your child spends with his video games and his/her reaction to being pulled away from them, family time may not seem like an interesting enough proposition.
In fact, your child may start associating the company of his loved ones as something that pulls him away from an act that he enjoys and loves. And, you certainly don't want that thought to take root in a developing psyche.
Punishments for too much gaming:
Finally, negative reinforcement never works when you want a child to move away from something pleasurable.
How Do You Pick Alternatives To Video Games?
Before I give you a list of things that you can try to draw your child away from the game console, let me tell you what makes these work.
Your aim should be to pick an activity that offers the same amount of mental and possibly emotional gratification that the child gets from the game.
Now, the fundamental thing that you have to understand here is that gamers, depending on their choice of game, not just develop different skills but also have different take away from the game.
And, you will have to account for these differences when choosing alternatives to video games. Let me give you a few examples here of what different game genres offer:
Shooting games and sports games: The thrill of competition and winning the competition.
Strategy games: The fulfilment of gaining mastery over a skill/subject.
Networked games (MMORPGs or clan games): The joy of being a part of a group or sharing a goal with others or being part of a team or even socializing with those who have similar interests.
Turn based tactics: The high of strategizing and executing the strategy.
Racing and war games: The adrenaline rush
Of course, this isn't a complete list of all the video game categories out there, but I am sure it has given you a gist of where I am going with this.
The best way to understand what your kid derives from his favourite video game is to simply watch him/her play or even participate in a round or two. Another way is to ask your child to teach you the game.
It goes without saying that if your child is used to you frowning upon his gaming habit, he/she will be wary of your sudden interest.
Be patient and be honestly interested in learning and eventually you will not just learn about what keeps your kid rooted into the video game but will also manage to develop rapport with your child.
So, what are the best alternatives to video games – These actually work!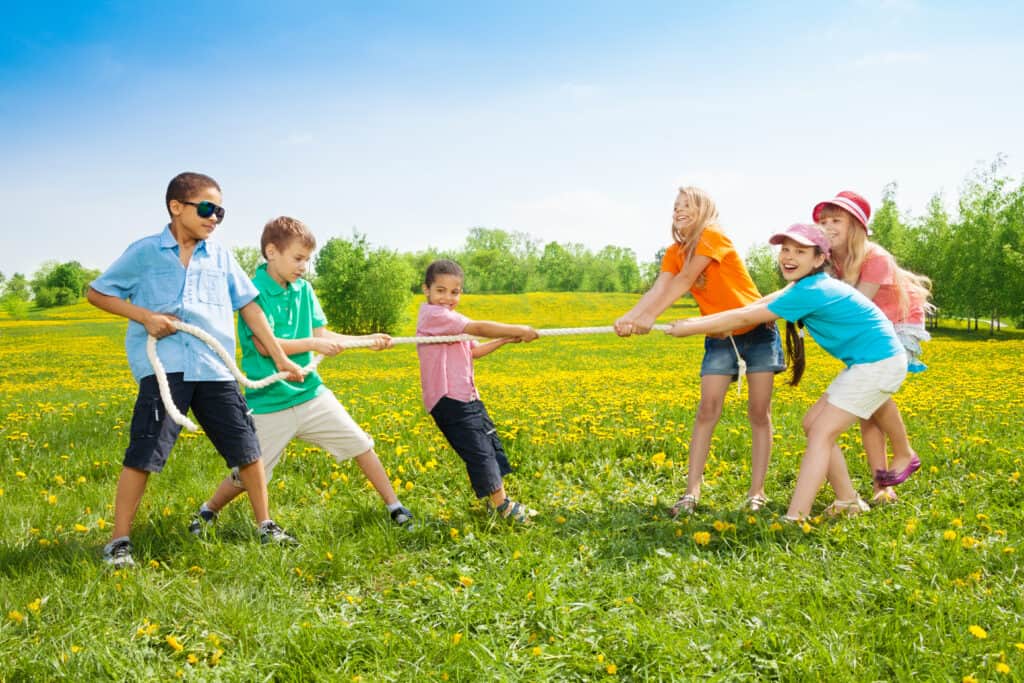 1. Team sports:
Children who are into sports games and multiplayer games will enjoy the camaraderie and the sense of a mutual purpose that team sports involve.
Because most team sports involve a significant amount of physical activity, these are just the thing to get your child away from the detrimental effects of a sedentary lifestyle.
What's more, all that running around is bound to use up a growing child's almost unlimited energy reserve, leaving him/her with little inclination to reach for the game controller. 
2. Adventure sports:
For kids who enjoy the thrill and the adrenalin rush of war and shooter games, adventure sports provide a real world avenue to experience the heart thumping excitement.
Be it kayaking, fencing, archery, parkour or rock climbing, all of these offer the thrill that children into adventure video games enjoy.
3. Martial arts:
This is another activity that works well for children who enjoy multi-level combat games.
Because all forms of martial arts not just have a physical but also a mental component, enrolling a child in martial arts training is an effective way to not just get him to give up video games but also to help him develop qualities like resilience, mental strength and self-discipline.
4. Non-sports competitive activities:
Video games, even the competitive kind, don't always involve sports or shooting.
For kids who enjoy playing for the spirit of competition alone but are not too keen on sports, you can try activities such as debates, chess, robotics team, swimming and others.
5. Volunteering:
Some children enjoy the community aspect of video games. They also enjoy the feeling of being able to do something and be something inside the game world.
If this is the takeaway for your child, he/she will enjoy volunteer work and other group activities that lead to real results.
6. Arts and crafts:
Kids who enjoy games that allow them to create new things and make their way through unseen landscapes can also be turned towards traditional visual art forms like painting, photography and sculpturing.
Because all of these involve the interpretation of sensory inputs, they appeal to those who enjoy adventure games. But, you may have to stand your ground and make sure that they stick with the hobby for a bit.
7. Drama and music:
These work exceptionally well for kids who enjoy the idea of taking on a new identity in the fantasy world of games.
8. Computers and money:
Coding is another activity that attracts children who enjoy strategy games and thrive on creating and executing their strategy. Similarly, kids who are into video games for the thrill of winning will enjoy an introduction to the world of stocks. The best part is that a lot of broking houses offer free practice accounts that allow users to bet virtual money in real market conditions.
And one more thing you need to know to wean your kid off video games!
No matter what activity you choose as an alternative to video games, don't expect your kids to quit on their favourite pastime cold turkey. Undoubtedly, it will take a while for your child to warm up to the new form of stimulation.
But, don't let this transition period get to you. If you lose your patience and your temper, your child will start viewing your chosen alternative in a negative light, and you don't want that to happen.
So, be firm, but also be realistic. Instead of picking up the game console and controllers and throwing them out of the house, turn it into a gradual process.
Take things one day at a time. Start by getting your child to stay away from his video games for half the day. Gradually, work your way to getting him/her to quit entirely or reserve video games as something that the child only indulges in occasionally.