The kitchen can turn into a dangerous place for seniors not only because of the risk of falling but also because of all the appliances in there, which can quickly turn into fire starters if not used as they should be.
Unfortunately, with age, forgetfulness creeps into life, which means that everything from the stove to the toaster can turn into a real hazard.
Of course, this does not mean that seniors should be denied the pleasure and independence of cooking for themselves. In fact, with the right gadgets, you can ensure that they continue to whip up their favorite meals for themselves without compromising on safety.
Continue reading to know more about senior-friendly and elderly-safe kitchen gadgets.
Simple Microwave For Elderly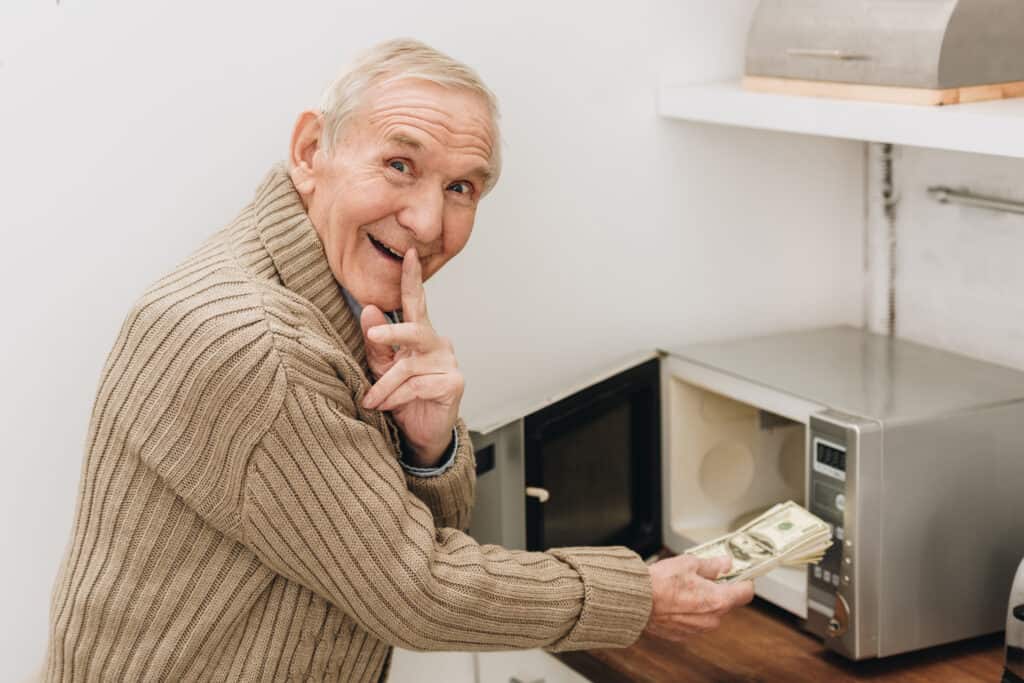 Few kitchen appliances can compete with the simplicity, speed and versatility of a microwave. In fact, most families call it the one gadget that has made life easier for everybody in the household. So, there is no reason why the convenience of a microwave should not be afforded to older adults.
Actually, a microwave is one of the safest and most useful appliance for seniors, compared to a regular oven. It does not have the inherent risks associated with the use of hot coils or the open flames of a stove top. Plus, it handles simple tasks like reheating food with absolute ease and in a matter of minutes.
Yet, modern day microwaves with their myriad features can get hard for the elderly to operate. So, like all other things around the house, you can make life simpler for them by choosing a senior-friendly microwave. Here are some of the features that you should look for:
It's all about the features: Yes, most people pay more for extra features. However, when you are shopping for seniors, opt for a product that offers the bare minimum features and no more.The thing to understand is that for older adults, particularly those with cognitive issues, a lot of features can lead to confusion and inappropriate use of the appliance. If they can't figure out exactly how to get the microwave to work, the elderly are less likely to use it. If they don't use the controls and features as they should, there is always the risk of burns and fire.Having said that, look for units that only have heat and temperature settings. You don't want dials and buttons that come with a lot of cooking and food type options
Of buttons and knobs: The knobs versus buttons debate is still raging, with many suggesting that knobs are easier to turn, hence more user-friendly. Personally, I believe that regardless of how big a knob is, it can be hard to grip it and move it around if an elderly person suffers from arthritis.As far as buttons are concerned, these are easier to use for those with joint problems but a senior with cognitive deficits may have a hard time learning and remembering how much pressure to apply to get the buttons to work as they should. So, consider the physical and mental deficits that an older adult suffers from before deciding on the appropriate microwave control mechanism for him/her.
Easy to see, easy to control: Whatever control mechanism you choose, make sure that the buttons/knobs are marked in big letters and that the time and heat/power increments are also given in large, easy to read font sizes.Furthermore, ensure that the display is large and bright enough for seniors to easily be able to see the numbers/settings on it.
The size of the unit: If the microwave is exclusively meant for senior-use, a small unit that only has enough room to accommodate a dinner plate should do just fine.Typically, a 20 liter oven will get you the perfect width and depth to hold a plate as well as a small pot. In terms of size, a depth and width of 10-12 inches should suffice.
The type of microwave: Unless you have a senior, who is particularly fond of cooking and can still handle himself/herself in the kitchen with relative ease, I'd ask you to go with a solo or standard microwave oven.Grill microwaves and convection microwaves have too much room and too many features for them to be appropriate for senior-use. In contrast, a standard microwave works just fine for reheating food and for simple cooking.
Access to the unit: Most recent models have a push button for opening the unit while older microwaves used to sport a handle that could simply be pulled open. This is again a user-specific feature to look for. If the senior adult you are buying for suffers from joint issues, a push button unit may be easier to use.However, these buttons do have to be pushed in with quite a bit pressure. So, they may take some getting used to, and they may not be the right choice for somebody with bone fragility.Also, seniors with cognitive issues may have a hard time dealing with the push button. For such older adults, you will have to mandatorily go with an older model that has a pull-release handle.
Safety features: Of all the features in modern day microwaves, the one that can truly enhance safety for seniors is the auto shut-off sensor. Although it is only available in high-end models, this is one feature that is worth paying a bit extra for.The auto shut-off sensor detects when the food is done and automatically shuts off the unit, preventing the mess of burnt food and the embarrassment and loss of confidence that it causes.
Sound alert: One of the big problems that seniors encounter while cooking is that of forgetfulness. They simply forget that the pan has been kept on the stove or that the plate has been placed in the microwave. Most microwaves easily deal with this issue by sounding a buzzer.The problem is that the buzzer is often not loud enough. So, pick a unit that has a loud, ring like buzzer that would be enough to wake up a snoozing senior. Some units continue to ring the buzzer till the door isn't opened. This feature can come in handy if the unit is meant to be used by older adults with cognitive decline.
Safe Stove For Elderly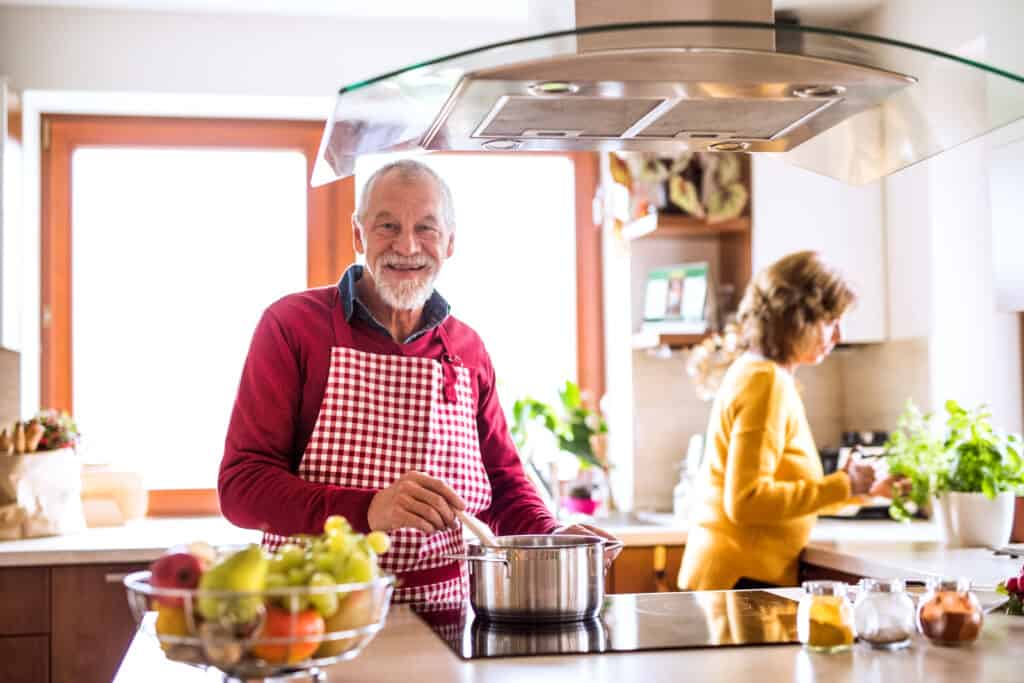 The one kitchen appliance that poses the greatest risk for seniors is the stove top. The open flame and scalding hot surfaces can turn into a recipe for trouble with the slightest lapse or error.
So, if you have an elderly parent who suffers even from mild cognitive impairment, do not allow him/her to use the stove unsupervised. Seniors with medium to severe cognitive deficits should not be allowed to use the stove top at all.
Having said that, modern technology has indeed made it safer for seniors to cook. Plus, many hobs, regardless of the kind, are now designed to accommodate the safety needs of seniors.
If you are in the market for a new cooktop, why not go with the safest option available instead of finding additional gadgets that improve safety later.
So, let's start by talking about the type of stove that offers the highest safety quotient for older adults.
The great induction versus electric and gas stove debate!
To understand how these appliances fare when pitched against each other, it is vital to first know about the risks associated with cooktops. For starters, cooktops are implicated in nearly one half of all kitchen accidents and fires.
Moreover, seniors are twice as likely to cause and perish in a kitchen fire as younger folks. Memory and judgment lapses that lead to such disastrous consequences include:
Leaving food on the stove unattended with the heat turned on.
Forgetting to take an empty pan/pot off the heat.
Not turning the burner off even after the pot/pan has been taken off.
Wearing loose clothes around open flames.
Placing fabric, paper and other inflammable items close to the coil/open flame.
Lapses in cleaning greasy residue from the burners/heating element.
Trying to clean or otherwise touch cooktop surfaces while they are still hot.
Keeping electric stoves on for too long, causing the socket to heat up/wiring to melt.
Not paying attention to electric element damage to an old stovetop.
The risk factor for electric as well as gas stoves is almost the same since they both have open flames/coils that can lead to fire. Another problem with these cooktops is the heat generated, which raises the temperature of all surfaces around the burner/coil to scalding hot.
While electric solid plate stoves do tackle the problem of open flames and coils that can lead to a fire, they have very high power consumption which can overload the wiring system in the house. Also, the higher consumption of electricity results in greater wear and tear of the internal wiring and the electrical elements in the range. These factors carry their own fire hazard.
In contrast, induction stoves have neither an open flame nor scalding hot surfaces. So when it comes to seniors, these cooktops sure do have an edge over other ranges. Because induction ranges use magnetic fields to generate heat inside the pan/pot, they also offer several other benefits such as:
Faster cooking time, which means the overall electricity consumption is lower.
More responsive controls.
Precise temperature settings.
Auto shutoff when pots/pans are not in the range of the magnetic field.
The cooking surface never gets hot enough to cause burns or to lead to a fire due to grease buildup.
Spilled food does not get charred on its sleek surface, so they are easier to clean.
Kitchen stays cooler.
There is no risk of a gas leak or carbon monoxide release due to combustion.
The air in the room is not used by the heating element.
As you can see, induction stovetops are indeed the safest and best option for a senior-friendly home. However, these ranges do call for special cookware. More specifically, pots and pans with some amount of iron/steel in them.
Also, since heating starts almost instantly with these ranges, the cooking time is cut to almost half of what it would be on a regular stove. This means that for seniors, who have spent their lives cooking on an electric/gas range, there may be a slight learning curve.
But since induction stoves rank high on safety that is one less thing to worry about even if your elderly parents falter a bit along the way. That said, there are a few features to look for in an induction stove that can make the appliance more senior-friendly.
Finding the right induction stove for older adults!
The size: It's possible to find induction cooktops with 1 to 5 cooking zones accommodated over various surface sizes. For seniors with mobility issues, a single zone cooktop will be the best as it can easily be placed on a low table.A two zone unit will be well suited for an older adult who does not do a lot of cooking. If you are interested in an induction stovetop that is close to the old range at home, opt for a three zone unit of 60 cm or a four zone unit of 75 cm. These sizes provide enough space when two or more pots are placed at once on the stove, thus limiting the risk of an accidental tip over.
The controls: It is possible to find induction stoves with knobs as well as touch pad controls. The problem with knobs is that they can be hard to use for someone with arthritis. But since they are closer to the older ranges in terms of design, older adults are often more comfortable with them.Also, the digital display of touchpads can get hard to read with age. Moreover, a touch pad can lose its accuracy and precision control once it gets greasy. Plus, many seniors find it hard to adjust to the required pressure needed to use the touch pad controls. So, I'd suggest knobs for anybody who has cognitive and vision deficits and touch pad control for seniors who suffer from joint issues.
A safe temperature sensor: This feature monitors the temperature of the surface directly in contact with the cookware. In case the temperature rises above a certain safe-level, as would be case if an empty pan is left on the cooking zone with the power on, this feature automatically cuts off the power to the unit or at least turns it down to avoid damage to the stovetop and to the cookware.
Cookware sensor: Because there is no flame or even a hot coil in an induction cooktop, the unit may be powered on and you may not even notice it. This safety feature will automatically switch the unit off when a pan is removed away from the cooking zone. It also works when an unsuitable cookware is placed on the zone. A lighted symbol on the display panel shows that the unit has been switched off.
Auto switch-off/cut-off: An effective form of protection against overheating, this feature or some variation of it is available in most induction cooktops. As the name suggests, it cuts off power to the unit in case of overheating.A more advanced version of the feature involves auto cutoff when the unit is switched on for an extended period of time but there are no changes in the temperature of the cooking zone. This advanced feature kicks in even if the unit does not overheat.
Overflow sensor and cutoff: This feature is designed to protect the unit and the user from accidental spills. It shuts off the cooking zone if a spill overflows onto the control panel. The feature sounds a beep to alert the user of the overflow. The overflow sensor gives you enough time to clean the spill before you go back to your cooking.
Power management: This feature is available in several variations. Basically, it only allows maximum power flow to one or at the most two cooking zones. This not only helps to save energy but also safeguards the unit and the electrical system of the home against overload.
Power on light: Like with other appliances, with induction stoves too, the price is directly proportional to the number and type of features in the unit. So, a lot of the above features are only offered in high-end products.If you don't want to pay a lot yet want the safety that comes with these stoves, at the least look for the power-on light feature. Make sure that the light is bright enough for a senior to quickly notice it. Also, opt for a stove that has an exclusive power-on light for each cooking zone.
Pause button: This is an additional safety feature that allows the user to clean the control buttons in case of a spill or grease buildup. The pause button can be pressed to lock the heat setting in place. This prevents the user from accidentally changing the heat setting while wiping down the controls.
Child lock: If its seniors that we are talking about, the grandkids are bound to come visiting at some time. And if they are younger than 15 years, the child lock feature is definitely something you should look for.It disables all cooking zones, the control pad as well as the cooking surface. In other words, only the power on/off button works once you engage this feature.
Easy to clean design: Induction cooktops are available in framed as well as edgeless designs. Although the aesthetics of the unit are a matter of personal preference, both designs have their pros and cons. These should be weighed before you make your purchase.
For instance, edgeless designs are very easy to clean and maintain because there are no crevices that can harbor dirt and grime and of course the resulting bacterial buildup. However, in case of a spill, the hot liquid will flow right off and down the sleek surface and onto the control panel.
In contrast, a framed surface will easily control the spill. Moreover, the frame protects the edges of the cooking surface, so there is a lower risk of breaks and cracks if a cookware is dropped on the edges. A frameless unit is not as resilient to damage.
When weighing the suitability of an induction range for the seniors in your life, one extremely important point to consider is its safety around electronic medical devices. Although studies on the matter are conflicting, several experts and eminent medical bodies do warn that appliances and gadgets that generate an electromagnetic field (like an induction stove does) can impact the working of a pacemaker, defibrillator and insulin pump.
Easy To Use Coffee Maker For Elderly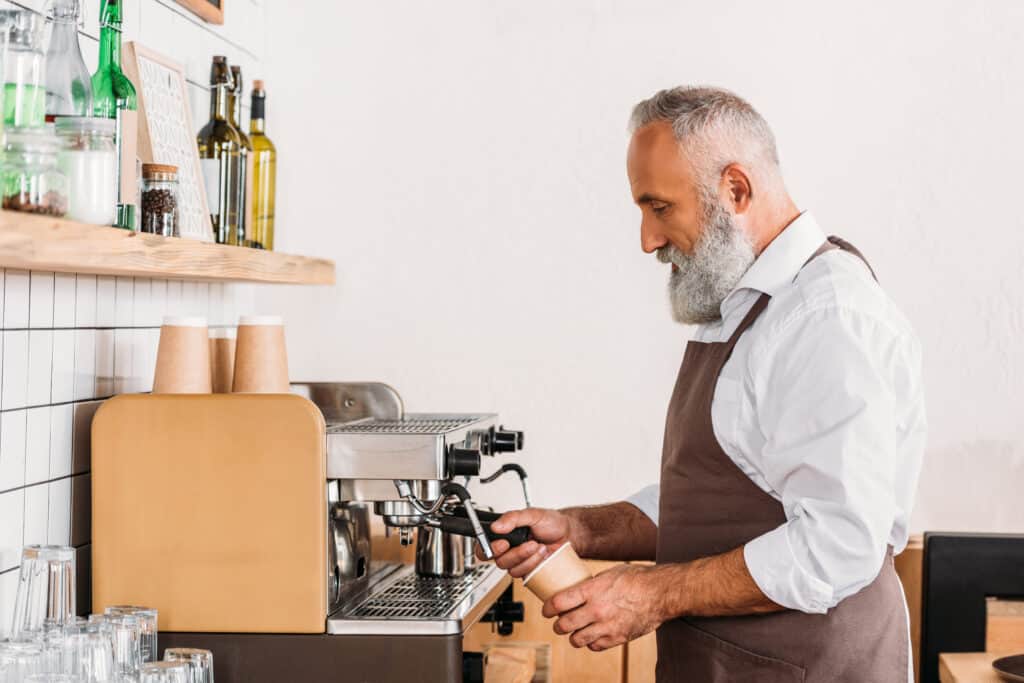 At first glance, a coffee maker may seem like the safest kitchen appliance for elder use. After all, what can possibly go wrong when the machine basically takes care of the entire process and simply spews out hot coffee into a cup?
Well, the answer to that question depends on the user and the extent of physical or mental deficits that he/she suffers from. For instance, the relatively safe and standard automatic drip coffee maker can turn risky if it has a glass carafe and the user has arthritic fingers or has a nerve problem that leads to a weak grip.
So, although coffee makers are quite user-friendly and among the safest appliances in the kitchen for older adults, you may have to consider buying a version that is well suited for senior users.
Take a look at some of the features and design factors that you should consider:
Less glass and more steel: Although a borosilicate carafe looks amazing and is resistant to thermal shocks, it is, after all, glass which means that it has no resilience for physical shocks. If dropped, a borosilicate carafe will shatter into a million shards and they can pose a serious threat to anybody. So, opt for a unit with a steel carafe.
The size: You really don't need a family sized coffee maker if only one or two people are going to use it. Instead of a mammoth 8 or 12 cup unit, go for a compact product that offers no more than 4 cups of coffee. This way there will be just enough Joe to get the morning fix and a bit more.
The type: This is largely a matter of personal preference. While automatic drip coffee makers are seen is most American homes, a lot of seniors prefer percolators. Then, there are those older adults who have a preference for the classic French press.The good news is that all three version are available at affordable prices and can easily be used by seniors. However, in case of a percolator or a French press, make sure that the unit comes with an internal hearing element, so that the stove is removed from the coffee-making equation.
Simplicity should be the name of the game: Yes, some coffee makers out there are right out of the dreams of Java connoisseurs, with all their amazing features. But, does your elderly parent really need such a unit?
Possibly not, because most seniors want a hot cup of Joe in the morning without the fuss and complications of a high-end device. So, leave out the diverse features and the range of controls and buttons they bring along. Instead, let simplicity rule.
Auto shut-off: Now, this is a must-have feature because it can tackle the risk factors that arise due to memory issues. As the name suggests, this feature shuts off the appliance after a certain number of minutes, usually 30-120 minutes. With this feature, you won't have to worry about the unit overheating if accidentally left on.
Timed brewing: This feature can come in handy if you have a senior user who cannot manage to load the coffee maker on his/her own. The time brewing feature allows the unit to be filled with water and coffee at night.It starts at a specified time, so that the user has a delicious cuppa Joe waiting for him/her in the morning. Timed brewing is a particularly useful feature if the senior in question has a caregiver to assist him/her, who can load the coffee maker before leaving for the day.
Auto drip stop/Non drip carafe: No, this is not the same as auto shut-off, but it is just as important a safety feature. It stops the flow of the hot coffee into the carafe preventing spill offs.
Removable drip tray: An important design element, this feature makes it easy to clean the unit in case of a spill.
Safe Toaster For Elderly
Waking up to the mouthwatering aroma and the crunchiness of warm, golden toast in the morning is one of the small pleasures of life that make every morning worth waking up for. It's a breakfast staple in more than 70% of American homes, which means that your elderly parent is probably habituated to this indulgence.
The best parts is that all one needs is a toaster to turn stale bread into a breakfast delight. The appliance is relatively safe and easy to use. But, that's only till you introduce the forgetfulness and lapses that come with age into the toasting equation. A finger or fork placed inside the toasting slot and too close to the heating element can quickly lead to disastrous consequences.
Also, seniors are two to three times more likely to burn their toasts than the rest of the population. Sure, that happens to all of us from time to time. But when seniors burn their toasts, it's not just the bread that gets charred!
Along with it, burns down their trust in their own abilities as well as the confidence of loved ones that an older adult can live independently. So, why not make things simpler by investing in a senior-friendly toaster? If you are not sure what that is, here is a list of features that will help you make the right purchase
Auto shut-off: Like with the other appliances, this is an important safety feature that can substantially lower the risk of a fire. The feature shuts off the unit after a certain number of minutes.
Cancel button: This button allows the user to stop the toasting at the first hint of a problem.
Cool touch lever: This feature helps to minimize the risk of burns caused by careless handling of the appliance.
Light weight with sturdy legs: A light weight unit can be moved around with ease and with minimal risk of it being dropped down by unsteady and weak hands. But make sure that the legs of the toaster are sturdy enough to hold it firmly on the counter and prevent it from tipping over as the toast flips out of the unit.
Removable crumb tray: This design element makes it easy to keep the toaster clean and free of pests.
Wide toast slots: You need wide slots not just to accommodate thick bread slices but also to ensure that the toast does not get stuck in the slot. If this happens, there is always the risk that a senior may try to remove the burnt slice with a fork or his/her fingers.
Toast rack booster: Along with wide slots, this is another feature that makes it easier and safer to get the cooked bread out of the toaster. This feature employs robust springs in the toast rack mechanism which flip the browned bread higher up than usual.
Beep when ready: Another feature that is meant to help with memory issues, as its name suggest, this one sounds a beep when the toasts are done.
Multiple shade control: This feature helps to get perfect toasts every time and minimizes the risk of burning the bread.
Lever-less lifting mechanism: Finally, for seniors with finger joint issues, you may want to consider a toaster with lever-less lowering and lifting mechanism that is motorized and works at the press of a button.
The Final Word
Cooking may be a simple pleasure of life, but for many older adults, the act is an assertion of their independence and their ability to live on their own and take care of their basic needs.
Don't deny them this fundamental joy, which can have a lasting impact on the life quality of the elderly, particularly when there are so many senior-friendly kitchen appliances out there that can make cooking both safer and easier.
Yes, there may be a bit of a learning curve for some seniors but that can easily be tackled with a few, shared cooking sessions. In fact, this could be the bonding activity that you have been looking for. So, on that note, I wish all you seniors many happy, home cooked meals now and in the years to come!