Put the words "seniors" and "sports" together, and you are bound to receive a few surprised stares. And these, not only come from the younger lot, but also from older adults. The general perception is that once you are past your 60th, a low key, sedentary life is the best for you.
Wrong! Doctors, psychologists, researchers and caregivers equivocally encourage older adults to take up low to moderate impact outdoor sports to keep both the mind and the body healthy.
In fact, such outdoors sports are now considered the key to preventing and controlling debilitating, degenerative musculoskeletal conditions like arthritis, muscle weakness, motor and balance deficits and others.
If you haven't already taken up an outdoor sport, continue reading to know why you should and what are the options available to you.
Working that ol' bod can do you a world of good!
What keeps seniors from participating in outdoor sports is the widespread misconception that physical activity, particularly outdoor sports, comes with a risk of personal injury.
In fact, so gripping is this illusion that older adults tend to spend most of their time sitting or lying down indoors. Well, if you don't use it, you will lose it, and in this case, the theory is bang on!
Immobility not only contributes to physical weakness, but also takes a toll on the brain and on confidence levels. In fact, many experts are of the opinion that the decline in physical health is frequently triggered by long periods of inactivity that usually lead to some degree of social isolation and a low desire to take better care of yourself.
So, get off that couch and get moving, because when you indulge in your favorite outdoor sports, you:
Increase your lifespan: Just 30 minutes of active activities (moderately strenuous) lower the risk of all-cause mortality in older adults by 30%. No kidding! And here is the best part, the benefits of leading a physically active life in your sixties and seventies can last you right till you reach the century mark.
Marked improvement in health: Even moderately strenuous sports like badminton can help you to keep your weight in check, your ticker healthy and those muscles and bones well-oiled. In fact, regular physical activity is one of the most effective ways to prevent and control hypertension, high cholesterol levels, diabetes and metabolic syndrome.
Keep the brain healthy and happy: Outdoor sports help immensely to ease stress and tensions; not to mention that the physical activity is a great booster of endorphins in the body. These chemicals not only drive away the worries of everyday life but also do a grand job of subduing chronic pain. Now, imagine your brain free of physical and mental anguish; of course, it's going to be happy and healthy.
The confidence to strike it out on your own: Sports help to enhance muscle strength, joint health and stamina. In other words, physical activity can stop weakness from overrunning your life. When you don't have to constantly battle the distressing feeling that the next step outside or down the stairs will result in a tumble, you are bound to be more confident.Regular physical activity is clinically proven to not only improve musculoskeletal help but also enhance coordination and motor functions, thus greatly reducing the risk of falls. Also, the mere realization you still have what it takes to participate in an outdoor sport can go a long way in increasing your self-confidence.
If you are seen, you will continue to be relevant: Above all, an outdoor sport would undoubtedly involve other participants, which means that along with your body, your social muscle also gets a workout. Socializing not just keeps boredom away, but it also helps to keep people happier and more content. Plus, it is a well-known fact that being social is the best way to keep those noodles alive and kickin!
The thing is that as you grow older, priorities change and the one thing that starts to matter above all else is life quality. An outdoor sport that brings pleasure and fun will, without a doubt, make a big difference to the quality of your life.
And the best part is that the benefits of sports and exercise for older adults are not activity-specific, which means it can be any sport ad you would get just as much from it. That said, if you are having trouble making a choice or don't know about the available options, here is a list that will help.
Sports For Older Adults Who Want To Start Slow!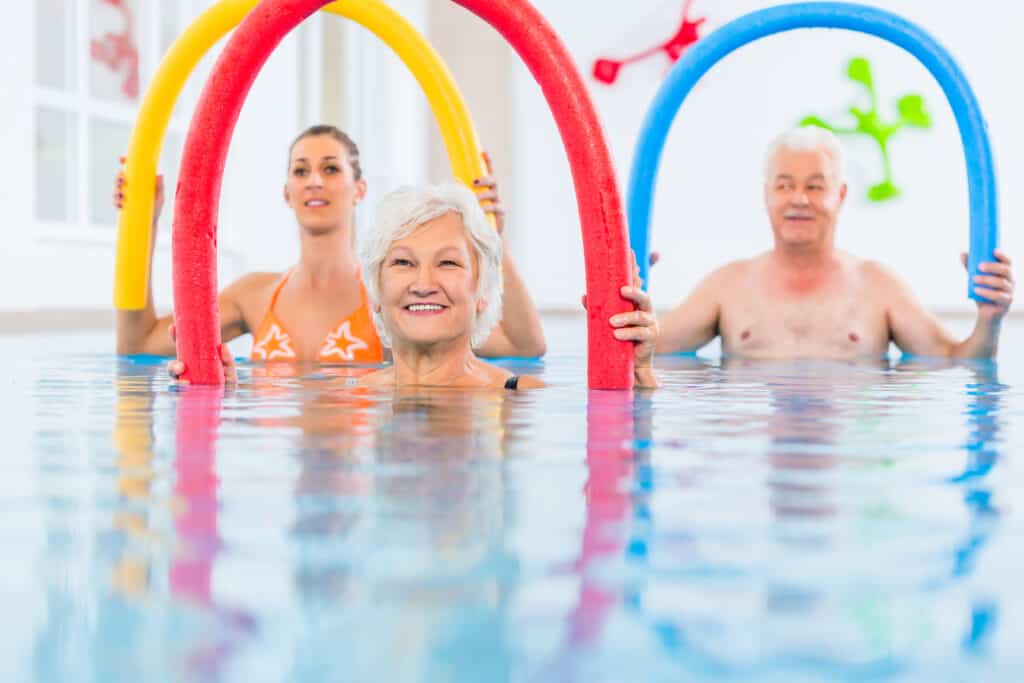 Walking football: Think of this as a senior friendly form of soccer that involves no physical contact and certainly no running around. However, your team members and you will still be chasing the ball and trying to get it past the goalie.
The sport helps to improve motor functions, balance and coordination along with muscle and joint strength and lung and heart health. Plus, walking soccer offers a fantastic opportunity to socialize with other seniors and compete in a risk-free and healthy environment.
Swimming: When you need a sport that offers a full-body workout without being hard on the joints, head to the pool. Swimming is a fantastic way to strengthen and stretch the muscles without making them bear the weight of the whole body.
The biggest advantage is that you can pick the pace as per your requirements and opt for specific strokes that will work on certain muscle groups and body parts. Just like other forms of moderately intense aerobic activity, 30 minutes a day is all you need to reap the benefits of swimming, but you can start slow with 20 minutes 3 times a week.
Anti gymnastique: This as a milder cousin of gymnastics that is specifically designed to suit the needs of older adults. Like gymnastics it has a fair amount of stretching but there are no somersaults and handsprings involved nor will there be music playing in the background.
This is a group activity that is all about gentle but rhythmic movements often done with props such as exercise balls, wooden sticks, cushions and even the help of a ballet barre. The low-intensity sport helps not just  to improve balance, motor skills and stamina but also to tackle chronic muscle pain and limb weakness. 
Sports For Active Seniors
Badminton: A dynamic sport that is not as strenuous as tennis but offers just as many health benefits, badminton can be played indoors and outdoors. The racquet is lighter than that used for tennis or squash and because you are hitting a shuttlecock/birdie (a cone made from cork and feathers), you don't need as much upper body strength.
However, because the object being hit is lighter and the distance between the two opponents is smaller, the game is faster than tennis and squash. So, it increases both physical and mental agility. Moreover, you will be looking straight ahead or above to catch the birdie so, it also improves balance, motor skills and flexibility.
Basketball: The San Diego Splash basketball team are proving it to the world that age need not be a deterrent when it comes to shooting some hoops. What, with their oldest team member going strong at the young age of 90 years, they are sending out a clear message that basketball is for everybody.
And, if they can play basketball, so can you! In fact, senior-friendly versions of the sport are all the rage these days, with over 30 teams from 9 states participating in Granny basketball. Unlike regular basketball, there is no jumping or slam dunking and even running is kept to a bare minimum in this senior-friendly avatar of hoops.
The sport is played three on three or six on six, using half or quarter court. Despite the change in rules, participants still end up using all the major muscle groups, their sense of coordination and their reflexes, and they have loads of fun while doing that. But, you don't have to wait for a league to form in your town. As long as you can get a bunch of like-minded seniors along, you can start shooting.
The Ultimate Frisbee: This is a team sport that is based on the principles of football but a frisbee is used instead of a ball. You can't run with the frisbee in hand, so this is certainly not a contact sport, but you are expected to throw it to your team member in the end zone. If he/she can't catch it or if it is intercepted then the frisbee goes to the other team.
This is a fast paced game that can greatly improve hand-eye coordination, balance, motor skills, reflexes, both physical and mental dexterity and muscle strength. The best part is that there is no age limit and all you need is a flying disc or frisbee, a bunch of team mates and an open area to have oodles of fun.
Golf: Putting enthusiasts swear by the mental and the physical stimulation that golf offers and there is enough reason why seniors can benefit from spending time on the golf greens. For starters, the sport works all the muscles in the body. All that swinging and putting keeps the muscles in the upper torso in top shape while walking across the course (no, you can't use a cart) works the muscles in the legs.
Plus, there is a lot of strategizing and coordination involved along with a wholesome amount of socializing. Is it any wonder then that once people get hooked on to golfing, they can never stay away from the course for too long?
So, even if you weren't a golf enthusiast in your younger days, it truly is never late to start. If navigating a course is not your cup of tea, at least try your hand at miniature golf.
Old People Sports For Summer!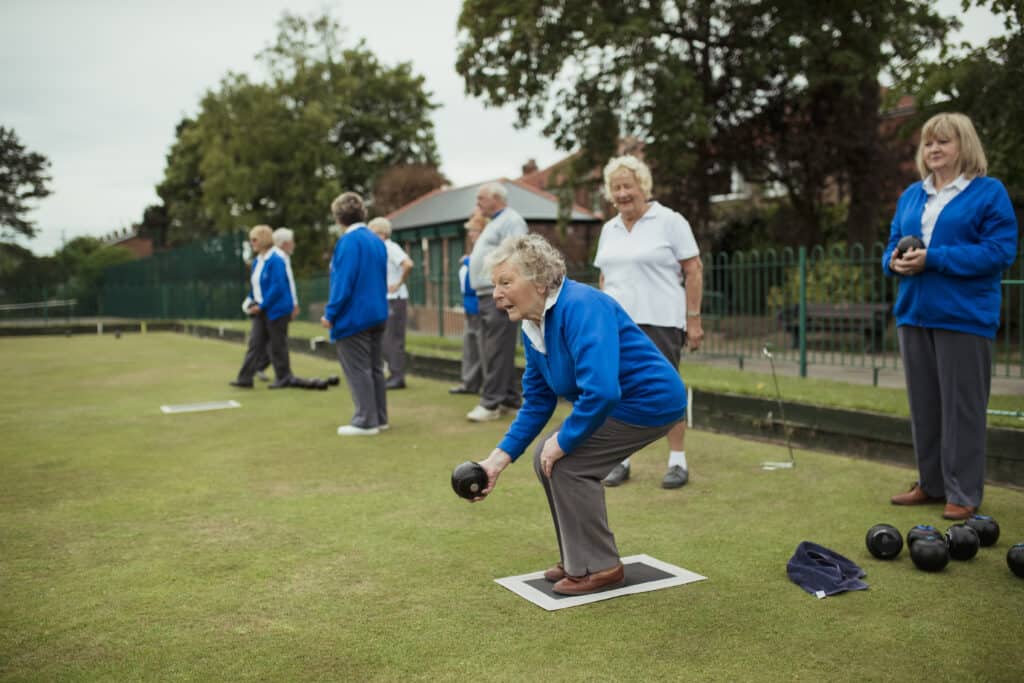 Bocce ball: Pronounced as Bo-chee, this sport has been around since 5200 BC and is still going strong in many parts of Europe. It's a simple low- intensity sport that can be played indoors and outdoors. The object is for each team/ player to get 4 large, weighted balls as close as possible to a small ball called the jack, which gets rolled first.
Although there is no running or jumping involved in the game, you will be doing plenty of strategizing and rolling, thus using almost all the muscles and joints waist-up. Because you will have to walk to roll the balls, the legs also get a decent workout.
Horseshoes: 2 stakes driven into the ground outdoors and 4 horse shoes is all it takes to get this game going. I am sure you already know this one and may have even played horse shoes as a kid. For those of you who haven't, the game is simple enough. It involves taking turns swinging the horse shoes at the stakes, which are placed 7 to 10 feet or more apart.
The idea is to get the horse shoe to land flat; this calls for the use of pendulum swing and variations in grips along with proper posture and adjustments to wrist movement. In other words, you will be investing both physical and mental resources into this sport.
Curling: Those of you who follow this popular winter Olympic sport must definitely be wondering what it is doing in our list of summer activities. Well, this is an indoor version of curling specifically tweaked to suit older adults. It's called floor curling, so you won't be sliding the rocks across the ice curling sheet.
Instead, those highly polished marble discs will be slid across a regular wooden, polished floor with push sticks. So, there is no squatting and kneeling involved but you will be working all the muscles in your body as you try to slide the rocks with the sticks into the house (a target area of concentric circles drawn on the floor).
Lawn darts: This game has also been changed and made safer to suit the requirements of elderly players. No longer does it include the use of javelin type pins with pointed metal heads that led to the sport being banned in the US. These are now replaced with plastic darts that have soft, rounded, plastic heads.
In fact, now it is even possible to get inflatable darts. These are light and 100% safe, so they can be thrown in the target ring placed at the opponent's feet like in the original version of the game. Lawn darts can be played among two people or teams and like other tossing sports, it offers a fantastic mental and physical workout. 
Pickle ball: One of the most popular sports among seniors, pickle ball is currently being played by nearly 3 million older adults across the country. The game is easy and very social because it is usually played in doubles.
Plus, it isn't as hard on the back and the knees as tennis. You will still be out on the court having fun but this time, instead of a tennis racquet and ball, you will be playing with a perforated plastic ball and a paddle made from composite material.
And for those of you who think that this one is just good for a bit of fun and a few laughs, think again. According to studies, regular pickle ball sessions help to keep the cardiovascular system healthy and depression at bay.
Croquet: A full game can get you to walk up to 2-3 kilometers and will give you one helluva workout. Born in Victorian England, the game is still going strong all over the world. But, it's the game's popularity among seniors that has earned it a place in this list.
Yes, there are seniors croquet leagues all over the country and the sport is frequently included in the outdoor activities of adult care centers. The thing about croquet is that it can be adapted to suit players of all abilities and even disabilities. The rules are simple, yet playing the sport calls for tactical planning and execution, a fair amount of physical labor and a lot of socializing. So, what's not to love? 
Best Sports For Seniors In Winter!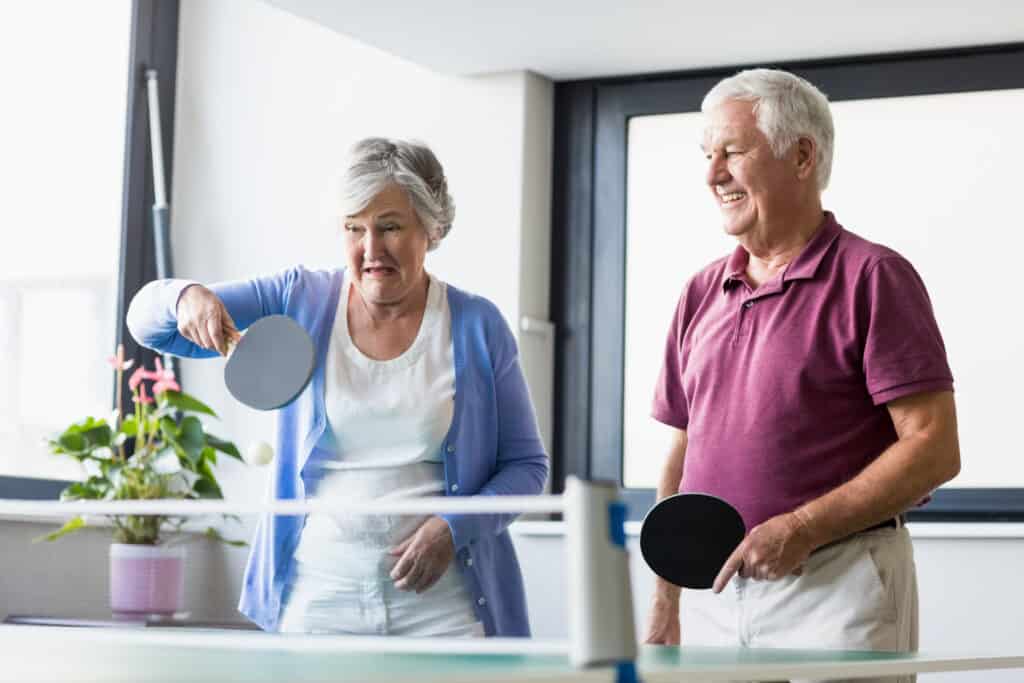 Table tennis: It's called chess on speed, and for good reason. This fast paced paddleball sport is played indoors on a table with a small plastic ball. Think of this as a table based version of tennis that moves really fast because you are hitting a tiny ball across a very short distance; otherwise the rules remain the same.
The beauty of ping pong, even when it is slowed down for older adults, is that it involves moving the whole body in a controlled manner; plus, there is a significant amount of coordination, balancing and strategizing required. Together, these provide a fantastic brain and body workout. So, when you feel the need for speed in winter, a round of ping pong is what you should consider!
Table shuffleboard: For seniors living with arthritis, foosball may no longer be an option but table shuffleboard is a different ball game, literally.  There are no handles/levers to move about. Instead, you will be sliding the weighted puck with your hand.
Make no mistake; shuffle board may not be as physically taxing as foosball and even some of the other sports in this list but it is every bit as mentally challenging as the other games. So, while the muscles in your body receive a gentle stretch-filled exercise session , with all the focus needed to score, you can expect your noggin to get a thorough workout.
Wii sports: And you thought Nintendo's Wii was good enough only for teenyboppers! The gaming console is a huge hit among seniors and in retirement homes, where it offers an affordable and interactive gaming environment that provides fun and a fantastic way for older adults to get some physical activity.
Wii Fit games and Wii bowling are currently the top choices for the elderly, but the best part is that there are so many other gaming options to explore that you will never get bored. Also, most games call for low to moderate intensity physical input, which means you can combine your Wii games with other workout regimens. Plus, having fun is always good for everybody!
Old People Doing Sports – A Few Things To Consider!
Well, with that long list of the best sports for older adults, you certainly can't hide behind the excuse that there just aren't enough physical activity programs for your age group. Personally, I would recommend that you either start simple or opt for a sport that is similar or at least close to something that you enjoyed in your younger days. Having said that, there are a few points to remember when taking up a new sport:
Consider your physical abilities and disabilities when choosing the sport. In fact, it is highly recommended that you talk to your doctor about it before starting.
Don't stress yourself out. Instead, start slow and gradually progress to greater levels of physical activity both in terms of time and intensity.
Consistency is more important than the actual activity and the amount of physical strength it requires. A daily walk of 20-30 minutes will get you far more in terms of physical and mental benefits than a once-in-a-month hike of 3 hours. Of course, there is no reason why you can't do both!
Keep yourself hydrated by drinking water regularly as you go about your sports session.
If playing outdoors in summer, watch for signs of heat exhaustion and if playing in winter, be mindful of the symptoms of hypothermia.