When you come across an article that tells you how to start a dinner time conversation with your loved ones, it gets you thinking about the dynamics of the family that needs to hunt for reasons and questions to begin a banter.
In fact, it reeks so much of disconnect within the family that most people refuse to accept that they also get afflicted by the "I don't know what to say" syndrome once they are sitting down for a meal with their loved ones.
So, first a bit of reality check – Not being able to continue or even start a conversation at the dining table whilst surrounded by the people you love is not about cracks in the familial bond.
It's all about generational dynamics!
The fact is that parents, grandparents, men, women, pre-teens, teens and youngsters all have different sets of problems, goals, concerns, aspirations, etc. In other words, although they are living on the same planet they might as well be in different worlds all together.
This chasm of difference is what makes communication across the dining table so hard and sometimes downright awkward. If you want to draw the person/persons, sitting across you, into a conversation, you have to get out of your world and reach into his/her/their world.
So, don't think of this article as a lesson in communication, rather, these are tips on how to re-connect with those you love and care for so much.
Got it; dinner table talk is important, then what seems to be the problem?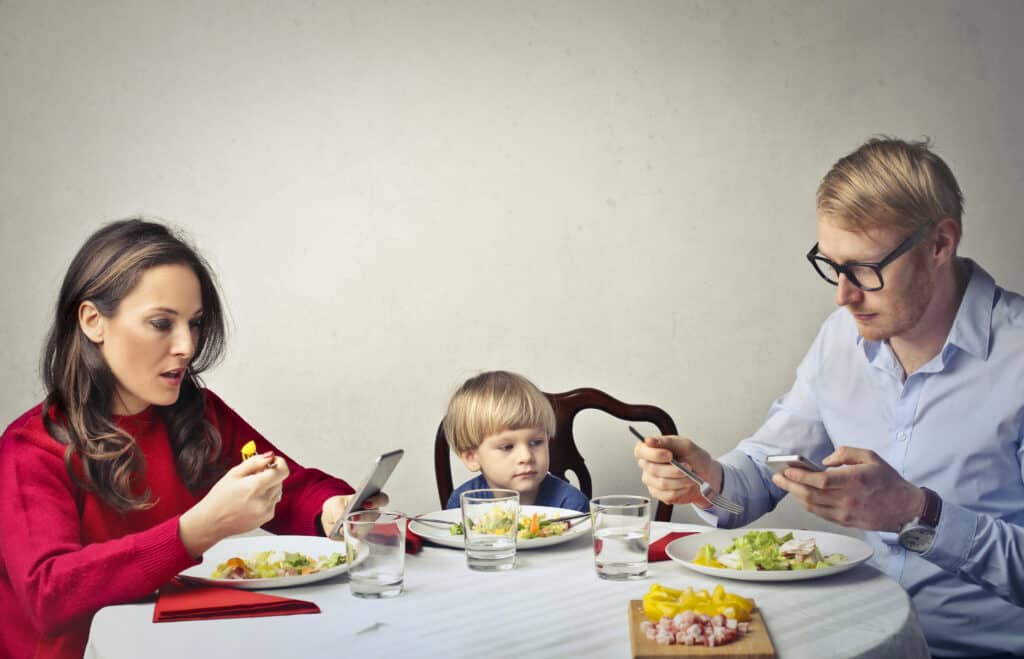 Sure you are sitting right next to each other, may have even held hands when saying grace, but just because your loved ones are a few feet away from you physically, does not mean they are there with you mentally, and that is the crux of the problem.
Knock on any door during dinner time and this is what you are likely to see:
No love for the customary: Somebody blurts out the usual, "how was your day" and everybody gets by with the most superficial answer out there. After that, the only sound heard is the clinkering of silverware till the end of the meal.
The kids are doing their thing: If they are young, they are probably acting up by alternating between being rude and being silly, just to get attention. And if they are older (think middle school and above), they are probably scarfing down that meal just so they can get back to their own world.
The empty nesters doing an eerily quiet meal: Yes, the silence is speckled with a loving glance or two, but it's silence nonetheless. Allowed to go unchecked, the silence can turn into a pit that you will find hard to climb out of. Unfortunately, most couples get to the point where they simply don't know what to talk about or cannot think of anything that needs to be discussed.
Group-ism at the table: This one is only seen when the grown up kids converge on the homestead. Since everybody brings along their own baggage or even the lack of it, the conversations gets limited to groups of 2-3 people. So, although everybody is at the same table, not everybody is talking to everybody nor is everybody listening.
Tech addicts at the table: Nothing out there has killed family conversations over a hearty meal like the blue screen. I know you must have seen this- While food is being spooned into the mouth and one or two people are trying to make a conversation, everybody has their attention completely devoted to their cell phones, need I say more?
Unfortunately, these scenes are common and everybody seems to have accepted them without even a whimper of protest. So, the moral of the story is this – Don't you think for a minute that your idea of using dinner time questions and conversation starters will be readily accepted.
In fact, I'd go so far as to say that you should expect eye rolls from just about everybody. Hence, you will have to set a few rules and demand strict adherence to them.
Get the ground rules right if you are rooting for success!
No distractions: You cannot possibly have a conversation with the music or the TV blaring in the background.
No tech: Nothing can be more distracting and even annoying than people trying to eat with their heads shoved in their phones. So, in my house, I impose a non-negotiable, "no tech at dinner time" rule.
Nobody gets their cell phones/tablets/kindle to the table. I am going to warn you at the outset that this one is going to be hard to follow not just for the kids but even for the parents and also for you.
One conversation at a time: The fastest way to cut short a line of conversation is to start another one before everybody has had their turn to speak on the first topic. Also, those who don't get their minute with the mic will over time lose the desire to contribute to the interaction.
So, pick one topic/question/starter and insist that everybody has a go at it as a listener and as the talker.
Keep the negativity away from the dining table: This one is going to take some work from everybody. Make sure that your questions are such that they have a very low chance of eliciting a response that can be negative.
For instance, don't ask what scared you or what went wrong today or even how was the day. Instead, talk about what excites you, what made you happy today or what was the high point of the day.
If you notice, these questions force you to cut through the haze of negativity and find that one point which was bright. And that is precisely the effect you are going for!
Plus, let's get real nobody wants to hear another person whine and vent all through dinner. I know a lot of moms who are so tired and overwhelmed by the end of the day that when they finally have their family's attention at the dinner table, they end up trying to get things off of their shoulders.
I admit, I was one of those moms, till I realized how I was ruining all the effort that I put into making that wonderful dinner with my grumpiness. So, whatever your complaints, at dinner time, the family does not need to hear about them!
Everybody listens: A conversation will lose its rhythm and die out if you don't have listeners. So, while you ask the questions, make sure that you and the others listen actively.
One of the best ways to inculcate the habit of active listening is to get the other person started where the previous speaker left off. For instance, suppose your question du jour is – If you could eat only one fruit for the rest of your life what would it be? The first kid may say "banana". But that one-word response simply won't do. So, you ask, "why", to get more.
When it comes to the second kid, you start by asking, do you agree with what your brother/sister said about bananas? If he wasn't concentrating, he will have to admit it and the awkwardness will be enough to drive the message home that you expect active listening from everybody.
Everybody gets their two minutes at the mic: Be it a grown-ups – only party or a regular family meal, you will have some talkers and some nodders at the table. Of my 3 kids, two can jabber away like there is no tomorrow and my third is pertinent to the point of it being fault. He is the one I have to draw out.
I bet you will come across such individuals in your family and among your guests. The trick is to not leave them out with their mental ruminations. Draw them into the conversation with follow-up, open ended questions. After all, when it comes to dining table banter, more make for merry conversations!
No shallow answers allowed: Nobody, and I mean this without exceptions, gets to offers one-word or shallow answers. For example, your favorite fruit and why- the answer you get is banana and it's healthy. Not allowed at my table! I just come up with another question such as – what do you mean healthy or why do you say so?
The first few times I did this, my kids responded with a shrug and "I don't know". Don't let them get away with this. I simply said, if you don't know, you cannot pick this fruit, you will have to pick another and tell me why. After the first few times, the message was loud and clear, I would not accept anything less than a thoughtful or even funny answer.
No judgments and no wrong answers: This one is particularly meant for the family dinner setting. Depending on your questions, the answers may come as a surprise or even shock to you or they may even be awkward.
Whatever the grownups at the table feel, hold it in. Do not, and I mean do not, under any circumstances allow your expressions to reflect on your face, be it your anger/disappointment/surprise.
Your kids will pick up on this with a single glance, and they will clamp down faster than you thought possible. Plus, you can forget all about them ever opening up to you again or coming to you with a problem. Even if your child has done something that he/she was not supposed to do, whether he deserves a talk or discipline, do it the next day or a while after dinner.
The last thing you want to do is send out the message that being honest and open with the family has repercussions. The same thing also applies to wrong answers. Laugh it off or correct in a very gentle way. Your aim should be to get them all to talk and to enjoy the conversation and family bonding time.
Don't shun people for their thoughts: Even if your views are in striking contrast to those of your guest, don't argue about it. For starters, that is no way to treat a guest and certainly no way for a host/hostess to behave.
Instead, take the mature approach and try to learn from the opposing views by asking, why they feel the way they do. And if nothing else works, quit with a polite, "I respect your thoughts/views even if mine are different.
Don't let the chitchat draw you away from your host/hostess duties: If it is a dinner party or even if you are hosting just 2-3 friends, don't forget to take care of the dining needs of your guests. So, while you chat away, pay attention to empty glasses that need a refill and plates that are calling for a second helping.
Family dinner questions when you have kids at the table (for all ages)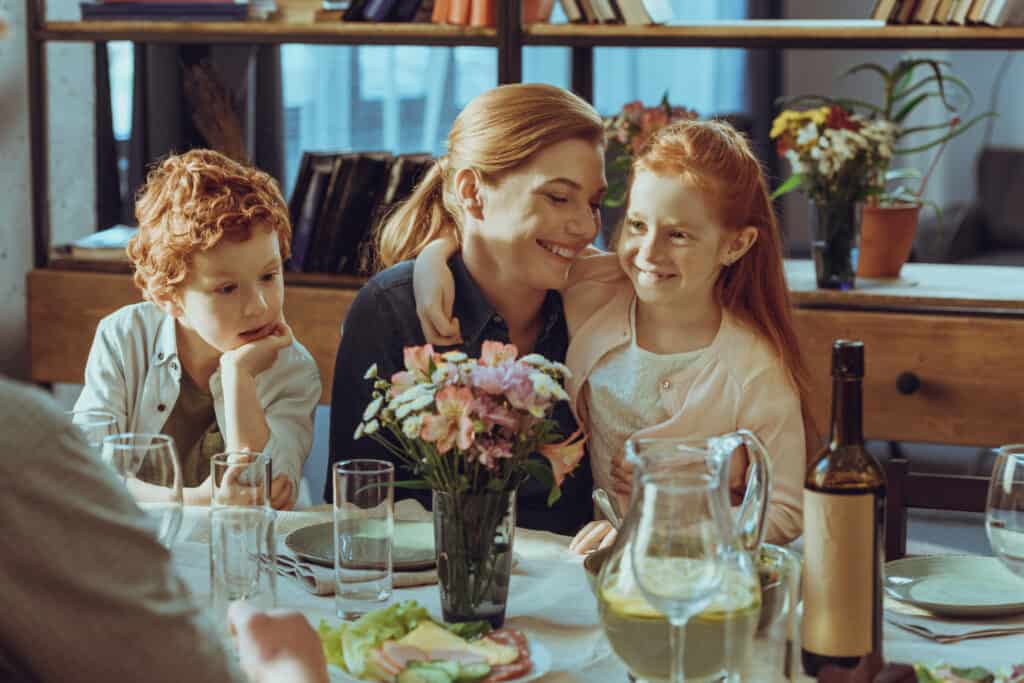 I have made a small conversation jar in which I keep these question written on chits of colorful paper. Every day, one family member gets to draw a chit and that turns into the topic of conversation. You can make your own convo-jar or go with printed cards with questions on them or even a numbered list (pick the question number). Here are a few good questions to get you started.
For toddlers and preschoolers
What is your most favorite toy and why?
If you can only have one toy, which one would it be and why?
What is the silliest/funniest face according to you and why? This is a show and then talk question.
What is your favorite bedtime story/fairy tale? Or, who is your favorite superhero and why?
Who is your best friend and why?
What will you be when you grow up?
If you have a fairy godmother/ Santa Claus appearing in front of you, what would you ask for?
Will you be on Santa's naughty list or nice list this year, and why?
What is the funniest thing you heard, this week/today?
If you have to give a gift to your grandma/grandpa, what would it be and why?
For preteens
What is your favorite subject in school and why?
If you could, would you be Superman/Batman, and why?
Which super hero has the coolest super power according to you and why?
What if you get a $100/$500 today, how would you spend it?
If a genie grants you 3 wishes, what would you ask for?
If you could meet one famous person, who would it be and why?
If you swap places with mommy/daddy for a day, what would you change?
If you could be any one historical figure, who would it be and why?
If you are allowed to plan this weekend, what would you do?
What do you like best about each family member?
For teens
If are elected president for a month, what would you do?
If you could invent one thing what would it be?
What if you had a time machine, would you want to go into the future or back to the past?
What rules should be changed at school?
What is the one thing that makes you truly happy?
What is your dream profession/job?
What is the one thing that you are truly grateful for/proud of?
If you have the power to help any one person, who would you help and why?
What do people like about you?
How do you define success/ what makes a person happy/successful or popular?
For youngsters
What is the hardest/best thing about being you?
What is the biggest challenge you have had to face?
Who have you helped/supported in this week/month/year and how?
What is the one quality that you admire in your role model and why?
Optimistic vs. realistic, which one do you think works in real life and why?
What is the one thing that you like and the one thing that you hate about your best friend?
Who is your best friend and how did you become best friends?
What would be your ideal job and if you have it already, why is it ideal for you?
If you are asked to pen the biography of any person alive or dead, who would you pick and why?
What's your dream vacation?
This is hardly an exhaustive list, but I suppose by now you must have a gist of the direction in which the conversation should flow and what kind of questions/topics you should choose to get the job done.
Dinner party questions: Get your guest to enjoy the company as much as the meal!
If you thought that meal-time questions can only turn around quiet family dinners, think again. They are just as effective when you want your dinner party to go from drab to dazzlingly successful. Of course, you will have to tweak the topics based on your audience.
Now, I know that making small talk is almost a ritual at such gatherings, so you must be wondering, why then do you need to bother with dinner questions. It's simple – Small talk inevitably veers into the lives of other people, and not everybody is keen on discussing their lives in a public setting.
Plus, the shallowness of the banal chitchat can be downright annoying. Fortunately, shunning small talk isn't all that hard. Here are a few tips that will help:
The unusual and unheard of always make for a good conversation: Pick a new word, something that is old yet has not been heard of or a new addition to the dictionary.
For instance, whippersnapper or Kerfuffle (old ones) or masturdating (I spelled that correctly) or internesting, ask them what these mean according to them. Another way is to talk about a new but weird invention like the baby mop or the flask tie (they exist and you have to see them to believe them).
If they pick a side, they'll want to talk about it: This trick works even for the most reluctant talkers. Get them into a "this versus that" conversation. Make it clear that there can be no middle ground, so they have to pick one side and explain why they chose it.
As far as the actual topic of comparison goes, it could be anything from movies to food and from vacation to an idea such as ghosts exist vs. don't exist. But, steer clear of politics, religion, sexuality and just about anything else that will get tempers soaring.
Fantasy is always a good topic of conversation: Choose a topic that makes people imagine something fantastical. For example, if you could set up a colony on mars, what would it be like or if you could live in your favorite TV Show, which one would it be and what character would you play?
You are made invisible for a day, what will you do? You can become the king/queen of any one place country/state, which one and why?  This is one of the safest party conversation starters.
It's impersonal, yet, it's all about them: You don't have to tread into personal territory to make the conversation about the speaker. Play on neutral ground, so only the good memories come forth.
For instance, you could ask: What is your favorite childhood memory? What is the best thing someone has done for you? Describe yourself in 3 words or what is your favorite movie/book and why?
Dinner conversation starters for families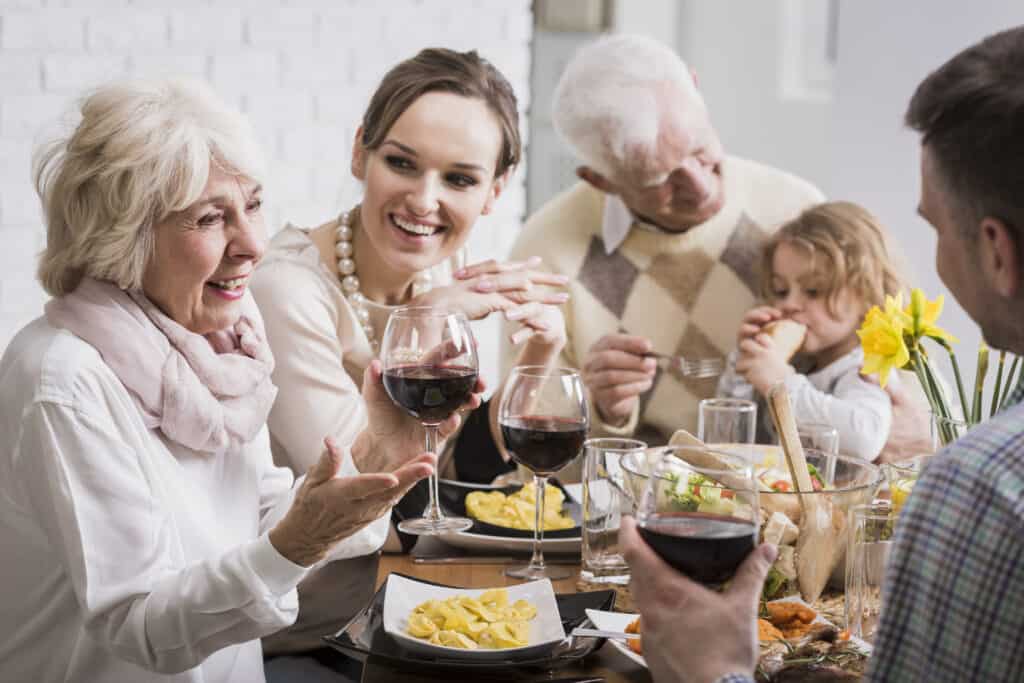 We have already discussed dinner time questions for when you have parents and their kids at the table. But, what if there are no children at the table? Here are a few good questions:
For grandparents
If you could go back to one particular year in your life, which one would it be and why?
If you had the chance, what would you name yourself?
What is the best thing that you learnt from your parents?
What is the one thing that still creeps you out?
What is the most annoying new age trend according to you and why?
Who do you think was/is the most important person in the last 100 years and why?
If you could take one thing/trend from today into your 16th/20th year, what would it be?
What was your favorite toy as a kid?
What is your all-time favorite vacation?
Who is the funniest person in the family?
What is the one trend that was incredibly popular when you were young?
For partners and spouses
What is the most beautiful thing you saw today ("You" is not an acceptable answer gentleman it reeks of flattery 😉 )
If you are given the chance to learn something new, what would it be and why?
Before making a phone call, do you rehearse what you are going to say? Yes/no, why?
If you are given the powers of the senate, what is the first law you'd make?
When did you last sing to someone or to yourself? Why the choice of song?
Make 3 complete versions of the statement "we are" (You cannot use just a verb or anything that relates to dining)
If you are allowed to do the one thing that you did today again tomorrow what would it be?
What were a few things you liked about the pre-cellphone era?
If you could invent a new food item/gadget/ice-cream flavor, what would it be
What crazy/adventurous thing do you want to try out some day? 
We have landed at the bottom, and very gently too!
One more thing you should remember is that you don't want the conversation to take away from the dining experience. For instance, when I have cooked a family favorite or when I know that everybody is particularly starved, I wait it out till we have finished about half our plates before I start the chitchat; this way hunger pangs don't distract us.
Having said that, I know that across many dining tables, quiet eating is the norm. But, you would be surprised at how much insight you can get from these seemingly superficial conversations. Plus, multiple studies on child development have proved that regular family dinners:
Improve vocabulary and language development in younger kids.
Improve and strengthen the relationship between teens and parents.
Lower the rate of suicidal tendencies and depression in adolescents.
Of course you are not going to achieve all that with a "nobody talks while eating" meal. So, if your family is not chatting away while enjoying dinner, you are simply not doing it the way it ought to be done.
But, with these questions and bit of effort, I promise your dining area will be filled with laughter and delight day after day. And, on that note, I leave you with my best wishes for hearty meals and heartier conversations with your loved ones for ever and ever more!