Music can often do more good than medication for seniors, who are battling cognitive decline and mental health issues.
Even when senior citizens songs are not part of a proper, professionally conducted music therapy sessions, their innate ability to lift the spirit and to draw the elderly out of the chasm of lost memories can do a world of good. 
Music: Food for soul, workout for the brain and more!
To reap all the benefits mentioned, it is crucial to pick the right kind of music for senior citizens. Let's not forget that music jogs both the emotional and the memory centers of the brain.
This means that with the right song, you can tap into happy memories and use them to offer much needed reprieve to an anxiety and stress ridden brain.
Because music has an almost magical ability to remind you of events, people and things that have long been forgotten, senior citizen songs help to elicit a response even from those older adults who have lost their memories to Alzheimer's and dementia.
But the benefits of music and songs are not just limited to the brain! According to one study, the therapeutic effects of songs include:
Better pain management.
Improvement in chronic pain.
Significant reduction in blood pressure.
Better and faster recovery after a cardiac event (stroke and heart attack).
Better insomnia management.
Enhanced immune function.
Notable anti-seizure effects.
Significantly lower cortisol levels.
Improvement in chronic inflammation. 
Senior citizens songs: Entertainment is just one aspect of it!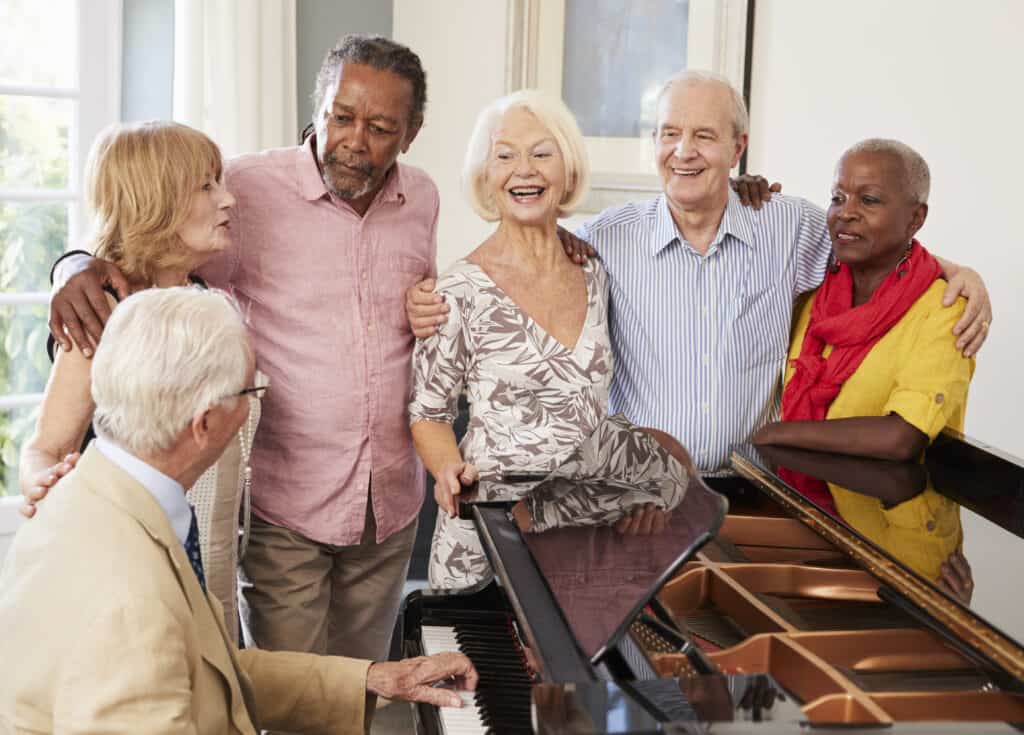 The best part is that these songs are a tried and tested form of entertainment; one that works all the time and every time. Plus, you can use them on their own as a form of therapy or couple them with other activities.
From quizzes to games and from singing to dancing, the right list of songs can be combined with all of them and more. However, it can be hard to know about songs that were released while you were still a kid or not even born yet.
So, here is a list of the best songs for older adults by decades, seasons and combined activities to get you started on the right track.
Senior citizens songs for each decade
A. For the nimble ninety year olds (1930-1939)
Happy days are here again – Ben Selvin
On the sunny side of the street – Ted Lewis & Band
Enbraceable You – Red Nichols
Puttin' on the Ritz – Harry Richman
Three little words – Duke Ellington
Georgia on my mind – Hoagy Carmichael
Stardust – Isham Jones
I hot Rhythm – Ethel Waters
Please – Bing Crosby
Night & Day – Fred Astaire
All of me – Louis Armstrong
In the mood – Glen Miller
Over the rainbow – Judy garland
Easy to love – Billie Holiday
Falling in love again – Marlene Dietrich
Body and soul – Annette Hanshaw
Jeepers Creeper – Al Donahue & Orchestra
I'm in the mood for love – Frances Langford
Strange fruit – Billie Holiday
Cheek to cheek – Fred Astaire
B. For the energetic eighty year olds (1940-1949)
When you wish upon a star – Cliff Richards
Boogie Woogie Bugle Boy – The Andrews Sisters
In the mood – Glen Miller
Only forever – Bing Crosby
You Are My Sunshine – Jimmie Davis
Tangerine – Jimmy Dorsey & Orchestra
Oh What a Beautiful Mornin'- Bing Crosby and Trudy Erwin
To Each His Own – Eddy Howard (1946)
God bless the child – Billie Holiday
We Three – The Inkspots
White Christmas – Bing Crosby
If I had my way – Kate Smith
Shoo-shoo baby – The Andrews Sisters
Till the end of time – Perry Como
Chickery chick – Sammy Kaye
It's magic – Doris Day
Lovesick Blues – Hank Williams
Some Enchanted Evening – Ezio Pinza
Rudolph the red nosed reindeer – Gene Autry
I'm Beginning to See the Light – Kitty Kallen & Harry James
 C. For the zesty seventy year olds (1950-1959)
Be my love – Mario Lanza
Because of you – Tony Bennett
Hound dog – Elvis Presley
All shook up – Elvis Presley
Love letters in sand – Pat Boone
Tammy – Debbie Reynolds
Chances Are – John Mathis
Hey there – Rosemary Clooney
Heartbreak Hotel – Elvis Presley
Mona Lisa – Nat King Cole
Autumn Leaves – Roger Williams
I need you now – Eddie Fisher
The great pretender – The Platters
You send me – Sam Cooke
Jailhouse Rock – Elvis Presley
Diana – Paul Anka
Young love – Sonny James
Little Stars – The Elegants
All I have to do is dream – The Everly Brothers
Blue tango – Leroy Anderson
Little things mean a lot – Kitty Kallen
Goodnight Irene – Gordon Jenkins and The Weavers
 D. For the sprightly sixty year olds (1960-1969)
I want to hold your hand – The Beatles
Tossin and Turnin – Bobby Lewis
Sugar, sugar – The Archies
The twist – Chuby Checker
Georgia on my mind – Ray Charles
Stand by me – Ben King
Love me do – The Beatles
Surfin' safari – The Beach Boys
Oh' Pretty Woman – Roy Orbison
Where did our love go – The Supremes
You really got me – The Kinks
Good vibrations – The Beach Boys
Wild thing – The Troggs
Piece of my heart – Janis Joplin
Wonderful world – Louis Armstrong
Born to be wild – Steppenwolf
It's my party – Leslie Gore
Satisfaction – The Rolling Stones
Sounds of Silence – Simon & Garfunkle
Respect – Aretha Franklin
Somebody to love – Jefferson Airplane
Sweet Caroline – Neil Diamond
Baby Love – The Supremes
My Girl – The Temptations
 E. For the fun-loving fifty year olds (the 1970s)
Joy to the World – Three Dog Night
Tonight's the Night – Rod Stewart
The Way We Were – Barbra Streisand
Angie – The Rolling Stones
Born to run – Bruce Springsteen
Bridge Over Troubled Water – Simon and Garfunkel
Shadow Dancing – Andy Gibb
Wonderful Tonight – Eric Clapton
Dancing Queen – ABBA
Stayin' Alive – Bee Gees
Isn't she lovely – Stevie Wonder
I will survive – Gloria Gaynor
I want you to want me – Cheap Trick
Let's get it on – Marvin Gaye
Hotel California – Eagles
Cecilia – Simon & Garfunkel
Ain't no mountain high enough – Diana Ross
Ladies night – Kool & The Gang
I'll be there – Jackson 5
Jamming – Bob Marley & The Wailers
Imagine – John Lennon
Stairway to heaven – Led Zeppelin
The first time ever I saw your face – Roberta Flack
How deep is your love – Bee Gees
M.C.A – Village People
Music for senior citizens by the season!
Daydream – The Lovin' Spoonful
Grazing in the grass – Hugh Masakela
Morning has broken – Cat Stevens
It might as well be spring – Frank Sinatra
April in Paris – Louis Armstrong, Oscar Peterson, Ella Fitzgerald
Some other spring – Billie Holiday, Tony Scott Orchestra
When it's springtime in Alaska – Johnny Cash
You must believe in spring – Barbra Streisand
Spring is here – Ella Fitzgerald
When the white lilacs bloom again – Billy Vaughn And His Orchestra
April love – Pat Boone
Come rain or come shine – Ray Charles
Fourty shades of green – Johnny Cash
Lemon Tree – Trini Lopez
Don't let the rain come down – The Serendipity Singers
Good day sunshine – The Beatles
Summer in the city – The Lovin' Spoonful
Summertime blues – Eddie Cochran
Surfin' U.S.A. – The Beach Boys
Itsy bitsy teenie weenie yellow polka​ dot bikini – Bryan Hyland
Dancing in the street – Martha & The Vandellas
Summer nights by Olivia Newton – John and John Travolta
Can't wait for summer – Steve Lawrence
Summertime, Summertime – The Jamies
Here comes summer – Jerry Keller
The green leaves of summer – The Brothers Four
Sealed with a kiss – Brian Hyland
Those lazy-hazy-crazy days of summer – Nat "King" Cole
Summer wind – Frank Sinatra
Hawaii Five-O – The Ventures
Hot fun in the summertime – Sly and the Family Stone
Autumn Leaves – Roger Williams
High School Confidential – Jerry Lee Lewis
Wonderful World – Sam Cooke
Blue Autumn – Bobby Goldsboro
See You In September – The Happenings
It Was A Very Good Year – Frank Sinatra
Autumn in New York – Ella Fitzgerald and Louis Armstrong
Leaves That Are Green – Simon & Garfunkel
Autumn Almana – The Kinks
September song – Frank Sinatra
Autumn Serenade – John Coltrane
Autumn Changes – Donna Summer
September – Earth, Wind & Fire
Harvest moon – Neil Young
Wintertime love – The Doors
Baby, It's Cold Outside – Esther Williams and Ricardo Montalban
Let It Snow! Let It Snow! Let It Snow! – Dean Martin
Winter Wonderland – Elvis Presley
A Hazy Shade of Winter – Simon and Garfunkel
Sleigh Ride – Ella Fitzgerald
Frosty the Snowman – Leon Redbone
Long Long Winter – Bob Marley
Summer Me, Winter Me – Barbra Streisand
End of the Season – The Kinks
Marshmallow World – Bing Crosby
Here Comes the Sun – The Beatles
A Hazy Shade of Winter – Simon & Garfunkel
Baby It's Cold Outside – Dean Martin
Looks Like a Cold Cold Winter – Bing Crosby 
Action songs for elderly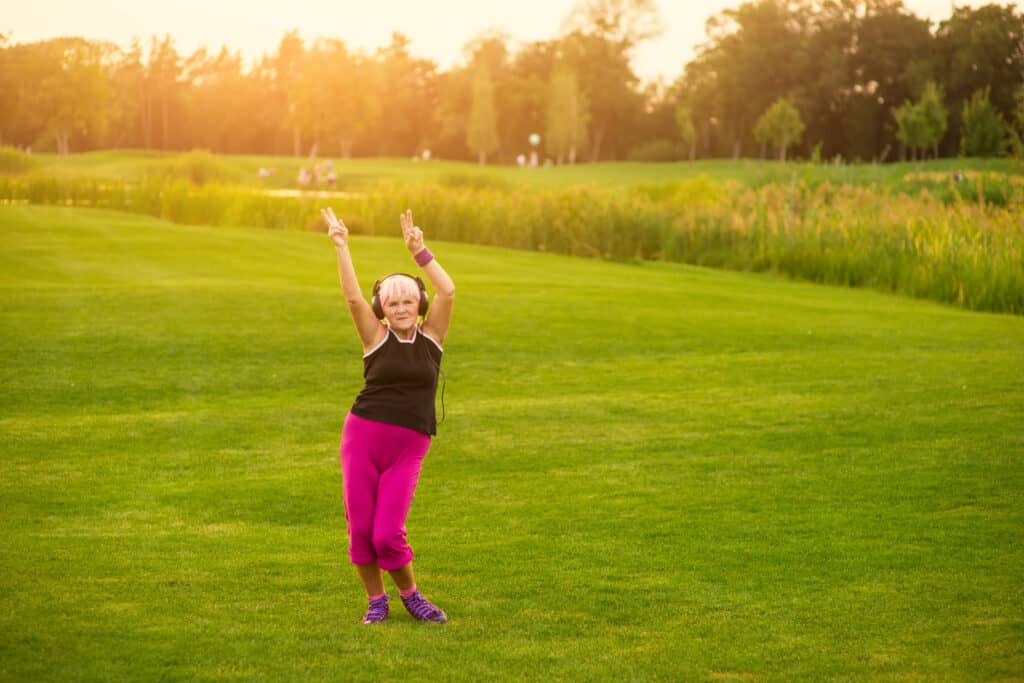 Although this may seem like a puerile activity, action songs and rhymes can be used in a myriad of ways to maintain and improve cognitive health in seniors.
For starters, linking an action to a word itself involves the use of multiple cognitive resources. In addition, because the elderly will use various body parts to enact the words, action songs also help to improve balance, movement, motor skills and hand-eye coordination.
Moreover, these simple songs and the actions they call for also help to improve memory and retention. Plus, this is an active form of music therapy, which goes beyond the sense of enjoyment derived from listening to songs.
Since any movement is good for both the body and the brain, these simple action songs can go a long way in increasing self-confidence and keeping depression at bay. So, if you are ready to include action songs for older adults in your seniors' entertainment session, here are a few choice picks:
Chicken dance – various artists
The twist
Tequila
Beer barrel polka
Hokey pokey
These boots are made for walkin'
Blue suede shoes
Ragtime cowboy Joe
Singing in the rain 
Dance songs for senior citizens
Love me tender – Elvis Presley
Great balls of fire – Jerry Lee Lewis
I just called to say I love you – Stevie Wonder
My funny valentine – Frank Sinatra
That's amore – Dean Martin
Good golly Miss Molly – Little Richard
Whatever will be will be – Doris Day
Macarena – Los Del Rio
Conga – Miami Sound Machine
Jump In The Line – Harry Belafonte
Fun, Fun, Fun – The Beach Boys
Build me up buttercup – The Foundations
Brown Eyed Girl – Van Morrison
Dancing in the Street – Martha and the Vandellas
I Want You Back – Jackson 5
Twist and shout – The Beatles
Stop! In the Name of Love – The Supremes
Dancing Queen – ABBA
I Got You (I Feel Good) – James Brown
Ain't No Mountain High Enough – Marvin Gaye and Tammi Terrell 
Music with a sprinkling of humor: Funny songs for senior citizens
When I'm Sixty Four – The Beatles
I Ain't Getting Older, I'm Getting Better – Rufus Thomas
200 Year Old Alcoholic – The Clancy Brothers
People My Age – John Gorka
When You are Old and Gray – Tom Lehrer
A Boy Named Sue – Johny Cash
Arthritis Blues Ramblin' – Jack Elliott
Little Brown Jug – Glenn Miller
All My Rowdy Friends (Have Settled Down) – Hank Williams, Jr.
Never Wed an Old Man – Pete Seeger
It's Hard To Be Humble – Mac Davis