With baby boomers rapidly advancing towards their golden years and the senior population pegged to reach the mammoth 20% mark in the United States for the very first time, it is no wonder than innovators and entrepreneurs are working double time to come up with inventions exclusively meant for the elderly.
Make no mistake; these gadgets, tools and services are designed not just to make life safer for older adults but also to enhance comfort level and to provide a greater ability to live independently.
A fantastic mix of simple as well as technologically advanced inventions, every one of these tools help to improve the life quality of seniors in their own way. Continue reading to know what is on offer…
The trendsetter inventions!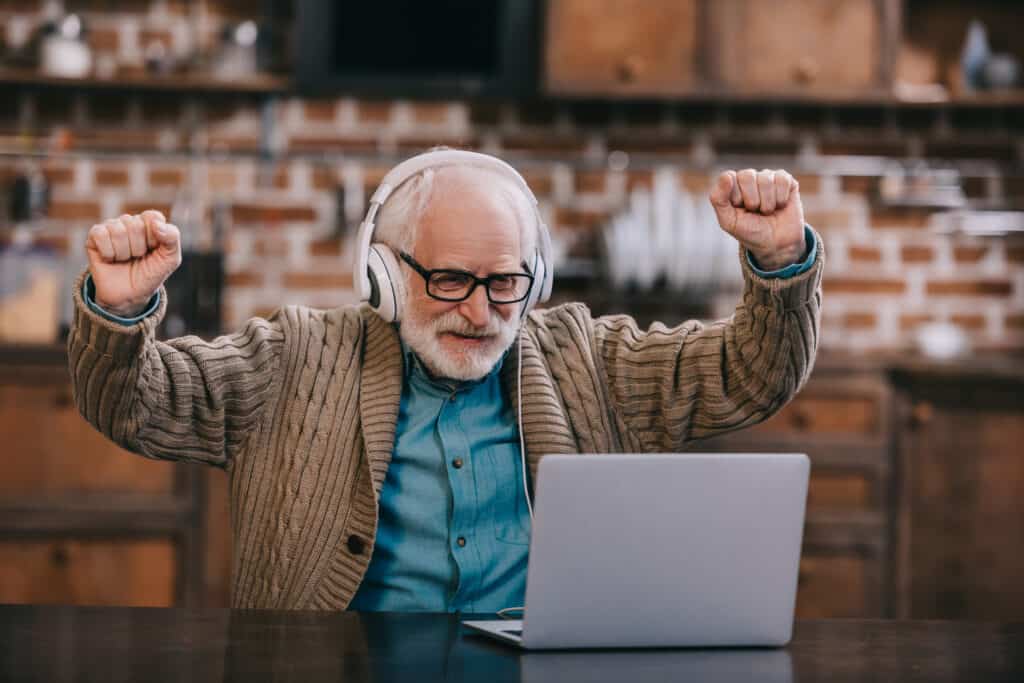 1. Motion-activated lights
Originally meant to be an energy-saving measure, these lights that come on when they sense movement, have quickly become a must-have for older adults and home caregivers. Motion sensor bulbs do away with one of the biggest fall risks in the home setting – that of inadequate illumination.
Also, they lower the amount of time that older adults need to spend fumbling in the dark, trying to locate the switch. In fact, this is one of the most recommended safety measures for households with older adults, who suffer from dementia and mobility issues, and hence find it hard to remember where the switches are located or simply forget to switch the lights on.
These bulbs are an affordable option that can be used in all areas of the home, without worrying about an increase in utility costs.
2. Emergency response
Not just break-ins and burglary attempts, the new age emergency response systems take safety several steps ahead by monitoring the activity and the vitals of seniors who live independently.
Powered by the internet of things, these systems include a bevy of indoor and outdoor cameras, communication devices and more. Together these devices are incorporated into an all-inclusive system that offers a myriad of services such as fall detection, activity monitoring, medication reminders and others.
Depending on the system you choose, these services also act as a personal emergency response system that allows independently living seniors to calls for help when it is needed.
Some services also allow people to track the movement of their elderly parents (who have Alzheimer's) through the house and sends alerts when they move out of the house. Many of these systems also double as communication devices that offer the facility to make and receive text messages and video calls.
3. Alarms with a difference
No, these aren't meant to get seniors to wake up at a certain time. These alarms are position alert devices that provide loved ones and caregivers information on when an older adult with dementia, Parkinson's or Alzheimer's moves out or tries to move out of a certain area.
For instance, the magnetic pull cord based alarm is designed to be mounted on the headboard of the bed or the back of the wheelchair. The device sounds an alert when a senior tries to stand or sit up or move away from the bed unaided.
The sensor pad alarm system works in a similar way. However, instead of a magnetic cord, which feels like an electronic tether of sorts, they work with sensory pads that are non-restrictive but just as effective.
The seat belt alarm also offers similar audio alerts but it does so when an older adult opens the buckles of the belt. In addition to these, it's also possible to get wander alarms that can be used to keep a check on seniors who suffer from dementia or Alzheimer's as well as on those who have a high risk of falls.
These devices have a wireless remote alarm and a motor sensor. The sensor picks up any movements within 15 inches and sends an alarm to the remote device, thus alerting family members and caregivers of older adults who are too close to the door or stairway or any other area of the home that may pose a risk.
4. Communication devices for seniors
From cells phones to tablets and even regular landline phones with features specifically designed to help out older adults, you will find them all in the market today.
Cell phones for the elderly include several user-specific features such as enhanced sound, compatibility with hearing aids, larger buttons, backlit keypad, SOS buttons and menus and options that are easy to access and navigate.
It's also possible to customize the features of your existing landline phone. For instance, you can get dialers with larger buttons and sound amplification devices that make it easier and more enjoyable to keep in touch.
Along the same lines, tablets designed for seniors have features that help older adults to stay connected without overwhelming them with too much information and too many features.
5. Help with mobility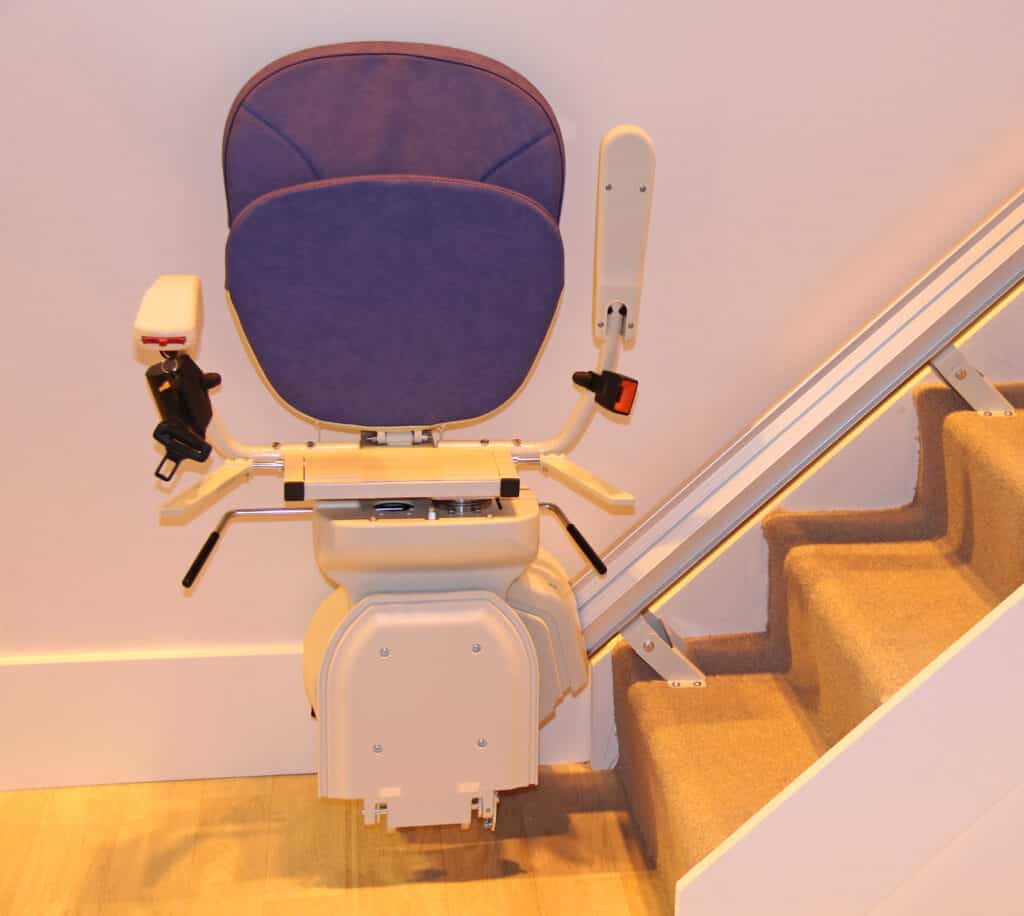 Although this isn't a new invention, it did change the landscape of senior-compatible home designs. Yes, I am talking about the extremely popular and effective stairlift.
For older adults, who live independently, the chair that simply glides you up the stairway can greatly enhance the desire to socialize and step outside. Although it is a tad expensive, the safety and comfort level that stairlifts offer make them well worth the cost.
6. Much needed support
Standing up from a seated position is a huge and painful problem for seniors with arthritis and other joint issues. Fortunately, now you can find chairs that literally lift up their occupants from a seated to a standing position, taking the pressure off the joints.
If you are not looking to add a chair to the décor, fret not! It's also possible to get these benefits from specially designed cushions that can be placed on any chair in the house. These chairs and cushions use a hydro-pneumatic system to physically assist older adults to lift themselves off the seat.
7. For support and safety
If your elderly parents would like to reserve mechanical assistance for some time in the future, you can always offer non-mechanized help in the form of physical stand- assistive products.
These stands or grip bars fit neatly beneath the frame of any chair or couch. In fact, a lot of them have retractable trays to park a book or plate on. Plus, they are sturdy enough to support the bodyweight of a person as he/she attempts to stand up from a seated position.
8. The talky medical assistance devices
These digital devices are designed to remind seniors to take their meds on time. If your elderly parents end up skipping their meds because they simply don't remember to take them on time, you may want to invest in the talking pill reminder or the alarm clock that comes with a built-in med reminder.
A lot of innovators have taken "talking heath care" gadgets to the next level. You may have heard and even used the talking weighing scale, but have you heard about the talking thermometer or blood pressure measuring unit? Yes, you can buy these and other such devices for less than $100.
9. Tracking the way to safety
In my opinion, this is one of the most revolutionary inventions for seniors; one that is designed to ensure the safety of a particularly vulnerable segment of older adults – those who suffer from Alzheimer's. The device is basically a shoe insert with a tracker in it.
The GPS inserts allow family members to track the whereabouts of seniors, who suffer from memory loss and confusion and are prone to dangerous wandering. The sole insert can easily be moved from one pair of shoes to another and is one of the most non-intrusive ways to keep a track of where an elderly parent is headed.
Simple And Small Inventions That Make A Huge Difference!
10. No more hard to swallow pills
Say hello to the electric pill grinder that promises to make it easy for seniors to keep up with their treatment regimen. Driven by electricity or battery power, these pill grinders cut down large pills to sizes that are easy to manage.
11. Senior-friendly time
There is certainly no dearth of alarm clocks in the market, yet it can be hard for older adults to find devices that suit their specific requirements.
Worry no more, because now you can get senior suitable alarm clocks with features that are specifically designed to make up for the physical deficits that come with age.
For instance, you can find vibrating alarm clocks meant for older adults, who suffer from hearing loss; light alarms for those who don't want a shrill buzzer to jolt them into wakefulness; voice activated alarms for older adults with dexterity and motor control issues and light therapy alarms that use gradual increase in light intensity to give a great start to the day.
12. Keeping connected has never been easier
Social media platform and emails are fantastic connectivity and entertainment channels for seniors. But, regular keyboards can be a killjoy for seniors who have vision and motor issues.
So, gift your tech savvy elderly parents a senior-friendly keyboard, with oversized keys, and I promise you will start hearing from them more often.
13. The famous toilet stool
From the show, "The Shark Tank" to crowdfunding platforms, this unassuming invention has found its way just about everywhere and it has been a through and through people pleaser.
Don't let the simple design fool you because sound science backs the efficacy of this potty stool that is fantastic for seniors who often battle constipation.
14. Taking the hand out of the hair drying equation
You may not have given too much thought to the 15 minutes you spend clutching to the dryer as you rid your tresses of moisture before. But, as you hit your 60th, even those 15 minutes of clasping can seem like a monumental job.
Fortunately, hairdryer holders make life easy for seniors who enjoy a round of shampooing ever so often but hate the hair drying session. The stand puts the hair dryer at a safe distance and holds it in place, so all a senior has to do is move his/her neck and head around gently to use it.
15. Senior style entertainment
If you are not going to enjoy being a couch potato every now and then in your golden years, then when? Senior suitable, voice clarifying headsets and speakers for TV and music players allow older adults to enjoy their favorite shows and songs without cranking up the volume.
Then, there are the senior-suitable remote controls that come equipped with large buttons, a backlit keyboard and compatibility with both the cable box and TV. What's more; these devices are easy to program, which means that your elderly parents get access to their favorite channels and shows without too much fiddling with the remote.
16. Grab away easily
Stretching out or bending down to grab something or even simply getting up to reach for something can seem like quite a task for seniors who suffer from musculoskeletal pain. Fortunately, reacher-grabber devices act as an extra set of hands.
These user controlled sticks come with an arm extension that allows them to access hard to reach shelves and spots in the home. The rubber jaws at the front are controlled with a lever in the user's hands. So, seniors can reach and grab just about anything without standing up.
17. Silverware with a difference
As people get older, and the body is ravaged by ailments, seemingly trivial tasks get harder. For instance, holding the silverware and bringing the food to their mouth can seem like a gigantic undertaking for seniors who suffer from tremors brought on by Parkinson's.
The good news is that such older adults can now reclaim that bit of their independence with senior-friendly stabilizing handles. These devices adapt to the involuntary shaking of the spoon/fork and reduce the transmission of the tremors from the hand to the head of the silverware by as much as 70%. So, older adults with Parkinson's no longer have to worry about spilling their food.
18. The silent doorbell
Whether it's the shrill sound of the doorbell that does not sit well with the seniors in your home or it's the buzzing that is not audible enough, the flashing light doorbell sorts out both issues. The assembly includes a transmitter, which can be attached to the existing doorbell or can be used as a doorbell button on its own.
You can get multiple transmitters to use on the other doors of the house. When pressed, the transmitter sends a signal that is received by the signaler device connected to a lamp (a regular lamp in your home), which flashes in response.
19. Anti-scald devices
These can be attached to any faucet or showerhead to control the temperature of the water. They come with valves as well and can be installed easily. These devices offer an effective way to eliminate the risk of burns in the shower due to extremely hot water.
Once You Use These Inventions, You Will Wonder How You Ever Lived Without Them!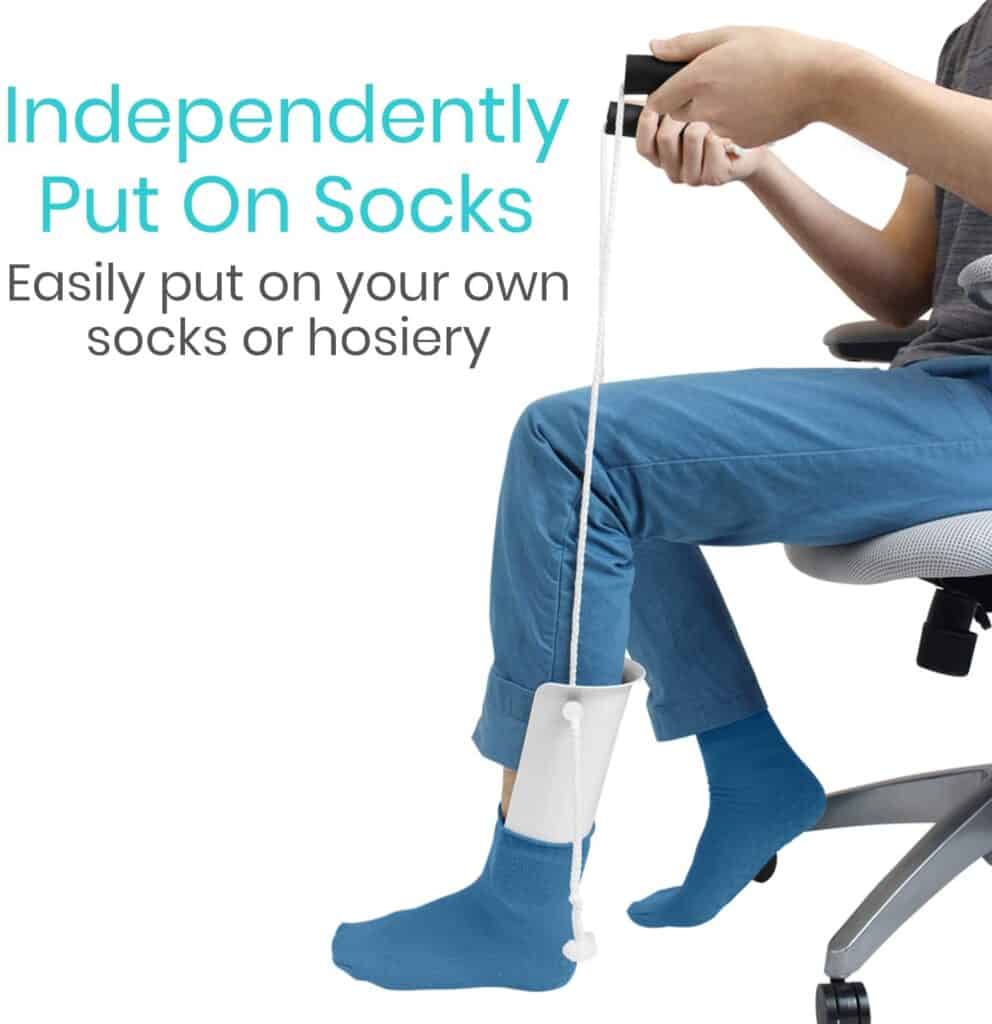 20. Pesky jars no problems
The automatic jar opener will take the struggle out of jar opening for seniors. The gadget can be used with most jars and even pill bottles, without the need for hard gripping and dangerous twisting.
21. Get your favorite button-up shirt out of the closet
Arthritic fingers can find it hard to button down a shirt, but not if you have the simple yet delightfully ingenious button hook that gets wrapped around the button and simply pulls the plastic through the hole in the fabric.
22. Put on those socks without over-stretching
Sock aids make it possible to get those socks on your tootsies without bending. The device is basically, a makeshift, two-piece tube of sorts that holds the sock open for you to slide your foot into it.
You then pull the tube up towards your calf and the sock gets pulled up along with it. Depending on the product you choose, a sock- removing stick may also be a part of the design.
23. Pull those zippers close
How do you tackle the flyers of your trousers? I bet you never gave that one a thought.
But when arthritis hits the small joints in those fingers, getting a grip on the zipper to pull it up can take all the dexterity and strength you have in you.
But the nifty zipper puller makes it easy to grab the zippers and pull them up. So, it is definitely a must-have for all older adults who suffer from motor, joint and strength issues.
24. The shoe assistant
The long-handled shoe horn is a part of this range of products that are designed to help seniors to don their shoes on their own, without the need for bending at the waist. No need to struggle to get your foot into those obstinate loafers.
Shoe assist devices hold the shoe open for you to slide your foot into, so the heel does not give in as you push your foot in. You, then, simply draw the shoe assist device out leaving the shoe in place as it should be.
25. The dressing stick
This is another marvelous product for the elderly, who have a hard time getting their clothes on because of their limited reach and strength. The dressing stick draws the fabric within range so, it can be pulled on to the body as needed.
26. No help needed to tackle your business with nature
Few things can be as embarrassing for seniors as asking for help to finish their job in the toilet. Fortunately, toilet reach aids eliminate the requirement for help from the caregiver.
A person can simply wrap toilet paper on the head of the angular stick and guide it to the area that needs wiping. Once done, the paper can be released with a button on the handle. It's fast, easy, effective and totally hygienic.
27. Smooth, moisturized skin without assistance
Dry skin is another reality of aging that seniors have to contend with. But, there is no need to wait for the caregiver to moisturize your skin if you have a lotion applicator handy.
In fact, you can opt for a massage head applicator as well that has pads which apply the lotion and then gently rub it in, giving your skin and the muscles supporting it some much needed TLC.
How's that for a product that gets the job done to perfection and makes you feel great while at it? 
Inventions For Seniors: What The Future Has In Store For You!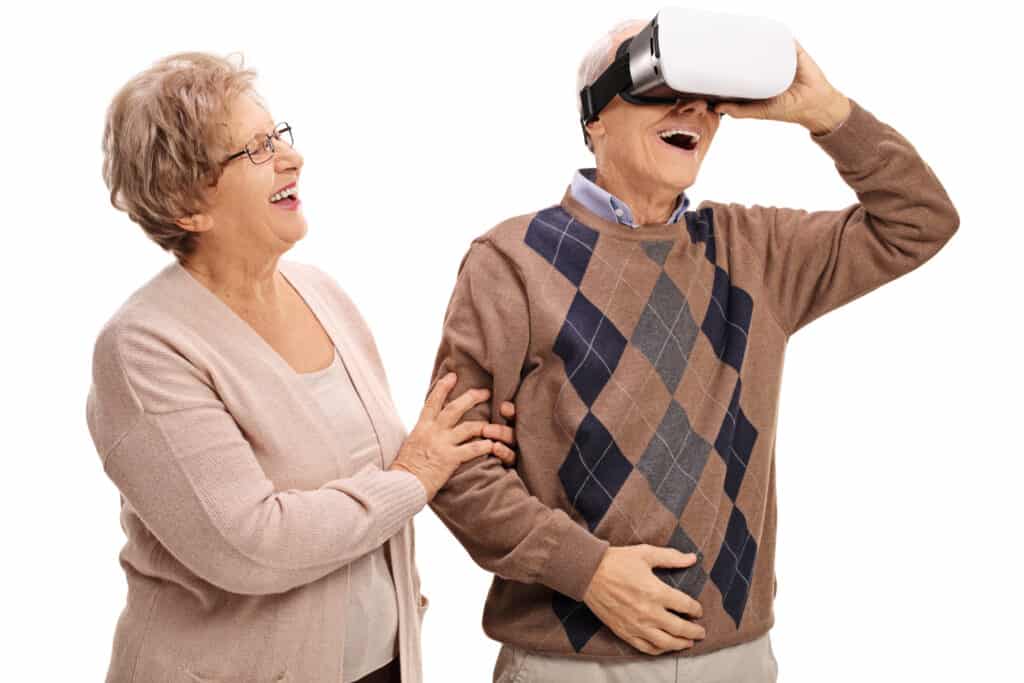 It should come as no surprise that Japan are at the forefront of innovative gadgets for the elderly. Here are a few…
28. The airbag that walks with you
A trauma surgeon from Philadelphia has come up with this ground breaking technology that promises to minimize the risk of injuries in seniors resulting from falls. It's literally an airbag in the belt.
The device weighs a mere 2 pounds and looks like a fanny pack. But make no mistake, this gadget can do more than carry your change. It is equipped with sensors designed to react to the physical forces and effects of slipping, tripping or stumbling that eventually lead to a fall. As soon as a slip/trip is detected, the futuristic fanny pack quickly deploys airbags to cushion the blow.
Given its location bang in the center of the body, it basically protects almost all major bones and joints, including the hip bone from fracture. But, that's not all! The device also sends out an alert to the caregiver, so medical assistance can be sought at once.
Active-Protective, as it is called, is not available in the market as yet, but I am sure, just like me, you are waiting for it to go on sale.
29. Jibo and Taizo
No, they are not pets nor are they the neighborhood twins. These guys are robots that promise to keep older adults in good shape mentally and physically. The 11-inch Jibo is a desktop robot driven by artificial intelligence that can strike up a humorous and stimulating conversation.
Taizo is bigger and looks like a chubby robotic snowman but it has several dozen moves to motivate not just one elderly person but a whole group of seniors to exercise. Both these offerings come from japan; they are new and expensive.
Although I look forward to their retail release, most of us will have to wait until the price comes down a bit, to afford one.
30. A new set of knees
This one comes courtesy of Honda that promises to change the stairlift game with boots from the future. Think of these as hover knees. You simply put them on and off you go, up the stairs, crouching when needed and doing just about everything that your younger knees allowed you to do.
The technology is still in the testing phase, but it is already highly anticipated. It's called Honda's body weight support walking assist device. You will find videos of the device online.
In my opinion, it does not look comfortable. But, hey it's a choice between comfort and independence plus mobility.
31. And a new set of eyes to go with that
This one is for older adults who suffer from macular degeneration. It's a camera that transmits images directly to a specialized pair of glasses. The device can be controlled by voice and manual command and is being offered by a company called NUeyes. If you ask me, I'd say it's got everything working for it except for the clunky (virtual reality type) glasses.
Perhaps, at some point in the future, the company may be able to offer the technology with a device that resembles Google Glass. But for now, this is what they've got and it sure does work for seniors with significant visual impairment.