I know a lot of people who are of the opinion that seniors are not easy to communicate with. In fact, I have heard many state that older adults simply don't want to participate in conversations and group discussions, no matter what the topic.
Yes, some seniors, particularly those who have memory issues, dementia, Alzheimer's or other health problems that impact cognitive functioning, do have a hard time communicating. But those who are not battling such health issues are simply tired of us younger folks acting under the assumption that we are dealing with a senile lot.
Here is what I have to say to all those people who feel it is notoriously hard to get seniors to communicate – Folks, if older adults are not particularly keen or even comfortable talking to you or participating in group discussion activities with you at the helms, ponder over how you are contributing to their behavior.
In this article, I am not only going to give you a list of topics of interest for senior citizens but also I intend to discuss the benefits of group discussion sessions and the dos and don'ts of hosting a successful interaction with elderly participants.
In fact, the tips in this article are relevant not just for caregivers who work in senior care facilities but also for loved ones who enjoy having a good conversation with the older adults in their family. So, let me begin by telling you how and why group interactions help older adults.
Nothing gets the noggin jumping like a group discussion!
A group discussion and any type of one-to-one conversation is so much more than just a form of entertainment for older adults. In fact, you should think of these interactions as a whole brain workout.
While there are a lot of games and software programs that claim to jog those ol' noodles, according to the researchers at the University of Michigan, nothing works as well as a good conversation to keep the brain kicking.
In the words and observations of these scientists and psychologists, the task of conversation is highly cognitively stimulating. When people talk to one and other, narrate life stories and incidents and interact in a group, they are essentially using multiple cognitive resources including working memory, executive functions, attention, social cognition, linguistic abilities and others.
It is true that certain physical and mental deficits like loss of hearing, memory issues and speech problems can make it hard for seniors to communicate. But, research suggests that given their vast experience of life events as well as their impressive linguistic repertoire, they can easily overcome these issues and have and enjoy meaningful discussions.
Having said that, when you treat an elderly person like an invalid just because the peppery mop has now gone all salty or because he/she needs to pause for a second to hunt for a specific word, this is bound to have an impact on his/her desire to communicate and participate in the interaction.
Like I said, if you can't get seniors excited about or willing to participate in a group discussion, the fault lies in your stars, so to speak. So, before I tell you about the topics to talk about with senior citizens, let us discuss the dos and don'ts of such sessions.
What Not To Do In A Group Discussion Session With Seniors!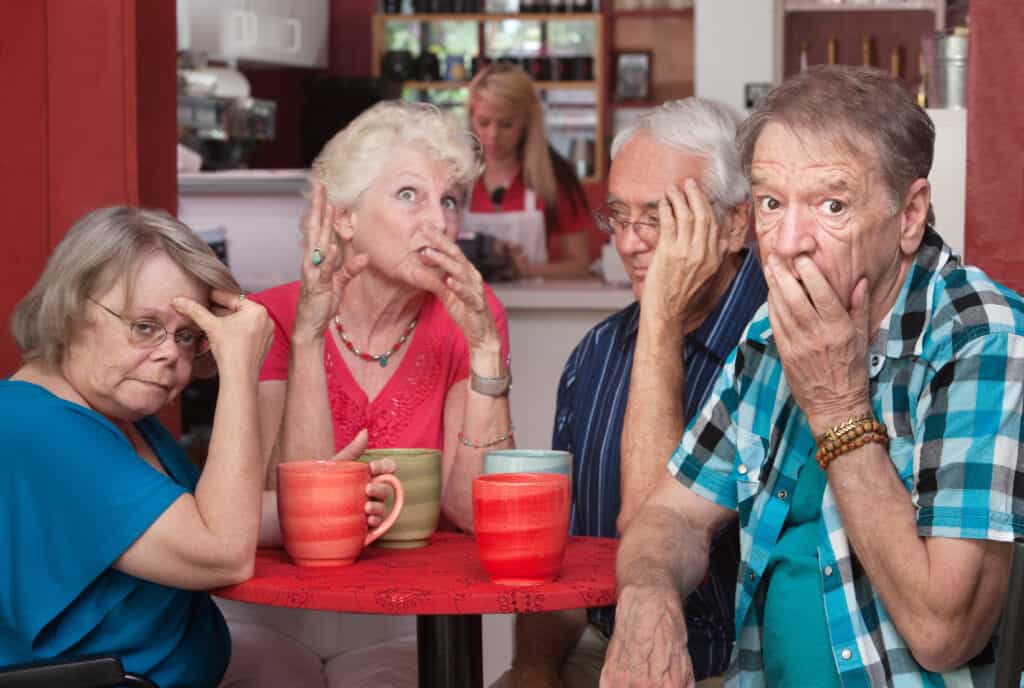 The first and most important thing that people forget when hosting group discussions with seniors or even while generally chatting with them is the word "adults" in the term "older adults".
They may not be in the pink of health and their body and brain may have slowed down with time, but they certainly have not regressed to childhood.
So, the numero uno thing to remember is to not patronize them. You would be surprised at how easy it is to inadvertently do just that. And then people wonder why seniors don't want to talk as much with younger folks! Here are a few tips that will help you to stop your conversation and tone from going that way:
1. Nobody has signed up for unsolicited advice
Whether you are the caregiver or the child of the senior in question, older adults, given their age and life experience, can understandably find it belittling to receive advice from their own kids or people who are often younger than their own kids.
Now imagine, how insulting it must feel when the advice is unsolicited and concerns the most trivial of life aspects. So, unless an elderly person specifically asks for your advice, keep your pearls of wisdom to yourself. Remember, it is possible to encourage, support and offer your opinions on a matter without giving advice.
2. Few things are as condescending as "elderspeak"
I know you have heard about kid-speak, pet-speak, but there is also such a thing as "elder-speak. Talking extra slowly and loudly or overly simplifying words and statements are all part of elder-speak and if you ask me, it is extremely condescending.
I am sorry, but I have seen young adults treating their elderly parents in such a manner in public much to the chagrin and embarrassment of the older adults. Yes, sometimes, some seniors do have auditory and memory deficits.
Whether you are in a group discussion session or are in a one-to-one conversation with an older adult, there is really no need to highlight these deficits with your more than obvious compensatory behavior.
3. Cutesy nicknames are not for you to use
Whatever you do, don't make up your own pet names for the seniors in the group, whether they live in a senior care center or whether you are just the occasional host/hostess or caregiver of a group of older adults. So, keep sweetie, honey and other such terms of endearment out of your conversation.
After all, only kids appreciate those. For an older adult, they smack of a talk down, and you certainly don't want to give that impression if you want people to start talking and sharing and generally having a blast.
4. Leave your preconceived notions outside
I don't think this is specific only to group discussions with older adults. When you walk into a conversation/interaction with anybody with a stereotype etched in your brain, you inevitably end up slighting people.
Not every elderly person likes to be treated the same way nor do all older adults have cognitive and physical deficits. So, don't just assume that your help or encouragement is needed; wait to get some cue, and then offer it.
5. Don't leave anybody out
This is another one that is not an age-specific aspect of group discussions. In every group, there are the talkers and entertainers and then there are those who are pertinent and even reclusive. It's important to create an environment where everybody is allowed and encouraged to participate in their own way.
The crucial thing is to give everybody in the group the time to narrate their story or place their thoughts and views, it does not matter how short or long or even relevant their contribution is.
6. Get your volume and tempo right
I have seen a lot of caregivers and even young adults resorting to nearly yelling when they talk to the elderly. News flash folks, not every person, above the age 60, is hard of hearing. In the same vein, not everybody has a problem with memory, diction and speech.
So, instead of going shrill on seniors, keep your volume high enough to be audible above the background noise if any, and no more. As far as the tempo is concerned, bring it down a few notches but don't speak one word at a time. That's just too obvious and too insulting.
The Right Way To Host A Group Discussion With The Elderly!
Without a doubt, picking topics for a group discussion that involves older adults can be challenging but even if you were to get the best topic, unless you know how to communicate with people in this age-group, your efforts will be in vain. So, let's talk about how to do things the right way:
Patience has a special place: Remember, they are not there for an interview or for a college admission, so be patient if a person needs a moment to remember the specifics of the story or to put his point across. Making it clear through verbal and nonverbal cues that you are willing to wait to listen to what this person has to say is the best way to encourage a senior to speak freely and frequently.
Attention is what it's all about: Let's not deny that the people in that group have seen life a lot closely and for a lot longer than most of us have. So, younger individuals truly have a lot to gain from the insight and life perspective of seniors.
But, unless you pay attention, you aren't going to get anything. Besides, the fastest way to turn somebody off is to make a show of not being interested in what they have to say. So, regardless of the story and the pace at which is being narrated, pay attention and encourage others to do the same.
It's bad manners to interrupt: It's not polite to cut in midway through a conversation/story. But when you do that with seniors, the biggest problem is that they may lose track of the flow of the conversation/narration.
This is followed by a period of confusion, which leads to a feeling of inadequacy. So, hold your horses and allow the participants to finish. If you must control the flow of the interaction, then use close ended questions instead of interruptions.
Stick to one thing: If you flip-flop between topics, it can be hard for some seniors to keep track of the interaction. So, pick one topic and keep at it.
Create the right environment: If you want everybody to participate in the group discussion, it is imperative to create the right environment for all the participants. For seniors, this means holding the group discussion in an area that is not too noisy and does not have a lot of distractions. For instance, you cannot have a discussion with the TV blaring in the background or other such competing sounds. 
Interesting Topics For Senior Citizens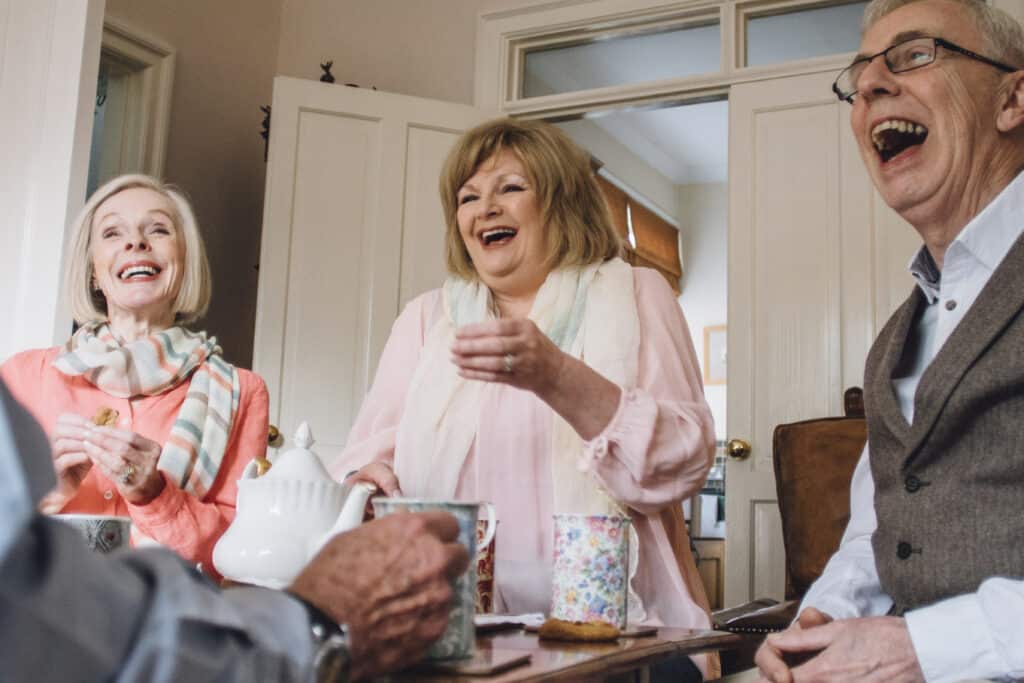 1. Start with the past
It always good to go down memory lane and visit all those corners where a lot of happy times were spent. This one is a great ice breaker and one that is guaranteed to get even the most reclusive of seniors to throw at least a few words into the conversation. Plus, it is a fantastic way to work on long term memory and recall. Good topics to get the discussion started would be:
Favorite incident or memory from their childhood.
A teacher or loved one or celebrity they admired and why.
The toys that were popular when they were kids and the games they played.
High school memories.
Things that were considered hip when they were teenagers.
Best hangout joints and places.
Remember to keep things on a light footing. The idea is to bring back happy memories and not the sad ones. So, keep things fun and neutral.
2. Keep an eye on the present
The advantage of talking about the present is that most people will have at least something to say about what they do or don't like. In fact, you will find many volunteers to voice their views on just how much the world has changed since they were young.
Besides being a terrific conversation starter, these topics also help to create time and environment awareness. Plus, it can also be the starting point of a new interest or hobby if something that the participants are talking about appeals to the other members in the group. For instance, the use and advantages of technology. A few good topics to explore would be:
How technology has changed life and the world?
What are the things they have today that they wished they had as youngsters?
Something that happened recently, which got their attention?
Something that made them happy today, this week or this month
Their favorite technology, appliance, gadget of the present time
If you choose present-day topics, make sure that you opt for subjects that everybody would be interested in. For example, it would be pointless to talk about emails and the internet if not all the older adults in the group are internet-savvy. Remember, the important thing is to get everybody involved in the conversation.
3. Music and movies work for all
The thing about music and movies that we love or to that matter any art form is that they immediately bring forth a feeling of happiness and a smile on the face. So, for starters it's good fun. In fact, music is such a joyous universal language, that I bet you will have at least a few folks in the group willing to hum or even sing their favorite numbers.
If you add a simple set of drums to the setting, you may get a combined session of music therapy and group discussion. While it is loads of fun, reminiscing about their favorite songs also offers the rare opportunity for a full brain workout.
When older adults talk about their favorite music/movies, they recall things from memory. Simultaneously, they use their language abilities to describe the song/movie, and while they do so, the clip/number begins to play in their head. So, you see how almost all parts of the noggin are put to use? To get you started, here are a few topics to initiate this discussion and to take it forward:
Favorite song.
The number they still hum to this day.
Most loved artist.
Movie they watched the maximum number of times.
First movie they watched in the cinema.
They first record and record player and what song they played on it.
Present day artists they like or have heard of.
Their favorite music genre.
Their thoughts on present day music and movies.
The good thing about this topic is that you will have plenty of opportunities to encourage even the men and women of a few words, to talk away. If it starts with the name of the song, you can ask about the artist and any other songs from him/her that they like and why, and so on. I am sure you are getting the gist.
4. Passion trumps all
Nothing gets the excitement and the happy hormones flowing like letting people talk about the things that they truly love and believe in. In fact, this is one conversation or narration that naturally turns into a discussion because when people are passionate about something they want to talk about it and let others know about it.
However, I would recommend that you stay away from topics that can get too hot to handle like politics and religion. Instead, keep things clean and fun with hobbies, places, shows, art form, artist and skill, etc. The idea is to play on neutral ground so that nobody's toes get stepped on. Here are a few example topics:
Favorite TV show.
Favorite charitable cause.
New hobby that you learnt.
An old hobby that you would like to take up again.
A skill that you are particularly proud of.
A skill that you cultivated which helped you through your life.
What is your favorite fun activity?
Favorite food.
I know those are a lot of "favorite" things to talk about, but hey, who does not like to talk about the things they like. In fact, you may be surprised at how many silly and satisfied smiles you can get out of this one, and smiling and being happy even if it's only for a couple of minutes is always good for the noggin.
5. My town my city
This topic offers a fantastic opportunity to increase awareness of current events and developments, thus presenting a scope for the creation of new memories. Plus, when you are discussing the city and the state that the elderly participants currently live in, you may also get several ideas on potential day trips and outdoor activities that the group can participate in. A few topics that serve as great starting points are:
Your favorite monument/tourist attraction in the city.
How has the city/state changed since your younger days?
What improvements would you like to see in your city?
The one area or aspect of your city that you are proud of.
If you were to market your city to tourists from across the country/world, how would you do it?
A day trip across town.
Your favorite restaurant or café in the city.
A favorite local store/establishment/business that is no longer around or has changed significantly.
6. All those accomplishments
I remember a retired air force and airline pilot telling me that the novelty of retirement quickly wears off. And after that, most seniors are left with the sinking feeling that while they are standing still, the world is zooming past them, leaving them behind.
As a person who has worked all through his/her life or has led an active life, it can be utterly scary to, one day, not have much to do. It is easy to understand how the drastic physical, personal and professional changes that come with aging can invoke toxic feelings of helplessness, of being unwanted and useless.
Getting people to talk about their accomplishments, is a fantastic way to tap into feelings of excitement, pride in the self and confidence that may have gathered some dust over the years. The best part is that past accomplishments can be used as a platform to get folks to see what they can still do and that all isn't lost. Here are a few topics that will get the ball rolling:
The one accomplishment that you are really proud of.
That one instance when you made a difference to the life of somebody else?
What is the advice that you would like to give future generations?
What life lessons would you want to pass on to youngsters?
The best compliment you received for your work?
What was your biggest and most noteworthy skill?
How did your experiences as ____ (as a soldier, teacher, manager, mother, father, etc) shape you?
How can your skill sets be used today?
The important thing to note here is that when gently guiding them from past accomplishments to what can be done in the present, it is crucial to be realistic. The last thing you want is for disappointment to join forces with other toxic emotions. So, be optimistic, but it has to be honest optimism.
7. Fond wishes and dreams
I feel this is a fantasy topic full of excitement and imagination. When talking about their wishes, everybody is transported to the realm of their dreams. They inevitably begin imagining how it would be to live that dream and that in itself is a powerful booster of happy brain chemicals.
Plus, most people have at least one or two things that they can talk about on this front. So, if you want to try this one out, here are a few topics to get the conversation started:
The one place that you always wanted to visit.
Your favorite monument in the world/country.
Your wish/hope for the human race in the future.
Any foreign language you wish your learned.
If money and time were not a constraint, where would you want to go/live?
If you suddenly become super-rich, how would you spend your days?
If you could choose one place, any place in the world to spend the rest of your days, where would that be, why and who would be with you?
8. There is always a first time
For most old-timers this is one of their pet topics because it makes them relive a happy memory. In fact, those "first-time" memories are usually so vivid and lucid for people that what they are saying actually begins to run like a movie on the screens of their brain and mind.
You will notice this is their narration of the event; you will see how immersed they are. It's almost like they are living the happy episode all over again.
To the listener, it may just be a small story, but for the person recounting the details, it involves the use of memory recall, imagination and creativity. How is that for a whole brain workout, while having boat loads of fun? So, here are a few topics that will always find takers:
First date and first crush.
First job and first salary, what, where and how?
The experience of holding your first born for the very first time.
First overseas trip.
First concert.
First friend.
First car.
Moving out and striking out on their own.
First time in a big city.
Things that you learnt in your first year at college or at your first job.
Just make sure you don't inadvertently bring up painful memories. So, either keep things on a neutral footing like first job or first concert or do a bit of homework on the participants in the group and any tragedies in their past like the death of a child or spouse or divorce, accidents that caused a handicap, etc, before you pick a topic from this category.
9. Of advices and lessons
First of all, older adults do have some truly valuable pieces of advice. In fact, talking to the elderly is often a lesson in how to and how not to live life. And the best part is that you acquire the wisdom without experiencing the inevitable beating and falling that comes before the experience. But since this group discussion is for seniors that is just an ancillary benefit of using these topics.
The mere idea that a younger person wants to listen to them and is seeking advice from them creates the feeling of being important, being wanted. This is, probably, one of the reasons why seniors are generous with their advices. It's not only good for the younger lot but also for them. So, here are a few topics that will, no doubt, be a hit in the group discussion session.
The lessons that school/college taught you (aside from formal education) that served you all through your life.
The hardest lessons of your life.
Professional lessons and skill that you wish you had known/learnt before you started your career.
The top 2/4/5 skills that can make or break your chances of success at work.
Your advice on how to maintain work-life balance.
What does it take to be successful in your personal and professional life?
The best piece of advice you ever received.
The words of wisdom from your parents that are still as relevant today as they were then.
Advices from your parents that you wish you had listened to.
A story that you heard from your parents or grandparents that taught you a lot.
Coping with pressure and adversities, what would you say works?
10. When they came to town
This one is for when you want to keep things light-hearted yet jog their memories and help them to relive the happiest moments of their youth and childhood. Once again, these topics get a person to dip into their stash of longterm memories, bring them out and present them verbally in the most vivid manner, which in itself calls for some amount of creativity.
It's all about visualizing first and then narrating because what they are talking about happened so long ago. I have seen even those seniors who generally keep to themselves light up when discussing these topics- What did you do or how was your experience when "pick one from the list below" came to town?
Circus
County fair
Acrobats
Orchestra
Color television
Celebrity of the time
Concert
Discussion Group Topics For Senior Citizens That Work All The Time And Every Time!
And if you did not find a topic that would appeal to you in the 10 subsections listed above, here are a few more. These cannot be put into any distinctive category, but they work just as well as the others. You can get a lot of reminiscing, smiling, remembering and laughs with these.
Your favorite book.
You were a fan of which movie star or singer and why.
The one food item that you could have every day for the rest of your life.
Experience from war time or military service.
About their pets.
How did they name their kids?
The food they enjoyed the most from childhood.
A skill they would like to learn now.
The longest drive they have been on or their first train/plane ride.
What was termed as being naughty back in the day?
How did they learn a life skill like cooking?
Where were they when a famous historical event occurred?
A scandal from their time that they still remember.
Their favorite season and why.
The favorite holiday and why.
An incident from their neighborhood they still remember.
What were considered trendy outfits in their younger days?
And with that, I have come to the end of my BIG list of all the discussion topics / interests for senior citizens. Remember, how you talk about something is just as important as what you talk about. Like with all interactions, you can never downplay the importance of being a good and empathetic listener.
The realization that they have an eager and appreciate audience is usually enough to get most people to talk and even open up. Armed with all that information, you should have no trouble turning your next senior group discussion session into a colossal success. Here is wishing you all a lot of chatty times together!