Grown-ups have always played with Legos! Parents buy the sets for their kids, but they can't keep their hands off the blocks. Seniors could certainly use the amusement, but there's more.
Legos come in so many themes and skill levels, you can pick the one that suits them the most. Here are some suggestions for the best Legos for seniors. Hopefully, they'll inspire your next gift set for someone you care about.
Our Finest Picks:
Image
Title
Price
Buy

Top

LEGO Duplo My Town Family House 10835 Building Block Toys for Toddlers
Buy Now

Top

Top

LEGO Architecture Skyline Collection 21044 Paris Skyline Building Kit With Eiffel Tower Model and other Paris City Architecture for build and display (649 Pieces)
Buy Now

Top

LEGO Creator Modular Poolside Holiday 31067 Building Kit (356 Piece)
Buy Now
Product prices and availability are accurate as of the date/time indicated and are subject to change. Any price and availability information displayed on [relevant Amazon Site(s), as applicable] at the time of purchase will apply to the purchase of this product.
Prices pulled from the Amazon Product Advertising API on:
Our Favorite Lego Sets for Seniors
These sets have different skill levels. The themes are mostly familiar settings that seniors can relate to. They'll easily engage with its story, whether it's an iconic car, a family home, a cargo train, or a travel destination.
Look for the set that best suits their mood and capabilities. Bear in mind their visual acuity, hearing issues, ease of movement, and degree of awareness.
1- LEGO Technic Chevrolet Corvette ZR1 Building Kit
Building cars is a pleasure for all ages. When parents buy a set for their kids, they end up playing with Legos. They might deny it, but we all know how it goes!
Giving this Chevrolet Corvette ZR1 Lego model to a senior would make their day. Especially if they're into cars. The Corvette was an iconic breathtaking model when it came out in the 1950s. It continued as a superstar in the automotive world from then on.
Seniors like things that remind them of their younger years. The highlights of their lives are precious, and you should hear them talk about all the good times. Sharing these memories over a Lego set would be great.
The Corvette model is a 579-piece Lego set. This is challenging enough for anyone, but not overwhelming. Just make sure that you'll give to someone who has good motor skills and okay eyesight.
The Lego set builds up into a life-like model with stunning details. It can be redone afterward into a Hot Rod reflection. You can also think together of any other creative forms. The fun goes on.
Things We Like
It has fine details that add more interest
It's challenging and amusing
Its life-like motor, tires, and rims
It's a reminder of good times
It's a working model
It can be adapted into a Hot-Rod car
Things We Don't
It might be a bit complicated for some seniors
It's not suitable for people with arthritis
It might be difficult for seniors with weak vision acuity
2- LEGO Creator Modular Poolside Holiday Building Kit
This Lego set is all about family life. All the details of awesome times are there: barbeque gatherings, pool parties, and table tennis tournaments.
The house has many interesting parts. The front yard, lawn, fountain, terrace, and backyard are all familiar settings. People could talk for hours about their own family houses while building this model.
There are kids with skates or holding ice cream. A guitar is propped against the wall, beside the pool, inviting a singing crowd right after the barbeque! It's a whole life in a set of Legos.
There are 356 pieces in this Lego, so it's easy enough to work out. It can be redone into a music studio or a skates amusement park. It's also compatible with other Lego construction sets, so you can add more pieces or sets and annex them to this one.
Things We Like
It's three different models in one set
It reflects the warmth of family life
It has many details that encourage focusing
The instructions are easy to follow
It has vivid colors for visual stimulation
The modular variety of blocks encourage world building
It's compatible with other Lego construction sets
Things We Don't
It might be too hard for people with concentration issues
Many small-sized props could be difficult to manage
3- LEGO Architecture Skyline Collection Paris Building Kit
The Skyline Collection Kits are a genius idea from Lego. No one can resist the pleasure of becoming the architect of Mega Structures. It's just for a couple of hours, and it's working on a set of blocks, but the excitement is there.
Seniors will love building up these skyline models, especially when they represent a special place for them. Paris is the most romantic place on earth, so it should be meaningful.
The geometry of the Lego pieces here is different. The whole set is geared more towards grown-ups, so it would be quite suitable for an adult. It's also equally interesting to both sexes.
After all, who doesn't love Paris?
Things We Like
It's a familiar and easily recognizable place
It could be a conversation starter about travels
It's part of a much larger collection
It can be used as a decorative model after it's built
It's useful for people with mild dementia
Things We Don't
It's a bit pricey
It requires high visual acuity because of the small pieces
It needs more than average motor control
4- LEGO Duplo My Town Family House Building Block
This Lego playhouse features a full life in a three level-house complete with cute props and a car. It's a 69-piece set with larger blocks, so it's quite easy to handle.
Family life is sacred to older people. I haven't yet been around an older lady or gentleman who didn't like talking about their family. They get excited and teary-eyed as they recollect all the good times and even the not-so-good times.
The theme of house and family is a guaranteed conversation starter. It would facilitate socialization if your loved one is staying at a geriatric facility. Mingling with the group is healthy and energizing.
The set might seem a bit like a children's toy, so you might want to transfer the pieces into a Lego carrying bag. It would feel more suitable for an adult that way.
Things We Like
It has larger blocks, so it's easier to hold and control
The theme is relatable and has an optimistic vibe
It's an easy conversation starter
Things We Don't
It might look a bit childish to some people
The box needs to be replaced with a bag
5- LEGO DUPLO Cargo Train Battery-Operated Building Blocks Set
The Lego Duplo Cargo Train is a simple 105-piece set that's so full of hustle and bustle. It's a buzzing scene of transport and cranes. The pier-side place holds so many details within its building blocks.
It's a dynamic scene with lights, sounds, and moving vehicles. It re-creates a pier scene with cranes, cargo wagons, and curving tracks. Including a boat and a cafe that add liveliness and bustle to this setting.
The moving parts, lights, and sound effects are all battery operated. There's an app to control the logistics of the cargo game, so there are so many ways to find amusement with this Lego.
The figurines are suitably authoritative. A captain for the trucking business and a shop owner rule the place. There's a bird to observe it all, and you can place it anywhere you like.
This set is perfect for group activity. It's an upbeat project that's so easy to set up. It doesn't require fine motor skills or visual acuity, so it's well-suited for older seniors.
Things We Like
It's a highly stimulating set
The blocks are easy to handle
The set is lively and busy
It can be recreated in several other scenarios
The set can be upgraded with other Lego Train and Airport sets
Things We Don't
It's a bit expensive
It's not suitable for seniors with hearing issues
You need to transfer the blocks into another bag
Using the remote control app could be challenging for older people
Why Are Legos Good for the Brain?
Legos stimulate various brain functions. The story theme urges the mind to retrieve memories, link the present to the past, and make deductions about life in general.
Following instructions enhances cognitive skills. It energizes the areas of the brain responsible for language processing and rational assessment. This could enhance brain effectiveness, memory, problem-solving, and it might slow down the effects of dementia.
Lego sets with moving parts, sound effects, and blinking lights are great for reviving the mind. They aren't presented as noise. The playing mood introduces this boost in awareness in a fun and acceptable manner.
Fine hand movements are translated into the brain as a heightened activity. This is like lighting up many dark rooms around a house. It becomes more usable and refreshing.
Social engagement also refreshes overall brain performance. Being happy is actually essential for proper brain functionality.
What Are the Benefits of Playing with Legos?
Here are 15 ways playing with Legos adds value to a senior's life:
It enhances creativity.
It's a wonderful pastime.
They feel a sense of achievement after building up a set.
It's quality time they can spend with loved ones.
The themes bring about memories.
They get to tell stories about meaningful things.
Legos can improve the seniors' fine motor skills.
Playing Legos with friends is mood lifting.
They can keep the built set as decorative items.
They'll look forward to adding more sets to their collection.
It could become a hobby.
They usually boost the senior's social life.
Following instructions improves their cognitive skills.
Playing with modifiable sets improves rational thinking.
They feel your care in a genuine way.
How to Choose the Best Lego Set?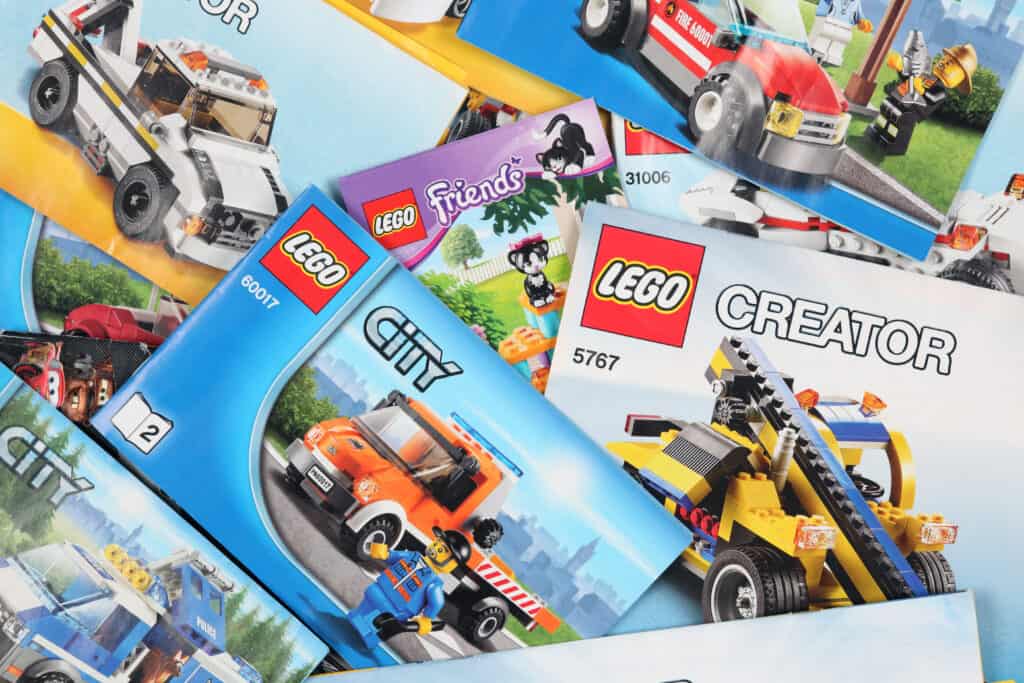 The beauty of Legos is the huge variety of them. You can find a suitable set for any character type, any health condition, and general circumstances.
Here's what you should take into consideration before you pick a set:
Motor Skills
We lose a significant amount of our flexibility as we age. Arthritis, carpal tunnel syndrome, and Parkinson's disease degrade hand control significantly.
Holding an object or pushing a button can be a challenge. It's best to choose Duplo blocks, which come in a slightly larger size or mega blocks which are even bigger. The sets often have fewer pieces and don't overload the user's hands.
Some of us age well though, and they don't experience these issues at all. That's why smaller-sized blocks are perfectly okay, and you have a broader choice of themes.
Visual Acuity
Eyesight suffers too, and it's often remedied by good prescription glasses. Sometimes there are other issues, like astigmatism, glaucoma, or retinal degeneration. These conditions make focusing on details a bit hard.
Choose a set that fits the visual readiness of your loved ones. You don't want them to feel frustrated or overwhelmed, and there are many large-sized sets with bright colors they can enjoy.
Hearing Ability
Some Lego sets involve sound effects. This is hugely amusing to a normal person, but not so much for someone with hearing aids.
Sets with sounds and other effects are nicely stimulating and so much fun, but they could be a bit much for people with a quiet temperament.
Cognitive Ability
This is how well they can follow instructions. Building a model needs rational thinking. We might think of it as the easiest thing in the world, but aging affects this too.
Think about kids and how they learn to build blocks. They start with random composition, learn to make more patterned structures, and eventually read through the instructions and build the perfect set.
Grown-ups could use the same graduation of difficulty levels. They might also stop at a certain skill and capability. Eventually, Playing with Legos will improve their mental abilities.
Interests
Some people are into automotive, others love architecture. People who traveled a lot could relate to Lego sets with international sites. Farms, trains, movie themes are all possible attractions.
Generally, everyone likes the family home setting. It turns on all the good memories, and naturally some laughs. The Lego homes are often generic so they reflect the daily life of many of us.
Set Complexity
Some people are competitive by nature. They thrive on solving a difficult problem. There are some awesome Legos for that type.
Lego sets can be re-created in multiple ways. The innovative characters would really have a field day with these modifiable sets. Lego is known to enhance creativity.
Dementia and other conditions that degrade awareness take their toll on cognitive skills. It's best to choose a simple set with a few pieces for these nice people.
They can play with the block in any way they like, and as we mentioned previously, it's generally good for their brain functionality.
The large selection of lego sets and themes also lets you upgrade the set they currently have. Collectible sets are seriously addictive.
Conclusion 
Seniors know these sets well, they probably bought many of them for their kids. As they age, it's our turn to keep them amused and happy.
There's no better way than to give them a meaningful gift that could also improve their health. There are many ways Legos can add to the quality of a seniors life in addition to 'playing well'.
Selecting the right set might be hard as it depends largely on the person in mind. Home themes are usual winners though. The LEGO Duplo My Town Family House Building Block is a good choice. It's simple and cheerful.
Paris is always lovely, so the LEGO Architecture Skyline Collection Paris Building Kit, especially for someone who likes traveling. It's part of a collection, so get ready to buy more of that!